Hear ye Hear ye! The Crier is always looking for things to shout about! Feel free to submit your Thoughts, Poems, Photos, Requests or anything you like to thecrier@cookham.com
---
Burglars in Cookham Dean
12 October 2003
---
On Saturday 11th October, a house in Cookham Dean was broken into at 12.30pm lunchtime. It appears there were two individuals and a white van was also seen. If anyone can help or saw anything unusual about that time, please contact the local police.
---
Vodafone Mast Application Withdrawn
6 October 2003
---
Cookham.com has now heard from the Sutton Road/Close residents regarding the Vodafone Mast:
You may have heard that we have had confirmation from Vodafone's agents and latterly I understand from Vodafone themselves, that the application for planning permission to site a mast along Sutton Road has been withdrawn!!
However we understand that they might re-apply for another site sometime in the future - we shall wait to hear!
Meanwhile though you can imagine we are all delighted. We have had fantastic support from so many locally and I'm sure that the weight of local support made all the difference.
---
Vodaphone Mast Planned for Sutton Road
6 September 2003
---
This letter was received by a reader of Cookham.com:
Your viewers may be interested to know that Vodaphone have submitted an application to erect a 13 metre mast plus two 1.9 metre high cabinets on the grass verge next to Sutton Road just north and west of the junction with Sutton Close.
This is planning application no.03/40810 and is being handled by Mr P. Carey in RBWM's planning department peter.carey@rbwm.gov.uk Objections must be received by 6 October 2003.
This application should be strongly opposed by all Cookham residents and
others who have an affinity with the village. Not only is it in an obtrusive position on the main gateway to the village but it also creates a worrying precedent being located on the highway authority's grass verge. Safety concerns include proximity to houses and to Holy Trinity School. I hope that you will be able to raise this important local issue on the site.
---
Happy Anniversary Anne and Chris
6 September 2003
---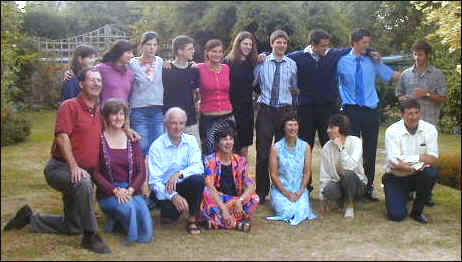 Happy Anniversary to Anne and Chris Glover who have just celebrated their Silver Wedding Anniversary. The party was shared with Anne's sister Jenny who was also celebrating her Silver Wedding with her husband Mike. Anne is well known in Cookham having lived in the Maidenhead area most of her life and being a music teacher at Cookham Rise Primary School. Her father used to be a visiting GP to Cookham before the current Health Centre was built. Happy Anniversary Anne and Chris.
---
Why not try Folk Dancing?
6 September 2003
---
Have you thought about enjoying yourself and taking exercise too by Folk Dancing? Cookham' Folk Dance Club starts up again on Tuesday, 9 September at Cookham Rise School at 8 p.m. - they meet every second and fourth Tuesday and newcomers are always welcome to come along and have some fun folk dancing. No previous experience is necessary. Why not give it a go?
---
Back to School
13 August 2003
---
Paul at The Stationery Depot says "We are in the process of updating our web site. Many of the existing pages have been redesigned and are hopefully faster to load. The shop which will be 1 year old at the end of September is bursting with stock, loads of back to school stuff etc. Hard to believe but our Christmas cards will be arriving in September."
---
Cookham's Youth
17 July 2003
---
A cookham.com reader says:
I am very appalled with the youth of the village these days. If it's not kids on scooters or skateboards, it's drunken teenagers running around in drag.
I have recently sighted several kids parading around the streets at night, dressed as women.
If anyone else has troubles with this, please post your message on the notice board.
(Attached is a picture of one of these young ragamuffins.)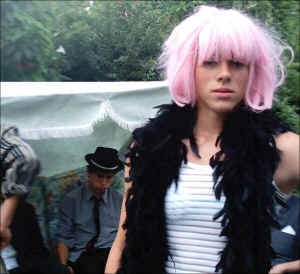 PS Click for larger image, also can I borrow the wig? Cookham Webmaster
---
WARNING - Travellers off Whyteladyes Lane
9 July 2003
---
Travellers have broken into the area of the Water Plant off Whyteladyes Lane, they had been on Cookham Moor. The area is owned by Geoffrey Copas and it is the first time this area has been used by them. People are warned to keep their windows and doors locked and to pay extra attention to security.
---
Do You Want GM Crops Growing in UK?
9 July 2003
---

Elizabeth Runnacles has brought Cookham.com's attention to the potential danger of GM crops.
Do you want GM crops growing in UK? Now is the time to have your say.
http://www.gmleaflet.org 020 7837 0642
---
Are You in Danger of Flooding?
9 July 2003
---
TUG have been set up by volunteers to support people in the Cookham, Marlow and Bourne End to fight the problems of flooding. Why don't you join and help them pay for the professional help of hydrologists that we need to fight the problem.
For more information or membership queries please contact Clair Hunt on 01628 524789 or at clair.hunt@upstreamgroup.co.uk
---
Pictures of Cookham
23 June 2003
---
Thanks to James Rutland for these two photos of Cookham.. Do you know where they were taken. Hover your mouse over the photo to see if you are right. Click on the photos for a larger image.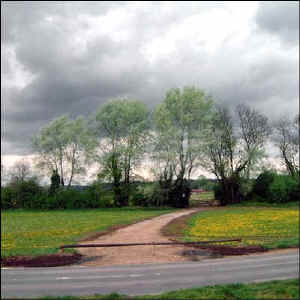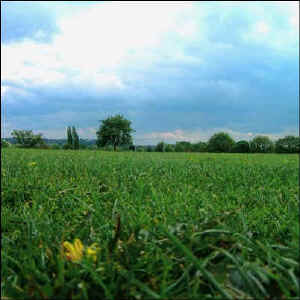 ---
Goodbye to John Copping
15 June 2003
---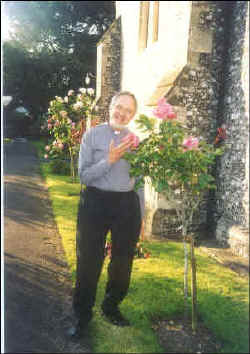 Click for larger image
Elizabeth Runnacles has given cookham.com this lovely photo of Rev John Copping who has recently retired from St John the Baptist Church, Cookham Dean. Father Michael Smith will now look after the Benefice of the Cookhams which will include both St John the Baptist and Holy Trinity. We wish John and Anne Copping the very best in retirement. Over £9,000 has been raised towards John's goodbye present with donations from the many people who have known and respected John during his time at St John the Baptist.
---
Poppies on the Bund
2 June 2003
---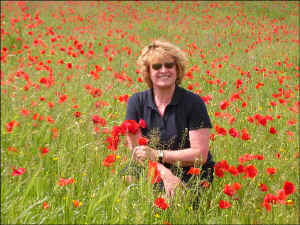 Lynda Mallett is pictured modelling for Timmy Mallett's latest Monet painting! entitled "Mrs Mallett among the poppies on the Great wall of Cookham!"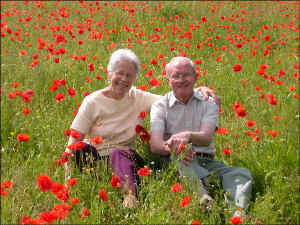 Timmy Mallett, who happened to be photographing the 'Great Wall of Cookham' flood relief system, took this photo of Peter and Pat from Leicestershire who arrived in Cookham today for a holiday at the Odney Club. The poppies have been planted by the Environment Agency near the Sailing Club on Marsh Meadow and are a real picture.
---
Josť's Famous Chicken Piri Piri
30 May 2003
---

Jose's famous chiken Piri Piri, is going to be available at the 1st Cookham Scouts Village Fayre on the 21 st June with all the money going to "DREAMFLIGHT" . Am sure some of you must've heard about the winkle club in and around our Village, so far we have reached the amount of over £1,500.00, for those children that have a dream, a dream of a last holiday, it cost £2,000.00 per child, and with my help and yours we should reach on that day the amount we require, if not little bit more.
---
Can you help Sandra?
25 May 2003
---
My ancestors lived in Cookham
John Robinson married 28 July 1803 Cookham to Mary Humphrey. He died in Cookham on 26 May 1854.
Their children were Sally b 1803, Henry b 1805, Eliza 1808, William b 1809 and Thomas b 1815 all in Cookham.
Thomas Robinson b 1815 married 13 August 1835 Cookham to Harriet Banister. He was an ostler/flagman.
They moved to Maidenhead living 193 Saunder square and Bridge Street.
I would like to find any other descendants of the Robinson, Banister and Humphrey families.
---
---
Hear ye Hear ye! The Crier is always looking for things to shout about! Feel free to submit your Thoughts, Poems, Requests or anything you like to thecrier@cookham.com