---
The Latest Report from Bernie
21 September 2007
---
COOKHAM GRAVITY GRAND PRIX
Sandwich's coffin has been seen stationary in Church Rd. The coffin is dead slow; it will not pass the churchyard. His challenge is subsequently GROUNDED. Sandwich is flying to Italy next week to collect a new design. Security has been increased at Steel Going in ligh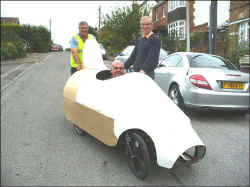 t of the spy scandal as Sandwich hunts for more competitive wheels.
Sooty has climbed another chimney in an attempt to snap more spy shots of Steel Going. The Stig was caught on camera putting Steel Going through rigorous testing in Long Lane on Monday.
The Weatherman has gone to Brighton in search of fresh seaweed, which he believes will provide a far more accurate forecast than his radar which thus far has proved to be woefully ineffective.
Jagger Jarvis of Rolling Stoves is furious with Sandwich after the attempted sabotage of his entry. It has been reported that Sandwich planted and detonated an explosive device with intent to disrupt Jagger's preparations for the up coming Grand Prix. Sandwich has yet to comment on this matter.
The Metropolitan Police are entering the Grand Prix, and have recruited a well know Welsh driver called Sarj. When asked to comment on the where abouts of their driver the Met said that he had not been seen for weeks.
---
Open at Last
16 September 2007
---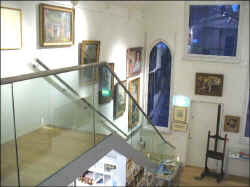 After a year of refurbishment with three quarters of a million pounds from the Lottery Fund the Stanley Spencer Gallery has opened its doors again with a truly twenty first century look. The original opening was scheduled for June 2007 but it slowly crept back and back, however the result is truly spectacular. To find out more about the Stanley Spencer Gallery click here.
---
Spying Row Threatens Cookham Dean Gravity Grand Prix
14 September 2007
---
As the row over whether McLaren spied on Ferrari's formula one secrets reaches a conclusion, there are fears that sporting espionage has spread to the world of the soapbox derby.

The organisers of the first Cookham Dean Gravity Grand Prix fear the integrity of the event has been fatally damaged, as rumours of dark deeds and dirty tricks circulate in the village.

The Gravity Grand Prix, scheduled for Sunday 14th October, will see up to 20 custom-built vehicles race from the junction of Church Road and Spring Lane to the finish line at Uncle Tom's Cabin. All proceeds will go to the Thames Valley & Chiltern Air Ambulance.

However, what started as a charity fund raising event now threatens to split the community, as rumours abound that secret photos of one competitor's soapbox have been widely circulated among his rivals.

The spying scandal centres on the Jolly Farmer pub. Mr Steve Wray of Craufurd Engineering Services Ltd, who has an entry called Steel Going, was shocked to find the confidential photographs of his creation circulating amongst other contestants.

"I sat down showed the photographs to a few close friends, and before I could order a pint they were gone," said Steve. "This is clearly cheating - if there were ruling body to complain to I would be speaking to them, but it turns out that soap box derbying is totally unregulated.

"This shoddy lack of control is one reason why the sport has been rejected by the International Olympic Committee as an event for the 2012 London games."

An undercover investigation by Cookham.com at the Jolly Farmer initially proved fruitless. A discussion at one table about the possible whereabouts of an old pram descended into muffled whispers when our investigator tried to join in.

However, one of the conspirators eventually agreed to an interview. Mr Peter Bartlett, who plans to travel the course in a coffin on wheels called Feet First, freely admits to circulating Steve Wray's photographs.

"I thought that he had discarded them," said Mr Bartlett with his tongue firmly in his cheek. "If they were that sensitive he shouldn't leave them lying about. Anyway we have shaken hands and sort of apologised."

He added: "Our main concern now is with a group who leave the bar on the pretence of taking a smoking break – they don't smoke. Why would they want to go outside in this summer? We know they are plotting something."

In a bid to clean up the event, the organisers are throwing the field open to new entries. There are still a few spaces left on the starting line.
---
Leading Law Firm Grows and Grows
29 August 2007
---
Colemans Solicitors LLP Maidenhead's leading firm of commercial property solicitors has continued its expansion with the appointment of solicitor Brian Regler who has transferred from the Reading branch of a large, Thames Valley law firm.
Brian brings with him an impressive following of well-known business clients which he has built up over the past 30 years. They include landlords of residential and commercial property, investors in property portfolios, and owner-managed businesses. Since first qualifying as a solicitor in 1973 whilst at another large Thames Valley firm, he has made a speciality of property law. This expertise has seen him employed in London and more recently in Reading .
Commenting on his move to Colemans he says, "One of the benefits of working at the head office of the firm is that I shall be able to provide my clients with a wide range of legal services from under one roof. It will be a great advantage to have colleagues close at hand who can act for my clients in related areas such as litigation, company commercial, business transactions and inheritance tax mitigation".
Colemans' Managing Partner Mike Stone says "Our clients want to deal with experienced property professionals and by adding Brian to our team we now have both enormous experience and real strength in depth. We cover the full range of property and related services and Brian's experience and maturity will help our clients and ourselves move from strength to strength."
Cricket has been one of Brian's interests for many years, serving as a committee member of The Law Society Cricket Club for 25 years. Whilst working in London he was also president of Middlesex Law Society – a big hitter in more ways than one!
For further information contact Mr Mike Stone or Brian Regler on 01628 631051 or email michael.stone@colemans.co.uk or visit the website http://www.colemans.co.uk
---
Tarrystone Auditions
21 August 2007
---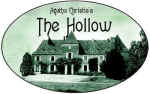 The Tarrystone Players are holding open auditions for their November production, Agatha Christie's 'The Hollow' and would love you to come along! 'It's one of Christie's least known plays which is partly why we chose it,' says chairman Richard James, 'The ending will be a surprise to everyone!'

The Hollow features a large cast of men and women of all ages, so there's ample opportunity to cast newcomers in some large roles. 'If you've ever considered stepping out on stage, why not come along and join in the fun?' says Richard. The audition will be held at the Pinder Hall, Lower Road on Thursday 6th September from 8pm. Rehearsals will then take place in Cookham Dean on Tuesdays & Thursdays and the three performances will be held in late November.

More details at www.geocities.com/tarrystoneplayers
---
Road Accident in Beaconsfield
2 August 2007
---
Our hearts go out to Jackie Powers, who runs the Cookham Dean Post Office, and her two daughters, on hearing that her husband Damien was killed in a car crash this week in Beaconsfield Old Town.
---
Death of Janet Bingham
2 August 2007
---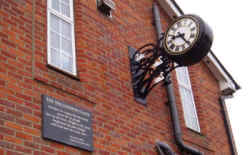 It was with great sadness that Cookham.com learnt of the death of Janet Bingham at Wexham Park Hospital last week, having spent some weeks in the Hospice at Windsor. Janet would have been 58 on the 23rd August 2007. Janet, born in Yorkshire, had come to live in Cookham Dean at Shy Hamlet in the 1990s after living in the US where her husband was working for Fisher Price. Janet immediately threw herself into the activities of the village and became a member of the Parish Council where she was chairman of the Finance Committee. She had her own afternoon show on the first Cookham Summer FM on the Parish Council in 1997 and also was on air again in 1999. She will also be remembered for the Millennium clock that was paid for by the Parish Council and erected on the wall of the station in Cookham. Janet was a very keen golfer and was lady president of her golf club at Littlewick Green. After resigning from the Parish Council in 2002, Janet then took on the chairmanship of the Dean Rise WI with great enthusiasm. On separating from her husband Bill she then moved to the Old Post Office in King's Lane in Cookham Dean, which she restored so it was a little gem. Janet also loved dance and used to be found surrounded by costumes and pieces of material while she made the costumes for the annual performances of her group Tiptoes. She also could be seen serving behind the bar at the Social Club on a Sunday evening. Janet's enthusiasm and mass of curly red hair will be remembered by many in Cookham and she will be sorely missed. The verse she asked to be printed under the clock was a particular favourite of her's.
Let there be respect for the Earth
Peace for its people
Love in our lives, delight in the good
Forgiveness for past wrongs
and from now on a new start
---
High Tide Heels
23 July 2007
---
A Cookham.com reader has sent us this photo of the footwear that we may need soon.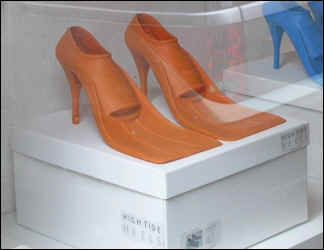 ---
Cookham Country Market
20 July 2007
---
The Cookham Country Market will not be at Pinder Hall on Fridays 10th, 17th and 24th August but will instead be outside Elizabeth House on Saturdays 11th, 18th and 25th August from 9am to 11.30.
---
Reca McGibbon
19 July 2007
---

One of Cookham's best known and much loved characters sadly passed away this week. Reca, of Aspley Cottages, Lower Road, was a popular artist and gardener, and a good friend of Stanley Spencer. last year Meridian TV interviewed her for a programme on Cookham.
A talented potter and sculptor, Reca made the fabulous head of Stanley Spencer on show at the Spencer gallery, and the evocative head of Elizabeth Saunders, founder of Elizabeth house. Reca continued to work and exhibit to the end of her life and as recently as 2005 her wonderful life size reclining lady "Bottoms up" drew many excited comments when it was on show at Stratfords wines, during the Cookham Festival. Among her many lovely pieces was another glorious bust of a close Cookham friend Wendy Craig, which Reca created in the 1970s.
Always active, Reca was in her 90s and still learning - "I love my computer" she declared "I just wish it was faster and could do more!" Her art classes were always popular and many people will recall her passion for drawing, sculpting and creativity of all sorts.
Timmy Mallett said "Always a happy enthusiastic lady, one of our favourite calls came each year in late Feb early March as the weather started to warm up. "Do you want to come fishing for frogspawn?" Reca would ask "Billy will love it, the frogs are busy mating in the pond and there's lost of frogspawn if you'd like it!" We would go round with buckets and fishing net and there was always something new to admire in her garden. Reca would help us scoop through the netting (to keep the herons off) and we reciprocated to her with gifts of homemade Mallett marmalade."
Reca will be sadly missed. There was someone with a passion for living, for people, their talents, and their friendship. Her artistic impact on the village is still all around us.
---
Why Not Become a Part Time Fireman
16 July 2007
---
I am Phil Holdford, Officer in charge of Cookham Fire station.
We are now recruiting for people to join our team at the fire station to ride the appliances and carry out Community Fire safety around Cookham.
I am setting up a team to carry out a new project in 4x 4 fires around the county as well as running a control unit for major incidents.
If anyone is interested in a challenge and wants to get paid for it please contact me at Cookham Fire station on a Monday Evening at 7pm to 10 pm.
We have testing in September and will give you all the support you need for this.
We are ideally looking for day cover and have already had interest from ladies around the village but all are welcome, between the ages of 18 and 55.
---
Cookham Complementary Health Directory Launched
12 July 2007
---
The Cookham Complementary Health Directory is brought to you by Jo Piercey and Cheryl Ann Brickell, both of us complementary health practitioners living in Cookham who met while producing and presenting programmes for Cookham Summer FM in 2006.
During its run we uncovered a wealth of highly qualified practitioners with expertise in a wide variety of disciplines in Cookham and the surrounding areas.
Having identified and gathered so many practitioners together we wanted to maintain contact with them and so set up a practitioner network which meets at regular intervals throughout the year.
The aim of the network was to provide a forum for us to meet regularly to get to know each other, find out what we each have to offer and how we can work together to provide the best care for our clients.
However rather than keep this information to ourselves we decided to share our list of contacts with a wider audience - hence the directory. CLICK HERE.
We hope you find it a useful reference source - one which will expand and develop in time. If you have any comments or suggestions please e-mail: info@relaxintohealth.co.uk.
---
What has Happened to Widbrook Stream?
4 July 2007
---
Cookham.com received this from James Hatch who lives in British Colombia, Canada.
As you know I keep in touch with things that are going on in the village both by e-mail and a visual look from space. Yes it is surprising what you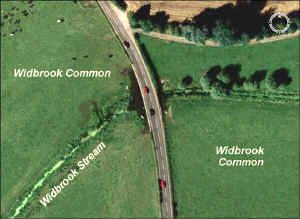 can see what is going on around your old home via Google.
I have studied the area from the Fleet Bridge right down and over Widbrook to the river at Islet Park. The picture was taken earlier this year and I am appalled at the condition of the stream. You can see in the picture above how choked it has become with reeds and Duck Weed (that is the light green in the picture). In the olden days the water was kept flowing by the old Thames Conservancy on an annual basis with a team of men who clean out the reeds. It seems that they spend millions on flood control then neglect to upkeep in the form of preventative maintenance. As it is at the moment it is a very good breeding ground for mosquitoes and I don't want people to panic but, there is always that the dreaded West Nile virus will show up. So let the people know that they should bring pressure to bare on the Thames Water Authority.
---
Holy Trinity - Centre of Attention
28 June 2007
---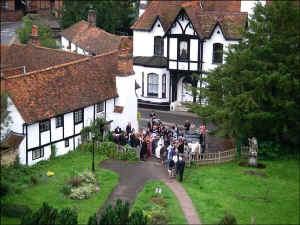 Holy Trinity church is busy with weddings and visitors this summer.
Two of the bellringing boys, clambered to the top of the roof of the church and this is the view when they looked down - on the latest wedding gathering! While Red Bingham from Australia enjoys the sound of the bells when given the tour by young Billy Mallett
---
Football Club Needs a Physio
28 June 2007
---
Cookham Dean Football Club are on the look out for a Physio to join the First Team staff. Duties would include attending to players injuries on matchdays and advising on dietry and fitness issues throughout the club as a whole.
The position is unpaid and would suit someone who is training in this field or somebody who would like to get involved in the environment of a local football club.
---
Elizabeth House Gift Day
23 June 2007
---
It was the annual Gift Day at Elizabeth House on Saturday 23 June. Coffee, tea and cakes were available, also a wonderful selection of plants.
It was a good opportunity to meet old friends and have an enjoyable chat. Some delicious cakes were available to have with
a cuppa or to buy and take home for later. Liz Dyer. who runs Elizabeth House, was busy offering cakes and pouring out tea to the background music of the Fabulous Shirtlifters who were not actually there in real life but were being played from a ghetto blaster.