---
Tarrystones Also Help Charity
25 November 2007
---
The Tarrystone Players production 'Loose Ends' at the Pinder Hall helped to raise hundreds of pounds for charity. 'We collected almost £300 for Macmillan Cancer Support through donating £1 from each ticket,' says Tarrystone Chairman and director, Richard James, 'And a raffle on the last night raised £140 for the White Ribbon campaign against domestic violence. It's a great way for us to support worthy causes while giving everyone a great night out into the bargain!' The next Tarrystone production will be in the spring. Three one act plays will be presented, and the audience will get to choose which one is entered into next year's Maidenhead Drama Festival. In the meantime the amateur dramatics troupe will be holding an open play reading of 'A Christmas Carol' at the Old Cricket Pavillion, Cookham Dean, Monday 10th December. Everyone is welcome! More information at www.tarrystone.org
---
KIA ORANA or GREETINGS TO COOKHAM
24 November 2007
---
KIA ORANA or GREETINGS TO COOKHAM
from the capital island of RAROTONGA
in the COOK ISLANDS.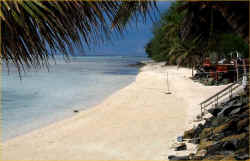 These beautiful islands originally discovered by Captain Cook on one of his many voyages, but were more famous for the historical event of the Mutiny on the Bounty and of course their leader Fletcher Christian when they were there to pick up Breadfruit trees for Caribbean. Captain Blyth thought more of his cargo than he did of his men, which followed in mutiny.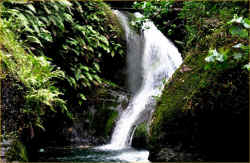 The native Maori population today are still as friendly today as they were in the days of Fletcher Christian with great big smiles on their faces. The island is very religious with several Christian faiths. They have a very nice 18 hole golf course and lawn bowling green but don't expect to play a round of any sport on a Sunday! Sunday is for church. For those who have to work on a Sunday there is always the 5.00 a.m. service to attend.
The islands are self-governing with New Zealand providing their external and foreign affairs protection and representation. Flying there from Europe, most people fly to Auckland and then on to Rarotonga. The currency is now in New Zealand dollars and the old Cook Island currency is being phased out when were there last year.
The few pictures that I have added will give you all in Cookham an idea of the unspoilt beauty of the place. Merry Christmas and a Happy New Year to one and all.
P.S. A drivers licence will cost you $10.00 and runs from your birthday until your next birthday. You also drive on the left, no need to change your habits!.
---
Les Adventures d'Artist
12 November 2007
---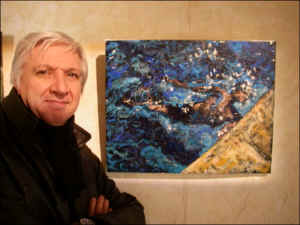 From 16-30 November 2007 there is an exhibition of Timmy Mallett's paintings at Cookham's twin St Benoit, near Poitiers in France. Timmy went with his wife Lynda and Judy Trinder for the grand opening. He was very impressed with the Gallery where his paintings were professionally lit. The actually place where his paintings were hung had been a Monastery some of it going back to the 12th century. The photo shows the Mayor of St Benoit with one of Timmy's paintings. To see more about the exhibition click here.
---
Remembrance Day
12 November 2007
---
250 people gathered by the war memorial in Cookham High Street in the cold November sunshine for a moving act of remembrance. Rev Michael Smith read out all 85 local men's names commemorated on the memorial, Andy Congdon played the last post, and we were joined by members of the Legion of Frontiersmen founded by Roger Pocock of Cookham a century ago. Click here to see the video
---
Oxjam Unplugged
10 November 2007
---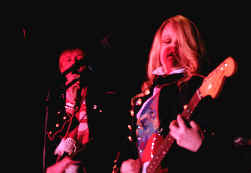 On Saturday 27th October Oxjam Unplugged took place for the second year at the Cookham Dean Village Hall. An eclectic mixture of music with Folk, Rock and Accoustic with a talented group of artists was enjoyed by the attendees. To see some photos click here.
---
Visit to Cookham's Twin
30 October 2007
---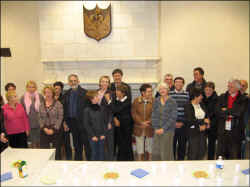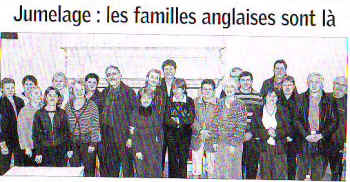 TWINNING: The English families are here!!
---
Tarrystone's Loose Ends
28 October 2007
---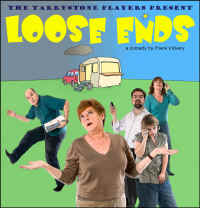 Cookham's award-winning Tarrystone Players open their Box Office on 1st November for their latest production, the comedy 'Loose Ends' by Frank Vickery.
'We're determined to give everyone a great night out,' says director and Tarrystone Chairman, Richard James. 'As well as a fantastic cast of old and new faces and a wonderful play, we're offering our audience a fish and chip supper too! The play is about a woman, Marlene, who is determined to pair her son up with a friend - against all the odds - and it all takes place in a caravan park one summer. Because of this, we've going to have to build a caravan on the stage of the Pinder Hall in Cookham - but we love a challenge!'
The cast includes Lynne Smith, Gerry Clark, Jonathan Yates, Jackie Payne and Joanna Yates. The performance dates are 22nd-24th November at 7.30pm. Tickets are £10 including supper and a £1 donation to Macmillan Cancer Support and will be available from the Stationery Depot in Cookham, or by phoning Lynne Smith on (01628) 520989 from Thursday November 1st.
---
Stanley Spencer Gallery 3,000th Visitor
26 October 2007
---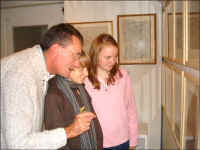 When Ian White stepped through the door at the Stanley Spencer Gallery on Friday morning 26 October 2007 he became the 3000th visitor since the gallery was reopened following it's £900,000 refurbishment. Stuart Conlin, who chairs the Management Committee of the Gallery said that, since reopening in September he was delighted with the comments from visitors which had been overwhelmingly positive about the changes. Visitor numbers had exceeded all expectation. It was a family affair as Mr White was in Cookham with his son Charles and daughter Rosalind on a visit from Canterbury . They had dropped Mum off on a course at the Institute of Marketing at Moor Hall, and had been told by their grandmother in Salisbury that a visit to the Gallery was a 'must'. Just shows how Stanley and the Gallery continue to put Cookham on the map!
The Gallery moves to winter opening hours of Saturday and Sundays only , 11.00 to 4.30. (as of Nov 1st)
---
1st Cookham Cubs funds for Oxfam
19 October 2007
---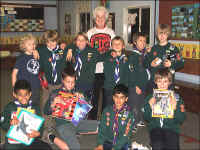 The Scout HQ in Pierce Drive had been packed with people snapping up bargains and Akela finally found a moment to snap a picture!
Here pictured with our newest friend, Barbara Walmsley MBE are a few of our cubs who stayed behind on Thursday night to help tidy up. (click on photo for larger image).
Both Robert Scott Pack who meet on Wednesday night and David Livingstone Pack who meet on Thursdays had arranged Bring and Buy sales for Oxfam as part of their Global Challenge award.
A few weeks ago Barbara had been to us to tell us about her life-long devotion to Oxfam. The cubs were very impressed with her medal! I noticed too the amazement on their faces as she demonstrated the little bands that Oxfam use around the arms of sick children to decide who should be treated with the most urgency. Needless to say none of the cubs were found to be "starving". The cubs decided for themselves what they would like to buy with any money they raised and a shopping list will be going to Oxfam very soon. The stalls ranged from cakes to comics, toys to toiletries and of course a giant chocolate reindeer raffle. Thank you all who came along to support the cubs. It really is a stunning total.
We are delighted with the results of all their hard work, £349.49 raised. They have learnt something of what can be done for others - to change the world, one step at a time.
We wish Barbara well with her annual fast in the new Sainsbury's . Do support her if you can.
Akela
---
Youth Club Visit Coral Reef
16 October 2007
---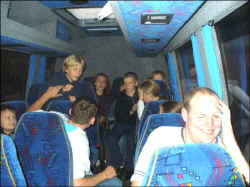 The Cookham Youth Club had an outing for their normal Monday night activities on 15 October. Around fifteen people went to Coral Reef in Bracknell for a swim, a jacuzzi and some fun. Finlan Travel had been arranged to take them there and back again. Click here for more information on the Cookham Youth Club.
---
Footpath Materials Advice
11 October 2007
---
Wanted - Footpath Laying Advice

CAN YOU HELP US?
ADVICE ON LAYING NEW FOOTPATHS IN COOKHAM CEMETERY
LONG LANE, COOKHAM

Cookham Parish Council need some advice on replacing the gravel footpaths in Cookham Cemetery with a surface that is easier to walk on.

We have several ideas of the preferred surface, but we could use some expert advice on our final specification and preparation of a tender document.

If any one has some advice or knowledge that could help us with this major footpaths project, please call:
Janet Wheeler (Clerk to the Council) at Cookham Parish Council - 01628 522003 – or email: cookham.parish.council@rbwm.gov.uk
---
Pick Your Own Closes 1 October
30 September 2007
---
COPAS FARMS PICK YOUR OWN
Lower Mount Farm, Long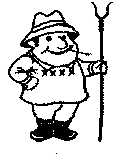 END OF SEASON NOTIFICATION
Copas Farms Pick Your Own in Cookham will close from Monday 1st October 2007.
We thank all our customers for their valued support this Season and look forward to seeing you again in 2008.
---
Braywick Nursery Open Day
30 September 2007
---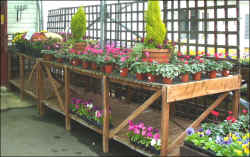 Many gardeners may not know about Braywick Heath Nursery in Maidenhead, off the A308. Braywick is a charity which employs disabled people and those needing support. The quality of the products is outstanding and the prices are very low. On Sunday 30th September they had their Open Day offering 25% off all plants also a free barbecue. Anyone who has not visited the nursery should, they will be very pleasantly surprised, with lots of free parking, a good selection of plants and bulbs and lots of friendly advice if you should need it.
---
Launch of the Cookham Comets
25 September 2007
---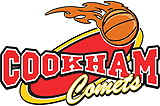 Are you 16 or under and would you like to be in the Cookham Comets Basketball team? We have an excellent court on the Alfred Major Recreation ground in Cookham Rise laid out for basketball.
We also need some adult helpers for the admin. etc. If you are interested please, please e-mail info@cookhambasketball.com, this could be great fun.

www.cookhambasketball.com,
---
Sad Passing of Beryl Schirn
24 September 2007
---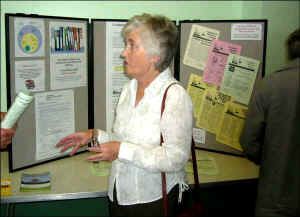 Many people in Cookham must have met the amazing Beryl Schirn who sadly died on Saturday 22 September 2007 at the Paragon Suite, Wexham Park Hospital on Saturday 22nd September 2007, quite unexpectedly.. Beryl was one of those people who never blew her own trumpet, but just got on with things and magically made things happen, while behind the scenes she had put in an enormous amount of work. She worked very hard for Asthma UK, although not an asthma sufferer herself, she had supported the charity for 30 plus years and was a Vice-president. She played badminton with the Friday Badminton group at the Pinder Hall, was a member of the Cookham WI and was on the Pinder Hall Committee where she had raised many thousands of pounds for the refurbishment of the hall. She was also very much involved with the Patients Participation Group of which she had been chairman. She helped to organise the annual Cookham Health meeting and was also a very active volunteer for the Patient and Public Forum for Windsor, Ascot and Maidenhead.
Our thoughts are with Brian, her husband.
A funeral service will be held at 12.00 on Monday 8th October 2007 at Holy Trinity Church, Cookham, followed by cremation at Amersham Crematorium.