---
Service of Celebration
17 June 2008
---
This Sunday 22 June at 10.30am there will be an Ecumenical Service of Celebration to celebrate our community and to thank all those who have helped with the Kedida Project. The service will take place on Cookham Moor in a marquee. This is not the first time that there have been such services in a Marquee on the Moor, the first one was in 2000 for the Millennium Celebrations and the second one was during the Queen's Golden Jubilee Celebrations.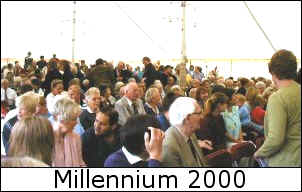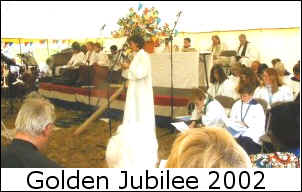 ---
Congratulations David Pinnegar MBE
14 June 2008
---
The Queen's Birthday Honours list that was announced today included a Cookham resident David Pinniger who lives in Westwood Green. David received the honour for his work as an entomologist and his services to Pest Control and to Museum Conservation. Earlier this year David also received the Royal Warrant Holders' Plowden Medal for Conservation, so David has truly been recognised this year. Congratulations David.

Click on photos for larger image

David being presented with the Plowden Medal

David training staff on insect identification at the V & A museum last week.
---
What NO Phone, NO Internet?
11 June 2008
---
Many homes in Cookham woke up this morning to find that their phones had stopped working. People were even more horrified when BT told them that the fault would not be repaired until 30 June 2008. It seems that during the night the copper cable from near the Bourne End exchange was stolen which cut the connection to people's houses. It is affecting some homes in Cookham Rise and Cookham Village. BT do offer compensation for any extra costs incurred during the time the lines are down.
---
On the Passing of an Old Friend
9 June 2008
---
James Hatch from Canada sent this memory of Eddie Smyth who died recently
It was very sad to read the passing of a very dear old friend in Eddie Smythe. A man in all his years that he lived in Cookham never lost his Devonshire accent with its heavy burr. I got to know Eddie during the war years when he was working for Courtalds at Islet the former home of a Mr. Wagg a London vintner.
I remember during the flood of 1947 ferrying Eddie and others across Widbrook Common so that they could reach The Islet to see what they could do with the damage that the flood had caused. Again in 1942 he was lopping the lime trees on the ground opposite the entrance and was willing to let me cart the branches away to use as pea sticks in the Top School allotment where we grew all our vegetables for the school kitchen. Yes we boys under the instruction of the "Gaffer" G.H. Wood, and the girls were taught how to cook by a Mrs. Isherwood and Mrs. Deacon.
After the war, we were allowed to ring once more at Holy Trinity we used to see quite a lot of Eddie as besides his devoted "Tubby" who we knew as "Bob", which we assumed was short for Roberta, and his two sisters-in-law Jessie and Joan Tubb were the core of the church Bell Ringers, not forgetting of course other stalwarts of the band with Cora Tuck, Phil & Morris Tocock who had been in the Army during the war. Led of course by the infamous T.J.F. "Thomas John Fowler as ringing master. Not forgetting Walter "Simmy" Ing the vicar's gardener.
August Bank Holiday was always "The Ringer's Annual Outing" The Smythe family with many others would join in a trip to the seaside and a call at various towers on the way down and back. Making sure the last stop was at a nice friendly pub.
Of course Eddie and the whole Smythe family were part of the Cookham Pantomime Season. Here Eddie would come into his own building elaborate sets to fit the stage at the Pinder Hall. Of course we were guests of the Wilson family at Melmott Lodge on New Year's Eve for an evening of fun and games. Then a little after eleven p.m. we would walk across the Moor to the church to ring the Old Year out and the New Year in then dash to the Royal Exchange before last orders for a drink with the landlord and landlady "Jimmy and Mrs. Maise.
The last time I spent an evening with Eddie was as his guest at the Masonic Lodge in Cookham Dean in 1998. He was a great Mason with Provincial Grand Lodge Honours and will I am sure be missed by his Masonic brethren.
---
Website Launch for PPG
6 June 2008
---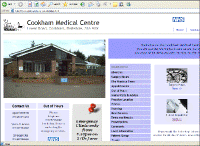 The Patients Participation Group is very excited as they have just launched their new website which is part of the Cookham Surgery's web. Patients can keep up to date with what is going and one of the first events that is planned is an evening entitled How to Avoid Seeing Your Doctor which is taking place on Tuesday 24 June at the Parish Centre. So if you want to ensure you keep your sparkle come along. Click here to see their new website.
---
Author Peter Ackroyd Films at the Gallery
31 May 2008
---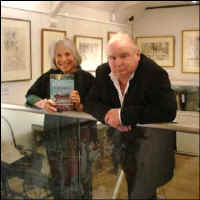 It was a busy day in the Spencer Gallery on Thursday 29th May because as well as visitors there was filming in the afternoon.

Author Peter Ackroyd is making a four part documentary for ITV and Sky Arts about his recent book about the Thames – and of course a visit to the Gallery is a must! He spoke to the Gallery'd curator Carolyn Leder, who can both be seen in the photo.
---
Save Our Lock Service
26 May 2008
---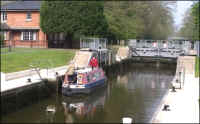 FROM: SAVE OUR SERVICE
We have now started a fighting fund to Save Our Service.

We are accepting money and cheques for our campaign and hope that everyone might be able to get the word out.

Please make donations payable to Save Our Service, c/o 101 Cranbrook Drive , Maidenhead. SL6 6SR.

We will be using the money for all aspects of the campaign from banners to legal advice, every penny will be accounted for.

For more information please see: www.saveourservice.org
---
Spencer Impresses Nathaniel
22 May 2008
---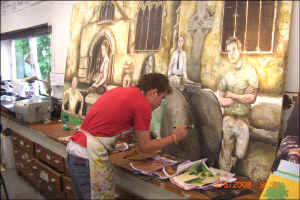 Seventeen year old Nathaniel Gliksman of Oswestry school, Shropshire, recently visited the Stanley Spencer Gallery to see some of Stanley Spencer's work. With the Head of Art and Design at Oswestry School, Anne Marie Stonehill, he also visited the Tate Gallery, Liverpool to see Spencer's Resurrection in the exhibition there. He was so impressed he decided to paint his own version for his recent A2 exam. The photo shows him working on it and depicts the local church with his friends and himself. (click on photo for larger image)
---
LizzyK at Buckingham Palace
17 May 2008
---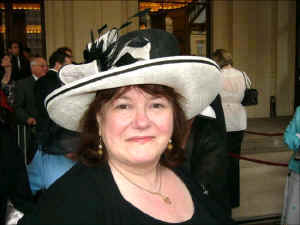 Liz Kwantes went to Buckingham Palace yesterday to receive her MBE from Prince Charles.

She says she had a wonderful day and all the staff at the Palace made her feel very special. She also said it was rather nice being waved in through the main gates and driving through to the inner quadrangle. Her guests were taken off to the ballroom so they could watch the ceremony while Liz was taken to another room packed with paintings by famous artists such as Rembrandt and Caneletto. There Liz had the opportunity of talking to some of the others who were also receiving awards including Jenny Uglow who wrote a little History of English Gardening, a subject close to Liz's heart, Christine Gilbert, head of OfSTED, Dr Romy Frasier who set up Neal's Yard, whose products Liz loves and several others. Prince Charles presented Liz with her medal which was then taken from her to be put in a box.

Liz said it was a really exciting day and very different from what she would normally be doing on a Friday.
---
Sad Death of Roger Parkes
12 May 2008
---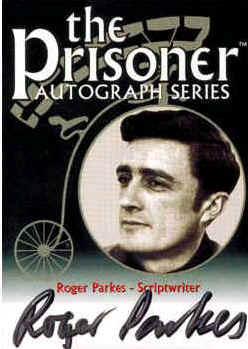 It is with great sadness that cookham.com heard of the death of Roger Parkes. Roger was a well known script writer, having been behind such 70's classics as the Onedin Line and he was the writer of Alice Ray Morton's Cookham which was serialised on Cookham Summer FM being read by Jean Hedger with a fantastic Berkshire accent. Roger and his wife Tess lived in Cookham Dean where they had a B&B which people returned to year after year. Roger thought he had recovered from throat cancer, but recently had recurring pains which he ignored for a while. Sadly the cancer had taken a hold. Roger will be sorely missed by many people. His funeral will be held on Wednesday 21st May.
---
Paul & Jess at The Old Swan Uppers
6 May 2008
---
Welcome to Paul and Jess who have come to Cookham from Gloucestershire and have taken over the Old Swan Uppers in the Pound. Paul and Jess invite everyone to a welcome Cheese and Wine night on the 10th May 2008. There will be samples of their new spring menu and a variety of cheeses plus a free glass of wine, so come and join them.
---
Lock Keeper Cottage Disposal on TV
4 May 2008
---
To see the BBC programme on the lock keeper's cottage and an interview with Kim Benge click here. Then click the 'latest programme' button top right. This will only be available for a short time.
---
Cookham on the ONE SHOW
24 April 2008
---
After the filming earlier this year, Cookham appeared on the ONE SHOW this Thursday 24th April. The piece was introduced by ex MP Giles Brandrith who visited Herries and also talked to David Ricardo whose great uncle Colonel Ricardo was said to be the person that Toad of Toad Hall was based upon. Giles was talking about a favourite read, the Wind in the Willows.

http://www.bbc.co.uk/theoneshow/article/2008/04/gb_placeinabook.shtml
---
Do You Recognise This Man?
16 April 2008
---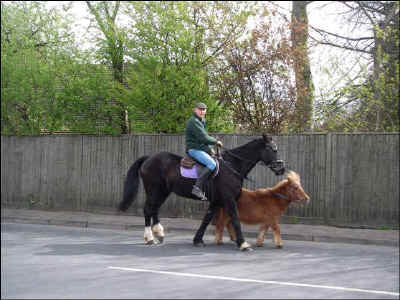 click on photo for larger image
It is Curly Carver our local National Trust man on the ground (or horse)