---
BACK TO SCHOOL
24 August 2008
---

It is nearly time for going BACK TO SCHOOL the Stationery Depot in the Parade has got everything that you will need. The shop is bursting with new stock, pens & pencils, files & folders , maths & geometry sets, calculators etc. etc.
Paul says he has also just had delivery of 2009 diaries and calendars for all those that need to get ready for next year.
---
COOKHAM GET COOKING
14 August 2008
---
Do you like Cooking? James Hatch has set up a Blog, Cookham Get Cooking, for anyone who is interested in finding new cooking ideas and recipes and also for you to give him some of your ideas and recipes too.
---
DO YOU NEED A SPELL CHEQUER?
11 August 2008
---
Aye have a spelling chequer
It came with my pea sea
It plainly marques for my revue
Mistakes eye cannot sea
I've run this poem threw it
I'm shore your pleas too no
It's letter perfect in its weigh
My chequer tolled me sew.
---
A TALENTED PHOTOGRAPHER
3 August 2008
---
Hello webmaster,

I would like to recommend this talented young lady originally from Cookham, but due to house prices has relocated.
01344 488571
Photographer who specialises in natural looking reportage images. Weddings events etc.
---
MAIDENHEAD AT THE MOVIES
26 July 2008
---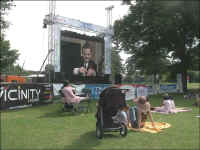 A fabulous weekend of free movies to enjoy in the sunshine and also the cool of the evening from Friday through to Sunday.
Chairs were available but you could bring your own deck chair or a blanket and picnic and enjoy the exciting atmosphere of watching outdoor movies.
It was a special screen that was watchable even in strong sunlight and a great sound system.
There were hamburgers and drinks available and the RBWM ensured their recycling stand was there to educate us!
It was a fabulous initiative of the council and one we hope will be repeated.
Movies included Grease, Indiana Jones, Mary Poppins, Shrek and the Italian Job.
---
COME AND HELP WITH THE BROWNIES
14 July 2008
---
The Cookham Rise Brownie pack who meet in the Methodist Church on Wednesdays is in need of more adult helpers…starting in September.

Anyone interested in finding out more can contact Madeleine Thomas on 01628 629123.
---
THE CRAFT OF SUGAR
10 July 2008
---
Lisa Slatter who runs Celebration Creations in the Arcade is to be embarking on a new venture in 1 August. She will be taking on another unit in the Arcade and turning it into a classroom for the purpose of teaching all aspects of Cake Decorating and Sugar Artistry.
Classes will start running at the new unit from October 2008. There will be classes for all abilities and she hopes to be able to add in the odd one or two sessions for children as well. We are currently busy preparing our Autumn Schedule which will be posted on our web site soon.
To book a class, prospective students can contact Lisa at the shop on 01628 525433, by email cakesbylisa@aol.com or in person at Celebration Creations, Unit 6 Cookham Arcade. She will be teaching most of the classes herself, but there will also be guest tutors and demonstrators at times.
Lisa is an experienced and qualified tutor, with over 20 years experience in the field of cake decorating and sugarcraft. She currently teaches City and Guilds Cake Decoration and Sugar Flowers at Bracknell and Wokingham College and demonstrates sugarcraft all over the country as a demonstrator for the British Sugarcraft Guild.
---
DO YOU NEED A PLUMBER?
5 July 2008
---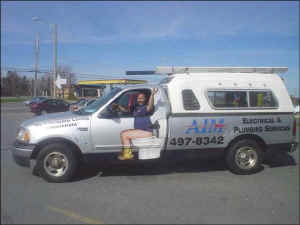 A Cookham.com reader thought that readers needing a plumber may like to try this one!
Click on photo for larger image.
---
Cookham Profile: Philip Adamson
4 July 2008
---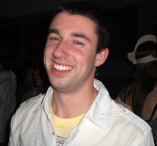 Philip Adamson is the latest member of the Cookham.com team.

Philip recently graduated with a degree in Interactive Computing from the University of Brighton and is currently working as a web developer in London, but still living in Cookham. Philip

used to be part of the cookham.com team when he was at school in its early days.

Welcome back Philip.
---
Mallett's Masterpieces
2 July 2008
---
Timmy Mallett is starting to be known as something of an artist and has had several exhibitions in the recent months. BBC Oxford have written a piece on him click here to read it as he will be appearing on BBC Oxford this coming Saturday. Timmy has even started to do commissioned works for people living in Cookham.
---
A Great Fundraiser
1 July 2008
---
The Scout Fair held on Saturday June 29th has raised a massive £4,500 for Scout Funds. Well done and thank you to all those who made it possible.
---
Indian Call Centre
22 June 2008
---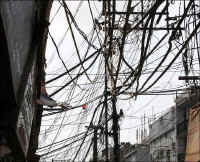 A Cookham.com reader has sent us this photograph of a street in Mumbai, India.
For all of you who have needed to call an Indian call centre with your technical problems for your computer or broadband these are the people who are telling you how to solve your technical glitches.
click on photo for larger image