---
COOKHAM DEAN SPEED PETITION
4 November 2008
---
To all residents and visitors to Cookham Dean,
We welcome the recent reduction of the speed limit in Dean Lane from 40MPH to 30MPH, however the placement of the new road signs has highlighted that the speed limit in the residential area of Cookham Dean is currently at the National Speed Limit. We believe that allowing speeds of up to 60MPH in this area which has many families, young people, elderly people and horse riders creates an unnecessary risk to life. In an area with few pavements and street lamps where many people choose to walk to the school, church or pub we believe that a more appropriate speed limit for our village would be 30MPH. We have written to the Traffic and Safety Management Team at the Royal Borough of Windsor of Maidenhead and they have replied confirming that they do not currently have any plans to change the speed limit in our village. The changes to the speed limit in Dean Lane came about as a result of public petition and therefore if you could also sign the petition at:
http://www.gopetition.com/online/23016.html
which simply requests that "We, the undersigned, request that a 30MPH speed limit is introduced to the roads in the residential area of Cookham Dean." There is also a link to my website which includes a map showing the proposed 30MPH area.
---
IT'S HALLOWEEN
31 October 2008
---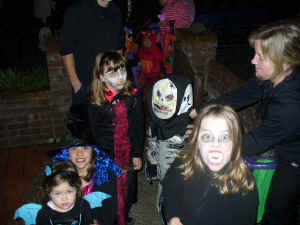 Be careful who you answer the door to this evening as you may find some bogey men, devils, ghosts and things that go bump in the night on your doorstep wanting something to eat.
There were some qhostly apparitions wandering around Cookham for Halloween looking very spooky.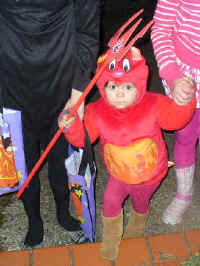 Be careful not to refuse them a treat as they look like they would not take NO for an answer. Particularly that little red devil with his sharp trident.
For a larger image click on the photo
---
ACCIDENTS IN WHYTELADYES LANE
29 October 2008
---
Two accidents occurred in Whyteladyes Lane today. In both cases someone was hurt. The first was a car turning right off the Maidenhead Road hit a pedestrain from Westward Green and the second one took place at the bend in Whyteladyes Lane where the new houses are being built where a car coming up the hill came over the white line in the middle to avoid the workmen's vans got hit by another car and then wrote off a car parked at the side of the road. The driver who was pregnant was extremely traumatised.
The main problem seemed to be icy roads which had not been gritted. Several people opposed the new houses on the bend in Whyteladyes because of the potential for accidents there in icy conditions as it seems now water runs across the road at this point.
---
MALIK'S WINS PRESTIGIOUS AWARD
21 October 2008
---

Sunday 19th October saw a gathering of one thousand guests at London's Grosvenor Hotel to see Cookham's Malik's win the award of Best Restaurant in the South East, as part of the British Curry Awards. The evening was compèred by John Culshaw of Dead Ringers fame and the whole thing was filmed to be shown on BBC at a later date.

Malik and his wife Farhana played host to 30 invited guests including Sir Clive Woodward, Heston Blumenthal, Christopher Biggins, Zoe Tyler, Camilla Dallerup, Lizzie Cundy and Gerald Ratner, along with Malik's entourage of close family and friends.

Malik has also won this award in both 2005 and 2006. Sadly his new restaurant in Gerrards Cross got pipped at the post this year, but fingers crossed for 2009.
---
ARE YOU WORRIED ABOUT FLOODING?
12 October 2008
---
On Wednesday 15th at Pinder Hall, Cookham, there is a flood fair from 12noon to 8pm, this event is extremely important to local residents, yet is hardly known about, even this week in the Advertiser, you would need a magnifying glass to find out about it.
People in Cookham are under threat of loosing there Lock and Weir keeper, it is imperative that residents find out what plans are in place for their safety.
Please encourage all your readers to go along on Wednesday, they are entitled to information about their safety, also they should have a say in their future.
Questions to the Environment Agency should be asked and answered; the event will also be attended by the fire and police force.
Kim Benge
---
PARLEZ VOUS FRANCAIS?
8 October 2008
---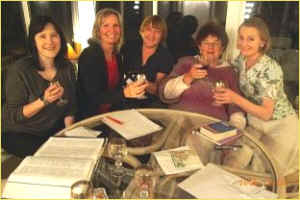 Cookham Twinning is getting ready for the visit from our French visitors from Cookham's twin, at the end of this month. Pat Cairney who is a qualified French teacher, is offering French lessons to anyone who would like to join in. The cost is £3 a session and take place at Pat's house in Lower Road. If you would like to join in the fun phone Pat on 01628 523067.
---
DEATH OF ROB BOND
8 October 2008
---
Cookham.com has learnt of the very sad death of Rob Bond, from Grange Road, last week. Rob thought he was on the road to recovery after suffering from cancer of the oesophagus. Our sympathies are with Alison his wife and his children Charlie, George and Daisy. The funeral will be at Slough Crematorium on Friday 10the October 2008.
---
THE CO-OP IS OPEN
2 October 2008
---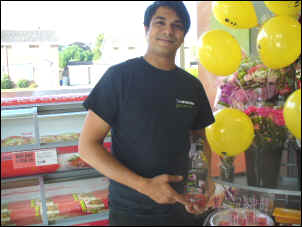 After over a year of refurbishment Budgens in Furze Platt has emerged as the Co-op. There were balloons, dancing children, lots of shoppers, free nibbles and a general festive feeling around with many of the old Budgens staff coming to work for the Co-op. Although there is the same floor space the layout is much airier and it seems that an extra aisle has been squeezed in. The Chemist next door was offering a twenty per cent discount just for the day and said they were very glad that the Co-op had finally opened. However it was too late for the Pet Shop who have gone into liquidation and their stock is slashed in price.
---
NATIONAL CHAMPIONSHIPS WON BY COOKHAM SCOUTS
29 September 2008
---
Congratulations to the first Cookham Scouts Dragon Boat team - they won the National Youth Championship at Longridge on Saturday 28 September. A mixed team of Scouts, Explorers and Leaders beat 13 other teams from all over the country to win the event. With every race down the course, the team got faster. Well done on a huge achievement. The date for defending their trophy is Saturday 26th September 2009.
---
DREAMING OF TOAD HALL
29 September 2008
---
A hundred years after the publication of Kenneth Grahame's The Wind in the Willows, John O'Farrell returns to the Berkshire riverbank of Grahame's childhood to explore the relationship between the author and his son Alastair and some of the themes and imagery of this classic tale. It is Grahame's 100th Anniversary, so we may hear some more on Cookham.

Click here to hear the programme available until 7 October 2008
---
RAYMOND NASH
26 September 2008
---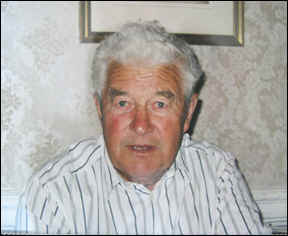 The Cookham Crier has just learnt of the death of Raymond Nash on 25th September 2008 aged 79 years.

Raymond was well known and lived in Cookham Dean all his life.

His funeral will be held at St John The Baptist, Cookham Dean on Thursday 2nd October at 11.00 am.
---
WHO IS ON THE CRICKET GROUND?
22 September 2008
---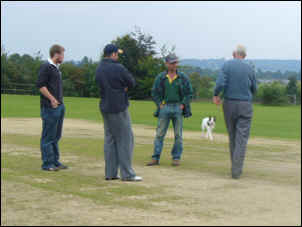 Who are the visitors at Cookham Dean Cricket ground with Dave Stringer? The Cricket Club felt that they needed some advise on their ground as it was thought that there was room for improvement, although some of the comments about the state of the ground were not quite so complimentary. To try and get a first class facility the Cricket Club have asked a Lord's groundsman to come and tell them how they can improve the field, so Cookham can have grounds to be proud of. We are not sure if the dog was an assistant groundsman or not.
---
GRAND PRIX TO BE ON "ODDBOX" TIMMY ON "THIS WEEK"
19 September 2008
---
This has been a week for Cookham on radio and television. Starting off with Holy Trinity on Radio 4 on Sunday. Timmy Mallett was on BBC's This Week

http://news.bbc.co.uk/1/hi/programmes/this_week/7624980.stm

and last weekend's Gravity Grand Prix is included in the BBC's roundup of funny news stories 'The Oddbox'. You can see it here:

http://news.bbc.co.uk/newsbeat/hi/newsbeat/newsid_7624000/7624136.stm

The Oddbox is also shown on Breakfast at the weekend as well as on the News Channel. It also goes out on BBC World News and on World News America which is transmitted on BBC America.
---
GRAVITY GRAND PRIX ON THE BBC
15 September 2008
---
Wonderful weather and the crowds flocked to the second year of the Gravity Grand Prix to be help in Cookham Dean with 22 teams taking part. After the enjoyment of the first year people came flooding back for the fun of the Grand Prix. Even the BBC were there and were busy videoing the fun and was shown on BBC News Channel yesterday evening. It will be available for seven days at http://news.bbc.co.uk/1/hi/uk/7615838.stm

Click here to see the video from the Maidenhead Advertiser

It is hoped that it will also feature on this week's Oddbox programme.

The winners were:

Fastest kart: 1. Team Jolly 2. Dolly (Forge Motors) 3. Dill the Dog

Best turned out kart and crew: 1. Sheila's Wheels 2. The Bugatti Babes 3. Flower Power

Best novelty Kart: 1. The Exterminator 2. Passing Wind 3. Bar

Sponsorship amounts has yet to be announced.

Congratulations to the organisers.
---
HOLY TRINITY CHOIR TO BE ON RADIO 4
10 September 2008
---
Holy Trinity choir will be featuring on BBC Radio 4's "Something Understood" on Sunday morning (14th September 2008) It is on Radio 4 at 6.05am and then repeated at 11.30pm. The programme is being presented by Andrew Motion and features an anthem called "Deep within Me" which is from the choir's most recent CD, "That Cookham Sound". The choir is absolutely delighted to have been chosen.

"The Cookham Sound" is still available (Price: £10) Some people may have heard choir's recording of "In dulci jubilo" which was included
by Posy Simmonds on Desert Island Discs last July.
---
CO-OP COMES TO BUDGENS
30 August 2008
---
The Co-operative has announced it will begin trading from the food store premises, previously occupied by Budgens, in Maidenhead's Shifford Crescent from October. The store is being transformed with a £500,000 refit, which will create more than 20 jobs.

The 5,600 sq feet shop, which is owned by The Co-operative Group, was destroyed by fire in 2007, while operated by Budgens. Work has now begun on rebuilding the store.

All 13 Budgens personnel will transfer their employment to The Co-operative Group and more than 20 new staff will be recruited in the coming weeks.

The consumer-owned Co-operative will bring added value with its promotional offers and share of profits scheme.

"Following positive negotiations with Budgens, we hope to be open for business in Shifford Crescent as soon as possible. We look forward to welcoming customers to our new Co-operative store," said Co-operative Group regional chief officer Mark Hudson.

"As the country's leading community retailer we can offer local shoppers a comprehensive range of products, competitive prices and excellent promotions," added Mark.
---
REGATTA TIME
30 August 2008
---

The Cookham Regatta, which takes place on 6 September, origins date back to 1882. It was a big event involving skulls, punts, Canadian canoes, plus a parade of boats. The entertainment included a tradition of good music with military bands. In 1890 a record 10,000 people attended. The Regatta is celebrated in some of Stanley Spencer's famous paintings of Cookham life. After 48 years the last of the early Regatta series was held in 1930 having been overtaken by other competing events such as Henley.

In 1988 the Cookham Regatta was revived by a group of local enthusiasts with the aim of " Fun for all the family" and to raise money for charity. The Cookham Bridge Rotary Club has been involved, since the inception. It now runs the event together with the Marlow Thames Rotary Club.
If you want to see photos and a video of the 2007 Regatta click here.
---
IT'S CARNIVAL
28 August 2008
---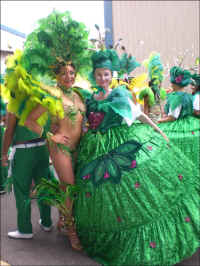 This year the Notting Hill Carnival included a Cookhamite, Penny Bysshe, with her daughter Julia. Penny had been burning the midnight oil to make her magnificent costume and was wondering if she would ever finish it in time.

Penny said that she was on her feet for seven hours, dancing around the route, often just dancing on the spot, which was very tiring, but great fun, the only problem was that there was not a loo in sight.

Penny is now having a well earned rest and putting her feet up to rest them after the exciting weekend.

(click on photo for larger image)