---
DEATH OF ODNEY'S ROBERT FRASER
2 May 2009
---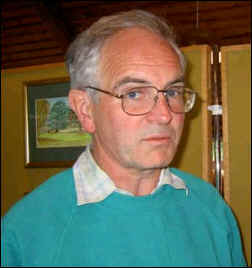 Many people who remember Robert Fraser who used to run the Odney Club before Sue Bickle took over in 2005 will be sad to hear that he died last night. It was a great shock to everyone who knew him.

He had made the Odney Club very much part of village life and had hosted many events there particularly for the Cookham Festival and the Spencer Gallery.

Many people in Cookham will have very happy memories of a very charming person who was Robert.
---
LAST CHANCE TO SEE THE OPEN STUDIO ARTISTS
2 May 2009
---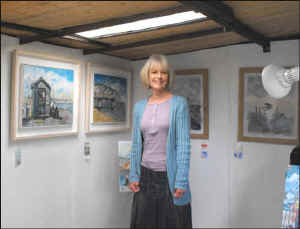 Take advantage of this lovely weather for a tour around the open studios this weekend. There are 16 studios open today tomorrow and some on Monday. A Google map of locations is on the artists studios page of this web site. The artists are waiting to chat to you about their work and techniques. if you are inspired to have a try yourself come along to May Day on the Moor where some of the artists will be guiding you in a painting Masterclass. There will be four sessions lasting about an hour for £5 including all materials. Many other crafts to take part in including clay, paper-making and embroidery. Lots of fun so make it a date!
Click here to see the list of studios there is also a map of their locations.
---
EVER THOUGHT OF EQUINE SPONSORSHIP?
30 April 2009
---
Ever thought about equine sponsorship? Does your business need a boost?
I'm based in Cookham and looking to find a local company to sponsor me for this season's eventing! Benefits are company name and logo splashed across everything possible to do with the horse and rider - including the horsebox….announcement at the shows and on clothing used day to day whilst training and riding locally as well as throughout the country. Please get in touch if you think you may like to get involved, it is not as expensive as you think (from as little as £100 per month!) - the benefits are huge!!! Contact: skinner_kat@hotmail.com or 07789812379
---
COOKHAM'S GREENBELT LISTED FOR DEVELOPMENT NOT 'EARMARKED'
28 April 2009
---
At the Cookham Society meeting on Monday 27th April, the committee met with Cllr Alison Knight – the RBWM cabinet member for planning and development, to discuss their concerns on the potential threat to Cookham's Green Belt Land as contained in the Boroughs LDF and SHLAA consultations.

Cllr Knight asked that the word 'Earmarked' be changed on the Cookham Society and cookham.com documentation, because this is simply not correct. If anyone sees the word earmarked relating to the planning and development in Cookham's green belt this should read listed.
---
COOKHAM'S GREEN GRANNY
22 April 2009
---
Several TV production companies have been in contact with Oxfam about interviewing Barbara Walmsley in her role as Green Granny. She has been busy inventing dishes which can be made from left overs. As you may know there are now four videos on YouTube (search for Oxfam Green Granny) and these have attracted well over 260,000 hits and over 100 comments. In addition videos made here have been shown on BBC, ITV, Channel 5 and Sky News. The one made by CNN may go out worldwide this Wednesday. If so it will be repeated regularly over 24 hours.
Articles have appeared in the Yours, Sunday Mirror and the Maidenhead Advertiser (and even two paragraphs in News of the World).
Oxfam have also received requests from many other organisations covering several countries including Australia, Canada and Russia. She is now discussing which ones she should follow up.
http://www.bucksfreepress.co.uk/search/4187129.Grandmother_shoots_to_YouTube_fame/
http://www.dailymotion.com/video/x9230y_granny-goes-green_lifestyle?from=rss
---
WHICH PLAY WON?
10 April 2009
---
The Lover, by Harold Pinter won the Tarrystone's Play Idol, 2 nights out of 3, which would suggest it won and would go through to the Festival.
BUT Michael-John Saunders play won over all with more votes in total. Most assumed an aggregate score wouldn't be taken into account unless a different play won on each of the 3 nights.
SO M-J was announced overall winner on the Saturday night.
HOWEVER - after the curtain closed the performers were told that it was very close and that both plays would be submitted for the festival as there were extra slots to be filled.
There is now a compromise that has been agreed upon, the Festival Chairman has asked for The Lover to be performed only for adjudication and not to actually compete.
SO - Last Thursday in April is the day.
---
COOKHAM DEAN FOOTBALL CLUB UNDER 12's
4 April 2009
---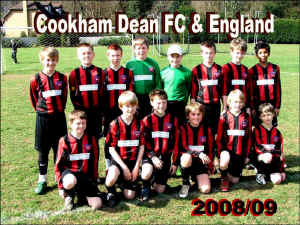 On Sunday 5th April 10.30am Cookham Dean FC's table topping Under12s play their last game at home before travelling out to Spain on Wednesday to take part in an exciting International Football Tournament in Madrid, why not get along and cheer the lads this Sunday and help to give them a good send off.
The match kicks off at the Alfred Major Rec at 10.30am
---
BRAKES PUT ON GRAVITY GRAND PRIX
1 April 2009
---
Health & Safety Rules have put the brakes On Cookham Dean Gravity Grand Prix. The new Euro rules means that the race will now have to relocate to the High Street.
The organisers of the charity event have branded the ruling by the Health and Safety Executive (HSE) as 'ridiculous'. The committee has been told that the karts' brakes do not meet new EC regulations.

The shattering news came in a letter from the HSE. It states: "I must inform you that the karts used in the Cookham Dean Gravity Grand Prix are defined as 'powered road vehicles' for the purpose of the Act.
Although the legislation has yet to receive Royal Assent in Parliament, all vehicles taking part will need to comply with Regulation (EC/6151512/041/A F) Braking Efficiency (Amendment) Act 2009."

Peter Bartlett, one of the event organisers, stormed: "The problem we have, as always, is with the letter-of-the-law UK interpretation of an EC directive.
Anyone with any sense would class the carts as un-powered. The HSE in their wisdom have taken the definition literally and decided that the karts are indeed powered - by gravity."
"As powered road vehicles they fall within the scope of the regulations, which means that the braking systems of all the karts will need to be certificated against the new standard. It's ridiculous - and you can be very sure the organisers of the rival French and German events won't be subject to the same petty bureaucracy. My feeling is that the Dutch are behind this. They have never recognised the sport"

Bartlett went on. "I telephoned the HSE and spoke someone who was exceedingly unhelpful. The fact that we raised £10k for charity made no difference to this man's attitude. He kept saying that he had seen a video of the event on YouTube and thought it should be stopped, regardless.
"This jobsworth approach threatens to undermine Britain's standing as a world class Gravity Racing nation."

"It seems that the only way around the ruling is to hold the event on flat ground. The committee have decided that, although some last minute changes to the rules will have to be made, Cookham High Street is now the likely venue."
Further information Peter Bartlett 07771 99 6000
---
UNDER 12'S CAR WASH
28 March 2009
---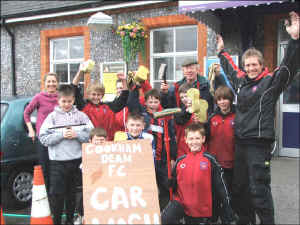 Cookham Dean Football Club's youngest team, the Under12s, are very busy today Saturday outside Cookham Train Station washing cars as part of their fundraising efforts towards their trip to Spain at Easter, when they become the first ever English team to take part in the XXIII Alcalá De Henares Cup, a Football Tournament which attracts some of the top Youth clubs in Europe including Athletico Madrid whom the Cookham Boys will play on April 10th. The Boys will wash your car for a donation between 7am and 3pm.
---
TARRYSTONE PLAY IDOL
27 March 2009
---
Come on Cookham don't you want to support your local groups?? Ticket sales for "Play Idol" their next production are at an all time low! What more could you want for a night out at The Pinder Hall – three one act plays and a delicious meal all for £12.50? It's on next Thurs, Fri & Sat.
The Tarrystone Players always do a great job for Cookham , supporting Pinder Hall and other local charities. Cookham Bridge Rotary Club supply the bar & give all profits to their charities as well.
You want to know which plays you'll be seeing ? – all acted & directed by local people who you are bound to recognise – well let me tell you.......
"The Lover" by Harold Pinter – you can't get much better than that!
"A Year in Red Braces" – a brand new up to the minute play , written & acted by a "local councillor". Guess who?
"Background Artiste" by Stephen Smith – a very witty comedy about becoming an "Extra" in the film world.
So there you are, come and join in the fun. Call 01628 520989 for tickets now! See you there.
---
ANDREW MILSOM OPEN IN COOKHAM RISE
22 March 2009
---
Andrew Milsom and partners have moved offices from Cookham High Street to The Parade Cookham. I am sure all Cookham.com readers would like to wish Jude Newman and her team every success in their new premises. They will be open this Monday 23 March.
---
CREATE A GARDEN ON A TRAY COMPETITION
19 March 2009
---
Design and Create a Garden on a Tray Competition is open to all aged 11 years old or younger!! It will take place on the Moor on Monday 4th May 2009, so get your children to start designing.
The Rules:
a. Tray or base to be no larger than 30cm x 38cm
b. All material to be as natural as possible using:
1 Good quality plant material for example moss for grass, pebbles for paths!

2. All structures to be home made - sheds, fences, gates, pergolas

3. No LEGO or playmobil etc.
c. All exhibits MUST be at site tent by 12.00hrs
d. Judges decision is final and will look for innovation, originality and best looking!
Prizes of £20, £10 and £5 in John Lewis vouchers will be awarded to the best gardens on show by the Lullebrook Garden Society.
---
FEEDING THE EAGLES
18 March 2009
---
This photo was taken by James Thompson a Cookham.com reader who lives in the US. He says "No Zoom, I was this close!" The eagles are being attracted by people giving them fish. Rather like the red kites being attracted by meat scraps in Cookham.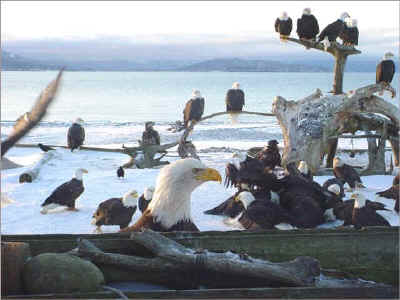 ---
TENNIS AND CROQUET DAY
17 March 2009
---
It's time to think of summer – lunch on the lawn, a nice bottle of wine, butterflies fluttering by – and the sound of tennis balls on racquets and croquet balls on mallets!
The Annual Cookham Dean Charity Tennis and Croquet Day will take place in its 28th year on Saturday, 28th June 2009. This is a fun day for all ages, including juniors, who play in groups at private venues in Cookham Dean. We hope to welcome back all our regular players and we particularly look forward to meeting those who will be playing for the first time. It is a great way to get to know your neighbours in a relaxed atmosphere!
If you are on our mailing list, entry forms and flyers will be going out in the spring.
If you are joining for the first time and would like a form or further information, please contact Tony Brown on 07968173757 or Nick Dennis on 01628 483365.
We raised £1500 for local charities last year. If you cannot play this year but would nevertheless like to make a donation, please contact Tony or Nick.
See you all on the 28th June.
---
VILLAGE LIFE OPENS AT THE SHIRE HORSE CENTRE
16 March 2009
---
VillageLife is delighted to announce the opening of its new and unique retail, craft and leisure village in the heart of the Home Counties.
Following major re-development, VillageLife (previously the Old Shire Horse Centre) now has a range of businesses including a day spa, home furnishings shops, chocolatier, children's book shop, toy shop and the Stables Food Hall and Café. Shires Farm remains in the final stages of transformation into a uniquely original attraction, including a new smart activity centre, and will be open from April.
Developer and General Manager Rudi Schogger says, "VillageLife has everything to become a cornerstone of Maidenhead and Home Counties community life for local people and local businesses. We created and designed VillageLife to offer something for everyone, all year round, come rain or shine."
The Mayor of Maidenhead will be formally opening VillageLife at 10.30am on Saturday 11th April, though VillageLife is open now on a limited basis. The Grand Opening weekend from April 11th to 13th will have a range of events and entertainments including street entertainers, live music, food and craft markets, food displays and tastings and a number of local groups performing. Further free events will continue all year round, including St George's Weekend later in April and Open Arts and May Day Music in May.
---
SPORT ENGLAND INVEST IN LONGRIDGE
9 March 2009
---
Longridge are delighted to announce that Sport England have made a £1.1m grant to the Longridge charity to build a new training facility.
This facility will have a gym and training rooms as well as new toilet, shower and changing facilities. This building will replace the rather inadequate and dilapidated current facilities. It is hoped that at the same time as building this facility the centre will be able to improve their infrastructure, create a more secure and better laid out car park and build a new, better positioned reception block. Fundraising for this phase of the project begins now in earnest and the team hope to raise an additional £250,000 by September 2009.
The award also includes a provision to fund a new full-time coach to provide training to young people in Longridge's range of water and land based sports and potentially work with the ARA to offer rowing to local schools alongside the newly created Longridge Rowing Trust.
Centre Director, Amanda Foister, said "We are incredibly grateful to Sport England for this award and the recognition of how far we have come since the charity took over the running of the site in 2005. This new training facility will allow more young people to use our centre for more of the year, this is vital as the increased use will enable us to repay the £800,000 loan that was taken out to buy the freehold of the site and the repayment of which remains the charities biggest challenge".
Hannah Bladen, Regional Strategic Lead of Sport England commented "Sport England is delighted to be a partner in this exciting project on the banks of the River Thames. This site, once fully developed, will cater for the full range of participants, from complete beginners trying out paddle sports for the first time, to elite performers participating within the National Governing Body performance pathway.
The professional approach to both project development and implementation by the small dedicated team at Longridge is of note, as is the large volunteer base that is integral to ensuring the activities provided are safe, fun and sustainable.
It is hoped that building work will start September next year, with an unveiling of the new facility in March 2010.
To find out more about Longridge and the range of sporting and outdoor activities available for young people go to www.longridge-uk.org or contact the site at 01628 483252; bookings@longridge-uk.org
---
PRACTISING FOR MAY DAY
3 March 2009
---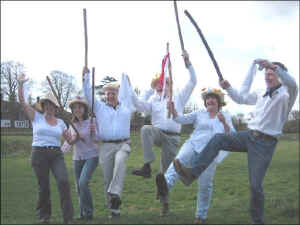 The Cookham Festival is planning a maypole on the Moor for Mayday along with some Morris dancing. The Festival Committee are showing us how to do it as they were seen practising their dancing on the Moor yesterday. 'They'll be getting some training from Ellington Morris, the Maidenhead Morris dance team, who will also be performing at the Festival's May Bank Holiday event.' click here for an article by the Bucks Free Press
click on photo for larger image
---
THE FUTURE OF COOKHAM DEAN POST OFFICE
26 February 2009
---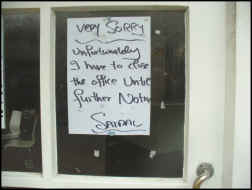 Although scheduled to close in four weeks time, the Cookham Dean Post Office Stores suddenly closed its doors today with no warning. Richard Campin, chairman of the committee that has been set up to look at the future of the Post Office has issued the following statement:
"Following the circulation of strong rumours that the Post Office might not continue to exist in Cookham Dean, a meeting was set up in the Post Office on Thursday the 12th February with Mr Swabey, the Field Change Advisor from the Post Office, to hear his views about the future. A wide cross-section of villagers were notified by informal networking about the imminent meeting and 30 to 40 attended.
Mr Swabey assured the villagers that the Post Office is committed to continuing a Post Office operation of some sort in the village but that his understanding was that it might not be possible to continue in the existing premises and also that it might not be justifiable on a 5 days a week basis.
An impromptu committee of volunteers was set up during and after the meeting comprising Sarah Broadhead, Richard Campin, Alan Jay, Richard Kellaway, Robert Mandeville, Elizabeth Runnacles, Richard Simmonds and Gill Townend.
The committee's most immediate objective is to find a solution for the continued existence of a Post Office service and the follow-on objective is to then look at the possibility of providing an environment in which a combined shop and Post Office could be re-opened to serve once again as a community-focused facility.
The committee quickly discovered that the Post Office had definitely been given notice to leave the existing premises in Bigfrith Lane by the 25th March. The owner of the premises has now informed the Post Office that there is now no 3rd Party Liability Insurance in place and therefore the Post Office has no option other than to close immediately.
The only immediately available solution is to provide a service hosted in another premises in Cookham Dean which would provide two sessions per week of approximately 2½ hours each. Options for the location of this service are currently being jointly investigated with the Post Office as quickly as possible.
As soon as the continuation of the Post Office service has been assured the committee will move onto investigating the feasibility of re-establishing the combined Post Office Stores and when the options are known it will be necessary to get wider feedback from the village on the level of support that might be gained.
The committee has not yet discussed how that feedback will be obtained but, in the meantime, if anybody has any helpful suggestions, available premises or a desire to run a village shop please input them via the committee secretary, Gill Townend, preferably using email on gilltownend@aol.com."
Richard Campin
Committee Chairman
26th Feb 2008
---
FESTIVAL ISSUES MAYPOLE SOS
17 February 2009
---
The organisers of this year's Cookham Festival are getting frustrated. The lack of response to a plea for Maypole Dancers has prompted the Festival committee members to volunteer to learn how to do it themselves. All they need is a teacher.

Festival chairman Mike Copland said: "It's tragic that a tradition like this is dying seemingly due to a lack of available time in the local primary schools. We understand the pressures on our teachers and we decided that we should 'stand up and be counted' rather than watch another tradition fall away".
Mike hopes that their plea will bring forward someone able to come to the Festival to give lessons - and even encourage parents and children to get involved.
Cookham Festival runs from 24th April to 4th May and the Maypole Dancing, along with Morris Dancing, performances by local young bands and many other activities, will take place at the closing May Day on the Moor event on the Bank Holiday Monday (4th May).
All offers of help to Mike Copland on 01628 630375.