---
ASTRODUCKS IN COOKHAM
21 August 2009
---
from our correspondent embedded at Cookham 21/8/09

The UFO seen over Cookham has been identified as an Unidentified Flying Duck (UFD). Greetings have been exchanged and a written memo of understanding signed, penned by the quill used a hundred years ago
to write the letter to The Times in defence of natural bathing at Cookham.

Permission was given to paddle in Cookham Weir but some sensitivity was advised in the use of Hedsor Water in view of the terms of the Court of Appeal's decision to maintain Public Rights of Navigation through that stretch of water.

Our visitors displayed swimming trunks as proof of their friendly intentions and undertook to respect the susceptibilities of riparian residents.

Apologies were proffered for the absence of a bathing hut and it was explained that with the contested closing of the Parish Bathing Fund
its rebuilding had not been possible.

Enoblement was suggested as an appropriate civic recognition to honour these epic astroducks, should this power remain with the Monarch following the reform of the Second Chamber now being debated.

The reply was launched into space this being thought more certain than routing it through the Single Unitary Authority.
---
NEW BUSINESS FOR COOKHAM
6 August 2009
---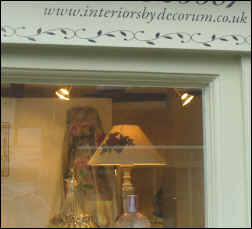 The credit crunch seems to be finishing in Cookham with several new businesses springing up. Laurence set up in the Arcade six weeks ago offering Hair and Beauty services. Briggs the estate agent is in the process of moving into the old Milsom offices in the High Street and Decorum Interiors have taken over the shop that Plumes had also in the High Street. The Thai Garden is soon opening in the restaurant which was Charles Cottage.
---
DUCKS SUFFER REVERSE
5 August 2009
---
Ducks suffer reverse
a villager 5 August 2009

"To-day I want to speak particularly to our floating voters":
The Mayor faced her audience at the Ducks' Institute 2009 AGM
and - mindful of Tony Blair's fate on a similar occasion nine years before - sought to hit the right note for her address. A frisson of quacking and diving ran through the meeting..

"I know that you've a lot on your plates."

"Also, I congratulate our staff on the downgrading of Cookham Pound from 'perilous' to 'dangerous' and on their new training programme to improve our backward walking skills and so to dodge the wing mirrors of following traffic."

"Where'er you walk, walk safely" she concluded.
"and for those who neither train nor pray
I shall offer my thoughts on "Poetry and Government'".
---
WELL DONE PENNY
4 August 2009
---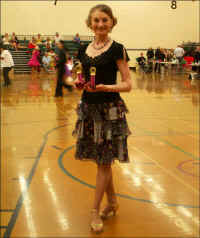 Congratulations to Penny Bysshe who entered a dance competition at the Imperial Dance School in Bracknell on Sunday 2 August and came first in both the Foxtrot and the Samba. The photo is of Penny with her trophies.
---
COOKHAM DUCK TO STAND DOWN
30 July 2009
---
Cookham duck to stand down
from our own correspondent
Following the disclosure that he was claiming rent both for his flat in the £1,645 Gosport floating pavilion and for his place in Cookham the independent member for the Moor vigorously defended his record. "A duck house is not a dog house" he quipped. "The comfort and the security from foxes it gave were essential to my work and it was completely within the rules", he told our reporter. "I know because I wrote them myself".
"Had the Parish Council's withdrawal of the main Cookham Plan document from the public domain influenced his decision?" "Not one bit", he replied "I very much hope for further redactions".

His view of the Central America offer was succinct - "been there and done that" is how he put it. Rather he has accepted a new role in the programme promoting an attractive European countryside especially in the Candidate Countries and looked forward to sharing in the consequent prosperity. "We are all landowners at heart" is how he put it.
He will not be standing for re-election.
---
STAR WITH AYOUSH
27 July 2009
---
Although not actually in Cookham, Ayoush is a restaurant just over Cookham bridge in Bourne End.

Relax with HALF PRICE COCKTAILS. Our Happy Hour runs Mon - Thurs 5-7pm (see our cocktail list)

Book a meal and receive a FREE glass of wine in August (with the attached flyer)

Have fun at our Belly Dancing classes - course begins on August 5th, 6-7 pm

We hope you'll come and see us soon for lunch, dinner, drinks or to chat about any upcoming birthday, celebration or wedding you might like to hold at our wonderful venue.
Regards,

Emily & the Ayoush team
---
THE END OF COOKHAM FIRE STATION
23 July 2009
---
After many years as part of Cookham, the Fire Station in Berries Road has closed. There have been several recruitment drives to try and find new volunteers, but sadly the time has arrived when there are not enough firefighters to man the station. The Cookhams will now be supported from Maidenhead. The fire engine and firefighters will be much missed.
---
COOKHAM DEAN POST OFFICE OPENING
21 July 2009
---
The Cookham Dean Post Office is re-opening at the Jolly Farmer pub on Tuesday,11th August at 3pm. There will be music from the Shirtlifters from 2.30pm and Tim Brooke Taylor has kindly agreed to perform the opening ceremony. Please come and support this venture and tell as many residents as possible so that we can welcome Liz Connell, who will run the Post Office, and her team to the village.
---
COOKHAM DEAN GARDENS HELP THAMES HOSPICECARE
14 July 2009
---
There was fantastic support for the 'Gardens Open Day' in Cookham Dean in June. Nearly £6,000 was raised altogether for Thames Hospicecare, which is a marvellous achievement. The organisers said "We could not have done it without your help!"
On 3 October they are organising another fundraiser when they are asking people to come along and sing! The result will be a performance at Holy Trinity Church of Mozart's Requiem. So if you fancy being part of a choir give it a go.
---
INVITATION TO COOKHAM DUCKS
6 July 2009
---
Invitation from ousted President to Cookham ducks
from the Marx Brothers in El Salvidor
It is four years since the plight of Euroduck visitors to Cookham hit the headlines of the Cookham Crier. "Since 2005 we have enjoyed the peace and purity of the pond" said a duck spokesperson "The Moor became our new home"
But he added that just recently the litter on the banks of nearby Cookham Weir had made landing and take off there impossible.
Marcel Zelaya, the ousted President of Honduras, heard of their plight
and has come to their aid. "I have a fellow feeling for Cookham's ducks" he told our reporter "I was put in a similar situation when the army barricaded the runway and prevented my jet from landing in Tegucigalpas and my return to my country."
"I invite Cookham's ducks to join me in Central America where they can manoeuvre freely."
"I can't name a place just yet but they might also help me regain my rightful position."
"Our soups are of similar flavours."
Cookham's ducks are packed and ready to go.
---
THAI RESTAURANT FOR COOKHAM
29 June 2009
---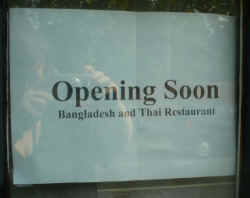 Many were sad to see that the Indian restaurant Charles Cottage in Cookham High Street has closed. However it is soon to re-open and will be serving Bangladesh and Thai food, which will bring a new cuisine to Cookham.

Milsoms, the estate agent, has moved to Cookham Parade from the High Street and their old offices have now been let to Nigel Briggs who is also an estate agent and has offices in Beaconsfield although Nigel actually lives in Cookham High Street.
---
CALLING ALL BOYS
26 June 2009
---
CALLING ALL BOYS (CHELSEA SUPPORTERS OR OTHERWISE)
Holy Trinity Church has a rich musical tradition, with 4 choirs: Men & Boys' Choir, Boys' Choir, Men's Choir, Girls' Choir.

The Boys' Choir is currently seeking talented boys, aged 7 years and over, who enjoy singing and who would relish the challenge of joining the current group of enthusiastic and committed boys.
The boys meet for a practice on a Wednesday (6-7pm) and they follow this with either a game of British Bulldog or by having a go about the most recent game Chelsea has lost or the fact that Chelsea has sacked another manager. The boys sing at one Sunday service each week, with weekends off for half term and during school holidays. In April this year the Men & Boys' Choir broadcast live on BBC Radio 4. The BBC are returning next year for another live broadcast.
In return for their commitment, hard work, discipline and enjoyment the boys not only reap the benefits of a strong musical education and the development of their practical musical skills but they also get the opportunity to make many new friends and, in return, receive a small amount of 'pocket money' at the end of each term, with the chance to be further financially rewarded for singing at weddings.
Any boys or parents of boys who would be interested in finding out more and attending an audition for this well-renowned church choir, please contact Sara Wood (Director of Music - Holy Trinity Church) on 01628 522593 or sarawood44@hotmail.com
Please note: much against Sara's better judgement, the choir does accept Arsenal supporters.
---
2012 OPEN WEEKEND
24 June 2009
---
As an Olympic Training Centre, Longridge is proud to be part of the London 2012 Open Weekend supported by BP and will be offering a Family Activity Day as our part of a series of events across the country enabling access to excellence in the arts, culture and sport and celebrating three years to go until the London 2012 Olympic Games.
Our Family day will be on 24th July and from 10.30am will be offering 3 activities of dragon boating, canoeing and rafting finishing at 3.45pm. The day is open to families and individuals and costs £10.00 per person
Longridge joins hundreds of other London 2012 Open Weekend events – from family discover sports days and athletics opportunities to flower festivals and drawing classes, exploring museum archives and pottery, there is an opportunity for everyone. Full listings, including Longridge's events, at www.london2012.com/openweekend
Longridge Centre Director, Amanda Foister says: "we are delighted to be part of 2012 and the Open Weekend and hope that our activities will encourage more people to take up one of our sports, maybe not to Olympic levels but definitely to a level of enjoyment and fun"
This year's London 2012 Open Weekend follows the success of last year's event, which launched the Cultural Olympiad and enabled over 700,000 people to become involved with the Cultural Olympiad.
---
THE BOUNTY AND CHIPS
17 June 2009
---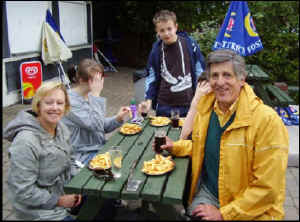 The Cookham Youth Club had a walk to the Bounty for their Monday evening activity on 15th June. Youth leaders John Mellor and Elaine Dewis accompanied the young people, who were served up with chips when they reached the Bounty. It was then across the footbridge to Bourne End and a return to Cookham by train. A really enjoyable evening.
The next outing is on Monday 29th June when the Club will be kayaking at Hurley, leaving Cookham by coach at 6.30pm arrive back at 9.15pm. Anyone interested in joining in phone Liz on 01628 525130 or e-mail liz@cookham.com to book a place.
---
WHO NEEDS FIRST AID?
15 June 2009
---
The First Aid course run by the Cookham Youth Project was a great success:
Roger the teacher of the first aid course had an interesting time with his 12 would-be medics. Here we are learning cpr, putting people into recovery and aiding those with broken bones.....
---
KUNG FU AT THE CRICKET CLUB
8 June 2009
---
Monday 8th June 2009 was Martial Arts night at the Cookham Youth Project. There was a professional trainer who went through the basics of Kung Fu, followed by a sword demonstration and ending up with self defence.
For more information about the Youth Project e-mail liz@cookham.com or ring 01628 525130.
click on photo for larger image
---
LEAD THEFTS
1 June 2009
---
During the weekend the police helicoptor was called out when residents in The Shaw off Whyteladyes Lane noticed someone on the roof of the pumping station trying to tear something off it which turned out to be lead. Another person appeared to be keeping watch and ran off. A wheelie bin had been stolen the day before which could have been used for carrying stolen property and a hole had been cut in the fence. The police hope that they have now caught the people who have been stealing lead in the area. The Pinder Hall, Football Club and Spencer Gallery have all had lead stolen recently,
---
YOGA AND LOVE CAKES
27 May 2009
---
I am holding a three hour session at Sol Mill, Mill Lane, Cookham on Friday 29 May for boys and girls aged 8 -10 years.
The programme looks like this:
10.30 - yoga in the studio ~ with relaxation

11.15 ~ kitchen for the baking of a Love Cake / aprons on.....

12.00 ~ fresh fruit break

12.15 ~ story telling/ cake box making and decorating

12.30 ~ decorating cake with icing bags
cost £20.00 with a Love Cake to take home .....

come and let the children play... we will move, we will groove, we will stir, we will put wishes into our cakes and we will lick the spoons when we are done.
---
CELEBRATING 130 YEARS
25 May 2009
---
There were several famous events in the year 1879.

The Zulu wars were raging in South Africa where a small force of 150 British troops defeated 4,000 Zulus at Rorkes Drift with an amazing
eleven
Victoria Crosses being awarded for valour in that action.
There was the Tay Rail Bridge disaster in Scotland when the central part of the bridge collapsed as a train passed over it, killing 75 near Dundee.
Thomas Eddison also demonstrated the light bulb to the public for the first time
While there were several notable births in 1879 with Albert Einstein, Leon Trotsky, and Joseph Stalin all taking a bow.
On a more localised level it is also 130 years ago that Cookham Dean Football Club was formed. The Club has enjoyed a very eventful history and this Friday evening 29 May, players from the past and present gather at Maidenhead Golf Club for a special Dinner & Dance that will not only mark the end of the 2008/09 season but will also celebrate a truly historical anniversary.
The event consists of a three course meal, annual presentations plus a special anniversary raffle and of course lot's of reminiscing for the older members and for the younger ones plenty of dancing.
---
125 YEARS OF M&S
21 May 2009
---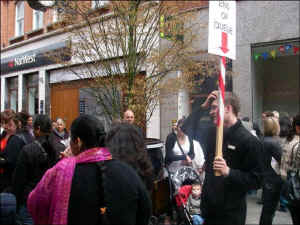 There were queues outside M&S in Maidenhead today as M&S were celebrating their 125th anniversary with an Original Penny Bazaar. There were twenty different products and customers can choose up to five products each with every penny being donated to the M&S 125 Charity Challenge which aims to raise £1.24 million for local and regional charities between May and September. Everyone could buy peel and reveal cards for their penny purchase with a top purchase worth £12,500. The Penny Bazaar is in M&S stores for three days from 20 May.
---
GOODBYE TO RALPH THOMPSON
7 May 2009
---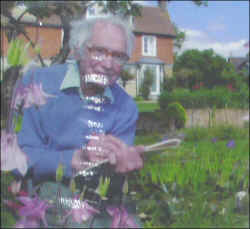 Many Cookham residents were able to see the wonderful drawings and paintings of Ralph Thompson displayed at the Parish Centre during the Cookham Festival and to listen to the talk, Ralph Thompson A Very Rare Creature, by his stepson Wyn on the 1st of May.

It was very sad to hear that Ralph died on Sunday 3 May in Derby where he had moved to be near his family. His funeral will be on Wednesday 13th May at the Methodist Church in Ashbourne at 2.00pm. There will be no flowers, but donations to the World Wildlife Fund.

There have been ideas put forward for a celebration of Ralph's life to be held in Cookham later in the year, with the possibility of an exhibition of some of his paintings. If anyone has any works by Ralph do let the Webmaster know.