---
FIND YOUR VOICE
2 February 2010
---
Maidenhead Choral Society are hosting 6 sessions of Find Your Voice from Thursday 11 February to Thursday 18 March led by Christian Goursaud a Gentleman of the Chapel Royal at Hampton Court Palace.
The cost of the 6 sessions with be £36 and will be held in the Wesley Hall, Methodist Church, High St, Maidenhead from 8-10 pm.
For further information and to sign up contact
Jenny 01628 822886, Trisha 01628 416980, Anne 01189342109
Information below gives a taste of what will be covered.
Breathing/Posture, Primal sounds, Scales/arpeggios, Notation/Monophony

Singing in Parts: Simple two and three part music Singing in Parts: Simple four-part music

Applied choral skills I: Musical awareness/Listening II: Balance/Phrasing III: Tricks of the Trade

Case Studies: Renaissance Baroque, Romantic/Twentieth Century
---
ART AND HOME MADE CAKES
31 January 2010
---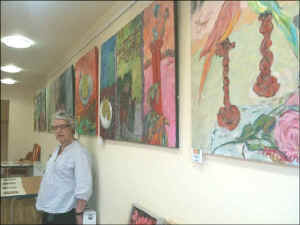 It's lonely in here. Where are you?
The exhibition of paintings by artist Pat Shenstone is on at The Gallery at Elizabeth house. On Sundays there are free refreshments and it is manned by local artists. It is a great time to visit so why not pop in whilst out for that Sunday afternoon walk?
Pat is most happy to give you a guided tour of the exhibition and explain some of the stories behind the paintings.
Please support this local enterprise which in turn raises funds for Elizabeth House.
---
DO YOU LIKE A CHALLENGE?
20 January 2010
---

DO YOU LIKE A CHALLENGE?
DO YOU ENJOY TEAM BUILDING ACTIVITIES?
ARE YOU INTERESTED IN DEVELOPING YOUR LEADERSHIP & CITIZENSHIP SKILLS?
WILL YOU BE AGED BETWEEN 18 & 24 ON 25th JULY 2010?
….THEN READ ON…
Cookham Bridge Rotary Club is seeking a suitable candidate to sponsor on this year's RYLA (Rotary Youth Leadership Award) programme. Candidates have to be aged between 18 and 24 by the start of the course and be available to attend a week's course (25th – 31st July 2010).
The week is spent at Rhos-y-Gwaliau in mid-Wales, an outdoor centre staffed by highly qualified professionals.
The purpose of the course is to develop and/or extend self-confidence, self-awareness and team building and leadership skills in young people.
Each year Cookham Bridge Rotary Club sponsor candidates who tell us it is one of the best weeks they have ever had and usually ask if they can go again!
Further information can be found by following the link below:
Interested? Then email Di Gare at: di@gare.org using RYLA as the reference.
---
HAVE YOU MEMORABILIA OF COOKHAM NURSERY?
18 January 2010
---
COOKHAM Nursery School is celebrating its 60th birthday in 2010 and staff are calling on former pupils to provide photographs and other memorabilia to help roll back the years. With a 1950s-themed garden party planned in May, the school's head teacher, Judi Charters, is encouraging anyone with a connection to the nursery during its 60 year history to get in touch with memories of the time they spent there. "It would be great to receive pictures and such like," says Judi. "We are hoping for a good response so that we can hear memories of the past and celebrate six decades in the life of this wonderful nursery." Please email cookhamnursery@rbwm.org or write to Cookham Nursery School, Station Hill, Cookham, Berkshire SL6 9BT.
---
DO YOU WANT A COOKHAM DEAN VILLAGE SHOP?
15 January 2010
---
Come and hear about the Village Shop
Following on from the successful retention of the Post Office, the committee moved on to look at the possibility of re-opening a shop in the village. We have now reached the point where we are ready to share the results of our investigations with you.
There will be a meeting in the Village Hall at 7.30pm on Wednesday 3rd March at which you will be able to hear all about the proposal for re-opening a village shop in Cookham Dean.
It is really important that many people attend as the attendance will be taken as the measure of support for the whole concept of re-instating a village shop.
At the meeting we will explain how you will be able to help the project succeed.
If you are not able to attend but do support the concept of having a village shop in Cookham Dean, then I would welcome an e-mail from you underlining your support.
Richard Campin
Chairman of the Post Office Shop Committee
---
WRITE A GREETINGS CARD FOR AMNESTY
15 January 2010
---
Come along to the Cookham and Maidenhead group Greeting Card writing this Sunday (17th January) from 3 - 5 pm at Mike's house, "Old Pinkneys", Lee Lane, Pinkneys Green.
The Amnesty Greeting Card Campaign is a good opportunity to express our support directly to prisoners and others who are suffering human rights abuses around the world. Everyone is welcome, especially new members, so come along, write some cards and enjoy some tea, cake & chat. Please bring non-religious greeting cards or postcards with you. (Postage is cheaper for small cards!)
If you would like to write greeting cards at home, go to www.amnesty.org.uk/gcc. You can send cards up to 31 January 2010.
Mike's contact details are:
Tel: 01628 630375 email: mandlcopland@yahoo.co.uk
---
COOKHAM'S FIRST EVER RUNNING CLUB
14 January 2010
---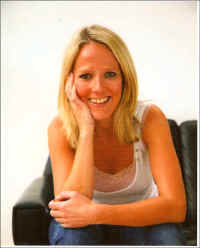 LOCAL JOURNALIST Peta Bee is launching Cookham's first ever running club as part of the national Run In England scheme to attract newcomers and returning runners to the sport. Peta, who writes a weekly fitness column in The Times and has degrees in sports science as well as being a qualified running coach, says that nobody is too slow to join the groups which will run at 9.30am on Saturdays from Station Hill Deli and at 6.45pm on Tuesday evenings from Peta's house in Station Road. More runs will be added if there is enough interest. "Don't think you are too unfit to come along as even those who can barely break into a slow trot are catered for," says Peta, a former winner of the UK Fitness Professional of the Year award. "The idea is to get fit and have fun while we run along different routes in and around Cookham." Running is one of the best - and cheapest - ways to get in shape as it burns calories faster than most other sports (up to 550 an hour) and the only equipment you need is a pair of trainers. Each run will cost £2 and, if you decide the club is for you, there's an annual subscription of £20 to the Run In England Scheme that entitles you to a new running top, water bottle and log book. For details check out www.runinengland.co.uk or contact Peta on 07703 534030 or peta.bee@btinternet.com
---
NOAH'S ARK ANNUAL BALL
13 January 2010
---
The Noah's Ark Annual Ball, their annual fund-raising event, consisting of a three-course meal,

prize auction and live music courtesy of the Fabulous: MEAN RED SPIDERS is being held on Saturday 13th March 2010

Reception 7.30pm - Dinner 8pm Carriages 1am, at

Moor Hall, Cookham

For further details or to book tickets please contact Erika Lewington

Tel: 01628 471731 or erikalewington@hotmail.co.uk

Either make up a table of eight or buy individual tickets

. We look forward to welcoming you at the ball to help support your local pre-school
---
NEW YOGA CLASSES AT PARISH CENTRE
11 January 2010
---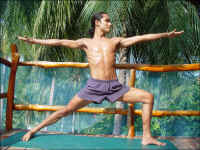 The Parish Centre is going to have yoga classes every week from 9 January 2010. Jeff Phenix and his wife Jennie run Phenix Yoga and will be Jeff will be running the classes each Saturday 10am to 11.15am. The classes cost £8 each or £39 for a block of 6. You can try your first class for £1 as a taster. If you want more information contact Jeff Phenix on 07870 569 466 or email jeff@phenixyoga.com also look at their website www.phenixyoga.com for more details. All levels are welcome.
---
WANTED - CLERK TO COOKHAM PARISH COUNCIL
6 January 2010
---
COOKHAM PARISH COUNCIL

APPOINTMENT OF PARISH CLERK AND RESPONSIBLE FINANCIAL OFFICER
SCP 30 - 34 £24,646 - £27,849 pro rata (30 hours)

Cookham Parish Council invite applications to fill the role of Clerk to the Council and Responsible Financial Officer. You will need to have the ability to gain an extensive knowledge of local government law and finance, together with the necessary skills in communication and organisation of Council affairs. You will be responsible for the satisfactory implementation of Council decisions and the delivery of Council services including planning decisions, Cookham Cemetery, allotments, the Alfred Major Recreation Ground, play area, street lighting and management of footpaths and open spaces within the parish. You will also be expected to take responsibility for the legal handling of all parish finances in preparation for rigorous internal and external audits.

The successful applicant will be expected to hold or obtain either the Cert Ed (Local Policy) or CILCA qualification.

For further information and an application pack please telephone 01628 522003 (9am – 1.00pm) or email to: cookham.parish.council@rbwm.gov.uk

An Application Pack may be obtained electronically from http://www.cookham.com/cookhamnow/parishcouncil/parishclerkad/parishclerk.htm

Please send completed applications to:
Mrs Janet Wheeler, Clerk to the Council, Cookham Parish Council,
Council Offices, High Road, Cookham Rise, Berks. SL6 9JF.

Closing date: Monday 18th January 2010.
---
COPAS TURKEY
3 January 2010
---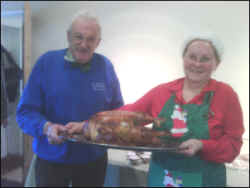 A photo from the Friendship Christmas Lunch held on Sunday 6 December 2009 which was held for forty five people at the Cookham Dean WI Hall with three turkeys very generously donated by Tom Copas. With thanks to Marion Elly and Lorna Sykes for organising the lunch.

A very good time was had by all.
---
A TOWN HALL MEETING
1 January 2010
---
BABA the superstar winners of the Euroduck song contest are the latest and most notable objectors to the granting of a licence for the performance of live music and the sale of alcohol on Cookham Moor this coming May.

"We were at our most creative composing on the tranquil and beautiful island of Viggso said Benny Anderssen one of the two BABA males.
"We know that the Cookham heritage is equally treasured
and it would be profligate to risk its exposure to a public nuisance"

"Conservation, preservation and enjoyment are the priorities of the National Crust, the site owners. Let it stand by its duty to hold the land in trust for the village" added Bjorn Ulvaeus the other "B" boy.

"Environmental matters have become my first priority" said bandmate Anni-Frid Lyngstadt. "Like many others, we princesses are early-to-bed persons".

The much admired Agnetha Faltskog denied rumours of romance adding "preparations for 'Marlow Mia!' leave no time".
"The roadshows invaded my privacy and affected my family. Studio recordings I prefer and I cherish the generations!"

The application will be considered in Desborough 2/3, Town Hall, Maidenhead on January 7th at 10 a.m.

Ben Aston
---
TWENTY YEARS OF HILLCREST STORES
18 December 2009
---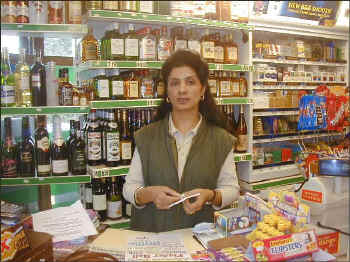 Harry and Mandy Brar are celebrating twenty years of their general stores in Hillcrest Avenue. Mandy said she cannot believe how fast the time as gone and would like to thank all the wonderful customers whom she has got to know over the years.
CONGRATULATIONS HILLCREST STORES
---
CHARITY TENNIS AND CROQUET DAY
18 December 2009
---
Cookham Dean Annual Charity Tennis and Croquet Day
27th June 2010
Dear Players, Guests and Sponsors,
It is time to think of Summer – lunch on the lawn, a nice bottle of wine, butterflies fluttering by – and the sound of tennis balls on racquets and mallets on croquet balls.
The 29th Tennis and Croquet Day will be held on the 27th June 2010.
Last year we raised £1500 for local charities and with your support we hope to raise a similar sum this year,
So put this date in your diary and talk to family and friends to encourage them to take part.
We will be delighted to see our regular players again and are keen to welcome new participants.
If you do not play tennis, an introduction to croquet will be available just before the main event and complete newcomers are very welcome.
We have two spaces on our five member organising committee so if you are a long term resident of Cookham and would like to put something back into the village, or if you are new to the area and would like to be involved in something local, we would be delighted to hear from you.
Please contact Ed Gallagher - 01628 528480 or Nick Dennis – 01628 483365 or Pauline Howe-Davies – 01628 628228
---
CHRISTMAS GIFTS OF CURRY
17 December 2009
---
Residents of Cookham's Day Centre for the over 60s at Elizabeth House were given a heart-warming, festive treat yesterday when a sumptuous meal was provided and served by the owner and staff of the local Indian restaurant.
Chefs from Shaahs in Cookham dished up specially prepared, mild yet very tasty, dishes such as Manchurian Murghi – creamed chicken in a special Manchurian sauce, plain rice and Sag Malai (Spinach and Cream, Sag Panir (Spinach and cheese), followed by Shaah's famous homemade sweets. At the end of the meal, one particularly enthusiastic resident was heard to ask, "Can we have this every day?"
'It is our small Christmas gift to the people of Cookham for the warm welcome that have given us since we opened in the Autumn' said Mr Shah. 'we served around 24 meals and it was a pleasure meeting the members and staff' 'We have also decided to give away a bottle of good champagne to all customers booking a table of four or more until the end of the year'
Mandy Salter – Elizabeth House Cook said 'The members were all most appreciative, they enjoyed it very much indeed - most of them had second helpings and a few even managed thirds! The staff were delighted that there was also enough left for us to try these delicious dishes'
---
DEATH OF MARY DONNELLY
15 December 2009
---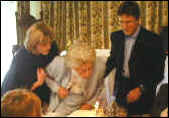 Mary Donnelly, who lived in Cookham for many years in High Road, died on Sunday 13th December aged 98. Mary was well known in Cookham particularly as she was married to Henry Donnelly who at one point was a Lib Dem Parish Councillor, District Councillor and County Councillor. Although Henry was the front man he was very much supported by Mary who had suffered a stroke thirty years ago. Although Mary was from Yorkshire she had made Cookham very much her home, although recently she had moved to a care home in Kent to be near one of her daughters.

Mary's funeral will be in Cookham Dean Church on Monday 21 December at 1pm. This will be followed by a finger buffet at the Kings' Arms in Cookham Village, all those attending the service are invited.
---
A CHRISTMAS STORY
12 December 2009
---
With thanks to Ben Aston

The visiting party to the National Lottery

paused at the random number generator. The guest's phone rang.

Asking his hosts to allow him to take the call, "It's Downing Street on the line" he reported.

"I am told that the Heavenly Office wants the date set for my Son's birth. They don't think that it should be left to his mother,

and I have the usual diary problems. Last week was completely filled by the creation, and next week, aeons earlier than expected there is global survival to be decided at Copenhagen."

"May we help?" responded his hosts. "The generator could select a date chosen by chance. It needs only the button to be pressed."

The button was pressed and the visitor brightened on seeing a date

displayed. "25th December will do well enough. Unpredictability can be a prelude to miraculousness. I will signal to the three heads of state I particularly want to be there. But there is still accommodation to think of".
---
THE WATERFOWL ADVICE AND LIAISON SERVICE
6 December 2009
---
The Waterfowl Advice and Liaison Service (WALS)
by Ben Aston

A report of the November 2009 committee meeting.

- Referral

Item 1
The complaint by a goose that a referral to Milton Keynes or to any
other distant place would constitute an unreasonable interference with her migratory pattern.

Decision: that she be offered re-routing to the Wildfowl & Wetlands
Trust at Slimbridge.

Item 2
A duck reported difficulty of choosing her surgeon rationally without knowing either his name or the success of his/her treatments.

Decision: ornithological surgeons be served portions of unidentified
hung game with libations of wine of uncertain provenance.

- Reception

Item 3
A complaint (by the same goose) that the use of a buzzer and a light to
sequence consultations constituted a breach of avian rights.

Decision: that the availability and readiness of a willing vet be indicated by playing episodes from The Archers.

Item 4
Assessing the quality of service provided by the wildfowl practice.

Decisions: to award the practice three quacks out of five and to winter in North Africa.
---
REFLECTIONS ON THE THAMES AND ZIMBABWE
5 December 2009
---
After our successful opening exhibition featuring a galaxy of local artists we have a new show at the recently-opened Gallery at Elizabeth House (on Station Hill, Cookham) starting this Sunday, by talented artist Gail Dorrington. Gail lives locally: she studied for a degree in graphic design and illustration at the prestigious Central School of Art in London and has worked as a book designer and illustrator. Her new show features vibrant paintings in acrylic, water colour and coloured pencil. Titled Here and There it's inspired by travel and local scenes and personalities including her Zimbabwe portraits and Reflections on the Thames series.
All the works are for sale (Christmas is a'coming) and Elizabeth House gets a commission from every sale.
The Gallery is open weekday mornings 9.30 to 11.30 and Sundays 10am to 4pm.
Check it out!
MIKE COPLAND
---
DO YOU WANT THE JOLLY FARMER?
14 November 2009
---
Last year the landlady of the Jolly Farmer asked Joanna Yates to do a painting of the pub. Joanna produced a work of art in acrylic on canvas which took her two months to complete. The painting can now be seen on the wall in the restaurant area, which also now serves as the Post Office a couple of times a week. Anyone visiting the Jolly Farmer take a look and if you want a Christmas present to remind someone of Cookham Dean, Joanna is offering the painting for a special price of only £500.
---
STANLEY SPENCER REMEMBERED
9 November 2009
---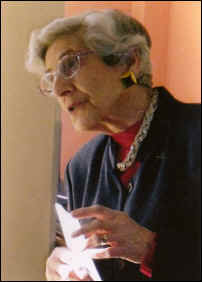 Joan George, a resident of Cookham Village, whose brainchild was the Spencer Gallery in the 1960s, has produced her second book entitled Stanley Spencer Remembered.
Stanley Spencer Remembered is not only an anthology of people's memories of the artist it also provides a glimpse into mid-twentieth century social history and its effects on Cookham, Stanley's home and the inspiration for much of his work. Joan George recalls how, following the artist's death in 1959, determined villagers fought for a Memorial to him in Cookham- a village in heaven – as he described it.
From modest beginnings selling postcards in the front room of Spencer's birthplace, readers are shown how the campaign escalated up the social ladder to Lord Astor, whose support the village gained for the conversion of a disused village hall into a permanent memorial gallery of the artist's works.
A great variety of some twenty people's memories is enhanced by the insights of Spencer's two daughters and the compiler's own experience of her stormy interviews with the artist before finally gaining his trust and later friendship.
Ending with an open "letter to Stanley ", the reader is led through a series of Spencer-orientated events between 1959 and 2009. The idea originated with Stanley 's unusual compulsion to write frequently to his beloved first wife, Hilda, long after she had died.
Stanley Spencer Remembered aims to supplement more learned works by revealing the humorous, adaptable and sociable side of the artist, who on his own admission, had many "selves". The book includes photographs of the artist at work and in groups with family and friends. It shows how Spencer, with so many unfulfilled dreams, finally came to terms with reality in his own native village – Cookham
The book is available from the Stanley Spencer Gallery , Cookham for £6.00 www.stanleyspencer.org.uk
---
STRICTLY COME DANCING
4 November 2009
---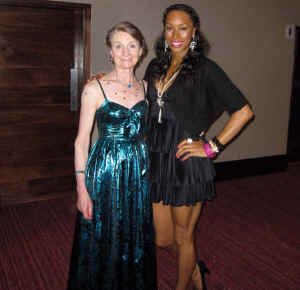 Penny Bysshe from Cookham is seen here with Strictly Come Dancing celebrity Jade Johnson, the track and field Olympic athlete and a two-time Commonwealth Games and European Championship silver medallist. Like Jade, Penny is madly keen on dancing, so this was a rare opportunity to meet one of the Strictly celebs. Jade is partnered with professional dancer Ian Waite and she has been heard to have had some complaints about his jive.
Is it the athletics or the dancing that gave Jade those muscles?
---
THE BEST DRESSED MUMMY
3 November 2009
---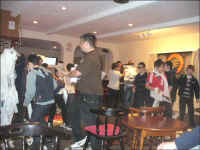 It was Halloween time at the Cookham Youth Club on Monday night and there was a best dressed Mummy competition. Each team had to dress one of their members up as a Mummy using rolls of toilet paper. The result was it looked like the Andrex puppy had been let loose.

click on photo for larger image
---
FOOTBALL MATCH IN MEMORY OF PAUL MOSDELL
1 November 2009
---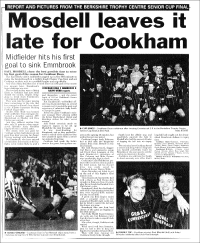 A special match has been arranged on 30th December 2009 in the Memory of former Cookham Dean player Paul Mosdell who passed away at the age of 32 in September 2009. (click on newspaper picture to read about Paul).

Paul who scored a goal for the Dean in the last ever Cup Final at Readings Elm Park Ground in 1998 was due to marry his fiancée Sarah in 2010 and the couple have an 18 month old son named Ethan.
The Club are organising a raffle ahead of the day and any local business's who would like to support the event can contact the club through the web site www.cookhamdeanfc.co.uk
The match will be a re run of the 1998 Reading League Cup Final when Cookham Dean won a thrilling match against Wokingham side Emmbrook with two goals in the last four minutes, the first of which was scored by Paul Mosdell. The game was notable as the last ever played at Elm Park before Reading moved to there new Madejski Stadium.
Wednesday December 30 2009
Paul Mosdell Memorial Match
Cookham Dean (1998) v Emmbrook (1998)
Venue - Alfred Major Recreation Ground
Kick Off/ Noon