---
SUPPORT CHARLIE, JOSH & SIMON
6 June 2010
---
In March this year we (Charlie Nicholls, Josh Rollett and Simon Havers) were selected as part of a 36 strong contingent of scouts, including Sea Scouts and Air Cadets to represent Berkshire at next years Scout Jamboree.
You might well ask, what is a Jamboree? The World Scout Jamboree happens every 4 years in a different country of the world, and is a worldwide gathering of Scouts from nearly 200 countries, more countries than the Olympics! The participants will live in tents on sub-camps with Units from all over the world, and for 2 weeks, they will take part in a wide variety of activities with Scouts from other countries and cultures.

The aim of the Jamboree is to create an amazing first-hand experience of multiculturalism in action, to provide an opportunity to interact and participate with others from different cultures and to build solidarity and understanding across cultural and geographical boundaries.
We have been lucky enough to be selected to join 32,000 young people and adults at the World Scout Jamboree in Rinkaby, southern Sweden from 27th July to 7th August 2011. We were selected from over 130 applicants from all eleven Districts within Royal Berkshire on a freezing selection camp in Old Windsor. Cookham was the only troop to get 3 scouts through the selection process!! To gain one of the 36 places we had to prove ourselves through a series of challenges, tasks and activities.
The 2011 Jamboree has 4 key aims
To be close to nature, in fact we will live in the middle of nature for 2 weeks, in an immense field surrounded by trees and woodlands. The Jamboree Programme will use the natural environment as a learning tool, demonstrating both its vulnerability and what individuals can do to better protect the world we live in.

To encourage meetings between those from different cultures, religions, countries and contingents. Participants will get to know those who live outside of their own local community and find that strangers can become friends

To encourage solidarity between Scouts of all ages, and promote the unity between Scout Organisations from around the world. It will also help us see that we share a common responsibility to our world and to each other.

To promote respect for other people, emphasizing equal rights and peace and at the Jamboree itself, all are equal, independent of any personal characteristics or background.
In addition to attending the Jamboree we will also spend 2-3 nights in Copenhagen and 2-3 nights living with families in another country (as we write Latvia, Lithuania, Estonia, Poland and Finland are being discussed).
Part of the experience is that we are required to Fundraise the cost of attending which is approximately £2,100 per person. We are planning a range of activities including a quiz night, sponsored swim and a number of stalls at summer fetes. Our next Fund Raising Event is a Car Wash Event at Cookham Station on Saturday 12th June from 9am-1pm - please come and let us wash your car for you !
---
COOKHAM TO BECOME PART OF BUCKS
3 June 2010
---
24 May 2010 – Cookham's newest art gallery is taking Cookham across the river for its latest show. The Gallery at Elizabeth House is taking part in the annual Bucks Open Studios programme, which runs for two weeks this month. Six local artists are combining forces to create a bumper exhibition and the gallery will be open for extended periods while it takes place. The Open Studios programme has been running for many years and encourages people to visit local artists and see the wealth of talent and creativity in the region. The Elizabeth House gallery will be open for the event on weekdays and Sundays between 6th June and 2nd July – and throughout the weekends of 12/13, 19/20 and 26/27 June. You can see some of the work on the gallery's new web site – www.thegalleryatelizabethhouse.org.uk
Local artist Juliette Palmer and photographer husband Dennis have opened their house, Melmott Lodge in Cookham's Pound, for the event for several years and will be adding to the artfest this time. Mike Copland, for the gallery, said that they hoped that the attraction of two art shows very close to each other, as well as the renowned Stanley Spencer Gallery, would bring additional people into the village and enhance Cookham's reputation as a great place to see great art.
The artists combining their talents are Alison Adcock, Gail Dorrington, Eunice Goodman, Gill Harper, Mandy McAllen and Pat Shenstone, offering a wide variety of styles and media. All works on show will be for sale, with a percentage going to Elizabeth House, the club for Cookham's older residents.
The Open Studios exhibition at the Gallery at Elizabeth House is open each weekday between 9.30 and 11.30 am and on Sundays from 10 am – 4 pm as well as between 10am and 4pm on Saturdays 12th, 19th and 26th June. Refreshments are also available for visitors.
---
KATE SWAN DIES
26 May 2010
---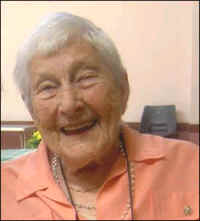 It was with great sadness that Cookham.com heard of the death of Kate Swan on Friday 21st May. Kate was born in Cookham Village in 1911 where her father ran the bakery, now Second's Out. Kate lived in Cookham for most of her life with a gap when she got married and only moved into sheltered accommodation in Bourne End around eight years ago. Even then she would come back at every possible opportunity and continued to be a member of the Cookham Society and the Cookham Dean WI. She appeared on Cookham Summer FM in 2006 and had the most remarkable memory for names and could remember all the things that had happened in Cookham over the years. She was involved in the book written by Chrissy Rosenthal and Ann Danks, Cookham Voices.

Kate will be very sorely missed by many people in Cookham, as she was so well known by so many people. Her funeral will be held at Amersham Crematorium on Friday 4th June at 2.30pm and followed by everyone meeting at the Cookham Dean WI Hall. Family flowers only. Donations to the RNIB.
---
ATTENTION ALL DOG LOVERS!
20 May 2010
---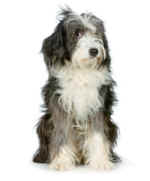 Our Cookham community dog rescue urgently needs short-term fosterers and volunteer dog walkers & transporters.
Can you help ?
Gray Matter rescues and rehomes older dogs within the Cookhams and Bourne End and has successfully placed hundreds of dogs with loving new owners.
To enable it to continue its good work, Gray Matter is urgently looking to expand its network of volunteers.
You can lend a hand by :
* Fostering a Gray Matter dog - usually for short
periods of a week to a month
* Walking a Gray Matter dog - helping them to enjoy
getting out and about
* Transporting a Gray Matter dog - picking up or
delivering rescue dogs on trips to the vet or delivering
them to their foster home
If you are able to assist, even for a limited period of time, please contact Gray Matter on 01628 524610
or
email graydogs@btinternet.com
Gray Matter website : www.gray-matter.org.uk
---
SHOWCASE COMES TO COOKHAM
3 May 2010
---
The increasingly popular King's Arms public house in Cookham village is set to stage regular entertainment events for guests.
The Showcase at the King's Arms, on Wednesday May 5th is the second in a series of slightly more formal/dining evenings. The first, on March 31st, was a vibrant sell-out.
Tickets are £18 in advance or £20 on the door and include food.
Part of the aim of Showcase is to nurture fine local talent. Wednesday's event will feature Derry Pope and Louise Herrington. Both live in the county and have recently performed at Norden Farm Centre for the Arts with local impresario James Church.
The newly formed Buffo Swing Trio provides its own brand of sophisticated swing and backing for the performers, again featuring local musicians and lead by James.
Showcase Nights will be a regular feature and further events are scheduled for June 2nd, 30th and an Opera Gala Night on July 28th.
For more information, please call 07717 026333 or email baritone@live.co.uk
---
COOKHAM DEAN VILLAGE SHOP UPDATE
23 April 2010
---
Since our meeting on 3rd March the Village Shop Committee has spent a great deal of time assessing the practicalities of locating the shop in the grounds of The Jolly Farmer pub. In doing so we've received considerable support from Laura Kelsey, Mandy & Harry Brar and The Jolly Farmer Board, all of who have been very keen to help us develop a workable plan for the construction of suitable premises and the operation of the shop. However, as the process has progressed it's become clear to us that it's really not feasible to run a separately owned, fully functioning shop on the same site as the pub without causing genuine difficulties for both businesses in operating comfortably and profitably together.
Unfortunately, Laura does not currently have the resources to run the shop as part of her existing business and, at present, no other location in the village is available on such generous terms as offered by Laura – i.e. a peppercorn rent – which, as previously reported, is a key requirement for its success. As result, we've decided to call a halt to the current project and to return all of the donations made by villagers to support it.
Other opportunities for establishing a village shop may well arise and if they do, or if anyone is motivated to look at a similar venture, please get in touch as we'll be happy to share the results of our research and to assist in developing the idea. In the meantime, we urge you to maximise your support for the Post Office in The Jolly Farmer – its success is important for the village and, if it is a success, it's quite possible that Laura and The Jolly Farmer Board could extend its activities to provide some of the additional services that a large number of villagers would clearly like to access locally.
Thank you very much for the magnificent support we've received over the past 12 months. Cookham Dean is an unusually strong community and your help in assisting us in our work has been very gratefully received.
From the CD Village Shop Committee:
---
A HOST OF GOLDEN DANDELIONS
20 April 2010
---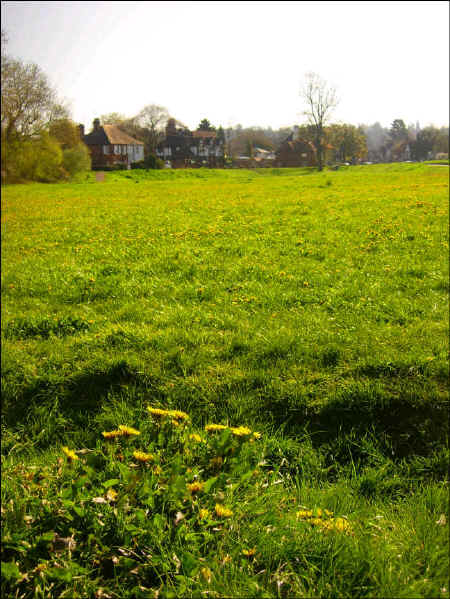 With thanks to Richard James - click on photo for larger image
---
STAIRWAY TO HEAVEN
17 April 2010
---
A Cookham.com reader sent us this photo of a demolition in High Road, they said "It looks to me like a Stanley Spencer stairway to Heaven!"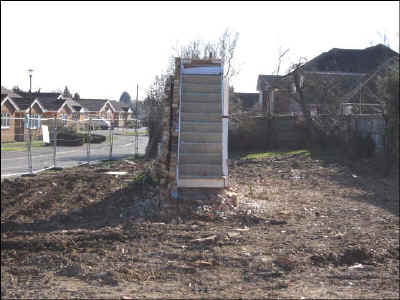 ---
COOKHAM MONTESSORI IS OUTSTANDING
11 April 2010
---

Cookham Montessori School were delighted to be graded as an OUTSTANDING nursery for their recent Ofsted inspection. Some of the highlights of the report are:
· Staff devote significant dedication to their roles. As a result staff promote children's learning and welfare to a very high standard.
· Staff provide an extremely warm and welcoming atmosphere. They know children exceptionally well as individuals. Children have excellent relationships with staff. Excellent settling in procedures support new children very well
· Children thrive in the rich, child-centered environment.
· Parents are extremely well informed and their nursery actively seeks parents' involvement and views
The nursery provides a very flexible variety of sessions for children aged 2-5 years. The maximum length of time a child can stay in a day is from 8.30am to 3pm and the minimum is 2½ hours. Parents can build up each individual day differently to suit their family and child's individual needs.
Currently all our 3, 4 and 5 year old children (and some 2 year old children) can access our 2½ hour daily sessions completely FREE. From September 2010 this will be extended to include our 3 hour sessions.
The nursery has an open-door policy and is very happy to show their nursery to anyone who is interested.
Ph:01628 529414/01494 442057
---
CHARLES AND DAVID ON RADIO BERKSHIRE
9 April 2010
---
David Joynes and Charles Luxford were on BBC Radio Berkshire on Wednesday 7 April, promoting the restoration project at Holy Trinity and, in particular, the Popular Classics in Concert at Holy Trinity on 17th April 2010 in aid of the restoration of the church. David Joynes said "Well, we had a reasonable spot on Radio Berkshire – the Anne Diamond show. Phil Gale was very positive and kept the show moving asking questions about Holy Trinity and Cookham."

If you want to hear them, you can play it by going on the link below.

http://www.bbc.co.uk/iplayer/episode/p0074pk3/Anne_Diamond_07_04_2010/
---
PROBLEM FOR GRAVITY GRAND PRIX
1 April 2010
---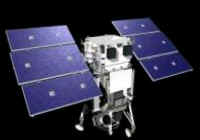 Google's spy-in-the-sky satellite is threatening to force a change of date for the annual Cookham Dean Gravity Grand Prix.
The organisers of the annual charity event are locked in negotiations with Google Earth over the search engine's claims that spectators lining the streets of the village for this year's event on September 12th will spoil its satellite pictures.

Now in its fourth year, the Gravity Grand Prix has become an established village event, with more than a thousand spectators expected to cheer on 30 teams racing hand-built karts.

Google Earth wants a change of date to accommodate its planned High Definition upgrade of Cookham Dean. The Google Earth satellite passes overhead only once a year and this year's "pass" is on September 12th at 3:12pm, smack in the middle of the Gravity Grand Prix.

The news has thrown plans for the event into disarray, said race organiser Peter Bartlett. "I received an email from the Director of Imagery and Data Capture Europe who explained that they want to obtain a typical likeness of Cookham Dean - without the crowds.
"I can see their point to a certain extent; it's far easier to change the date of the event than it is to change the path of the satellite.
But that is as far as it goes. We raised more that £10,000 for the Air Ambulance last year and I don't think that we should reschedule the event purely to allow some nosey people to get a better look in other people's back gardens."

Following an emergency meeting of the Gravity Grand Prix planning committee, Bartlett has gone back to Google with a counter-proposal. "We will simply ask everyone to go indoors for 15 minutes starting at 3pm. The satellite will be passing overhead shortly after 3:12pm.
"We've done the math. If each resident on the course takes in about 20 spectators - maybe a few more for the larger properties - that's the problem solved. This break in proceedings will have the added advantage of giving the spectators the opportunity to use the toilet - taking pressure off the facilities at the village hall."
---
"THE MEDIA FRENZY"
23 March 2010
---
What have a police cordon, TV crews and health and safety stewards got to do with a public execution?
Is this an advert for Britain's got Talent? love of celebrity, being on the telly, or something else?
You can see for yourself - it's on public display along the Lower Road by St Elizabeth's until April 11th
---
PHYLLIDA CAPTURES THE SCENE
20 March 2010
---
During the Secondary School Fiasco meeting at Moor Hall on 16th March, Phyllida Shelley Smith our resident war artist(!) stood at the back drawing the scene. Click on the image to get a larger version. Phyllida really has caught the feeling of the meeting.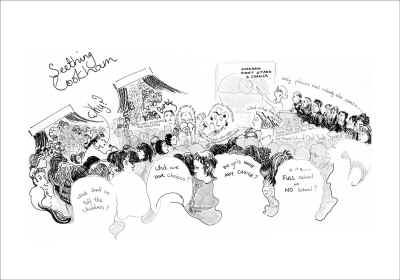 ---
SHAKESPEARE 2011
16 March 2010
---

Local actor and playwright, Richard James, is to spearhead a new event for next year's Cookham Festival; a full-scale production of Shakespeare's 'A Midsummer Night's Dream' at the Odney Club. 'The idea', says Richard, 'is to attract people who wouldn't normally go anywhere near Shakespeare with a barge pole, let alone even think about stepping on stage. It's my aim to show people that there's really nothing mystical about Shakespeare and that his plays are for everyone!'

An initial meeting will be held in November for all those who are interested (either on stage or behind the scenes), with rehearsals beginning in January 2011 and performances in May. 'I know it's early days', says Richard, 'but we will canvassing for people all this year, from all sections of the village, to make this a true community event'.

You can follow the project at Richard's blog: http://cookhamdream.blogspot.com/
---
GOODBYE JANET
12 March 2010
---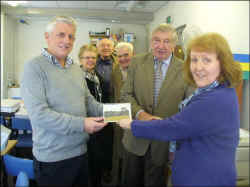 Janet Wheeler, who has been the Clerk for Cookham Parish Council for nearly eight years having taken over from David Armstrong in 2002, is leaving her post as clerk as she has been offered a job as Town Clerk in Amersham. Janet said 'This job will have a lot more responsibility and should be a real challenge'. Janet has more recently been Clerk to Hurley Parish Council too, so both councils are having to find a new clerk. On Friday 12th March, Mike Barnes, vice chairman of the council, presented Janet with a goodbye present to remember Cookham by. Janet will be a hard person to replace.
---
HAPPY BIRTHDAY PATRICK
8 March 2010
---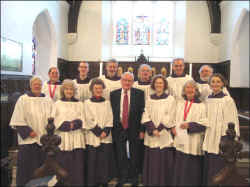 The Mattins Choir sang a special anthem during this Sunday's morning service at St John the Baptist Church Cookham Dean. Patrick Bell's wife Sonya commissioned Malcolm Archer to write an anthem to give to Patrick for his 85th birthday last year. The words are by Henry Vaughan (1622-95) My Soul there is Country. The composer has written at the top of the anthem: "For Patrick's 85th birthday and for his most loyal "Mattins Choir". There was a very good turn out at the service to hear the anthem which was beautifully sung by the choir.
The photograph shows the choir with Patrick Bell.
---
WORDS APART THEATRE COMES TO COOKHAM
22 February 2010
---
click on photos for larger image
Following their opening night in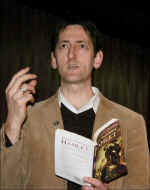 Huntingdon, Cambridgeshire, 'Words Apart Theatre Company' bring their inaugural production to the Pinder Hall in Cookham, on Friday March 19th. Local actor, Richard James (familiar to some from his tv and film work, and to others for his roles with the Tarrystone Players), has teamed up with friend and fellow actor, Dean Laccohee, to present two one-act plays.

'I Am Hamlet' concerns an actor auditioning for a role in a local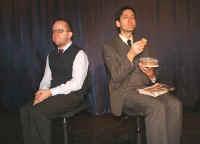 production of Hamlet, who turns out to have more in common with the Prince of Denmark than meets the eye. The second play, 'Vision Impaired', lets the audience see inside the most terrifying creatures ever created for televison, as we eavesdrop on two actors waiting to make their entrance as Daleks in 'Doctor Who'...

Tickets are £8 and are available from the Stationery Depot, Station Parade, Cookham or via Richard James on (01628) 532880.

You can find out more at www.wordsaparttheatre.co.uk
---
CURLY CARVER (NT WARDEN) RETIRES
20 February 2010
---
As you may have heard our NT Warden Mr Curly Carver is to retire this August after nearly 30 years of service to the Maidenhead and Cookham Commons.
Curly's official job has been to maintain and monitor 735 acres of woodland and commons. He has also above and beyond his official duties got to know his community. He fights for our land….for your view, verge, hedgerow, pathway, for the wild animals and birds, for horse riders, ramblers, runners and dog walkers.
He knows who are the lonely and vulnerable, the bullies and abusers. He is shouted at by rude visitors (and sometimes villagers!) when he protects our patch – he is abused when commoners' cows chase the unwary, when litter strews the car parks, and when his employers levy charges to the locals.
But…. he is deeply appreciated by all those who love the area when he builds bonfires for the children, supports the Fete and the Gravity Grand prix, when he drags bails of hay onto the Common for the Boxing Day games, plants new trees, when he develops the derelict brick kilns into a wonderful amenity, cuts the verges, picks up litter, moves fallen trees, supplies logs, advises on tricky road building problems, clears out unwelcome visitors from car parks, or chases off unwelcome travellers.
It's now time for us to show our appreciation of the hard years he and Rita have invested in us. A gift fund has been set up and you can donate in the following ways:
Visit:
Nationwide Building Society
3 Station Hill
Cookham Rise, SL6 9BT
Sort code: 07-00-93
Bank account no: 33333334
Account no: 1246/704074417
Write:
'The Maidenhead and Cookham Commons Advisory Committee'
Pippins
Popes Lane
Cookham Dean
SL6 9NY
Cheques please made out to: 'The Maidenhead and Cookham Commons Advisory Committee'
Bank transfer: (Nationwide as above)
---
FIND YOUR VOICE
2 February 2010
---
Maidenhead Choral Society are hosting 6 sessions of Find Your Voice from Thursday 11 February to Thursday 18 March led by Christian Goursaud a Gentleman of the Chapel Royal at Hampton Court Palace.
The cost of the 6 sessions with be £36 and will be held in the Wesley Hall, Methodist Church, High St, Maidenhead from 8-10 pm.
For further information and to sign up contact
Jenny 01628 822886, Trisha 01628 416980, Anne 01189342109
Information below gives a taste of what will be covered.
Breathing/Posture, Primal sounds, Scales/arpeggios, Notation/Monophony

Singing in Parts: Simple two and three part music Singing in Parts: Simple four-part music

Applied choral skills I: Musical awareness/Listening II: Balance/Phrasing III: Tricks of the Trade

Case Studies: Renaissance Baroque, Romantic/Twentieth Century