---
GARDEN WING OPENING AT HARWOOD HOUSE
17 April 2011
---
Rt Hon Theresa May MP Home Secretary and Minister for Women will officially open the new £2.5 million Garden Wing at Harwood House, the leading family-owned care home in Cookham Dean.
Theresa May cut the first sod of earth in 2008 at the start of the £2.5 million project. The recently completed extension and refurbishment project was designed by Martin Lloyd. The earth sheltered underground construction is an innovative and environmentally friendly solution to a steep sloping site. The low profile extension has created additional garden space on the extension roof as well as two new garden terraces. The refurbishment project included enlarging existing bedrooms, creating additional seating areas and ensuite facilities in all rooms and generally creating a home for residents where each room has a luxurious but homely feel. The project is part of Harwood House's Grand Design to set new standards of excellence in the care and respect of residents in care homes."
Harwood House is located at the highest spot in east Berkshire with beautiful views across the Thames Valley .
On Friday Theresa May will officially open the new wing and she will present a plaque to Michael Fitch, Director and owner of Harwood House, and she will also plant a tree in memory of William Fitch, former Director of Harwood House, and father of Michael Fitch and wife of Elinor, who will also be present at the opening.
The new extension was a finalist in the Pinder's Healthcare Design Award 2011.
---
NEW LOOK STATION HILL CAFÉ
15 April 2011
---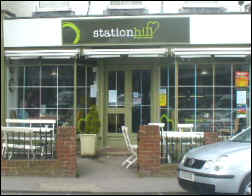 Following a refurbishment the Station Hill Deli is now rebranded as Station Hill Good Food Café.

There is a brand new extension at the back including new disabled toilets and baby changing facilities and there is a total of 45 seats available.

The menu has been extended to include gourmet handmade burgers, twice fried chips, ice cream milkshakes and much more.

The Café is now fully licensed and open for dinner on Friday and Saturday evenings, from 6pm-10pm offering a dinner menu at a fixed price of £11.95 for 2 courses and £14.95 for 3 courses.

There is also a newly extended room for private hire which can be closed off. It can comfortably seat 24 people and is ideal for business meetings and children's parties.
---
A CLEANER RIVER BANK
14 April 2011
---
A Message from Mandy Brar

I should just like to say thank you to people who came along to give us a hand with the rubbish clearance, that was Cindy Barnes and her Husband, Sue Teesdale, Fiona Hewer, Mac, Gwen Tyler, Mr Blair and another gentleman whose name I forgot and myself. We are thinking we will do this every couple of months and it looked much nicer along the riverbank once all the rubbish was cleared.
---
SOLAR PANELS FOR HIGH ROAD
10 April 2011
---
Emily Tomalin writes:
Charles and Barbara Walmesley and my household have just placed orders for Solar Photovoltaics (PVs) to generate electricity for our homes, and these quotes were the best we obtained. The scheme is run by a colleague of mine at TVEnergy (local advisory body for renewable energy).

Charles house is typical of all those on The High Road, Cookham Rise, which could benefit from PVs on south facing roofs.
It will be interesting to see what they think of the results.
---
BUY YOUR TICKET FOR THE COOKHAM FESTIVAL
4 April 2011
---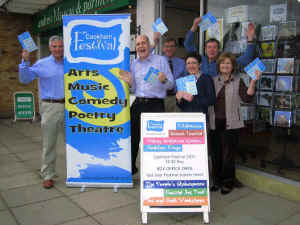 You can now buy your tickets for the Cookham Festival at th Stationery Depot in the Parade. There is sure to be something that will appeal to you over the fortnight the Festival is on. Most events are usually a sellout so don't miss out.
---
NEW FOOTBRIDGE FOR COOKHAM DEAN
1 April 2011
---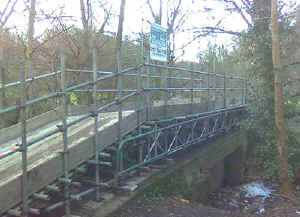 A generous benefactor has made an offer to replace the inflatable Dunlop Arch used for the annual Gravity Grand Prix in Cookham Dean with a scaffold footbridge.
The Dunlop Arch is a key landmark on the Grand Prix circuit. However, the organisers of the charity event were shocked when an inspection revealed that the base of the inflatable structure has perished, possibly due to the bad winter.
Mr Bartlett, one of the event organisers, said: "My wife tells me that cleaning the structure is time consuming; back-breaking work, and apparently last year it didn't dry out properly. We considered a repair but have been informed by the manufactures that even if they had a puncture kit big enough to repair the rot, it would prove very difficult to get insurance."
He added: "During a crisis meeting in the pub, Mr Wray of Craufurd Engineering stepped in with his generous offer to build a scaffolding bridge over the road at the Village Hall.
"The new bridge could be decorated with the Dunlop logo on race day, and we have outline planning consent to make it a permanent feature. It can then be used as a safe crossing point by the children at the Noah's Ark pre-school."
Now in its fifth year, the Gravity Grand Prix has become an established village event. This year's Grand Prix takes place on Sunday September 11, with more than a thousand spectators expected to cheer on 30 teams racing hand-built karts. Last year the event raised more than £12,500 for the Thames Valley & Chiltern Air Ambulance.
Mr Bartlett said: "The Gravity Grand Prix without an Arch would be unthinkable. Fortunately, the council are very impressed with our proposed solution, especially in the current climate of cuts, because the bridge will be self-funding from revenue generated by selling advertising space."
---
LET'S CLEAR UP THE RIVER BANK
30 March 2011
---
Can you help with the River Bank clear up just for an hour or so? If so on Wednesday 13th April, meet in Marsh Meadow car park at 6pm (clearance until about 7pm or 7.30pm). Bags and pickers will be provided for this rubbish clearance. If weather is fine. Organised by Cllr Mandy Brar and Peter Boardman our local Community Warden.
---
GUINNESS WORLD RECORD FOR LINE OF PENNIES
25 March 2011
---
Can you help Cookhamite Sarah Parfitt to beat the Guinness World Record for a line of pennies? Sarah is helping the charity MicroLoan Foundation with their "Pennies for Life" campaign which is where they are trying to get into the Guinness World Records for the longest line of pennies on July 9th and 10th. Sarah has received a modest grant from the Vodafone Foundation and has a blog about her experiences.
Sarah is looking for:
1) individuals/businesses to collect pennies between now and July
---
STOP THE FOOTBALL CLUB CLOSING
16 March 2011
---
Cookham Dean FC are holding a meeting at 8pm on

Wednesday 23 March

in their Alfred Major Ground Clubhouse to discuss the club's future. The club needs help from the local community to keep running. The club was established in 1879 and celebrated 130 years of history in 2009 - but recently membership has declined and newcomers are urgently required to ensure the village retains its football team.
---
WINNER SPOTLIGHT - SARAH PARFITT
11 March 2011
---
Sarah Parfitt who took part in the Tiberias Marathon in January

and raised £730 for Rainbow pre School, has had a write up on the Vodaphone website. Well done Sarah
---
BE A HOST FOR HOST
8 March 2011
---
Conference tables are not the only furniture useful for conducting international relations. Your supper table could also be a good place to start!
Many international students come to UK universities hoping to broaden their understanding of a culture and way of thinking different from their own. Unfortunately, they rarely have the opportunity to meet the 'real' people of this country and to appreciate the way of life in local communities far from the campus and the big city.
HOST seeks to redress the balance. For 24 years this not-for-profit organisation has been linking young adults from all over the world with hospitable residents of Britain of all ages and walks of life, for one-off weekends of friendly cultural exchange.
Kate Durham, a volunteer host in Cookham, writes: 'During this time of unrest and uncertainty in the East, we particularly need to do our bit for international relations. I've found that occasionally my HOST students have received the pastoral care they needed whilst on a visit. I'm older than the parents of some and am happy to lend moral support where I can if they feel a little lost or overwhelmed.'
Not all HOST guests are needing support: some are just intrigued to learn more about this country. Many bring fun and laughter (and even a national dish) to share during a happy and fascinating weekend visit.
If you would like to know how you could offer HOST one or two invitations a year, please see www.hostuk.org, or have a chat with the regional organiser for Berkshire, Paul Ryall on 01692 630710.
---
HARWOOD HOUSE SHORTLISTED FOR NATIONAL AWARD
7 March 2011
---
Michael Fitch receiving the certificate from the judge Mark Ellis, left to right John Chapman, Mark Ellis, Michael Fitch, Lyth Watson, Morag Forsyth and Martin Lloyd.
Harwood House, the leading family-owned care home in Cookham Dean has been shortlisted for a national Healthcare Design Award by Pinders. Pinders have been organising the Healthcare Design Awards since 1999, and the presentation ceremony is now one of the 'must-go' diary dates in the healthcare calendar. The Awards aim to promote and recognise the very best developments in all types of care-related property. Harwood House is one of three care homes shortlisted in the Refurbishment and Extensions Category for a new extension and refurbishment project. The recently completed extension project was designed by Martin Lloyd. Three judges, Mark Ellis, John Chapman and Lyth Watson visited Harwood House today and presented a certificate and £500 cheque to Michael Fitch Director of Harwood House. The winners will be announced on March 31st at the awards lunch being held at Lords Cricket Ground, London.
Harwood House is holding a series of Open days in March. Visitors are invited to view the new extension and re-furbished family-owned care home. Visitors can also enjoy the spectacular views as Harwood House is located at the highest spot in Berkshire with beautiful views across the Thames Valley.
Harwood House will be open to visitors every Saturday and Sunday in March from11.00am to 4.00pm. For more information contact 01628 478000
Harwood House. Spring Lane, Cookham Dean SL6 6PW
---
MOLE CATCHER AVAILABLE
6 March 2011
---
I am Tim Joy, the local registered Mole catcher for the area including Marlow

Bucks, I am registered with The" British Traditional Mole Catchers

register" there is soon to be lots of these little critters about as

the young leave the nest in the next month or two and numbers are up

on last year following the poison ban, so if I can help in their

control, please get in touch.

NO POISONS USED !

tele 07502404821 or email : tjoy2010@hotmail.co.uk
---
COOKHAM ACTORS AND THE RSC
4 March 2011
---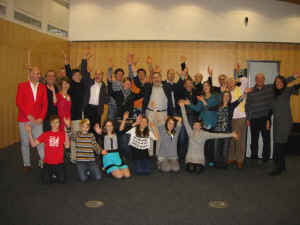 The People's Shakespeare (click on photo for larger image), who are presenting Shakespeare's 'A Midsummer Night's Dream' for this year's Cookham Festival, are delighted to announce that they have been invited to join the Royal Shakespeare
Company in their 'Open Stages' programme. This will see the newly formed company, mostly made up of those new to the stage, working closely with the RSC and other groups in the area and attending workshops and theatre skills courses in Stratford. They are also in with a chance of eventually performing in the world famous Royal Shakespeare Theatre Company in Stratford upon Avon in 2012.

You can learn more about the People's Shakespeare and watch videos of
their rehearsals at www.cookhamshakespeare.com

In the meantime, tickets are going fast already - so make sure to book
yours soon via the Cookham Festival Programme.
---
SPENCER GALLERY WINS DESIGN AWARD
3 March 2011
---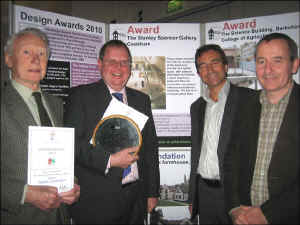 The 2010 Awards Ceremony took place on Thursday 20 January 2011, held in Maidenhead Town Hall's Desborough Suite. The Stanley Spencer Gallery, Cookham won for re-planning of the interior to provide new gallery space, with external alterations to relocate a listed telephone kiosk and create an accessible new glazed entrance and external surfacing.
---
NEW IYENGAR YOGA CLASS IN COOKHAM
1 March 2011
---
I started my first run of classes since qualifying as an Iyengar yoga teacher late last autumn.

I will be teaching classes specifically designed to suit the needs of complete beginners, new beginners and returning beginners at Holy Trinity Primary School, School Lane, Cookham, SL6 9QJ, Monday evenings 7.30-9pm, at a rate of £9 for each 90-minute class.
Iyengar Yoga is a system developed by Mr B.K.S Iyengar from a lifetime of intensive practice, study and teaching. Precise posture and breathing techniques allied to a firm philosophical base lie at its heart. Mr Iyengar is based in Pune, India and at the age of 92 he continues to practise today.
Yoga both relaxes and energizes the body and mind and brings vitality, flexibility, strength, concentration, self-confidence and mental calm. You will be coming to my classes in the knowledge that you are about to embark on a system of teaching that is methodical and progressive and has a strong emphasis on correctness and safety.
Equipment
I have a very limited supply of spare kit, so it would be great if you could invest in your own. You will need a yoga mat, 4 foam blocks, 2 bricks (made of foam, cork or wood), a yoga belt and a blanket (any blanket will do). All of these can be easily acquired online at very reasonable prices. There are many websites to chose from. The one I turn to most often is
www.yogamatters.com

For obvious reasons it's best to avoid a heavy meal beforehand. I should add that I am not yet qualified to teach pregnant women or anyone with severe ailments, but please call me or come and talk to me at the start of the class if you have any minor health problems or are on your menstrual cycle.

Looking forward to seeing you..
Mohini Patel Davis
07931-995409
---
HARWOOD HOUSE OPEN DAYS
24 February 2011
---
Harwood House, the leading family-owned care home in Cookham Dean is holding a series of Open days in March. Visitors are invited to view the new extension and re-furbished family-owned care home. The new extension is a finalist in the Pinder's Healthcare Design Award 2011. Visitors can also enjoy the spectacular views as Harwood House is located at the highest spot in Berkshire with beautiful views across the Thames Valley.
Harwood House will be open to visitors every Saturday and Sunday in March from 11.00am to 4.00pm. For more information contact 01628 478000
---
CINDERELLA UNBUTTONED
21 February 2011
---
Cinderella Unbuttoned
After several years absence, pantomime returns to Cookham! The Tarrystone Players present "Cinderella Unbuttoned", a saucy new take on the Cinderella story.
The story picks up on Cinderella's life 25 years after her marriage to Prince Charming. When preparing for her Silver Wedding ball, she discovers that all is not well. Old and new enemies have been plotting her downfall. She must use all her ample charms to foil their devious plans.
Featuring the most unusual genie ever to appear in any pantomime, Cinderella Unbuttoned combines traditional panto elements ("Oh no it doesn't, Oh yes it does)" with some adult material that make it unsuitable for young children.
The talented cast includes local actors and singers well known to Cookham audiences and the show will be performed at the Pinder Hall in Cookham on March 3rd, 4th and 5th. Curtain up is at 8p.m., there is a licensed bar and tickets are £10, from the Stationery Depot on Station Parade or call (01628) 524438.
---
COOKHAMITES LIVE IT UP AT VAL D'ISERE
15 February 2011
---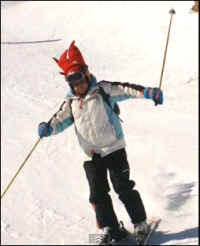 Last week 16 Cookhamites headed off to Val D'Isere for a week of fun skiing. Have a look at the video of what your mates from Cookham got up to here!
---
THE COOKHAM FESTIVAL ON YOU TUBE
9 February 2011
---
The Cookham Festival is on You Tube! You can keep up to date with preparations for this year's Cookham Festival by visiting
www.youtube.com/cookhamfestival. Over the next few weeks and months, there'll be interviews with those involved, as well as videos of
rehearsals for 'A Midsummer Night's Dream' and other events.
---
SHAKESPEARE REHEARSALS
31 January 2011
---
With thanks to Gerry Clarke for the photos (click on photo for larger image)
Rehearsals for The People's Shakespeare production of 'A Midsummer
Night's Dream' are well and truly underway ahead of their performances
for the Cookham Festival in May. John Lewis has very kindly offered the
award-winning 'Sir Bernard Miller Centre' at the Odney Club as a venue
for the production, and the cast have been making the most of the
facilities for their rehearsals. Director Richard James says 'After
months of planning, it's great to be underway at last, and with such a
fantastic cast too - many of whom have never set foot on a stage before.
As this is a true community event, even our rehearsals are open to the
public to come along and watch. We rehearse Mondays and Wednesdays from
7.30pm.' You can see more information about the People's Shakespeare at
www.cookhamshakespeare.com
---
SHANGHAI FOR TASHA
28 January 2011
---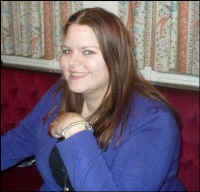 Tasha André from Cookham Rise has been given the chance to go to China by her employer. Tasha has been chosen to design the new uniform for two thousand five hundred people. She was chosen out of fifty people and will accompany the managing director to Shanghai where they will look at ideas for the uniforms with various suppliers, who will then manufacture them. Tasha says so far she knows they will be black and white, but that is all, she will get her ideas when she is in China. It is planned that she will go in March, so she is extremely excited. Congratulations Tasha.
---
WELCOME DAN
15 January 2011
---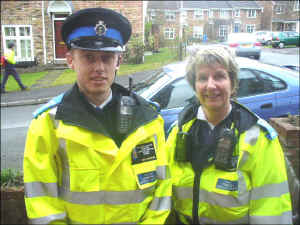 If you see a new face in Cookham on someone in PCSO uniform it will be Dan Sturridge. Dan has recently joined the Cookham team and can be seen in the photo with Liz Davidson who is now an old hand and is probably known by many of us in Cookham, so, if you see Dan around the Cookhams say 'Hello' to him. Welcome Dan.
---
KEITH RUNS AND BLOGS
9 January 2011
---
Keith Jenkins from Westward Green has taken on a challenge. He is doing something called Janathon where you run everyday and blog about it. There are 171 participants and the winner is the person who has blogged every day, exercised every day and run the most miles! You can read more about the Janathan Project at http://www.janathon.com/
Keith's blog showing his progress can be seen at http://www.thethames.blogspot.com/ He is doing pretty well at the moment and is high up on the list of challengers.
---
RIBBONS AND PEARLS CELEBRATE THE ROYAL WEDDING
8 January 2011
---
Celebrate the Royal Wedding of HRH Prince William to Miss Kate Middleton here in Cookham. Ribbons and Pearls The Wedding Shop in High Street is organising a Competition and Evening Charity Event. Details will be released shortly. A letter from the palace has arrived giving Ribbons and pearls exclusive permission to go ahead and plan the event, so watch this space!

Smiles Viv Mitchell owner Ribbons and Pearls
---
HELP SAVE COOKHAM FIRE STATION
21 December 2010
---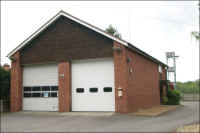 Cookham Fire Station has not been permanently closed as yet. It is a proposal in the Brigade's future planning and will be voted on, at a meeting of the Fire Authority in mid Feb 2011. The link below shows the 2011-2012 consultation document and responses have to be in by 31 January 2011. We need as many people as possible to voice their opinion, in order to keep a Fire Station in Cookham, but they must do it by 31/12. The easist way is to e mail the details shown at the end of the consultation document, but for ease it is below. The closure is mentioned on P18.

The link to see the IRMP action Plan 2011-2102

http://www.rbfrs.co.uk/irmp/IRMP-Action-Plan-2011-12.pdf

The e mail address is irmp@rbfrs.co.uk
---
ELEPHANT SPOTTED IN COOKHAM DEAN
21 December 2010
---
An elephant was spotted in Cookham Dean today by sharp eyed Mike Mather. (click on photo for larger image)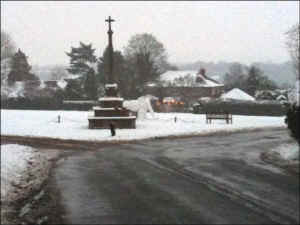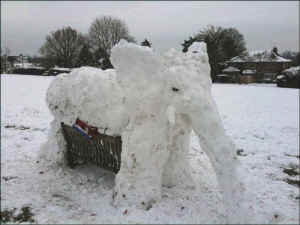 ---
LOOK I CAN SWIM!
21 December 2010
---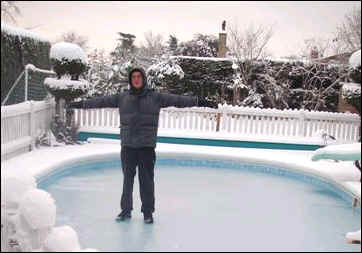 ---
GIRLS' NIGHT OUT
8 December 2010
---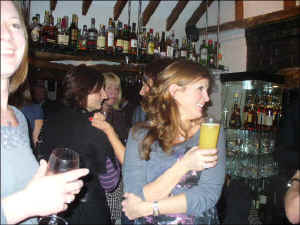 It is Christmas and the Holy Trinity Mothers and Toddlers Group left the toddlers behind for a Girls Night Out at the Sanctum on the Green in Cookham Dean. The Sanctum is newly refurbished and was an ideal place for the thirty two Mums to get together. Well done to Jo Hancock for organising it all.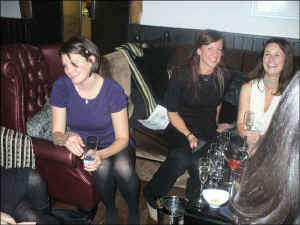 ---
THE SWAN - HUSBAND CRECHE
3 December 2010
---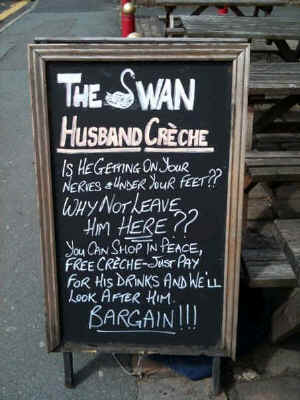 ---
GOLF LESSONS THIS CHRISTMAS
3 December 2010
---
With PGA Professional
Jonathan Jones
Harleyford Golf Club, Henley Rd, Marlow, Bucks, SL72SP
7 ½ hour lessons for the price of 5 Only £125
7 ½ hour Jnr lessons for the price of 5 (under 16) Only £75
Winter package to include 6 ½ hour lessons
1 ½ hour video lesson
6 hole playing lesson
Score analysis and recommendations
Only £175
Gold package to include 12 ½ hour lessons
2 ½ hour video lessons
18 hole playing lesson
Score analysis and recommendations
Only £395
Custom packages are available to suit your needs, just contact Jon on 07921193044 or email at assistantpro@harleyfordgolf.co.uk
---
CARDS FOR GOOD CAUSES
25 November 2010
---

Have you bought your Christmas cards yet? There are still a few days left to find some charity cards from Cards for Good Causes outlets:
St Dunstan's Church, Bourne End
9 Nov - 9 Dec Mon-Sat 9.30am - 4.00pm
Town Hall, St Ives Road, Maidenhead SL6 1RF
25 Oct - 17 Dec Monday-Thursday and Saturday 9.30am-5.00pm,
Friday 9.30am-4.45pm
---
KING'S ARMS HAS BEST MANAGER AND IS BEST PUB
18 November 2010
---
Helen McGarry, the manager of the Kings Arms in Cookham High Street - part of the pub and pub restaurant operator Mitchells and Butler has won the best manager of the year award and also the Pub of the Year (national award) out of around 2,000 pubs.
As her prize she will be going off to Chicago with her family.
Helen went to the award ceremony last week.
Congratulations to Helen.
---
CHRISTMAS PRESENT THEME
16 November 2010
---
'Christmas Present' is the theme for the latest exhibition at the Gallery at Elizabeth House. It's on from 15
th
November to 7
th
January. A galaxy of local artists has come together to offer a wide range of art, at an attractive range of prices, in the lead up to Christmas. "'We're hoping people will call in over the next few weeks to enjoy some of the best of our local talent and even find the ideal gift", says Mandy
McAllen
who brought the artists together for the show. The gallery is open weekdays 9.30 to 11.30 and from 10am to 4pm on Saturdays.
The exhibition features some of the artists who have had their work at the Gallery over the past year plus some new faces. Together they show the exceptional talent we have locally. Do call in to have a look.
And, as we announce our final show for the year, this is also an opportunity to thank everyone who has supported the Gallery through 2010 - the artists, stewards and visitors. We're working on the 2011 programme: if you know of a talented local artist who would like to be considered for an exhibition contact Mandy
McAllen
on 01628 633541 or at
i_dissagree@hotmail.com
Our recent meeting to invite local people to get help in running the gallery brought together around two dozen people. Many offered to help with stewarding and we also had a few who are interested to assist with some of the gallery admin. Our thanks to all of them. If you would like to discuss how you could get involved - in any way - please drop me a line at
mandlcopland@yahoo.co.uk
. We'd love to hear from you.
---
COOKHAM DEAN AUTUMN FAYRE
15 November 2010
---
The Autumn Fayre on 13 Nov at Cookham Dean Village Hall raised £2,175 which will be divided up between the Alzheimer's Research Trust, the Gurkha Welfare Trust and the Re-charge Cafe in Maidenhead. It was very enjoyable and well attended, so a very good effort by the many who worked so hard for it and those who came and supported it so generously.