---
REG IS VOLUNTEER OF THE YEAR
14 October 2011
---
On Thursday 6th October, the Volunteers of the Year Awards were held at Eton College Rowing Centre at Dorney. Cookham had several nominees as follows:
UNDER 25s
Natasha Andrée - Cookham Youth Club
Hannah Dutfield - 1st Cookham Dean Brownies
OVER 50s
Rosalind Mary Joynes - SOVA (Supporting Others through Voluntary Action)
Merle Southern - Cookham Library
Reg Wilsher - Elizabeth House, Cookham, Cookham Voluntary Service
TEAMS
Cookham Festival Committee (Chairman Mike Copland)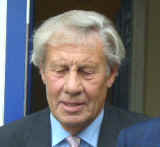 Reg Wilsher was announced the winner is his group of over 50s. The Presentations of the Certificates and Awards were carried out by Lady Elizabth Godsal and the Mayor Cllr Asghar Majeed. Well done Reg and congratulations to all the nominees.
---
NON FAST FOR BARBARA
12 October 2011
---
This is the 26th year that Barbara Walmsley should be undertaking her Oxfam Fast when she sits at Sainsbury's in Maidenhead for 32 hours collecting and fasts for 38 hours, so people can be inspired to give money for Oxfam! However, this year will be a NON FAST as sadly Barbara is in the John Radcliffe in Oxford having heart by-pass surgery. We wish Barbara all the best.
However for Barbara's NON FAST tou can send a donation to Barbara at "Spindlewood", High Road, Cookham SL6 9JT, pop it in if you're passing, pay on line at Justgiving (http://www.justgiving.com/BarbaraWalmsley ) or phone her husband, Charles, on 01628-522255 to make alternative arrangements.
---
A BAFTA FOR JESSICA?
7 October 2011
---
Jessica Brown-Findlay is really starting to make her mark in the acting world. Jessica from Cookham attended Furze Platt school and then went on to study fine arts before becoming an actress. She has become well known to many of us in her portrayal of Lady Sybil Crawley in ITV's Downton Abbey and has been marked out as a star by Bafta, who invited her to the British film event of the year earlier this summer, held in LA, when Prince William and the Duchess of Cambridge pressed the flesh with Hollywood's biggest stars.
---
FACES AND PLACES
6 October 2011
---
Sarah Luton opens her exhibition at the Gallery at Elizabeth House next Saturday (15th October), titled Faces and Places: it runs to Saturday 5th November. The show offers a mix of landscapes and portraits. Sarah describes her landscapes as a 'a celebration of the English countryside. They portray a deep-felt love of nature that has been with me since my early childhood in rural West Berkshire. I use watercolour, and more recently oil, and work from life as much as possible. I'm often drawn to scenes where there is a strong contrast in light or colour'.

Over the last two years Sarah has also been experimenting with portraits, using predominantly oil or charcoal to create exceptionally alive and fresh images based on intense observation. You can see some of Sarah's work at www.sarahluton.com
Sarah, who lives in Maidenhead, trained as a Graphic Designer at Bath Academy of Art with a placement at the Kunstgewerbeschule, Luzern, Switzerland. She has exhibited in galleries across southern England and in London. Some people may also know her in her role with the double-bass in two bands; with accordionist Jackie Doe in 'Paris Moon' and four-piece Tango band, Tango Select - a lady of many talents!

The Gallery is open 9.30 to 11.30am weekdays and 10am to 4pm on Saturdays. Full details of the artists can be found at www.thegalleryatelizabethhouse.org.uk. Elizabeth House receives a commission on any works sold.
---
A VIDEO OF WINTER HILL
2 October 2011
---
Peter Kirkwood, who is a sixth form student at Furze Platt, has been busy. He has created a video which was recorded from a UAV (unmanned aerial vehicle - in this case a radio controlled plane) which had an HD camera and video transmitter on board, which broadcasted live feed to a screen on the ground.

You can see the result of Peter's completed video at:
---
PLEASE SIGN THE PETITION
17 September 2011
---
As you may all be aware, the Borough has decreed that in the event that the B4447 across the Moor should be closed because of flooding the Causeway will NOT be open for anything other than pedestrians and cycles. This would clearly be extremely inconvenient to say the least. It would seem that the only way to have this decision rescinded is by means of a petition to the Council. We need at least 25 signatures and have to present the petition to the Council meeting on 27 September (unfortunately the next Council meeting is not until 6 December by which time we may already have suffered floods).
You can sign on the Council's on-line petition at:
http://petitions.rbwm.gov.uk/Causeway/
It is very easy.
Thank you for reading this far and regards
David Ashwanden
School Lane resident
---
DAVID WALLIAMS SWIMS BY
10 September 2011
---
Little Britain star David Walliams has taken on an amazing challenge to raise money for Sport Relief in that he is swimming the length of the Thames starting at Lechlade. He swam through Cookham this morning and Nick Read was there and took some photos for cookham.com. Thanks Nick.

(click on photo for larger image).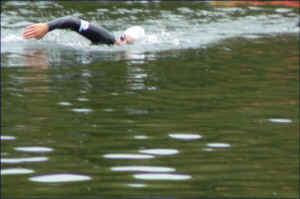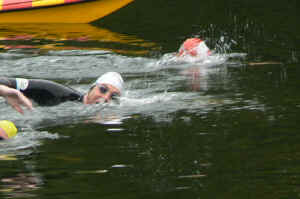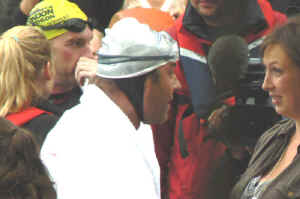 ---
FRENCH POUR LES ENFANTS
6 September 2011
---
My name is Hala Alani and I have recently started to teach La Jolie Ronde French to primary and nursery aged children. I am a native French speaker, CRB checked and have seen for myself how quickly young children can pick up a foreign language – and how much they enjoy it! Research currently shows the primary years are the best time to learn languages.
I would now like to offer you the chance for your children to join in order that they can have the opportunity to excel at languages. Classes are coming soon and will be held at Holy Trinity Primary School in School Lane, Cookham every Saturday from 10am to 10.30 and from 10.35am to 11.05am. An integral part of the course is the fun activity book and interactive CD, to help with your child's learning and lasts for a minimum of a year, at a cost of £18. Classes will be offered at the rate of around £6.00 per lesson, paid each term in advance. Demand is high and places are limited to 12 per class.
---
THE PARADE BEING RESURFACED
21 August 2011
---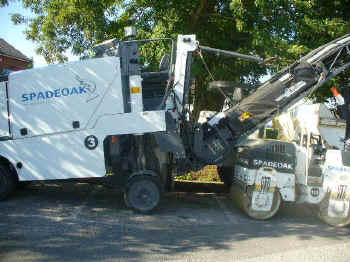 Much to many people's relief the pot-holed Parade car park in Cookham Rise is being resurfaced. The area has been cleared of cars for 5pm Sunday evening (21 August). It is planned that the resurfacing should be completed by Tuesday evening 23 August. The shops will continue business as usual during the resurfacing.
---
WATERCOLOUR DELIGHTS
18 August 2011
---
You may have seen the item about our next show in the Maidenhead Advertiser this morning, hopefully tempting you to call in over the next month. Carolyn Beale's exhibition opens this
Saturday (20th August
) and continues to
10th September
. Living in Maidenhead, she is self-taught, growing
up in the Yorkshire Dales in a family of amateur artists.

She
works mainly with watercolour and her exhibition focuses on this difficult medium. She uses images from her travels in
Europe and Asia, exploring the art and architecture of many differing cultures and countries. Her show includes landscapes and buildings as well as very delicate and delightful paintings of flora. I hope you'll be delighted too!
The Gallery is open 9.30 to 11.30am weekdays and 10am to 4pm on Saturdays. Full details of the artists can be found at www.thegalleryatelizabethhouse.org.uk. Elizabeth House receives a commission on any paintings sold.
Mike Copland
---
EVENING OVER COOKHAM BRIDGE
7 August 2011
---
A Cookham reader has sent us some photos taken on the evening of 6 August 2011 at Cookham bridge while they were on a bike ride.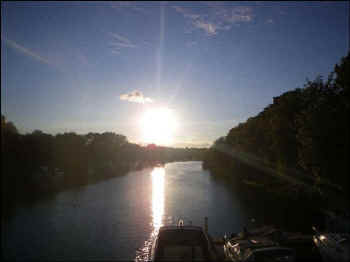 ---
KAREN DAVIES AT ELIZABETH HOUSE
19 July 2011
---
This coming Saturday is the last chance to see

Jessica Bleasby

's work at the Gallery at Elizabeth House. Jessica's show combines abstracts with beautifully executed almost surreal pieces which have attracted buyers over the last month, we're delighted to report.
Coming next is another local artist, Karen Davies. Karen was self-taught until her thirties when she completed a higher national diploma in fine art at Reading College & School of Art and Design (now part of Thames Valley University). She prefers to work in oils, and covers a wide range of subjects from portraits to still life, and more recently landscapes. Her paintings are generally representational, which can involve taking images from life and drawing attention to interesting aspects by depicting the subject from an unusual angle. She says, "I like to achieve a painterly style; being able to see the brush strokes in a painting is important to me, as I think this adds to a picture's power and enhances the composition. I have been influenced by the work of Lucian Freud, David Hockney and James Dickson Innes".

This exhibition includes a number of paintings produced as part of a project in which Karen focused on creating a body of work to be donated to local healthcare settings. Working from photographs of local beauty spots, such as Burnham Beeches and Cliveden, she then used these as a basis for compositions in oils.
---
KICKBOXING MOVES TO COOKHAM
15 July 2011
---
Matt Collins says " the kickboxing class is moving from the Broom Farm Community Centre to Cookham on Tuesday nights at 7:30pm because all of those attending live in that area. The lessons will be for 45 minutes as usual and will be held at Holy Trinity C of E Primary School, School Lane, Cookham, SL6 9QJ.
The class is open to anyone aged 12 and above but those aged between 12 to 16 must be accompanied by an adult. Kickboxing is a great way to get fit and lose weight whilst also learning how to defend yourself. It is a friendly class with no egos and both men and women are welcome (although we have far more women in the class at the moment than men).
---
TENNIS AND CROQUET'S 30th ANNIVERSARY
14 July 2011
---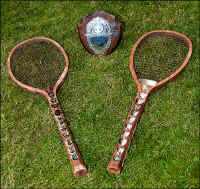 Eighty players celebrated the 30th anniversary of the Cookham Dean Tennis and Croquet Charity Day to raise over £1600 for local charities.
In a real community effort, ten venues were used, followed by a barbeque, with contributions from the Kaffirs, the Nomads, the Girl Guides and local musicians, Celebration Swing.
The croquet winners were Paul Messing and Ela Grodzicka with David Snelgar and Helen Gallagher as runners up.
Winners of the tennis tournament were Mike Swift and Gill Snelgar who played Dave Garrett and Anita Moiser in the final.
A presentation was made to John and Gill Townend who started the competition in 1981 with twelve players and one tennis court.
Charities and good causes benefiting this year were Elizabeth House, Thames Valley Hospice, People to Places, the Cookham Youth Project, the Girl Guides and charities supported by the Kaffirs and Nomads.
On behalf of the organising committee, Ed Gallagher said
"It is great that, in these difficult economic times, we have been able to raise much needed cash for local charities and good causes. We look forward to being able to do the same over the next 30 years"
"Thanks to everyone who took part: our hosts for the finals – Roger and Lyndon Way: all the court and croquet lawn owners: our raffle prize donors – Winter Hill Golf Club, Pearce Motors, Hawkinsport, Roy Gigg, Tom's DIY, the Stationery Depot, Village Hardware, Cookham Interiors and Fleurs de la Maison; and special thanks to Vivienne Chaikin – Royal College of Art – for hand-crafting the silver croquet prizes."
---
HOWARD LEAGUE AWARD FOR ANNE GLOVER
10 July 2011
---
Five programmes have won a Howard League for Penal Reform award for their outstanding work to reduce crime out of record number of over 100 entries from the whole of the United Kingdom. Ian Hislop, editor of Private Eye and television personality presented the award at a conference and a ceremony in London. Anne Glover from Cookham and her team won the award for Education, training & employment.
Anne says "I run the education programme in Slough. I have worked with over 60 learners this year and only three have been re-called, possibly because they have breached the terms of their sentence rather than re-offending. (The national average of re-offending of those who have had custodial sentences is 50%.) I also organise with my team, Bridge to Employment, B2E, a range of programmes to help ex-offenders access employment. This year we have helped over three hundred men and women, of whom only 8.6% have been re-called.
I am always looking out for employers who would be prepared to give our ex-offenders some sort of work experience." If your company can help Anne out contact the Cookham Webmaster at webmaster@cookham.com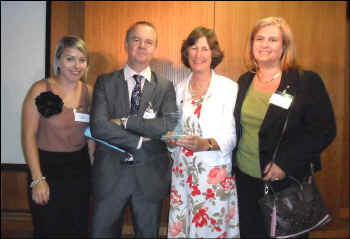 Anne Glover and Ian Hislop in the middle with two members of the B2E team.
---
SAVE CHARLES WARD
7 July 2011
---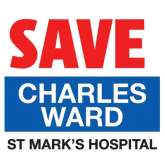 Charles Ward at St Marks Hospital is still under threat and a decision will be made on 12 July, but there will be a meeting on 11th July at the Town Hall at 7.30pm, anyone can attend, when it is hoped that people can affect the decision the following day. If the ward is closed the medical care will move to Prospect Park which will be extremely difficult to get to for people living in Cookham and Maidenhead and will cause distress to the individuals and families of those who will need to go there.

If you want to ask any questions on 11 September contact Cllr Simon Dudley
By Tel: 07771 521596

By email: cllr.dudley@rbwm.gov.uk
---
PAINTING CLUB AT ELIZABETH HOUSE
5 July 2011
---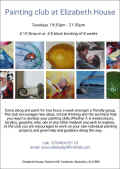 Jessica Bleasby has set up a Painting Club at Elizabeth House. There is an eight week session although people can go just for one or two if they prefer. It takes place on Tuesday nights from 7.30pm - 9.30pm. All types of media can be used, with technical help always there. If you are interested call Jessica on 07846478170 or email jessicableasby@hotmail.com. The cost is £10 per session of £8 if you decide to do all eight sessions.

Click on poster for more information.
---
BIKE RACKS AT LAST
28 June 2011
---
After many people have asked for somewhere to store their bikes at Cookham station over many years, some brand new bike racks are now available, so all the commuters can now reduce their carbon footprints and keep fit.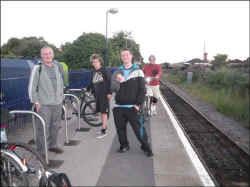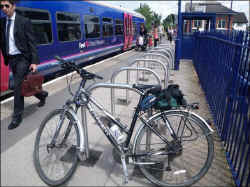 ---
TIM BROOKE-TAYLOR OBE
11 June 2011
---
Cookham Dean resident, Tim Brooke-Taylor, has been awarded an OBE in the Queen's Birthday Honours, for services to light entertainment. At first he thought it was his son playing a joke, but now he knows it is genuine, he is extremely pleased, if not a little surprised. Congratulations to Tim from cookham.com.
---
BIRD SURVEY PROJECT
10 June 2011
---
It is 25 years since the Berkshire Bird clubs got together to survey the entire county to produce its first 'avifauna' which charted the fortunes and populations of all the species of bird ever recorded here.
It has been decided to update this tome with a new avifauna and consequently we are in the fourth year of extensive field studies to see which species occur, and indeed breed, in every 2km square 'tetrad' of the county. With just a few weeks to go we are now turning to some 'citizen science' by asking residents across the county to submit information of any and all species which have bred in their gardens or surroundings in the last 4 summers.
We have an information sheet, with instructions, so that records can be entered and returned to us to be added to the county database. All sightings of young birds, adults carrying food off, or known nests, are of importance, right up to the closure of the study on 31st July this year. Birds we are finding hard to confirm in many locations include Mistle Thrushes, Greenfinches, House Martins, Swifts, Tawny Owls, Collared Doves, and even Woodpigeons (as common as they are, they nest secretively and feed by regurgitation so the feature of seeing adults carrying food to nests for several weeks is not one that can be used for this species). wildlife@cookham.com
---
MUSICAL THEATRE STARS
1 June 2011
---
Musical Theatre stars of Cookham Rise school!
If you want to be a musical performer it seems the best place to start in Cookham is at the Rise! The West End and touring companies are full of ex Cookham Rise pupils. It seems there's been something happening at the School on the High Road that's led to many of it's pupils going on to tread the boards and make a song and dance of their careers.
Toby Cruse - 31 year old Toby lived as a youngster on Westwood Green. He heads his own artists management company, is a musical director and producer.
Sarah Coker - is a dance teacher and professional dancer.
Laura Bennett - is a professional Dancer - currently in the West End dancing in We will Rock You and Never Forget.
Aidan Glover - teaches piano and is a professional jazz pianist and violinist.
Dan Jackson - Musical Director in Top Hat on National Tour
Matt Smith - Musical Director for the Take That tribute show - Never Forget in the West End (with Laura!)
Ian Goss - Professional dancer in the west end and currently touring in Top Hat with Dan as MD.
Kylie Jenner - professional Dancer.
We put this down to a great teaching staff at Cookham rise especially Anne Glover the music teacher who has inspired thousands of youngsters.
---
TEENAGERS FOR CUP GLORY
30 May 2011
---
Pinkneys Green beat Purley on Thames in the area semi final of the National Village Cup yesterday. This means the Green go through to the Surrey & Berkshire final on Sunday June 12th when they will travel to play either Rowledge or North Moreton for a place in the last 32 and the national draw. The ultimate prize is a Lords final in September.
With one ball to go Pinkneys required two runs to win with the last pair of batsmen 14 year olds Ben Purchese and Warren Hendry at the crease. To great cheers from the pavilion they hit the winning runs.
---
COLOUR AND PASSION
28 May 2011
---
Colour and passion in Gallery's latest photography exhibition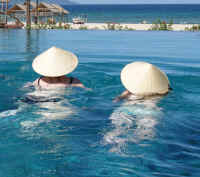 The Gallery at Elizabeth House follows its Cookham Festival show with an exhibition of dramatic photography by Tom Lennie. The new show is on from today, Saturday 28th May, to Saturday 18th June.
Tom's photography is motivated by bright colour and interesting perspectives on everyday scenes and objects, in particular flowers. Much of his current collection comes from the Far East and North Africa, both regions abundant in bright colours, great natural light and fascinating subjects. Images range from Art Deco in Miami to paprika in Fes, from Arabic mosaics in Malaysia to lanterns in Vietnam. People also feature in the collection, captured at work or play. The colourful collection is designed to be both uplifting and engaging. You can see examples of his work at www.worldimage.im
Tom, married with four children, lives in Maidenhead and started his business Worldimage in February this year, leaving corporate life to build on his passions of travel and photography. Come and share his delight in these images from around the world!
---
COOKHAM SOCIETY NOW HAS OWN WEBSITE
27 May 2011
---
The Cookham Society now has its own website rather than just having a presence on the Cookham website. This will allow the committee to update the latest actions of the Society and their thinking without having to go through the Webmaster. The new website can be found at www.cookhamsociety.org.uk.
---
BEL AND THE DRAGON RE-OPENS
16 May 2011
---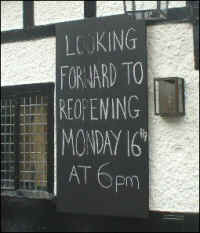 As of 6pm today 16 May, Bel and the Dragon is open after its refurbishment. There is still the traditional pub area which has been enjoyed by so many people over the years. The restaurnat area has been lightened up with an ultra modern kitchen offering interesting, tasty dishes. The staff are well trained and friendly. If you happen to have a piece of chalk you can also draw on the tables. Another nice touch is linen table napkins. If you order the house wine you get a magnum bottle which you can drink as much or as little as you want. There is also a pre starter menu which includes things such as whitebait, which is a variation on just bread. Bread however is available with baked garlic. A definite place to visit.
---
MOHINI YOGA
9 May 2011
---
My Monday evening Iyengar yoga classes for beginners will be starting again today at a new time and new venue.
They will be held in the Brook Room overlooking the Thames at the Odney Club, Odney Lane, Cookham, SL6 9SR. The classes will run from 7pm to 8.30pm and continue to be tailored to suit the needs of beginners and continuing beginners. The Odney Club will be providing yoga mats, foam blocks, bricks and belts though you may wish to bring your own. You will need to bring your own blanket.
The charge will be £9 per class for a block of five, £45 payable in advance, or £11 per drop-in. The room has space for up to ten students. The dates for the first two blocks of five are:

BLOCK 1
May 9th

16th

23rd

30th

June 6th
BLOCK 2
June 13th

20th

27th

July 4th

11th
As spaces are limited, please let me if you are interested in coming along (if you haven't already done so) and I'll reserve a place for you. Thank you again for your kind support.
Mohini Patel Davis 07931-995409 mohpatel@aol.com
---
CONSERVATIVE COUNCILLORS RE-ELECTED
6 May 2011
---
Our Conservative Borough Councillors have been re-elected for Bisham and Cookham. Richard Kellaway with 1,715 votes, M-J Saunders with 1,627 votes and John Stretton with 1,646 votes. There was a 58% turnout for the Borough as a whole. The Parish Council results will not be available untilMonday, as there was quite a lot of counting to be done with three sets of votes including the Referendum one. Cookham Dean and Cookham Village did not have a Parish Council election as only the correct number of candidates actually stood, it will only be Cookham Rise where eleven candidates stood for nine places.
---
ART AT THE COOKHAM FESTIVAL
5 May 2011
---
The Gallery itself is already hosting an exhibition featuring the artists who are participating in the Festival's Art Trail. Houses and studios around the Cookhams and into Maidenhead are opening their doors - at no charge - from Friday 20th to Sunday 22nd May to display works by local artists. These include paintings, ceramics, glasswork and photography. There's a map of the Art Trail in the Festival programme and on the Festival website - www.cookhamfestival.co.uk . The Gallery show ends on 22nd May.
The Festival also features three exhibitions. At the Holy Trinity Parish Centre, next to the church, there's a retrospective show featuring the work of two local artists with long careers in painting - Juliette Palmer, a renowned watercolourist and illustrator, and Leslie Orriss, perhaps less well-known but a fine artist who lived in Cookham and both painted and taught art at Reading to many who have gone on to great things.
Juliette is giving a talk about her work on Friday 20th May, and Vanessa Pickwoad will be talking about her father, Leslie's, work on Wednesday 18th May. Both in the Parish Centre and, at £4 a ticket, an absolute bargain! Do support our local artists by attending.
In the Community Room at Cookham Library, there is an exhibition of the cartoons of locally-born Posy Simmonds who has delighted Guardian readers with her Tamara Drewe character (recently made into a film). That's open when the Library is open. And Posy will be with us to give a talk (in the Community Room) at 4pm on the last day of the Festival, Sunday 22nd May.
You can enjoy an inspiring walk around the Odney Sculpture Garden at the Odney Club in the village. Set in the stunning riverside Odney setting, it's chance to enjoy the scenery and the wonderful works brought together by Barn Galleries - and the chance to buy one.
And for the artists the Odney Club is opening its doors for a Painting Day on Friday 13th May. Just bring yourself, your paints and easel and enjoy a day's painting in the stunning Odney Grounds - woith refreshments available at the Odney Club.
Tickets for all Festival events can be obtained from the Box Office at the Stationery Depot, Cookham Rise (tel: 01628 531178). The Parish Centre and Posy Simmonds shows are free: there is a small entry charge for the Odney Sculpture Garden and for the Painting Day.
---
SANCTUM ON THE GREEN CELEBRATES ROYAL WEDDING
4 May 2011
---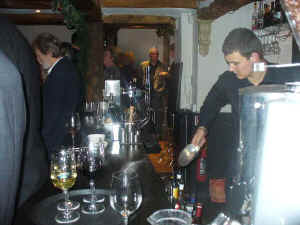 The Sanctum on the Green celebrated the Royal Wedding with a large screen, barbecue and champagne. They also helped charity with a raffle. They raised £283.00 in total from the Charity Raffle, half will be going to Wooden Spoon and half to The Cookham Youth Project. The Royal Wedding has really made us all have an enjoyable time.