---
TIM BROOKE-TAYLOR TO BE QUIZMASTER AT RAINBOW QUIZ
26 November 2012
---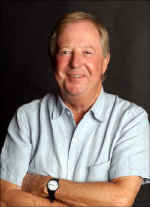 The Rainbow Pre-School Quiz at Pinder Hall on 8th December has got a celebrity quizmaster. Having just finished recording 'I'm Sorry I Haven't a Clue' in Preston, Tim Brooke-Taylor, who lives in Cookham Dean has kindly agreed to ask the questions. The quiz is fundraiser for outdoor equipment at Rainbow.
Tickets are £10 per person and include a fish and chip supper. Don't miss out on this fun-filled evening - buy your tickets now from Kathy Rickman: 01628 522797 or kathryn.rickman@talktalk.net
---
BECOME A HEALTHIER NATION
23 November 2012
---
SIMA SAYS WE NEED TO TARGET THE YOUNG TO BECOME A HEALTHIER NATION
"I was shocked by the latest research into liver disease this week, which showed that it is on the increase and that we are faring a lot worse than most of Europe. We hold the future of the nation's well-being in our hands. If we are to fight alcoholism and obesity, we need to start by giving our young people a healthier message, so that we can change this cycle," says Sima Stannage from Sima's Action Kids.
"We are becoming a nation of couch potatoes and need to encourage our children to adopt healthier lifestyle habits. With our rushed lives, it's so easy to drive to school rather than walk and eat convenience foods rather than encouraging kids to eat their five a day. But we have to stop this worrying trend now."
Ms Stannage, who holds an MSc in Exercise and Health Behaviour specialising in children, was responding to findings in the chief medical officer's annual report. It suggests that liver-disease deaths in the under 65s have gone up 20 per cent in a decade, but that most major causes of liver disease – obesity, alcohol abuse and undiagnosed hepatitis infection are all preventable.
"We have one of the worst obesity rates in the world apart from the States and can learn a lot from our European brothers and sisters," says Ms Stannage who has been working in the health and fitness industry for 20 years. "We need to incorporate more exercise into our daily routines like they do in Northern Europe with their cycle-ways and adopt the Southern European diet. We have adopted the worst of both lifestyle habits in the UK."
Sima's tips for inspiring the next generation:
1) Make exercise part of your daily routine and do more family activities like trips to the park and cycle-rides
2) Encourage your children to have a healthier diet and eat their five a day
3) Moderate your alcohol consumption and send children the right message.
Related articles:
http://www.bbc.co.uk/news/health-20410378
http://www.bestmedicalcover.co.uk/news/latest-news/Rising_cases_of_liver_disease_report_calls_for_action.aspx
---
TWO CHRISTMAS DELIGHTS
21 November 2012
---
Two Christmas Delights at the Gallery at Elizabeth House.
We have just opened our Christmas Show at Elizabeth House, featuring the work of Cookham Arts Club. The exhibition offers a range of artists, styles and media and at very affordable prices. So do call in to have a look - and you might find the perfect present.

The show is open weekdays 9.30 to 11.30am and on Saturdays 10am to 1pm with a break over Christmas/New Year.

This Cookham Arts Club exhibition will run to the end of January but we switch things for one weekend - 1st and 2nd December - to feature the work of Saturday Ceramics. This group was formed by several former ceramics students from Reading College and now consists of experienced potters and sculptors as well as some beginners; they meet every Saturday at the ceramics studio at Reading College to create their own work. They had a very successful group show at The Old Fire Station Gallery in Henley last year and one member Julie Adlard is a past exhibitor at Elizabeth House and will be showing her paintings as well as her ceramics. You are strongly encouraged to call in over the weekend of 1st/2nd December between 10am and 4pm to see the work and maybe pick up a gift for Christmas.
As usual, Elizabeth House receives a commission on all sales.
---
GOODBYE TO KITTY HITCHENER
16 November 2012
---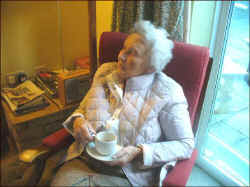 Kitty Hitchener, who was well known throughout the Cookham, sadly died on 8 November, while she was staying with her family in Herefordshire. Kitty was involved with all sorts of activities in Cookham, including the Cookham and Cookham Dean Horticultural Society, the Womens' Institute, Cookham Dean Church and the Thames Valley Hospice.

There was a service for Kitty on Saturday 17 November at 10.30am at Cookham Dean Church.
---
PENNY DANCES AT BLACKPOOL
12 November 2012
---
Penny Bysshe from Cookham has just been to Blackpool for the Imperial Society Finalists Competition for dance held at the Winter Gardens. To qualify to compete you have to have reached the final in a regional competition. Penny danced the Tango and was delighted to come second. Last year she did not get past the first round!
Peter, Penny's husband, competed with his teacher Zoe and was very pleased to come first in the Waltz. Penny and Peter also danced in the couples competition and were very pleased to get through to the finals and come fifth in the Foxtrot.
Penny said "It was a long day. We arrived at 9.30am and the competition went on all day and did not finish until 10.30pm."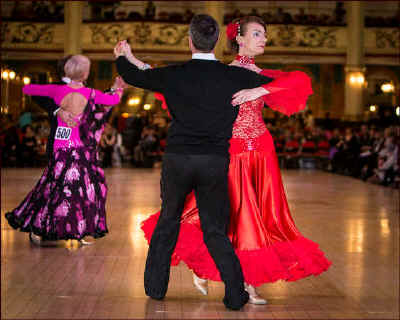 The photo shows Penny dancing the Tango with her professional teacher Neil Dewar.
---
DEATH OF COOKHAMITE SID EDWARDS
31 October 2012
---
Sidney Edwards 95 years old died in Wexham Park Hospital on Tuesday 23rd October 2012.
Sid lived in Cookham from 1939 after his marriage to Lucy Robinson. He was in the Royal Artillary during the war, was at Dunkirk and did 5 years in Burma. He lived in Cookham all his life and had a painting and decorating business. He also loved his time at Elizabeth House where he enjoyed their lunches.
His funeral is on Monday 5th November 2012 at Slough Crematorium at 11.00 am.
The photo is of Sid with his grand daughter Sam at her wedding this summer.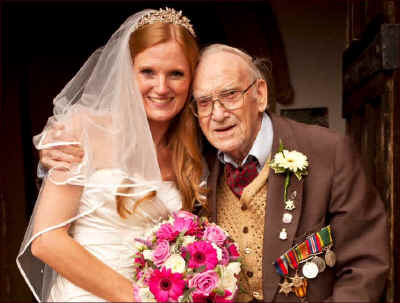 ---
It'S HALLOWEEN AT HERRIES
30 October 2012
---
There were some scary ghouls and witches at Herries School Halloween Party last Saturday 27th October. (click on photos for large image)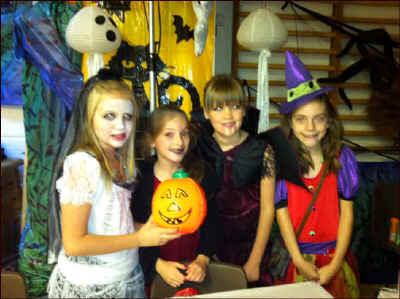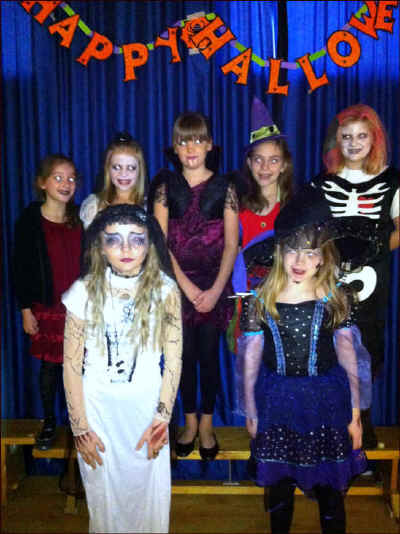 ---
30 October 2012
---
---
LET'S ROCK THE MOOR NOMINATED IN UK FESTIVAL AWARDS
24 October 2012
---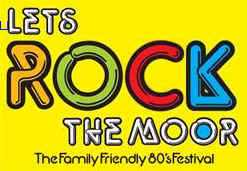 We are delighted to be nominated in the Best Small Festival category in the UK Festival Awards – these are the Oscars of the Festival Industry. We want to encourage as many people as possible to vote for us and need your help!

People can vote for us at:

http://www.festivalawards.com/vote

Choose Lets Rock The Moor in the Best Small Festival category. We are trying to be included in the Best Family Festival as that really is what we are about. More to follow on that as and when…

More information can be found at:
---
THE WARM FUTURES PROJECT
23 October 2012
---

Transition Maidenhead are running a project to help people install renewable heating systems in our homes such as Solar Thermal and Heat Pumps.

http://www.warmfuturesproject.org/

Expressing an interest in the project gives you access to grants that are expected to be in the range of £1,000 - £4,000 depending on which technology you are interested in. The project is area based so you need to be in Maidenhead and the surrounding areas such as Cookham, Hurley, White Waltham, etc.

The systems will need to be installed by 31st March (or just after) using one of the project's chosen installers- who are themselves providing discounts on the installations.

Register on the web site by 15th November to qualify for a grant of an expected £1000-£4000.
---
ENTER RICHARD III
22 October 2012
---
Almost thirty budding actors took part in an audition at Pinder Hall yesterday for a production of Richard III, due to be staged as part of next year's Cookham Festival. Local actor Richard James, who is heading up the project after last year's successful 'A Midsummer Night's Dream', put them through their vocal and physical paces before giving them an opportunity to work on scenes from the play - and they all went home with parts! Will this be the largest cast ever assembled on the stage of Pinder Hall for their performances, 9th - 11th May?

Click here to see some pictures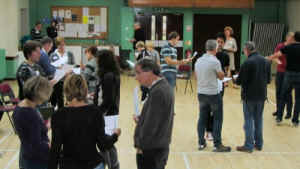 ---
SCIENCE DAY AT HERRIES
15 October 2012
---
This year's Science Day theme is all about healthy lifestyles. The school will start the
day by watching Quantum Theatre perform a play entitled 'Personal Best'. The children will then take part in practical workshops to investigate why we need to stay active, how to ensure that we have a balanced diet and what makes a drink healthy.

http://www.quantumtheatre.co.uk/PERSONALBESTTeachersNotesKS2.pdf

All of the children from Reception to Year 6 will be involved with Science Day, and practical activities will range from hula-hooping, to starch testing and and a great deal in between!

COMMENTS FROM PUPILS ABOUT SCIENCE DAY
Kate Hipkins- Year 6 - "Mrs Taylor is very creative and we do a lot of experiments at our school, so our lessons are always very lively. In fact we learn far more about science by carrying out new experiments than reading text books. Science Day is always great fun as we always learn something new."

Kento Nakai - Year 6 - "I like science because I am really interested in outer space and animals."

Sabrina Carter - Year 6 - "Mrs Taylor is a great teacher - in fact she's the best teacher ever. You learn so much and she's funny!"
---
5 October 2012
---
Following the huge success of 2011's 'A Midsummer Night's Dream', the People's Shakespeare is back to encourage local people to tread the boards. For the Cookham Festival 2013, they are to stage Shakespeare's Richard III at Pinder Hall. Cookham actor Richard James is heading up the production and promises a show 'of epic proportions'. He explains 'This production came about after a series of Shakespeare workshops over the summer. I have always wanted to play the part of Richard but when we were approached to stage the play for the Festival, it was decided I should share the part with another actor to get as many people involved as possible.' Nick King, who played Oberon in their last production is to share the role with Richard, each playing the hump backed King for two performances. 'All the other roles are up for grabs,' explains Richard, 'and there are plenty to suit all ages and abilities.'

An open audition is to be held at the Pinder Hall on Sunday 21st October from 2 until 4pm for the production which begins rehearsing in January. 'Don't worry about the word audition, though', continues Richard, 'Nobody will be asked to read from a script they may never have picked up before. Rather, it is an opportunity for any potential cast to audition me to see if I can enthuse them about the project. We'll be taking a brief journey through the history of the time, then move onto some acting exercises and vocal warmups, a similar approach to our last production, so people can see just what rehearsals will hold.

More details can be found at www.cookhamshakespeare.co.uk

Richard's credits include roles in the forthcoming films Foster with Toni Collette and Ioan Gruffudd and Great Expectations opposite Helena Bonham Carter, both released in November. He is most well known for playing regular and recurring roles in several children's tv shows including The Mysti Show and My Parents Are Aliens and will feature in a forthcoming episode of CBBC's MI High.
---
ZOOM ZOOM ZOOM COMES TO HERRIES
3 October 2012
---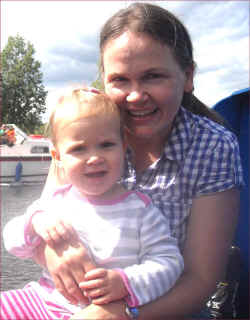 Cookham-based writer and mother of two, Emmeline Costa-Wagner is a frequent visitor to the Monday Stay and Play sessions at Herries. She recently attended the first special Zoom Zoom Zoom session there and wrote this report:
There was a very large turnout at the special Herries Stay and Play session on Monday 1st October despite the non-stop rain and the autumn chill in the air. It was the largest I have ever seen as a mother of two who visits there regularly. It seems that "Zoom, Zoom, Zoom" was the highlight of this morning's session. Juliette Tieku-Smith aka Julie Zoom enthralled all of us – mothers, a few fathers and all the children, with her vibrant, energetic and fresh musical play session. She offered a lot of interaction, a fresh take on traditional nursery rhymes and lively guitar and keyboard sounds performed by her assistant. At the beginning of the session, the children were given the opportunity to try on dress-up hats and admire themselves in the mirror afterwards. There was a bit of puppetry and some bubbles thrown into the festive sing and play session. More mellow songs were sung and enjoyed to wind down the session with everyone, especially the children, seemingly relaxed and not too tired. It was a very enjoyable and fun sing and play session for both mums and toddlers/babies and the friendly, cosy atmosphere at Herries added to the feel good factor. "Zoom, Zoom, Zoom" will be at Herries every Monday, starting at 9:30am, till the end of the school term. At the end of every "Zoom, Zoom, Zoom" session, parents and carers can socialise over a cup of tea or coffee whilst the children have the opportunity to play, making this stay-and-play group unique and relaxing for everyone.
If you would like to go to Herries for one of these special Stay and Play sessions, the cost is £5 per child, £3.50 for siblings and babies under 9 months are free. Refreshments are free!
---
STANLEY SPENCER LIVED HERE
1 October 2012
---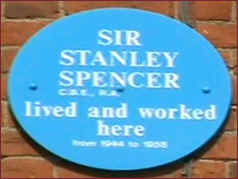 The students at Priory School in Slough have made a delightful film which follows the four Cookham primary schools as they take part in a project which was run by the Stanley Spencer Gallery as part of its 50th Anniversary.
---
FROM MY STUDIO
29 September 2012
---
Local artist Gail Dorrington returns to the Gallery at Elizabeth House this weekend for an exhibition of her work from 29 September until 16th November 2012. She's had great success at previous shows at the Gallery so well worth a visit. As she modestly puts it, 'I am exhibiting some of the works I have produced over recent years and which remain in my studio'. There will be local scenes, a range of other works and lots of colour.
As usual the Gallery is open weekdays between 9.30 and 11.30am. It will also be open on some Saturdays, starting tomorrow (29th September) and again on 6th October, 3rd November and 10th November. The exhibition closes on 16th November.
---
THE SPOOKTACULAR HALF TERM COURSE
26 September 2012
---
THE SPOOKTACULAR HALLOWEEN HALF TERM COURSE

This fun and spine-chilling four days of phangtastic acting, thrillering dancing and ghoulish singing for 6-12 year olds will end in a spooktacular performance to family and friends on the final day of the course.
Run by SOTA's highly experienced and CRB checked teachers; we promise your children will have a 'wail' of a time.
Location: Herries Preparatory School, Dean Lane, Cookham, SL6
Time: 9:30am - 3:30pm daily
Dates: Mon 29th October - Thurs 1st November 2012
Cost £130
3:30pm performance on 1st November
---
JEN'S GRAND DAUGHTER MEETS TIGGA
25 September 2012
---
Jen Roll sent us these lovely photos of her grand daughter who is doing a gap year in the Far East. (click on photo for larger image).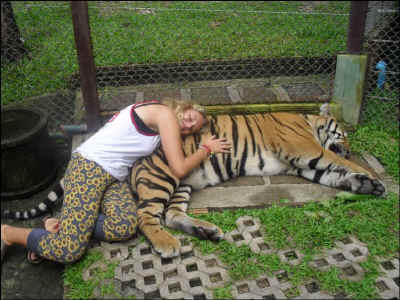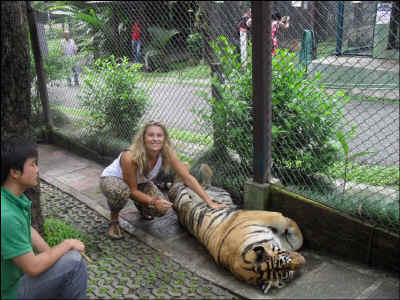 ---
ZOOM ZOOM ZOOM COMES TO HERRIES
24 September 2012
---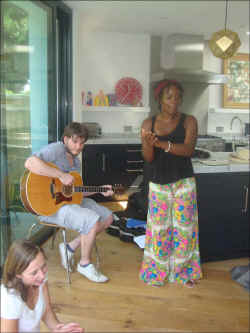 There's something very special happening at Herries Preparatory School in Cookham Dean on Monday, 1st October at 9.30am. Juliette Tieku-Smith aka Julie Zoom from Zoom Zoom Zoom will be dropping into the weekly Stay and Play session and giving mums, carers, toddlers and babies the chance to experience one of her animated music sessions free of charge and then stay for a cuppa and catch-up with friends.
Juliette is a mother of two from Taplow with a passion for music. She set up Zoom, Zoom, Zoom this year after finding some of the music classes she attended a bit twee: "My parents are Ghanaian. I wanted to instill that love of music in my children, but after doing the baby and toddler circuit, I couldn't handle another verse of Wheels on the Bus!"
It seems that Juliette is not alone in wanting a different kind of music class – over the summer, families flocked to her classes at Norden Farm. "We had children singing, jiggling, wiggling and giggling!" she says. During her lively music classes, children are encouraged to chant rhythmic rhymes, play with finger puppets, dress up, show everyone their groovy moves and even "jam out on percussion".
"Herries is the perfect venue for Zoom, Zoom, Zoom," she says. "With its rich cultural heritage and its warm, family atmosphere, it reminds me of my own primary school and I have very fond memories of that".
All of the staff and pupils at Herries are looking forward to welcoming Zoom, Zoom, Zoom to the school next week: "Our Monday Stay and Play sessions are already a tremendous success, and we feel that next week's structured, musical session will provide our young guests with the opportunity to take part in something new, exciting and educational," says Head teacher, Sophie Green.
"We recognise that parents, carers and children enjoy the social element of our Stay and Play sessions, so we will be inviting everyone to stay for refreshments afterwards on Monday. It's always a great opportunity for us to meet local families too."
---
BARBARA'S OXFAM FAST 2012
22 September 2012
---
From Barbara Walmsley
Some of you may know this is Oxfam's 70th anniversary and it is my 27th fast. Since my heart operation last year I have to take pills every day and I am told not to eat could be very nasty so reluctantly I have decided that Barbara, my Boxfamcardboard friend, will have to do the fasting while I will sit with her at Sainsbury's in Maidenhead for 32 hours!
This will happen on Friday 2nd, Saturday 3rd and Sunday 4th of November and I am hoping it will be a bumper collection. Sponsoring me beforehand is very easy. Send a cheque made out to Oxfam to "Spindlewood, High Road, Cookham SL6 9JT, drop a donation in if you are passing, give on line (www.justgiving.com/Barbarawalmsley), or phone 01628-522255 to make other arrangements. Please let me know if the donation can be Gift Aided.
Don't miss the pre-fast Coffee Morning at 10-30pm at Holy Trinity Parish Centre on Wednesday 24th 0ctober when the acclaimed author Claire Tomalin is going to talk about her latest book on Dickens which has received rave reviews.
Tickets are from The Stationery Depot or ring 01628-628829 and every penny goes to Oxfam.
Help to celebrate Oxfam's 70th birthday by changing the lives of those who need our compassion and practical help. You couldn't do a more wonderful thing.
---
EMMY WRITES HER FIRST BOOK
19 September 2012
---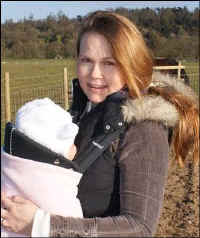 Emmy Costa from Cookham has just had her first book published as a Kindle edition. It is called Scorpio Moon and is a contemporary romance thriller revolving around love, magic and time travel. The story is set on the east coast of South Africa, Emmy's original home, in the subtropical city of Durban, during a time of great change.

Emmy has her book on Amazon click here at a cost of £1.96. Emmy would love it if you have time to read it and give her some feedback or put a review on Amazon.

A little background on Emmy. She was born and raised in Durban, South Africa, to German & English immigrant parents. She emigrated to Germany twice and then to moved to England. She now lives in Cookham with her husband of nine years and two beautiful children. For twelve years she worked in various offices in Durban, Germany and finally England. Her first book, "Scorpio Moon," was e-published on Amazon Kindle Direct Publishing. She has a Bachelor of Science Degree, enjoys writing, painting/drawing, a little blogging and photography whilst being a full time stay-at-home mother/housewife and e-publisher.
---
COOKHAM AU-PAIR GATHERING
17 September 2012
---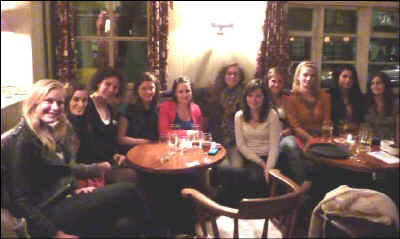 There was a good turnout for the Cookham au-pair gathering at the King's Arms last night. Eleven au-pairs from France, Germany, Spain, Sweden and Hungary turned up, and had a fun evening.

If any other au-pairs, who are working in the area, would like to attend future social events, please contact one of the following people:

Saioa (Spain) - 0788 104 8526 - saioaelizondo21@hotmail.com

Judit (Hungary) - 0758 525 3117 - lukacsfjudit@gmail.com,

Ronja (Germany) - 0744 915 4478 - ronja@tollen.de
---
THE COMMONS FESTIVAL WALKS
14 September 2012
---
The Maidenhead and Cookham Commons, part of the National Trust, are running the Walk the Commons Festival from 13th October to 1st November where they are inviting people to join their rangers over 4 weekends to walk all the National Trust land across Maidenhead and Cookham Commons. The four walks are
Cookham Moor to North Town Moor

Brick and Tile works to Maidenhead Thicket

Brick and Tile works to Winter Hill

Winter Hill to Cookham Moor
On the last walk there is a ceremony to recognise everyone who has completed the four walks. The distances are between two and three miles. The rangers have been planning the walks and you can see some photos they took on their blog at:
---
MOZART IN COOKHAM
11 September 2012
---
An audience of nearly 200 people greatly enjoyed an outstanding evening of music from the Albrecht String Quartet (led by Alexandra Wood) and Victoria Wood (clarinet). The concert raised just over £2,500 towards the repair and restoration of one of Holy Trinity Church's south-side windows (as part of the ongoing Holy Trinity Church Restoration Project).
35 generous individuals sponsored the instrumentalists, in order to maximise the profits from the concert. The organisers are very grateful to them for their support and also to Adam Devine (of Cookham florist 'Devine') for his sponsorship of the concert.
---
ALEXANDRA ON BBC RADIO 3
5 September 2012
---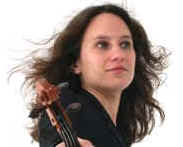 Local professional violinist, Alexandra Wood, will feature on BBC Radio 3's In Tune programme on Thursday 6th September. Alexandra is a member of the innovative musical ensemble Counterpoise , who are guests on the radio programme ahead of their collaboration with Eleanor Bron in an enterprising words and music event at London's National Gallery on Friday evening. The programme starts at 4.30pm. Alexandra will be performing in Cookham on Sunday 9th September as leader of the Albrecht String Quartet in Mozart in Cookham (7pm). Tickets are still available for this concert from 01628 522593, from Stationery Depot (Station Parade, Cookham) and on the door on Sunday.
---
ART ACTIVITY DAY
4 September 2012
---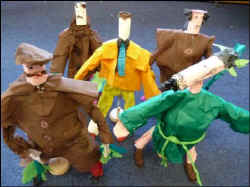 As part of the gallery's 50th anniversary celebrations a very successful Art Activity Day for local children took place on Monday 30 July 2012.

The event took place initially in the gallery and then continued at Holy Trinity CE Primary School which is very close by. The school proved to be an ideal venue and we are very grateful to Holy Trinity School for the use of their facilities.
The day was organized by Anne Brown, art and education consultant with the support of Ted Payne who is also an art and education consultant.
In the gallery the children were guided to identify and then drew interesting characters within the works on show. Following this observational drawing session the children began sculpting figures representing the characters from which they had chosen to work.
Anne carefully guided the children through the process of creating their own figures and at the end of a most enjoyable day there were very impressive results (see photographs).
At the conclusion of the session the children had not only enjoyed the works of Sir Stanley Spencer but had become expert sculptors. We have received messages from the families of the children concerned asking for more days such as this as the children had such a great time and haven't stopped talking about it!
---
A PORTFOLIO EXHIBITION-JOANNA YATES
16 August 2012
---
Following The Gallery at Elizabeth House's special Jubilation! exhibition we are delighted to welcome local artist Joanna Yates back to the Gallery at Elizabeth House. Joanna will be showing a wide range of her work - watercolours, acrylics, photography and weaving - including her exquisite botanical studies. You can see much of her work on her new website -
www.fidgiti.com
. It's a short exhibition, starting this Saturday (18th August) and continuing to Saturday 1st September - so be sure to call in soon.

The Gallery, on Station Hill, Cookham Rise, is open weekdays from 9.30 to 11.30 and Saturdays between 10am and 4pm.
---
COOKHAM RUNNING CLUB BBQ
14 August 2012
---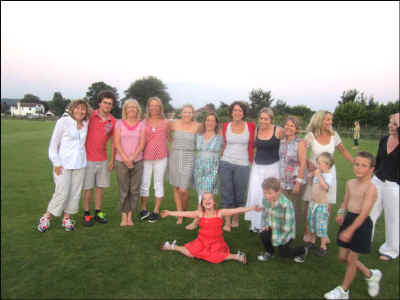 The Cookham Running Club committee organised a fantastic BBQ at the Cookham Dean Cricket Club last Friday 10th August 2012.

Peta Bee does a great job at motivating people of all levels each week, so if you are interested in joining in, the Club always welcomes new members (including walkers!).
http://www.cookhamrunningclub.com/
With thanks to Lauren Hamilton for the photo - click on photo for larger image.
---
A SUMMER TO REMEMBER FOR SIMA'S ACTION KIDS
8 August 2012 (updated 14 August 2012)
---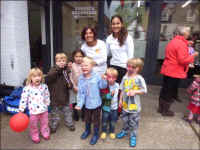 Sarah Chakaveh from Maidenhead has been chosen to take part in the Olympics Closing Ceremony on August 12th.
"The 2012 Olympics have made the whole country proud, and have made us all realise how much we have to offer as a country," says Sarah. "I can't wait until Sunday!"
The 21 year old journalism graduate is used to performing – she has been one of Sima's Action Kids crew for 7 years and regular entertains children around the Royal Borough. Sarah, who is Sima's niece, attended Redroofs Theatre School part-time from 3 to 18.
"My family and I are so proud of Sarah," says Sima Stannage, founder of Sima's Action Kids. "Like her aunt (!), she's bubbly and energetic, so I am sure she will do a great job on Sunday."
"Sarah's very dedicated at whatever she does – she started rehearsing for this back in April. I am sure all the hard work will pay off. She's been sworn to secrecy so Sunday is going to be a surprise for me too!"
Almost as soon as she leaves the Olympic Stadium on Sunday, Sarah will be getting ready for the final Big Friday Chill at the Crown in Cookham on Friday, 17th August from 3.30pm. Sima and Sarah will be providing some high-energy dance entertainment from 4pm, and there will also be a bouncy-castle and face-painting.
With everyone on a high after the Olympics, this promises to be a very special Big Friday Chill," says Sima.
This is the second Big Friday Chill event in Cookham. The first one took place at the Jolly Farmer in Cookham on Friday, July 20th and was a big success.
"We are excited about our event at the Crown, " says Sima, who has been working in the health and fitness industry for 20 years and has an MSc in Exercise and Health Behaviour. "It is one of the most stunning locations in Cookham, and I am sure that the sun will come out for us and make it a memorable afternoon."
Cost: £6 per child ( price includes entertainment and kids' tea). Places are limited so, please phone the Crown to book on: 01628 520163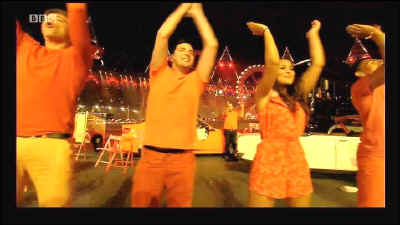 Here's a picture of Sarah Chakaveh (journalism graduate) and member of Sima's Action Kids) at the Closing Ceremony last night. She will be taking part in the Big Friday Chill at the Crown in Cookham this Friday from 3.30pm and will come dressed in her Olympic outfit! If you'd like to bring the kids along, there will also be a bouncy castle and a kids' tea. Tickets are £6 per child (including a kids' tea)- if you'd like to come along, please ring the Crown to reserve a place: 01628 520163.
---
THE ALTERNATIVE TARRYSTONE PLAYERS CALENDER 2013
13 August 2012
---
From the Tarrystone Players
Yes, ladies and gentleman, the very brave and gorgeous ladies of the Tarrystone Players have put their reputations on the line to rally to the cause and feature in a racy calendar in aid of Leukaemia & Lymphoma Research and MDS Patient Support, which will be freely available at a Village fete near you very soon (not to mention one or two local stockists).
I have to tell you that this calendar has turned out better than any of us could have dreamed thanks to the hard work of our fantastic photographer and the fine spirit of our gorgeous lady members! Make sure you don't miss out - these calendars are going to go like hot cakes!
---
LUCY IN GREATEST SHOW ON EARTH
12 August 2012
---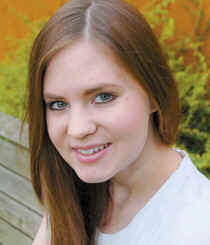 Tarrystone member, Lucy Deacon (do you remember her from 'Background Artistes' and as the inimitable DollieTM
in the Tarrystone Festival entry 'Outside the Box'?), has managed to bag herself a role in the what proved itself to be the Greatest Show on Earth - yes, the Olympic Opening Ceremony! Sounds like she had the time of her life which was an incredible spectacle! Thank you, Lucy, for madly waving the Tarrystone flag.
Congratulations Lucy for managing to be part of such a wonderful experience.
---
JUNIOR MASTERCHEF COMING TO COOKHAM DEAN
11 August 2012
---

Junior Masterchef is being filmed in Cookham Dean on Wednesday 22nd August 2012. The filming will take place from 7am-6pm at the following locations
Popes Lane

Bigfrith Lane

Church Road

Kings Lane

Hills Lane
---
CAN YOU HELP WITH THE GRAVITY GRAND PRIX?
6 August 2012
---
A request from the organisers of the Gravity Grand Prix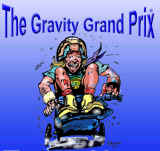 Anyone upset about not being a Games Maker at this year's Olympic Games will be pleased to know that they have a second chance to shine by making a contribution to the success of another world-class sporting event.
The organisers of The Gravity Grand Prix are still looking for volunteers to help on Sep 9th. There is no uniform, no pay and very little thanks.
If this looks like the job for you and you are available, even for three hours or so, please send your details and availability to Peter Austin. peter@throughtheloop.com
---
JUBILEE DVD NOW AVAILABLE
1 August 2012
---
Jayne from Seconds Out says she has now received the DVD of highlights of the Cookham Jubilee Street Party filmed by a local professional.

They are £5 each and available from Seconds Out, The Nailway Station, Devine Boutique and also Pike Smith & Kemp on Lower Road.

There are 250 copies available.
---
FISH SHOP OR GALLERY?
29 July 2012
---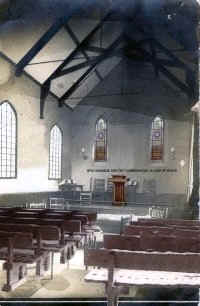 As part of the 50th Anniversary events Ann Danks gave a talk on Monday 23rd July about the building which now houses the Stanley Spencer Gallery, formerly a Wesleyan Chapel attended by Stanley Spencer as a child.

On such a hot summer's night it was great to see the Gallery so packed with people, who heard about the changes that have occurred to the building over time, the activities that have gone on within it and the people involved with it. The photo shows a computer generated image of how the building may have looked as the Wesleyan Chapel (with thanks to Ben Danks).
---
NEW ADDITION TO SPENCER GALLERY ARCHIVES
26 July 2012
---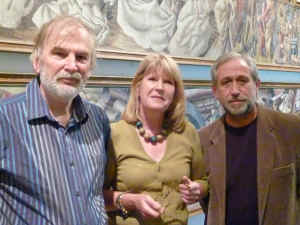 The research papers of the late Ken Pople, who wrote an acclaimed biography of Stanley Spencer, have been donated to the Gallery archive by his son David. Catalogued by Andy Daniels, a Spencer scholar who worked closely with Ken, these important papers make fascinating reading and give much background to the book.

See 'Archive' section of the the Spencer website for full details. www.stanleyspencer.org.uk

Photo shows David Pople, Ann Danks and Andy Daniels.
---
WHAT LOGS TO USE FOR FIREWOOD
23 July 2012
---
A cookham.com reader sent us this to explain what logs you can use on your open fire.
Logs to burn: logs to burn
Logs to save coal a turn
Here's a word to make you wise
When you hear the woodman's cries:
Never heed his usual tale
That he's splendid logs for sale
But read these lines and really learn
The proper kind of logs to burn
Oak logs will warm you well,
If they're old and dry,
Larch logs of pinewoods smell
But the sparks will fly.
Beech logs for Christmas time:
Yew logs heat well;
"Scotch" logs it is a crime
For anyone to sell.
Birch logs will burn too fast;
Chestnut scarce at all;
Hawthorn logs are goods to last
If cut in the fall.
Holly logs will burn like wax,
You should burn them green;
Elm logs will smouldering flax;
No flame to be seen.
Pear logs and apple logs,
They will scent your room;
Cherry logs across the dogs
Smell like flowers in bloom,
But ash logs, all smooth and grey
Burn them green or old,
And of all that come your way
They're worth their weight in gold.
---
A BIG THANK YOU TO COOKHAM NURSERY
22 July 2012
---
A BIG THANK YOU TO ALL THE STAFF AT COOKHAM NURSERY FOR MAKING IT SUCH A SPECIAL PLACE FOR LITTLE PEOPLE! JULY 2012

Here are some of the reasons why our children have loved going there:

"I will miss the teachers when I leave - please can I invite them to my next birthday party? I think they will miss me too and maybe even dream about me..."

Indiana (Bagpuss)

"I like playing with the spiderman truck. I also enjoy driving the bike with Yusuf."

Pacey (Kipper)

"I like playing with my friends, chasing Joe, being on the monkey bars and the teachers who love us."

Bethan (Kipper)

Mummy: "What do you enjoy most about being at Cookham Nursery?"

Erin: "Polly".
Erin (Elmer)

"I love everyone at the Nursery because all the teachers are so nice to me – Mrs Coleman is very kind, Mrs Clark made a rocket with me, Mrs McGowan gave me some potatoes for tea which she grew in the Nursery garden and all the lunch ladies are lovely. Oh yes, I also like going to see James too (Jane!) in the school office and using the photocopier. I will miss playing in the sandpit with Rowan because he's my best friend. When I go to Holy Trinity, I want to go to Cookham Nursery as well. Is that OK, Mummy? I even prefer Nursery to Legoland, Mummy because it's so beautiful – really beautiful."

Joshua (Kipper)

"I like all the visitors who come to Cookham Nursery – the fireman, the Indian dancers and the pilots. I also love the slide in the garden."

Kaiden (Kipper)

"I like the garden, the climbing frame and the guinea pigs. I also like sitting at the snack table and looking at the pretty lights inside the Nursery. I love all my friends here too. Can I say goodbye to them Mummy?"

Mummy's response: "Of course, you can. And we can visit them all when we take Curtis (Lara's younger brother) here."

Lara (Bagpuss)

"I will miss my friends, running in the garden and Mrs Hirst and Mrs Booth."

Mummy: "Will you miss your new school?"

Emily: "Yes, but I want to stay at Cookham Nursery."

Emily (Elmer)

"I like making insect houses and riding bikes."

Will (Elmer)

"When I go to Nursery, I have lots of fun making paintings. The grown-ups help make sure that I do not get messy! I love going outside and playing on the bikes."

Sana (Kipper)

"I will absolutely miss the trains and cars."

Ethan (Bagpuss)

 
"My favourite things about Cookham Nursery are playing with my friends and the Lunch Club. The best bit is that the teachers are always talking and I love talking!"
Ruby F (Elmer)
 
"I love to do threading and play with the shaped magnets and I will miss Mrs Coleman lots and lots and lots and lots...!"
Aniqah (Kipper)
 
"I will miss the lovely teachers and also running around in the garden. My favourite things are the computers, Mrs Booth and the big tele (that's what Jessica calls the smartboard!)"
Jessica (Bagpuss)
 
"I like the slide and I'll miss painting it."     
Polly (Elmer)
 
"I will miss all of it!"
Alfie (Bagpuss)
 
" I'll miss the climbing frames, they're easy peasy! But you can't climb them…."
Yusuf (Kipper)
 
"I liked the Stay and Play sessions, so I could show Tabitha all the Nursery garden houses."
Harriet (Bagpuss)
---
---