Hear ye Hear ye! The Crier is always looking for things to shout about! Feel free to submit your Thoughts, Poems, Requests or anything you like to thecrier@cookham.com
---
The American Disaster: 11 September 2001
---
Cookham.com very much shares the sorrow and is touched by the appalling tragedy on Tuesday, September 11. Donations can be sent to American Red Cross. More information can be found on the BBC site
---
A Poem From Australia: 8 September 2001
---
Alan de Norville wrote to Cookham.com saying "I liked your town when I was in England, I live in tropical Queensland Australia, can I please submit this poem
As I wandered free of strain in the stillness
of your wanning woods today,
Still fresh with the promice of golden hours
as the sun greets the day,
I thought I heard a shower of silver bells
from the Church on the hill,
That seemed to draw the blushing day from night
as her bells did her will,
Like many a remember'd morning walking by the
A new day was crowned forever and ever mine,
as I embraced the dancing day.
---
Bioteacher's House: 1 September 2001
---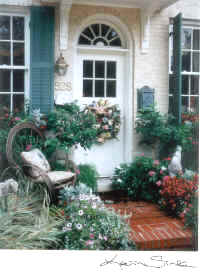 Some of you may have read Bioteacher's comments on our discussion page. Also she has talked about her home. Brian Clews sent her a copy of his book, Cookham, Its Birds, People and Places and she sent a thank you note with a photo of what we thought was her house on it. Bioteacher has now told us that it is just a picture of an attractive house in the area.
Even if it is not your house.
Thank you Bioteacher
---
Cookham Roads Cause Car Damage?: 16 August 2001
---
I read with interest the 'road repairs are set to start' in last Friday's Maidenhead Advertiser yesterday and would like to log another incident with you please.
On 2 May I was driving my partner's car from Winter Hill Golf Club up Terry's Lane and into Bradcutts Lane. It was around 21.00 and dark. Just past Primrose Hill Cottage I went through a puddle in the middle of the road. That puddle turned out to be a very deep crater measuring 2' x 18" and at least 4" deep. My partner's car is an Omega 3.0 litre MV6 Estate and I was travelling at 22 mph. That crater burst both tyres on the nearside of the car and buckled both wheels and cost £835.12 to rectify. Its the sports model of the range with fancy tyres and wheels.
Early the next morning I took photos, they are amazing. I called the Council and asked for a claim form which I completed and submitted on 11 May. After weeks of chasing with the help of a personal friend Cllr Wilson Hendry the claim finally reached the hands of Mrs E Horner, Insurance & Risk Officer at the Town Hall. An extract from her letter to me dated 28 June follows:
"The area in question was examined on 22 January 2001, under a twice yearly inspection system, at which time no defect was present which made the carriageway unsafe. Under Section 58 of the Highways Act 1980, it is a defence for a Highway Authority to show that it had a reasonable system of inspection and repair. Plainly periods of time must elapse between inspections and during these periods defects can develop, but unless the Authority has prior knowledge of a potential danger to road users then no legal liability can be attached to it.
In this instance no person had previously reported the defect to the Council and, therefore, I do not believe it could reasonably have known of the condition of the road when your accident occurred.
Given all the circumstances liability is denied. I regret that I am unable to meet your claim on this occasion."
This letter arrived while I was on holiday and I pondered what to do. On 16 July I called Alan Jay because I was advised that bad roads in Cookham is one of his pet topics. I told him the detail over the phone and he said he would take this up for me. I called him again on 24 July and he said he was still looking into this and waiting for a response. I have still not heard anything from him. I talked about contacting the Maidenhead Advertiser and he said that would be good but let him have a go first.
I also went back to the site and took more photos after the crater had been repaired. These are amazing too as it is an area which has been continually patched, obviously very badly and hence keeps opening up. I was travellling in a solid new car, what if I had been on a bicycle that evening I would be in a very sorry state. Why should I have to pay out £835 because of the Council's incompetence?
I do not believe that the Council should get away with this and am looking for some guidance as to how to proceed. Any advice please?
Strangely enough in 1995 I drove home from Marlow through Quarry Woods and just before the phone box in Dean Lane hit another crater which burst my tyre and buckled my wheel. My hairdresser, Valerie Benwell, travelled the same road 30 mins before me and ended up in the same predicament. We claimed and the Council paid out. Why not this time?
---
Can YOU Help With The History of Cookham?: 30 June 2001
---
Following on from our book of photographs of the old Cookhams we are full of enthusiasm to do the second book in the series - to be called 'Cookham Voices'. We need to do loads of interviews with villagers who can tell us - at first hand - about what life used to be like in days gone by. We need to hear about the shops and businesses, housing conditions, what life was like on the farms, running the horticultural shows and fetes and all the every day things that were part of life in Cookham.
We need help from other villagers to come up with the names and phone numbers (or addresses) of anyone who has lived here most of their lives and would be willing to help us out. The memories need not be extraordinary or 'special' - we really do need to know about day-to-day lives. Can your think of neighbours, relatives or friends who will have something to say? Even if they've moved from the village if you think we should talk to them then please let us know!
We are going to start work on the book after the summer break - and any 'leads' would be very gratefully accepted.
Ann can be contacted by phone of 01628 482715, and we can also be reached by e-mail on rosen@globalnet.co.uk
Chrissy Rosenthal Ann Danks
---
Crime in Cookham: 26 June 2001
---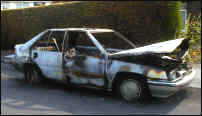 Since PC Les Bullion's prolonged illness, many cookham.com readers have commented on the rise in crime in the Cookhams. The car on the left was torched at 3.00am on Friday 22 June in Broom Hill. The owner who lives in Whyteladyes Lane, had parked it in Broom Hill, as he felt that it was safer there. PC Snell who covers Hurley has said that he will 'keep an eye' on Cookham.
---
Keith Vitty Jazz Needs a Home: 23 June 2001
---
Keith Vitty's jazz at the Tavern on Thursday nights sadly is no more as the Tavern is now under new management and has become more of a restaurant than a pub. Can anyone think of a home in Cookham for an evening of jazz music. Contact webmaster@cookham.com.
---
Parish Council Listens to Road Comments: 22 June 2001
---
Cookham Parish Council would like to thank all those who submitted comments about Cookham's roads in the worst road poll. Today they have sat down with Alan Jay one of our Borough Councillors and reviewed every comment made. These now will be submitted to the Borough Council.
Thank you to all of you who made comments and particularly Brian Hopkins, who put forward the idea in the first place.
We now look forward to some improvements to our roads.
---
Open Gardens Event a Great Success: 12 June 2001
---

The Cookhams Fund Raising Group for the Thames Valley Hospice would like to thank all those who helped them to raise a staggering £5,158.00 at their Open Gardens event on 10th June. Curly Carver for preparing and allowing the Cricket Common to be used for parking, all those who opened their gardens, cake makers and tea helpers, plant providers and sellers, parking attendants, sign erectors and Fine Signs for providing our signs, Mr Crump for printing our programmes and all those who distributed them far and wide, The Maidenhead Advertiser, Colemans solicitors and MARS for donating ice creams. All those who advertised the event on our behalf, parish/church magazines, Cookham .com, radio stations and other publications. Last but definitely not least, all those faithful supporters who came to view the gardens and enjoy the teas and all those unsung heroes who work behind the scenes to make the day such a huge success.
Thank you.
---
Italian and Spanish Translators Wanted: 4 June 2001
---
Chris Jupp is looking for someone to translate some brochures, marketing material and web pages from English into Spanish and also someone to translate them into Italian.

It is urgent - needs to be done in the next two weeks - and is a bit technical, but easy enough to understand. Ideally someone locally who needs some spare cash.
Is anybody out there who is interested in helping Chris? If so contact him on juppcw@talk21.com.
---
---
Hear ye Hear ye! The Crier is always looking for things to shout about! Feel free to submit your Thoughts, Poems, Requests or anything you like to thecrier@cookham.com