---
POUNDFIELD DECISION
21 December 2016
---
Around 100 people were able to attend the Maidenhead Development Control Panel on the 19th December to hear the news that the RBWM rejected the applications to develop on Poundfield (including the Pony Field) in Cookham.

This decision is thanks in no small part to the many people who have played in demonstrating with hearts and minds to the swell of feeling that people love this spot, want to preserve it and are prepared to fight for it.

Work doesn't stop here though. There may, in the future be further applications that are lodged by developers.

LOCAL GREEN SPACE

In the meantime, however, the best chance we have of protecting Poundfield now and in the future, is to ensure that anyone living in the Borough votes with their feet during the remaining Borough Local Plan Consultation period, to support the designation of Poundfield as Local Green Space.
---
CHRISTMAS IS COMING
18 December 2016
---
Saturday morning, 17th December, brought out members of the Methodist Church to sing around the Christmas Tree at Cookham Parade.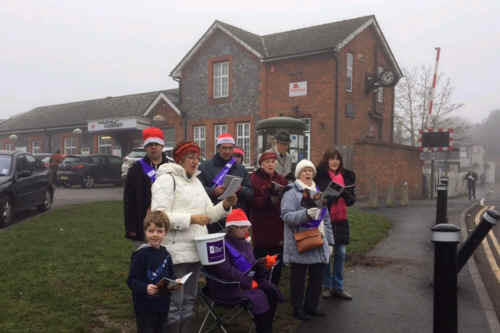 ---
COOKHAM SOCIETY 2017 DESIGN AWARD
13 December 2016
---
"The Cookham Society invites applications for its 2017 Design Award. The Award is open to all new building projects, extensions or landscaping completed in 2016 in Cookham. If you would like to nominate a project for the Award please apply for an Entry Form from Pablo Dubois, Regency Cottage, The Pound, Cookham SL6 9QD, or email: pablo@dubois.me.uk . Completed forms must be received by 31 January 2017."
---
CHRISTMAS DELIGHTS AT THE GALLERY. ELIZABETH HOUSE
5 December 2016
---
Cookham Arts Club is exhibiting paintings and greetings cards from December 5th at the Gallery at Elizabeth House. As in past years the local artists are offering a range of ideal Christmas presents with a difference, with framed and unframed paintings at reasonable prices. It's a great opportunity for your
Christmas shopping, whilst also supporting Elizabeth House, one of our favourite local charities.
The exhibition runs through to the end of January and you can visit during the
usual Elizabeth House opening hours (9am to 3pm weekdays with a one-hour break from noon). Please note any Christmas closing times
---
WINNING CHRISTMAS CARD DESIGNER GIVES VERDICT ON SPENCER
2 December 2016
---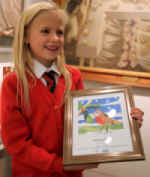 It can be a tricky deciding which Christmas card to send so we asked local artist Ursula Downes to judge this year's Stanley Spencer Gallery cards and to pick her favourite design.

Ursula is well qualified to do this as the winner of the 2016 Royal Horticultural Society Campaign for School Gardening Christmas card competition, with her very bright and lovely collage of a robin in the snow.

She had a whole range of Spencer's card designs to choose from with snowy scenes, angels, festive holly, roaring fires and more captured in enchanting scenes.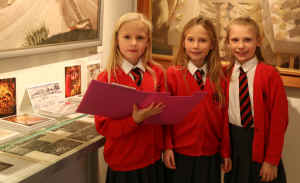 After much discussion with her sister Imogen Downes and friend Annabelle Stratford, Ursula judged 'Apple Trees in the Snow' to be her top choice: "I love the detail and the realistic effect of the snow on the trees. It looks as if the snow has only just fallen." And as Imogen added: "It is snowy just like Ursula's own card."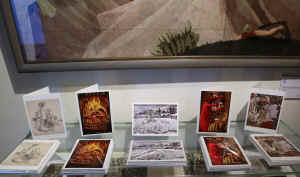 Second choice was the roaring fire: "It makes you really feel like Christmas, sitting by the fire and once the fire is lit you know that Santa has been."
Then came 'Collecting Holly' "... because the drawing tells story that is relevant to Christmas very clearly."
A pupil of Cookham Dean Primary School, Ursula who is 8 years old, has been to the Gallery before with her school and very much enjoyed visiting again. She hopes to be an artist like Stanley Spencer one day.
---
ANDREW AND DAN DARE
30 November 2016
---
Last Thursday B7 Media Producer and Director and Cookham resident Andrew Mark Sewell gave a presentation at the Media Hub in Cookham about the arrival of "Dan Dare at Big Finish", a new audio production from B7 Media starring Ed Stoppard as Dan Dare, Geoff McGivern as Digby, Heida Reed as Professor Peabody, and Raad Rawi as the Mekon. Andrew is very happy to give interviews. His mobile is: 07779 648488
Andrew said: "Ever since my father first introduced me to Dan Dare I've been captivated by his space adventures - so brilliantly realised by the creative genius that was Frank Hampson. It also ignited my fascination with mankind's quest to journey beyond our blue planet and explore strange new alien worlds. With the world of film and television drama now seemingly dominated by American comic book heroes, Dan Dare has always stood out as the definitive 'British' comic book space hero — a bright light of optimism that captured the hearts and imagination of a generation. The opportunity to realise Dan Dare for audio, and to partner once more with Big Finish, was an opportunity too great to turn down."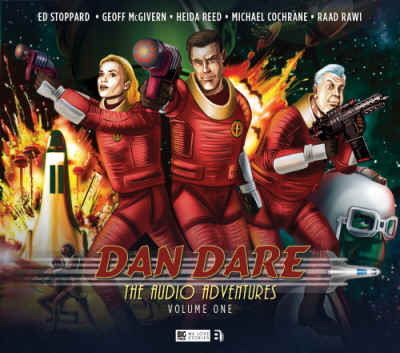 ---
COOKHAM SINGER LAUNCHES SINGLE
29 November 2016
---
Tomorrow, 30 November, Cookham singer and mum-of-four Renee Cullen launches her new single, Old Coast Road, dedicated to her dad, who tragically drowned in a diving accident off the coast of Whangamata, New Zealand, in 2003. We had a sneak preview of Renee's single at the Media Hub the other evening, and wow, it's fantastic. "Old Coast Road" was produced by Cookhamite Stuart Epps.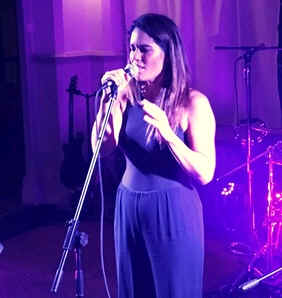 ---
DEFIBRILLATOR AT COOKHAM DEAN VILLAGE HALL
26 November 2016
---
The Kaffirs are pleased to announce that they have installed and will be maintaining a defibrillator outside of the Cookham Dean Village Hall. It is available to the public to use in the event of an emergency. This is the only defibrillator in Cookham Dean. The Sailing Club have recently installed one at the Sailing Club in Cookham Village.
---
GREETINGS FROM ETHIOPIA
20 November 2016
---
Cookhamite Sarah Parfitt is doing the Great Ethiopian Run in Addis Ababa today, and then flying back to the UK tomorrow. With 40,000 runners, iit should be amazing. The race starts at 8.45am Ethiopian time (5.45am UK time).Sarah is then flying home tomorrow.
See Sarah's blog at https://diaryofamarathonmum.wordpress.com/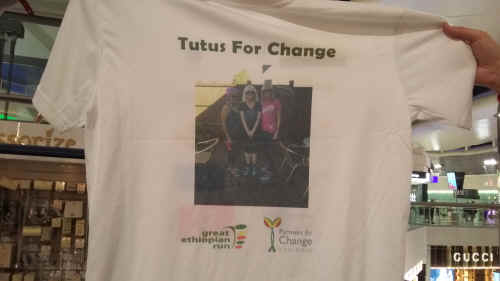 ---
AN INVITATION FROM LORD ASTOR
14 November 2016
---
On Sunday13th November there was a special evening at Cliveden where the custodians and other volunteers, who make the Stanley Spencer Gallery such a special part of Cookham, were invited. Champagne and canapés were provided in the beautiful French dining room at Cliveden House. The evening was a special thank you and celebration of the Gallery being awarded the Queen's Award earlier in the year.
With Spencer's love of daily routine elevated to the unique and extraordinary, he would have no doubt rejoiced at the Queen's Award for Voluntary Service recently won by the Gallery.
Lord Astor, whose father was a friend of audacious 20thcentury artist, Stanley Spencer, extended a warm invitation to all the volunteer custodians to a champagne reception at Cliveden last Sunday evening. As an aspiring artist, the young William Astor had been taught by Spencer. He later became one of the founding Trustees of the bijou Gallery in Cookham.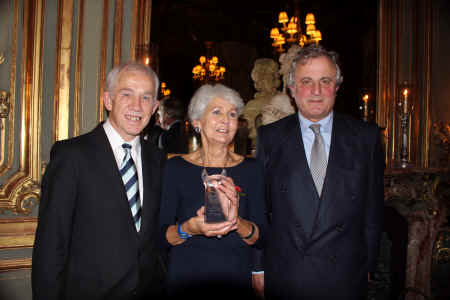 The photograph shows our host with long serving custodian, Di Benson, and freshman, William Smith, who joined the team in the summer. Di comments on her 15 year relationship with the Gallery which has changed from visitors viewing the paintings on a backdrop of brown hessian, trhough the 2007 refurbishment, to its current upwardly mobile position among the best of world class: "I have met many talented, clever and kind volunteers who have become friends and so it has been an enormous pleasure and privilege to have the gallery as part of my life."
And William explains how he became involved as a custodian: "It was quite daunting at first. I knew of the Gallery and had been there a few times but I wouldn't say I was a Spencer expert. I was persuaded to help by a friend who already volunteers with the Gallery and I am so pleased I did."
The constant in all this is that the Gallery is still run successfully by volunteers.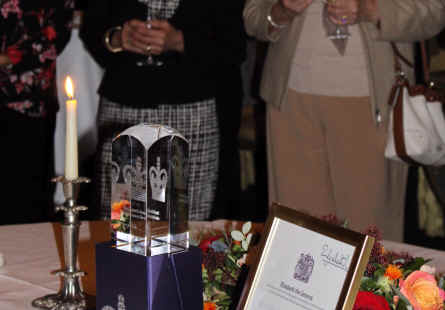 The Queen's Award
---
SARAH OFF TO ETHIOPIA
10 November 2016
---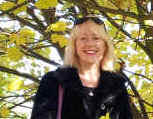 Cookham resident Sarah Parfitt is heading over to Ethiopia on Sunday to visit Gende Tesfa and to run the Great Ethiopian Run (the biggest 10km in Africa). she is self-funding the trip in the hope of attracting more ambassadors for PFC Ethiopia projects. There's already been some interest from Burnham Grammar School and Dale Street Primary School in Chiswick.
Sarah said "I am heading over there with my friend Caroline Field (a photographer), Tutu Melaku (who runs Tutu's Ethiopia in Reading and is friend of Bishop Andrew's) and my friend, Nancy who is a radio presenter in Cape Town is joining us.
During the first part of our stay, Caroline and I will be flying to Dire Dawa and visiting the community of Gende Tesfa which is very poor and where nearly every family is affected by leprosy. Along with my 9 year old son Joshua (Mustard), I am an Ambassador for an amazing charity called PFC Ethiopia: Over the last 2 years, together with Holy Trinity School in Cookham and the Social Action Committee, we have now raised a staggering £12,662.04 for Gende Tesfa. We have built a sports ground, funded the Breakfast Club, funded water-points and books. I would like to thank everyone for their support (financial, practical and moral!!)"
Sarah is hoping to take some letters and cards over to the school from some of the organisations who have been involved with the project.
Good luck to Sarah who is flying over on Sunday night.
---
A BRUSH WITH ART
29 October 2016
---
A new exhibition is just starting at the Gallery at Elizabeth House, with a group of local artists putting on the show this time.
The Wednesday Group, part of the Maidenhead Painting Club, is staging its latest exhibition at the Gallery at Elizabeth House, Cookham, through the month of November. The Group has been meeting weekly, for several years, and each member paints very much in their own style. Their work this time takes the theme of "A Brush with Art".

One of the members is Derin Waller, who lives in Cookham village. "We paint, laugh and learn from one another through a process of friendly feedback. All of us live locally and have worked, or are working, in many different careers and areas of expertise. We are now thoroughly enjoying the creative outlet that painting offers."

In addition to the usual Elizabeth House opening hours (9am to 3pm weekdays with a one-hour break from noon) the exhibition will be open each Saturday in November from 10am -3.30pm.

Also, there will be a special viewing on Saturday 12th from 5.30pm - 7.30pm to which all will be most welcome.
Photo shows Sue Looker (left) and Patricia Ashcroft at the exhibition hanging.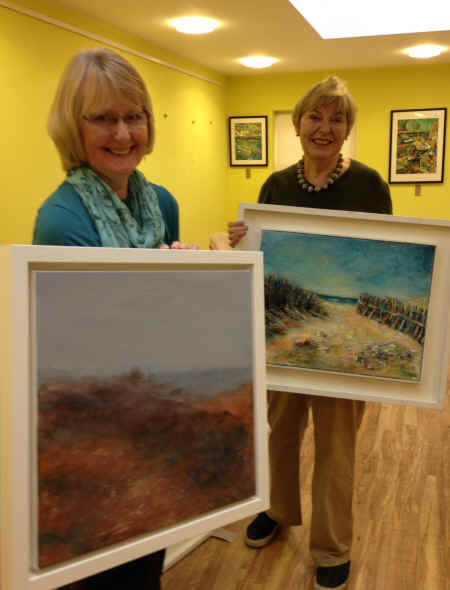 ---
DEATH OF JOYCE SAYER
26 October 2016
---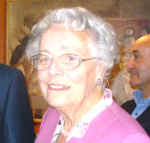 Sadly Joyce Sayer who was a well known figure in Cookham died on October 16th 2016. Joyce was married to Ivor and lived in Bass Mead.

The funeral service will take place at Holy Trinity Church, Cookham, on Thursday, October 27, at 2.30 p.m. Family flowers only. Donations to Barnardo's may be sent c/o Arnold Funeral Service, 21-23 Little Marlow Road, Marlow, SL7 1HA. Tel: 01628 898866.

There will be a gathering in the back bar of the Ferry before the service for family and Joyce's closest friends.
---
BIG AL AND THE BLISTERING BUICKS ROCK
25 October 2016
---
On 7 October the Rock Band, Big Al and the Blistering Buicks

came to Cookham Dean Cricket Club. This is a new band chosen because they play great 70's and 80's classics - good to hear and dance to.

The Rock night was very successful, there was a full house of 75 people and it rocked. The Raffle took some £250 which was split between Elizabeth House and Starfish (swim club at Magnet which helps handicapped children ).
---
KATHY FLIES TO PALESTINE TO HELP WITH OLIVE CROPS
17 October 2016
---
Today, Monday October 17th Kathy Rickman from Cookham in Berkshire is flying out from Heathrow to Palestine for a week to stand side-by-side with local Palestinian farmers and their families, working with them to harvest and save their vital olive crops. This unique trip, which was organised by UK charity Embrace the Middle East will see Kathy join a group of 11 volunteers from the UK. It was also designed to give her and the team a special and personal insight into Palestinian life, bringing her face-to-face with the challenges that people face there on a day-to-day basis.

As access to parts of the West Bank is controlled by Israel, many farmers need permits to access their own land and these are time limited. Without Embrace the Middle East volunteers such as Kathy and others who also visit the country to lend their support, many farmers would simply not have enough time to get their whole crop in and olives would be left rotting on the trees. The beautiful and versatile olive tree has been a symbol of peace throughout the ages, yet sadly, it is also an increasing symbol of the conflict between Israelis and Palestinians.

Kathy says, "I am really excited to be part of this amazing opportunity. It'll be a privilege to meet and work with some of the local Palestinian farmers and meet their families. I love the work that Embrace the Middle East does in partnering with projects in the country and also across the Middle East who are having an impact in their own communities for good."

She continues, "The charity supports and resources local organisations such as the one I'm working with who support local farmers, so they can make a difference for the poor and vulnerable right where they are. I know I'm going to have lots of stories to share and things to learn, especially about harvesting olives!"

Palestinian culture is rooted in land and its cultivation with agriculture being the mainstay of the Palestinian economy. 13.4% of Palestinians are formally employed in the agriculture sector but 90% of the population informally work the land with olive products earning more in export income than any other agricultural crop. Kathryn's support in helping harvest the crop for local farmers, is key in helping them earn the much needed money they need to feed their families and invest into their land for the future.

However many Palestinians have to hold down a formal job, while needing to work the land at the same time. Naim is a local man who teaches at a boy's school in the West Bank and because of the fraught political situation, he can often go months at a time without being paid. Making his family's land productive means as a father he can provide for his three young children, while as a teacher he can still stay working at the school which he cares so much about.

Naim says, "Our roots, our family is here in Palestine. The tension is always high. We think again and again about leaving, for our kids, for their futures. But we have this small piece of land, which many others don't have. We look after it, we care for it. If we don't do this, the Israelis may come and take it. We have to stay to look after it."

Naim approached Embrace the Middle East's local partner, the JAI, who through the Olive Tree Project enabled Naim to plant olive trees and ensure that the land is well tended, allowing him to invest into his family's future and meaning that they don't have to leave their home.

Last year Embrace the Middle East were able to facilitate the planting of 2,261 olive trees in Palestine and through their Alternative Gift Catalogue, anyone in the UK can join the charity in supporting the country by sponsoring one of these trees for just £15.
---
OSTEOPOROSIS - BONES FOR LIFE
14 October 2016
---
"Bones for Life" is a programme of strengthening bone through natural movement and weight-bearing posture, and is the result of research with both NASA and the movement style of African women who successfully carry heavy loads on their heads. Marye Wyvill, an experienced 'Bones for Life' teacher is travelling from Wales to share her wisdom with us, holding a Masterclass in Cookham Dean Village Hall (SL6 9PY) on Sunday 30th October from 10-30am-4.30pm.. During this full-day workshop, Marye will help us explore posture and movements that can build bone; preventing or alleviating osteoporosis. It's only £50 for this potentially transformative day. Space is limited so pre-booking is essential. The day is not specifically yoga based and is designed for all ages and abilities; it is open to both men and women. Tea and coffee will be provided and bring your own lunch. For more informationa and book please contact Emily on 07970 627390 or emily@findingstillness.co.uk

There is widespread concern about the increasing numbers of people being diagnosed with osteoporosis. In view of the sedentary lifestyles imposed on more and more children, this problem can only get worse over the coming decades. The effect of being told one is osteoporotic can be devastating. One assumes deterioration is inevitable, curtails movement from fear of fracture, and places faith in supplements. But consider the following examples:
• An astronaut returning to earth has to be carried from his craft because his bones are too weak to support him. After living for just a few months in zero-gravity, he is suffering significant loss of bone density, which will, however, return within two years, after a vigorous programme of exercise.
• Throughout rural Africa, women are carrying up to a third of their body weight on their heads. Their bone density is lower than that of the average woman in the west, yet osteoporotic fracture is extremely rare. Unlike the average westerner, their movement is fluid and their posture graceful.
From the first example we learn that it is possible to re-build bone, and, from the second, that posture and movement style are likely to be factors contributing to immunity from fracture.
Ruthy Alon, a senior Feledenkreis trainer and founder of "Bones for Life", has worked with NASA, devising exercise regimes to counter the effects of zero-gravity. She has also lived with the Masai tribe in Kenya, and spent many years analysing the harmonious movement style of women who successfully carry heavy loads on their heads. "Bones for Life", a programme of strengthening bone through natural movement and weight-bearing posture, is the result of a lifetime of research. For more information, see www.bonesforlife.com

Our "Bones for Life" day will include:
• introducing the background and methodology of Ruthy Alon's Bones for Life programme
• demonstrating the two main options for the response of the spine to pressure
• exploring safe posture for sustaining the dynamic movements that can build bone
• exploring strategies for promoting uprightness and the body-language of gentle assertion and leadership
• learning from evolutionary patterns of self-mobilization

Marye's movement background includes 5 years' training at the Dharma Yoga Centre under the tutelage of Julie Friedeberger and Swami Dharmananda, and 4 years as resident and teacher at Mandala Yoga Ashram in Wales. She has additionally trained as a "Bones for Life" teacher.
---
NEW LUXURY HAIR AND BEAUTY SALON
9 October 2016
---
A luxury Hair, Nail & Beauty salon, Ross Poole Hair and Beauty, will be opening on Saturday 29th October 2016 in the Arcade, Cookham Village. They will be offering a 20% reduction on the first appointment to all readers of www.cookham.com. Clients need to mention www.cookham.com when booking, the offer expires 30/11/2016.
You cam also sign up online for the chance to win an invite for you and a friend to the launch party. CLICK HERE.
11-13 The Arcade, High Street, Cookham, Berkshire SL6 9TA
www.rosspoole.com cookham@rosspoole.com 01628 298384
---
RIPPLE EFFECT AT THE GALLERY AT ELIZABETH HOUSE
7 October 2016
---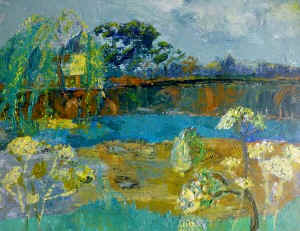 The October exhibition at the Gallery at Elizabeth House features the work of Henley artist Lynda Hopkins. Her exhibition, titled 'Ripples', illustrates our links to water, its moods and environs, alongside her still life works.
Lynda has lived in the Henley area for nearly 30 years and before that in Hackney where she would walk to the River Lea. She was a student at Portsmouth in the late seventies where the sea was part of her daily journey so she has often been inspired to respond to water. Her most vivid experience was a trip to Venice. She has also written and illustrated a collection of poems called Sea of Surprises. Her next project will show links with the contemporary world of architecture and waterways.
The exhibition opened on Monday 3rd October and runs until Friday 28th October. There is a reception open to all between 5 and 7pm on Saturday 8th October and you are warmly invited to this.
---
PRESENTATION OF THE QUEEN'S AWARD TO THE STANLEY SPENCER GALLERY
5 October 2016
---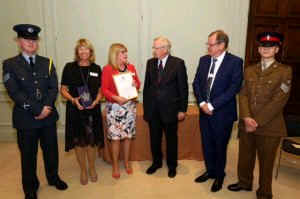 On Wednesday 28th September the Gallery volunteers were presented with their certificate for the Queen's Award that they won in June 2016. Gallery Chairman Stuart Conlin said "I am thrilled that the Gallery volunteers have won this most prestigious award. We have been recognised in this as a unique organisation which has existed in its current form for 54 years using an entirely voluntary workforce. In this period we have continuously provided expertly curated varying exhibitions and education facilities for the public, as well as accumulating the largest collection in the world of the British painter, Sir Stanley Spencer. Our 14,000 visitors per year come from all backgrounds and include the old, the young, the fortunate, and the severely disadvantaged. Our highly motivated workforce are always looking for new volunteers, so I would urge anyone interested to contact us E-Mail: info@stanleyspencer.org.uk if they might be interested in joining our award winning team!".
---
COOKHAM JUNIORS ON THE CHARGE
4 October 2016
---
COOKHAM Running Club's juniors were out in force for their first cross country fixture of the season at Perivale, West London. Fifty of the club's young athletes turned out in the North West London young Athletes League producing some impressive team and individual results.
Battling through heavy ran, Tom Ellington of Cookham Dean C of E Primary was first past the post in the Under 11 Boys 1600m race, closely followed by club mate Tom Lebeau in 3rd. Backed up by Henry Johnston in 7th and Ben Hearsey, another Cookham Dean pupil, in 18th, the club snatched team honours from Highgate Harriers.
Siena Brancato narrowly missed out on individual victory in the Under 11 girls race, but ran strongly for second and led home twins Carys and Grace Allan (12th and 13th respectively) to 2nd team spot. Cookham's Under 13 girls A team comprising Cara Terry in 3rd, Kensa Horner in 5th and Brogan McCafferty in 13th went one better to secure resounding win over Thames Valley Harriers. Cookham's B team of Jemima Ridley (18th), Zoe Allanson (19th) and Jasmine Stockdale (21st) finished 6th, was strong enough to beat the A teams from 6 other clubs.
In the Under 13 boys race, four Furze Platt Senior School pupils made up the 2nd placed Cookham A team. Frank McGrath, in 5th, led the way, followed by Iwan Hughes (11th), Alex Bate (16th) and Josh Dilley (25th). Adam Gambrill and Elliot Lowe, also pupils at Furze Platt, finished 5th and 14th in the Under 15 boys race to help take their team to 5th place. Cookham's Under 15 girls team of Emily Taylor-West (21st), Imogen Shaw (22nd) and Beth Murray (26th) finished 9th team.
At Under 17 level, Harry Turner was Cookham's star, holding on to 3rd place in the 4.7km race. His team finished 4th. Sandie Pohlman was 5th in the Under 17 g-rls race and, with Maria Rees in 11th, the team also placed 4th.
Cookham's junior teams head to Birmingham this weekend to contest the National Road Relays on October 8.
Facebook: Cookham Running
---
WAITROSE GIVES COOKHAM WILDLIFE A BOOST
29 September 2016
---
Cookham Wildlife Supporters Group has been selected as one of the three local charities to be supported by Waitrose in Maidenhead during October. The group, formed last year to encourage local people to take care of wildlife and share their passion and knowledge in a practical and fun way, has already attracted well over 150 local residents and has held several talks and walks during 2016. Waitrose's support is a great boost for this local initiative so, if you shop at Waitrose, look out for the Cookham Wildlife Supporters box near the exit and drop in your tokens. The group stands to gain anything up to £1,000 with a minimum of £200. For more info on the group, email cindygreener@btinternet.com.
---
SPENCER IN OZ
24 September 2016
---
In August 2016 Stanley Spencer Gallery Trustee Carolyn Leder was flown out to Adelaide, South Australia, as keynote speaker at a study day held in connection with Carrick Hill's Stanley Spencer: A Twentieth Century British Master, the largest Spencer exhibition ever held in Australia..

To read about Carolyn's visit Click Here.
---
NEW CARETAKER FOR THE PINDER HALL
13 September 2016
---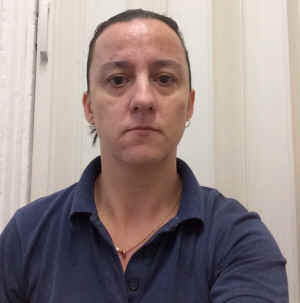 Anna Oliver, who is well known in Cookham as the caretaker of the Pinder Hall for the last eight years has moved to pastures new in Maidenhead. Anna's position is being taken over by Viktoria Radics and is being helped by her husband Robert. She will be living in Bank House next to the Pinder Hall with Robert and her two children. Viktoria is looking forward to meeting all the users. Anna is continuing to take bookings for events for the next few weeks while Viktoria learns the ropes. Welcome to Viktoria.
---
COOKHAM AND MAIDENHEAD ARTS TRAIL IS BACK
9 September 2016
---
The Cookham & Maidenhead Arts Trail is back for its third year, on Saturday 17th and Sunday 18th of September. From 10am - 6pm studios and homes around Maidenhead and Cookham will open their doors to the public showing the work of 32 painters, potters, jewellers, embroiderers and sculptors.
Building on the success of previous years, the Cookham and Maidenhead Arts Trail has become a permanent fixture on the local arts scene, joining other popular events including the Bucks Open Studios, Henley Arts Trail and West Berkshire's Open Studios.
A diverse range of mediums will be on display and for sale, ranging from glass sculpture, prints, ceramics and jewellery. Visitors are urged to engage with the artists in their creative space and warmly invited to ask questions about the artistic process over a cup of tea.
For more information visit the website at camat.org.uk where you'll find a map of the venues, list of supporters, exhibitors and links to their websites and a brochure.
This year Cookham will host Clarissa Galliano at 2 Gatehouse Cottages, Sutton Road, Astrid Baerndal at 79 Westwood Green. Elizabeth House, Station Road will have an exhibition of paintings by Martin Dutton and a collection of work by the Embroiderers Guild until 30 September.

For further details and a map of the trail, please visit www.camat.org.uk

---
COOKHAM DEAN WAR MEMORIAL
2 September 2016
---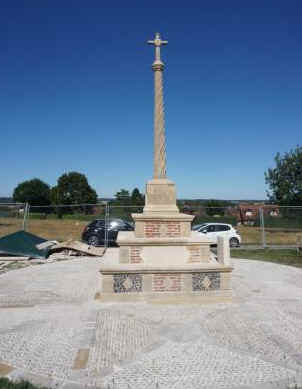 We are delighted to announce that the restoration work is nearly complete!
The remaining stonework will be installed in early September but protective barriers will remain in place until after the Village Fete (17th Sept) when the final landscaping will then be carried out.
If you have any questions about the work taking place, please contact The Clerk, Anne Osborne, on 01628 522003 or email office@cookhamparishcouncil.org.uk
---
SPRINT FOR FINAL SPACES ON RUNNING COURSE
1 September 2016
---
COOKHAM Running Club is holding the latest of its renowned Couch To 5km courses from September 7th. The 6-week course, led by experienced coach and former international athlete Paddy McGrath of Cookham Dean, takes place in and around Cookham on Wednesday evenings at 7pm. Several hundred locals have successfully completed the course over the last couple of years with many going on to become fully-fledged members of the thriving village club. With the latest course nearly full, only a couple of spaces remain. If you would like to book one, please contact Paddy on
paddymcrun@btinternet.com
(more details at
www.paddymcgtahrunning.com
or
www.cookhamrunningclub.com
).
---
LEARN MOVIE MAKING SKILLS
18 August 2016
---
A new 7-week course for aspiring movie makers will start in Bourne End in September. Created for people who would like to go beyond home movies and create travelogue, drama or documentary style films, the course will run on Monday evenings between 7:30 and 10:00pm at Bourne End Community Centre from 19 September-31 October 2016.
The course is aimed at anyone aged 16 and over who is interested in creative video making whether or not they have previously dabbled or are complete novices. 'All that you need to take part is enthusiasm. Equipment will be provided for practice exercises or bring along your own camcorder, DSLR or smartphone.
The course will be led by Algie Gray. Algie is a graduate of Royal Holloway's Media Arts department, an Associate Member of the Institute of Videographers and is an experienced videographer, editor and production engineer. Asked about the course, Algie said "Many people are put off video making by the technology involved these days. I hope to demystify this so that people can enjoy the fun and creative side of the medium."
The course is sponsored by Bourne End Video Makers(BEVM), a local club which helps its members to improve their skills and to collaborate in producing prize-winning short films. Members of the club will be on hand to provide support and graduates of the course will be invited to join BEVM at a reduced membership rate.
BEVM Chairman Roger Davies said "The club welcomes people of all skill levels and interests. We have members who are film makers in their own right but many prefer to specialise in production, camerawork, editing or one of the many other areas needed to make a film. I hope that this course will encourage many more to get involved."
To find out more, contact Training@BEVM.co.uk.
---
COOKHAM BOOK CLUB
29 July 2016
---
(From Martin Garrett)

I would like to make you aware of a book club in Cookham we started last year, we only have a few members (all men at the moment) but we are keen to allow others to join.

This months book for Review:.
Jonas Jonason - The Hundred Year Old Man Who Climbed out of the Window and Disappeared.

We have a Face Book Group 'Cookham Book Club' which was closed to members only but I have temporally opened to Public for now.

Our next meeting will be on 6th September at the Swan Uppers to review the above book.
---
DEFIBRILLATOR FOR SCOUTS
22 July 2016
---
As a result of a generous donation from the Cookham Christmas Society, Cookham Scouts has purchased a defibrillator for use as part of first aid provision at local public community and charity and voluntary organisation events. To book or obtain further information please contact: Mark on 07990 730219 or mark.hook@btinternet.com. Donations welcome to cover on-going training and maintenance.
---
MY WINTER HILL
14 July 2016
---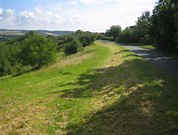 The NT held an informative event about their ideas on Winter Hill at the WI institute in Cookham Dean last Thursday 7 July.
Inge Beck went along to look at the display. Amongst it all she found a beautiful poem on Winter Hill written by Jordan Worsfold, the NT Academy Ranger.


She asked for a copy and whether we could publish it, which he agreed. Here it is:

My Winter Hill by Jordan Worsfold . National Trust Academy Ranger

I cast myself away from the suburban sprawls of London, Slough and Maidenhead.

My path leads me along the old ways of the commons, to lush, verdant spaces beyond.

I walk into a historic landscape of culture and community combined. The mechanical cries of the city give way to the sweet song of the hedgerow.

The way rises now, my breath quickens to the pace of my climbing stride. I relish the cool shade the sycamores, limes and hornbeams provide me as they roof the single track lane with their sun dappled thatch.

I climb still, through the picture postcard village and dew soaked verges of Cookham Dean, a country darling old and wise in her years but still holding the beauty of a time she and few others can now recall.

The cottages dwindle and my green veil returns.

Suddenly, a light at the end of the broad-leaf tunnel, the burning light only a midsummer morning can provide, the echoes of my boot steps in the deep sided track begin to fail. Theveil is drawn back and my vista takes my breath away.

Grassland, rich in wild flowers lies before me; bees skip between the orchids and yellow rockrose, a damselfly grapples a subtle breeze and the orchestral tuning of green grasshoppers fills my ears.

A red kite, majestic against a cloudless sky searches the grasslands and woodland edges for its prey, he will seldom go hungry as these open spaces and wooded perimeters are rich with field mice, common voles and other such creatures.

Darting from a hedgerow to my left a bullfinch drops down the bank over the unsuspecting heads of other visitors to perch on a nearby rowan, a tree that will soon display hues of red as fine as the bullfinch himself.

The chitter chatter of skylarks radiates up from the swathes of Yorkshire Fog and Crested Dogs-Tail.

The friction sounds of leaf on leaf drift up from the woodland at the bottom of this great chalk ridge.

And beyond, for my eye takes me far is the rolling gateway to the Chiltern hills.

I see all ages of man in this view, from the tender steps of early Saxon agriculture on the floodplain to the motorway, whose metallic occupants would appear in the morning sun like drops of rain gliding down a blade of fresh grown grass.

The Thames winds her way to London far below, she is in no hurry and neither am I.

This is a place I will linger long enough to name the flowers, to write melodies into the breeze and to call my momentary home, my doorstep home, my Winter Hill.
---
WAR MEMORIAL RESTORATION DELAY
7 July 2016
---
War Memorial Restoration Delays But It'll Be Worth The Wait!

The Cookham Dean War Memorial Conservation and Restoration Project is an exciting and important undertaking that will help ensure a strong future for Remembrance in Cookham, and preserve community history. Historic England have invited us to nominate the completed memorial for Listed Monument status. It is an unusual and highly specialised project. Unfortunately, despite detailed preparations with our expert partners, the work has been delayed by some unexpected problems. We are determined to achieve a high quality finish - we want it to grace our village for another 100 years. This has meant the site has been inactive while we wait for key investigations to take place, and it has not been possible to complete the work in the 10 weeks we had planned. Cookham Parish Council apologises for the inconvenience. We ask residents for patience as we work to complete the project as soon as we can. Please get in touch if you have any questions or concerns.
Tel 01628 522003 email office@cookhamparishcouncil.org.uk
---
DEATH OF JILL FINLAN
4 July 2016
---
Jill Finlan passed away on the 29th June 2016. Jill lived in Popes Lane Cookham Dean with her husband Peter and three children. Her family have many wonderful memories of time spent in the villages which some of you may share. She was was one of the first women to drive in the village and set up her mini bus company Finlan Travel in 1975 when she saw that people were struggling to get around the local area. The buses can still be seen around the village today. (See newspaper article below.) She will be sadly missed by her three children and four grandchildren. Thank you for all your kind words and support at this time.

Jill's cremation service will be at Amersham Crematorium on the 12th July at 12.15. If you are unable to make the crematorium please feel free to join us for drink at Cookham Dean Cricket Club from 1.30pm. Family flowers only and no black. Donations to the Alzheimer Society, care of Pymms and son.

Click on photo for larger image.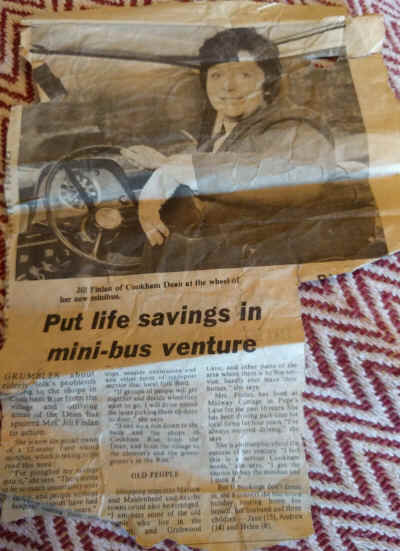 ---
MIKE COPLAND BEM
3 July 2016
---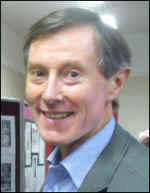 Congratulations to Mike Copland who has been awarded the BEM in the Queen's Birthday Honours. Mike has achieved the honour for Services to the Community in Cookham. Mike has been active in so many things over the years in Cookham and has made it very much the vibrant village it is today. He has been particularly involved in Elizabeth House and also the Gallery there, not to mention chairing the Cookham Festival for several years, also support of charity events such as Amnesty International in Cookham. More recently Mike has been working on a project on the First World War as it affected the Cookham area.. Congratulations Mike, a much deserved award.
---
TWO OF A KIND
24 June 2016
---
The exhibition at the Gallery at Elizabeth House through the two high summer months features two artists new to the gallery.
Alan Davies and Angela Fielding are both local and their exhibition, Two of a Kind, focuses on landscape.
The exhibition opens this weekend with a preview between 5 and 8pm this Saturday, 25th June.
Angela started her career in fashion - the drawing and design side a particular success.

She moved onto painting, developing her own individual style, after encouragement from her husband. She loves the patterns and shapes of the changing seasons in the countryside and uses watercolour combined with inks to give vibrant and striking images.

Angela has exhibited in the RA summer exhibition, the Mall Galleries, Chelsea Flower Show, the Lange Art Exhibition and the Society of Women Artists and the Armed Forces Art Society exhibitions.
Alan
is a retired architect living in Windsor and he lists painting for pleasure as one of his enjoyable retirement activities.

His subjects vary according to his reaction and attraction to different objects and landscapes discovered when out walking in the countryside or at the coast both in this country and abroad.

His previous exhibitions include Reading Contemporary Art Fair and the annual Woburn Festival.
Their show runs continues to 2nd September. The Gallery is open weekdays 9.30am to 3pm, avoiding noon to 1pm, at Elizabeth House, Station Hill, Cookham SL6 9BS. The current exhibition of Juliette Palmer's work continues to this Friday morning.

Come to the opening this Saturday, 25th June, between 5 and 8pm.
---
ADAM WINS A MUDDY STILETTOS AWARD
18 June 2016
---
Congratulations to Adam Garrett of Devine Flowers on Cookham High Street who has just won the Muddy Stilettos award for best florist in Berkshire. 20,000 people cast their votes for their favourite local shops, businesses and people. In addition to Adam's win there were three other Cookham businsses who were runners up in their groups. These are the Crown, Deliciously French and the White Oak.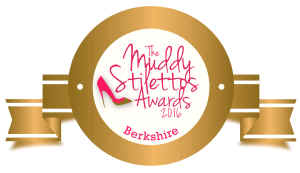 ---
STANLEY SPENCER GALLERY RECEIVES THE QUEEN'S GOLDEN JUBILEE AWARD
8 June 2016
---
The Sir Stanley Spencer Memorial Trust and Stanley Spencer Gallery have just won a coveted Queens Golden Jubilee Award for Voluntary Service (Announced 2nd June).

Just how does an organisation comprising only volunteers, with no paid staff at all, and no ongoing grant from Government or any other source, take on, manage and sustain such a remarkable operation, of such a scale, now in its 54th year?

The exacting and diverse tasks undertaken by the Sir Stanley Spencer Memorial Trust and the Stanley Spencer Gallery include:

- The safe-keeping of more than 120 precious works of the great 20th century painter. Except when a major Stanley Spencer retrospective exhibition is mounted elsewhere, the Stanley Spencer Gallery at Cookham has the largest collection of Spencer works on display anywhere in the world.

- Arranging the physical transfer of Spencer paintings and drawings (both lending these to others and accepting them on loan) across the UK and to illustrious exhibitions overseas.

- Running (as a modern, environmentally-controlled exhibition space) the wonderful refurbished nineteenth century Wesleyan chapel where Spencer once worshipped.

- Organising and mounting a series of stunning exhibitions (usually two per year) and all the marketing and publicity needed to draw visitors to these events in sufficient numbers to maintain the whole operation financially.

- Welcoming of visitors by knowledgeable and well-trained front-of-house volunteers,'who choose how often they will appear on the rota and when.

- A programme of talks and events, together with special sessions for visitors with wide-ranging disabilities.

- A highly active educational programme including frequent visits by groups of schoolchildren and carefully pre-planned movement of one of Spencer's great works to a 'lucky' school for a day of varied talks and discussion sessions.

- An impressive and ever-growing archive of Spencer-related material, with expert advice on hand, all largely open to visitors, as well as being routinely consulted by Art Historians and authors as well as in relation to Master's degrees, PhD theses, and other research goals.

- Achievement and maintenance of Full Accreditation under the Arts Council England Scheme

The astonishing underpinning to all of these facets is the purely voluntary workforce. What holds things together, therefore? What moves things forward and what gets things done? What produces the constant innovation within the Gallery that so enchants its visitors? Where does the energy, the expertise and the effort, the attention to detail, and the steadfast loyalty come from? What structures are in place to focus and channel these great attributes, to achieve the best and most rewarding outcomes for visitors and volunteers alike, and, most especially, for the memory of this great painter? How can this organisation manage without regular grant funding whilst others cannot? And finally, of course, what points can other organisations, large and small draw from this particular way of functioning.

This is 'The Year of Stanley Spencer' (see our website stanleyspencer.org.uk) and it seems very fitting to have secured this Queen's Award for Voluntary Service in this already very special year.
---
SECONDS OUT IS CLOSING DOWN
1 June 2016
---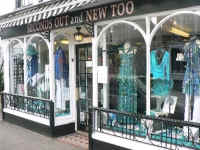 After many years Jayne Milburn of Seconds Out & New Too in the High Street has decided to hang up her hat and retire from retail. Seconds Out will be closing its doors for good on Saturday 30th July 2016 after nearly 31 years of trading .

Jayne says "We are advising all clients to make sure that they have checked their accounts and collected any unsold clothing and monies owing by Saturday 30th July .

After this date , ALL clothing and accessories left in the shop not collected , will be donated to local charities and will no longer be available for collection .

We would like to take this opportunity to thank you for your support, custom and friendship over the years .

The closing down SALE is starting this Friday 3rd June .......really fantastic bargains as everything must go !

See you soon !"
---
SARAH IS READY FOR THE BLENHEIM PALACE TRIATHLON
29 May 2016
---
There are six days to go until the Blenheim Palace Triathlon and Cookham's Sarah Parfitt has been in training.. As she says "Yikes! Fortunately, I have a "partner in crime" - Joshua is going to do the Junior Duathlon and our team name is "Keen as Mustard".

As many friends know, I am an Ambassador for a fantastic charity called PFC Ethiopia, so we're raising money for Gende Tesfa School. Cookham's current fundraising total is an amazing £9,129.54 (WOW!). We have already built a sports ground and funded the Breakfast Club at the school and also constructed water-points in the village, but Joshua and I would like to make that £10,000 so that we can change more children's lives. If you would like to make a donation, however small, here is the link:
http://uk.virginmoneygiving.com/team/KeenAsMustard.

The last 4 or 5 weeks have been a steep learning curve for me - I have been trying to learn how to do the crawl and I have swum in a lake in a wetsuit for the first time. My friend Bridget King has also introduced me to "the joy" (!!) of a road bike and clip-in pedals! Thanks Bridget. Good luck to Paul Harris and Gerald Cooper who are also doing Blenheim too. Caroline Field and Renee Cullen - wish you could be there next Saturday!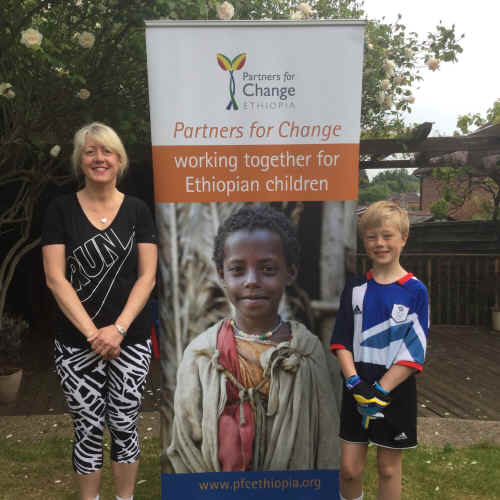 ---
THE TRAVELLERS HAVE ARRIVED
26 May 2016
---
Just when the police were putting out warnings about ensuring that land was protected from "visitors", they arrived on Cookham Moor. Let's Rock the Moor which happened last Saturday was being cleared up so the track to Marsh Meadow had not been blocked off, so several caravans and cars took the opportunity to Park on the Moor. The National Trust looked on and wrung their hands. It is just hoped they will move on before the Scout Fair in a couple of weeks time. Unless they are put off by the dog walkers and the crowds at the Crown before that.

---
DOWN UNDER IN SOUTH AUSTRALIA
20 May 2016
---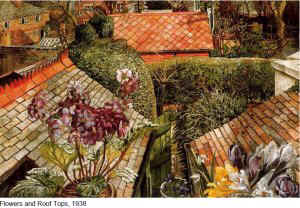 A packed audience in the Stanley Spencer Gallery on the evening of 12th May 2016 learned how the enchanting roofs of old Cookham are soon to be on exhibition in Australia and also how the diminutive Stanley Spencer had to gaze upwards to paint a sunflower.

These beautiful paintings and many others, most unseen for more than half a century in the UK, are to be exhibited at Carrick Hill Museum and Gallery in South Australia from 3rd August to 4th December, 2016.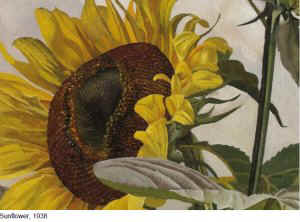 The Loan Exhibition of Contemporary British Art in 1935 was the original event which led to the paintings of Stanley Spencer going to Adelaide and to Carrick Hill. This exhibition caused a sensation and the Carrick Hill owners, the Hayward family, formed a particular fascination with the work of Stanley Spencer. Following a series of connections and coincidences, many of Spencer's paintings were subsequently purchased in Australia and remain there to this day.

Richard Heathcote, Director of Carrick Hill, talked about the forthcoming exhibition, which will feature Spencer's flower and garden paintings. The exhibition is to be accompanied by an educational programme regarding Spencer, including a book and a documentary film. Filming for this is to take place in the Stanley Spencer Gallery towards the end of this month.

Gallery Chairman, Stuart Conlin commented ," This is a most significant part of 'The Year of Stanley Spencer', the details of which are on our website. Carrick Hill is our Cultural Partner and we were delighted to receive such an entertaining and illuminating account from Richard Heathcote.. We look forward to the filming later this month".
---
LAUNCH OF THE COOKHAM FESTIVAL SPENCER POETRY COMPETITION
14 May 2016
---
On May 13th 2016 the competition was launched at the Stanley Spencer Gallery in Cookham. As part of the Cookham Festival 2017, the Cookham Festival has linked up with the Stanley Spencer Gallery to organise an International Poetry Competition. on the theme of Sir Stanley Spencer; his work, his life, his themes, influences or beliefs. There will be three judges Professor Peter Robinson from the University of Reading, poet Jane Draycott and Carolyn Leder, trustee and curator of the Stanley Spencer Gallery.
Why not write a poem? Click here for more information on entry – closing date for the competition is 30th September 2016.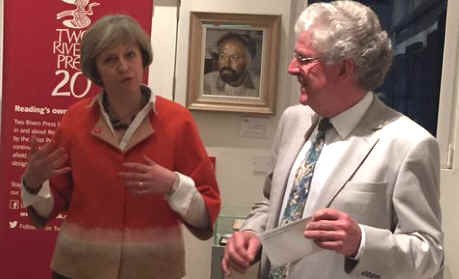 ---
COOKHAM RUNNING UPDATE
11 May 2016
---
Cookham Running Club's website has had an overhaul and re-design as it continues to attract more and more new visitors. The popular club now has around 150 members, including a flourishing junior section that is challenging for major honours in league and championship athletics events. At senior level, the club caters for everyone from the complete beginner to top level age group runners, some of whom have competed for Great Britain. There are many social events including regular club handicap races on the Moor and Summer barbecues. The club's Facebook page, Cookham Running, was set up a month ago and already has almost 250 followers. You can visit the new website at
www.cookhamrunningclub.com
---
SAVE POUNDFIELD UPDATE
8 May 2016
---
Over 100 people came along to our launch event. It was heartening to see the level of support for the campaign, including from Theresa May, MP. But the work has only just begun.....

We understand that both Oakford Homes and Berkeley Homes will be submitting their applications for development very shortly.
In the meantime, we are always looking for ideas from people who are able to offer some practical help as the campaign ramps up. Attached is a document offering some suggestions to get you started however,
in particular we are looking for people to act as a representative for their road to help distribute leaflets and be a key contact for both the Save Poundfield group and your neighbouring houses. If you think you are able to help with this or in any other way then please let us know confirming the road or roads you would like to represent
poundfieldprotection1@gmail.com
Once again, thank you for your ongoing support and please don't forget to spread the word and encourage your friends and family to register their support at:
www.savepoundfield.co.uk
---
DEFIBRILLATOR INSTALLED AT COOKHAM REACH SAILING CLUB
5 May 2016
---
The Cookham Reach Sailing Club defibrillator has been installed and is now fully operational. It's on the river bank outside the club. It's there for every river user and everybody in the Cookham community.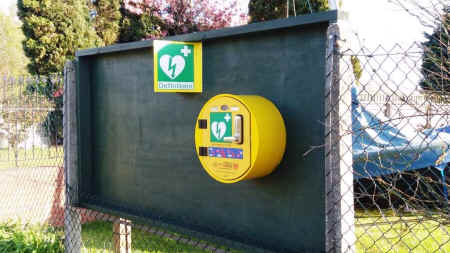 ---
MUM2MUM MARKET COMES TO COOKHAM
4 May 2016
---
Bourne End Mum Silvana saw the award winning Mum2Mum Market being pitched on Dragons Den in February.
Inspired by the the opportunity to help mums buy children's items at massive discounts and earn an income whilst working around her family commitments she decided to bring the pop up market to Pinder Hall Cookham in June.
Mum2mum market nearly new sales provide an opportunity for parents to sell on and recycle their outgrown baby clothes and equipment to other families.
With at least 20 mums selling at every mum2mum market there is a huge choice of baby and children's items for sale. All goods for sale must be in excellent condition and sellers keep 100% of their proceeds on the day.
Goods for sale range from large items such as prams, cots, toys, books, baby equipment as well as clothes from newborn to age six.
Local mum Silvana will be launching mum2mum market in Cookham at the Pinder Hall.
Silvana says 'I heard about mum2mum market on Dragons Den and thought it was a brilliant idea. I am so excited to be giving local parents the opportunity to buy great quality second hand and sometimes new goods or make some cash from their outgrown children's stuff.'
The first Mum2Mum Market will be held at The Pinder Hall Lower Road , Cookham Rise, Berkshire SL6 9EH June 11th 2016 at 14:30 to 16:30.
Admission is £2 on the door, children free, and free admission after for the last half hour of the sale. Full information at www.mum2mummarket.co.uk
You would be most welcome to come along to a mum2mum market to see for yourself what it is all about!
---
SAVE POUNDFIELD LAUNCH
1 May 2016
---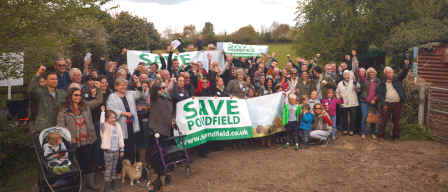 The Save Poundfield launch was held yesterday Saturday 30 April. The organisers said:
"Huge thank you to everyone who was able to attend the "Save Poundfield" launch yesterday. There were over 100 people in total who came along. It was heartening to see the level of support for the campaign, including from Theresa May who did a sterling job! You may spot yourself on the attached photo (yes, even the sun came out for us, for a while at least)! Please look out for reports of the launch in next week's "Maidenhead Advertiser" and "Bucks Free Press".

We understand that Berkeley Homes will be submitting their application for development within the next couple of months and you will receive a further email in the near future from us giving you more information as to how you can help to oppose this.

In the meantime, we are always looking for ideas from people who are able to offer some practical help as the campaign ramps up. This could be in lots of ways, but some examples are: delivering leaflets, displaying banners, publicity, fundraising etc.

If you are able to offer to do any of this or have some ideas and thoughts of your own then we would love to hear from you so please do get in touch via this email address. poundfieldprotection1@gmail.com

Once again, thank you for your ongoing support and please don't forget to spread the word and encourage your friends and family to register their support at: www.savepoundfield.co.uk "
---
COOKHAM DEAN FOOTBALL CLUB IN BERKSHIRE TROPHY CUP FINAL
28 April 2016
---
On Tuesday, May 10 2016 6:30pm - 8:15pm Cookham Dean Football Club will be crowning a superb season in the Final of the Berkshire Trophy Cup. They will be playing AFC Aldermaston, the Thames Valley Premier League Champions, at the: Madejski Stadium on the A33 in Reading. A very small entrance fee is payable on the gate at the Madejski Stadium and Parking is plentiful at the ground and that is Free.

Contact: sidneynewell@aol.com more information can be found on the Club's web site www.cookhamdeanfc.co.uk

Photo at last weekend's Cup Semi Final victory when Cookham Dean Football Club beat Tilehurst side Westwood United 3-2 to reach the Final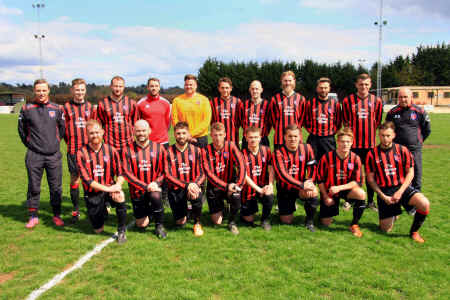 ---
KEITH TO RUN THE LONDON MARATHON FOR ASTHMA UK
14 April 2016
---
Keith Jenkins is running for Asthma UK in the London Marathon on 24th April. This year they contacted him at the last minute as they had had runners drop out.

Keith says "I have asthma which is well controlled but I have had an asthma attack in the past and it was a very scary experience. Since I've been fundraising for Asthma UK I have met a number of people who have really bad asthma and have also met people who have lost loved ones to asthma. Asthma affects so many people both here in the UK and around the world, most people know somebody with asthma."

Keith lives in Cookham and does a fair amount of running, often with his border collie Fleet. Besides running the London marathon he is also running 'Race to the King', a double marathon (52 miles) along the South Downs Way with 5412 feet of elevation on the 25th June http://www.racetotheking.com/ and then three weeks later he is following this with a 100km ultra along the Ridgeway in 'Race to the Stones' which is on the 16th July http://www.racetothestones.com/

Keith's fundraising site is http://uk.virginmoneygiving.com/Keith2016 if you want to support him.

Stephen Fry has prepared a fundraising video for Keith Click here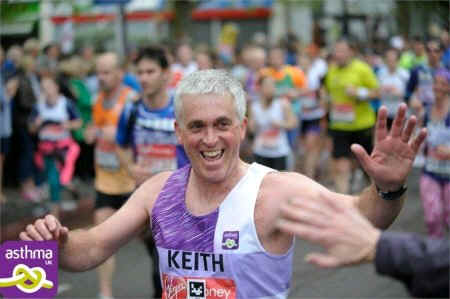 ---
THE WEA AND STANLEY SPENCER
10 April 2016
---
The 2016-17 WEA Maidenhead time table is now available for anyone who would like to book a session. They are running a third film course in Cookham Dean this year.

http://www.cookham.com/adverts/miscellaneous/wea/index.htm

Ann Danks is giving a series of classes on The Art of Stanley Spencer: Sacred and Profane for the WEA in the Autumn.
The course explores the extraordinary world of this most original twentieth century artist. Famous for portrayals of biblical events taking place in his native village of Cookham, Spencer was also an official war artist and a fine painter of landscapes and portraits, whose colourful personal life inspired a revolution in the painting of the nude.
6 meetings and 1 visit on Tuesdays, starting 20 September
Fee: £57.40 Venue: St Joseph's Centre, Cookham Rd, SL6 7EG.
The course is sure to be popular – so please book early to secure your place. For information about WEA Maidenhead, other classes and booking, please look online or pick up a brochure from the Cookham station, The Stationery Depot or from Cookham library.
---
COOKHAM CHRISTMAS LIGHTS
7 April 2016
---
Last night Jayne from Seconds Out and Adam from the Rose Boutique asked the Parish Council how they could help Cookham High Street to continue to look its very best at Christmas this year. They said "It's such a fabulous scene for Residents and visitors, it would be dreadful if we could not replace the lights that are a decade past their sell-by-date."
Borough Cllr M-J Saunders said "Cookham is far from alone. Across the Borough, including in Windsor and Maidenhead, the opportunity to give Residents and businesses a lift at Christmas has needed help. RBWM has recognised this need, providing financial or practical support to help High Streets across the Borough offer inspiring Christmas displays.
And now the Residents, visitors and businesses in Cookham High Street will benefit from this support. The Cabinet Member for Finance, Cllr Simon Dudley, and the RBWM Finance Officers have today added Cookham, with an allocation of £15,000 to help adorn the High Street with new Christmas lights and decorations. The remaining funding required will be contributed by the High Street businesses and local Residents.
There is a wealth of experience across the Borough in how best to present local Christmas displays, including the Maidenhead Town Manager, Steph James, who works closely with the town and its businesses with a programme of inspiring events, including the new Christmas lights last year. I'm sure the dedicated organisers of Cookham's celebrations will be liaising with Steph and other experts in Windsor and elsewhere to dress Cookham in its very best at Christmas."
---
SLEEPING POLICEMEN TO BE INSTALLED IN THE DEAN
1 April 2016
---
The Royal Borough of Windsor & Maidenhead has confirmed that sleeping policemen will be installed in the Dean to help enforce the new 30 mph limit imposed last year.
The announcement will give many local residents the hump, not least because there has been little or no consultation on the plan.

Nine of the Vertical Deflection Devices, as they are officially known, will be installed along Church Road and between Woodlands Farm and the Lower Road. A further three will be laid on the gravel road surrounding the Old Cricket Common if the first phase is judged a success.
A spokesman for the Royal Borough's Highways Department confirmed that lengthy talks have taken place with the organising committee of the annual Cookham Dean Gravity Grand Prix. "All their carts go faster than 30mph, but unfortunately we can't change the speed limit for just one day - the Department of Transport don't even have a box for us to tick for that on their intranet."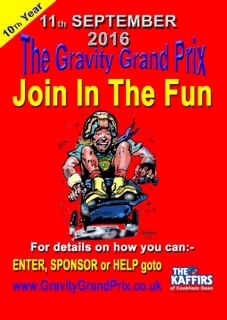 He added: "The Gravity Grand Prix committee promised they would come back to me with alternative plans, but sadly it would seem they have done nothing, so we need to impose traffic calming measures of our own. To do nothing is not an option, because we cannot be seen to be condoning speeding.
"It really doesn't matter if your cart is powered by gravity or a jet engine, anyone going over 30 mph will be breaking the law and can expect points on their licence. The committee was warned last year that if they didn't act to prevent speeding, then the council would have to step in and do it for them."
Responding to the comment, GGP committee member Peter Bartlett said: "This year we have made plans to introduce a chicane, as well as a ramp to celebrate leap year. The council have jumped the gun on this and imposed a solution no one wants. They should have given us more time to present our alternative proposal, which has far more local support."
Celebrating its tenth year in 2016, the Gravity Grand Prix has become a popular local event, which sees up to 30 hand-built carts travel down Church Lane, powered by nothing more than gravity and the cheers from the crowd. This year will see the total contributions donated to charity top the £100,000 mark.
This year's Gravity Grand Prix will be held on Sunday 11th September at 1:30 pm. The event is always in need of volunteers, so if you feel you can help please look at the volunteering section on the web site www.GravityGrandPrix.co.uk
---
SPRING INTO SHAPE
31 March 2016
---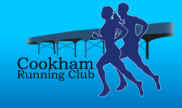 COOKHAM Running Club is staging the latest of its hugely popular Couch to 5km courses in April. The 6-week course, lead by qualified running coach and former international runner Paddy McGrath from
Cookham Dean, starts on Wednesday April 6 with the focus on fun and fitness. Paddy has put almost 200 local people through the beginner running programme over the last few years and none of the participants has yet failed to complete a 5km run at the end of the course.

To sign up, please email paddymcrun@btinternet.com or call 07714 950748. The course costs £40 for 6 weeks including email and phone support, a full scheduled, guaranteed fat-burning, lots of fun and new friendships. Only a few places left, so sprint for it! More information about Paddy at www.paddymcgrathrunning.com and www.cookhamrunningclub.com
---
COOKHAM SOCIETY DESIGN AWARD 2016
30 March 2016
---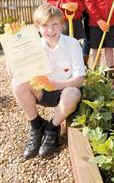 The Cookham Society's annual Design Award has been given to Cookham Dean Primary School garden. The garden was a community project designed by Hannah Wilson and Catherine Downes who both sit on the PTA.

The Award Certificate was presented to Ms Wilson at the Society's AGM on 10 March by the Society's President, John Bowley.

The garden, which opened in June 2014, includes a sensory bed, wildlife border and herb garden. In its assessment for the Award the Society noted that the garden is designed to enable all age groups of pupils to participate with appropriate plantings. It has common areas as well as nature zones to encourage specific types of wild life - it even has "meat eating well" to demonstrate the work of carnivorous plants. The whole garden has been created as a school project with considerable input from parents and others. It represents many of the elements central to the Cookham Village Design Statement: it has been sensitively and imaginatively designed; it involves the community at many levels; it enhances an area which would otherwise have been neglected; and it provides an aesthetically pleasing facility for the education of children to encourage them to be considerate of the environment
---
CLEANING FOR THE QUEEN
20 March 2016
---
As part of the campaign to clean the streets for the queen's 90th birthday volunteers from Dean Rise WI spent an afternoon collecting rubbish on Friday March 4th.
Five bags of rubbish were collected from the station car park and the shops in the parade.
Mary-Lou Kellaway said:" We found a lot of cigarette butts on the floor which are very difficult to tidy up. We really need more cigarette butt disposal bins. We also picked up a lot of bottles.
Some people stopped to ask if we were on community service, which was quite funny. We had to explain to them what we were doing. A lot of people came up and thanked us. People appreciated it."
Dean Rise WI has now become a registered "adopt a street" group. Visit www.rbwm.gov.uk for details.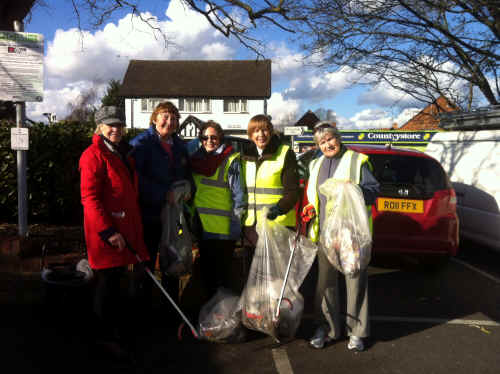 ---
MEDICAL CENTRE QUESTIONNAIRE
19 March 2016
---
It's that time of year when we produce the Cookham Medical Centre Patient Questionnaire on behalf of Cookham Medical Centre.
Please do complete it, and encourage other members of your household to do so too. Your views help make change happen:
The Cookham Medical Centre is committed to continuously improving the service it provides to its patients. This short survey is designed to raise awareness and is particularly relevant to current developments in the NHS. The results of this questionnaire will be analysed by the PPG committee and all comments are treated in confidence.

This questionnaire is for patients of Cookham and their carers and is separate from the Friends and Family Test. Please pass this on to any carers that are caring for Cookham patients, but are not patients at Cookham themselves.
To complete the survey online, please go to:
https://www.surveymonkey.co.uk/r/WDBCQRN

Paper copies will be in the surgery soon, please help us get a good response by letting any other patients know they can take part.
---
FAREWELL TO LYNNE HATCH
16 March 2016
---
Friends gathered at Elizabeth House to bid a fond farewell to Lynne Hatch after seven years of devoted service to Elizabeth House, Cookham's centre for the over 60s.
John Bowley vice chairman of the trustees presented her with gifts and flowers from her friends and colleagues. He paid tribute to Lynne: "She always welcomed visitors to Elizabeth House with a smile and a big hug and always worked well beyond the call of duty. We will miss her valuable contribution and her big heart. And we will see Lynne again when she returns from her holiday in Costa Rica."
Lynne replied: "These last seven years had been the most magical of my career. I knew the job was for me when I first saw the advertisement and I felt instantly at home from my first day at the Centre". In the day room, surrounded by well-wishers, Lynne's parting advice was "Enjoy the moment".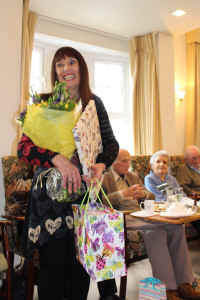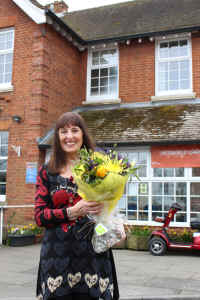 ---
WHEN THEY GET OLDER
8 March 2016
---
When They Get Older – continues to do its job providing a really useful and independent site for anyone with ageing and elderly family and friends.
Its taken us on a journey which has resulted in the launch of Joseph PIp. A frozen ready meal range, delivered to your door throughout Bucks and Berks.
We have become aware of a large demand for really tasty, specially designed meals for the senior palate. Meals where everything is in one place: protein, carbohydrate and vegetables. And where you don't have to prepare all the parts separately. There are products on the market that offer this approach, but they are more at the school dinners' end of the market. We believe that seniors deserve better than that. Of course you can buy tasty, premium ready meals from the supermarkets. But they are not designed as a suite of meals that provide choice for seven days a week.
And so another leg of the journey began as we went in search of the best cooking skills to deliver our vision. Our search literally took us country wide from Yorkshire to Devon to Nottinghamshire. Our journey brought us round and back again and finally we are proud to be working with local cook Mark Robertson. Together we have developed a delicious range of 16 dishes that can be eaten every day of the week. Using our insights into the senior market and Mark's culinary skills we have developed a menu that gives us great pride.
---
WORLD BOOK DAY
1 March 2016
---
On World Book Day (March 3rd) pupils from Holy Trinity C of E School in Cookham will be dressing up as their favourite book characters and also doing a sponsored #leap4africa (a longjump).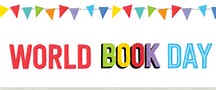 ---
LEAP FOR AFRICA THIS LEAP YEAR
28 February 2016
---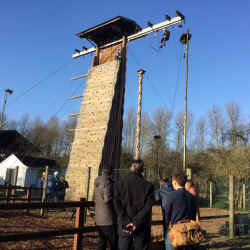 Cookham will be leaping for Africa tomorrow to raise money for two African schools and to make the most of their extra day this Leap Year. You are invited to join in the fun. The two key events are:
1) Through the day, locals will be attempting the Leap of Faith at Longridge - this involves climbing a 13 metre pole, balancing on a small platform and then jumping onto a trapeze. People can jump from 8am and 9.30pm. Beth Morris who is in #teampaloma on #theVoiceUK and lives in Maidenhead is supporting #leap4africa. Here is footage of her recent successful jump:
For Longridge booking enquiries, please phone Gerald Cooper or a member of the team: 01628 483 252.
2) Cookham Rise School in Cookham will be doing a sponsored star-jump and doing their #leap4africa on Monday, February 29th. For further details and photos, please phone Deputy Head Richard Rhodes during school-hours on: 01628 520961.
We would like people to come down and do the Leap of Faith at Longridge (Marlow) between 8am and 9.30pm tomorrow 29 February. Online bookings close at Midday today (Sunday, February 28th), but people can turn up on the day and pay £15.
http://www.longridge.org.uk/portfolios/leap-of-faith/
WHERE WILL THE MONEY GO?
All funds raised will be donated to Gende Tesfa School in Ethiopia (through the charity Partners For Change Ethiopia):
www.pfcethiopia.org
.and the New Brainstorm School in Ethiopia: ttps://www.facebook.com/Brainstormcookham/
---
INVITATION TO PUBLIC EXHIBITION FROM BERKELEY HOMES
19 February 2016
---
Berkeley Homes have recently secured an interest in a site at Terry's Lane and Poundfield Lane, Cookham.

The Public Exhibition will be held at:
Venue – Moor Hall Conference Centre, The Moor, Cookham, SL6 9QH
Time – Wednesday 24th February 2016 between 4pm and 7.30pm

Representatives of Berkeley Homes will be there to answer questions. For further information, please call our Office on:
01753 784 400 or email david.jacobs@berkeleygroup.co.uk
We look forward to discussing our proposals with you.
(click on photo for larger image)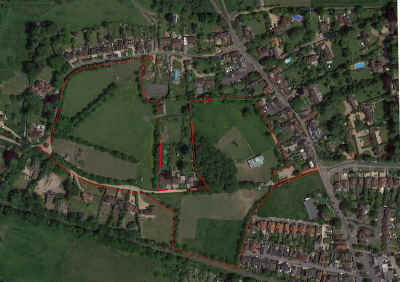 ---
PLAY TENNIS OR CROQUET AND SUPPORT LOCAL CHARITY
8 February 2016
---
The Cookham Dean Charity Tournament will take place on Sunday July 3rd, using private courts in some of the beautiful gardens in and around Cookham. This annual event raises money for a number of local charities but is also great fun, and many people enter every year. All standards of player are welcome; everybody gets the chance to play against several different opponents, and there are trophies for the overall winners.

You can enter as a pair or on your own (in which case the committee will match you up with another player to play as mixed doubles). If you get your entry in early you will qualify for a reduced entry fee (see below); the entry fee is also reduced for anybody who has not entered before. In addition, if you organise a whole court of eight people for either tennis or croquet, you can enjoy a free bottle of Prosecco while you play.

ENTRY FEES
Standard entries£20
Early bird entries (before May 31st)£18
First time entries£15
Regular players with a first time partner£30 per pair

More information and entry forms are available on the website, www.cookhamdean.net .
---
BIG BAND HELP GENDE TESDA
6 February 2016
---
What a great evening the Echoes of Big Band gave everyone on Friday 5th February at the Methodist Church. and what a fantastic achievement raising £440 for the community of Gende Tesfa in Ethiopia.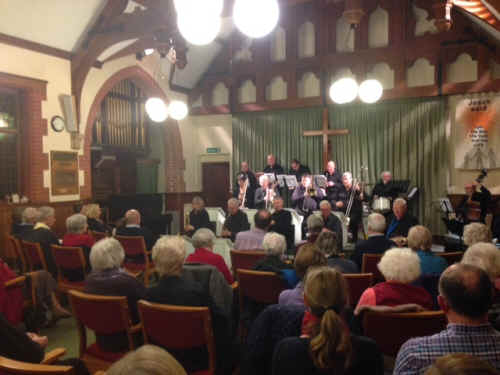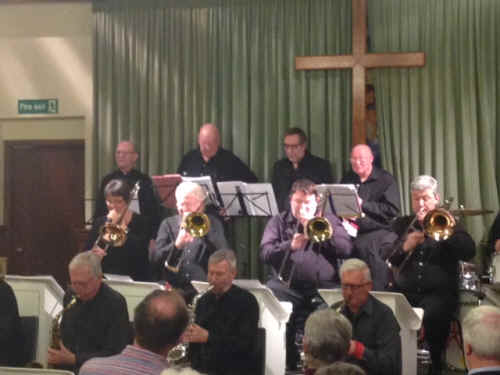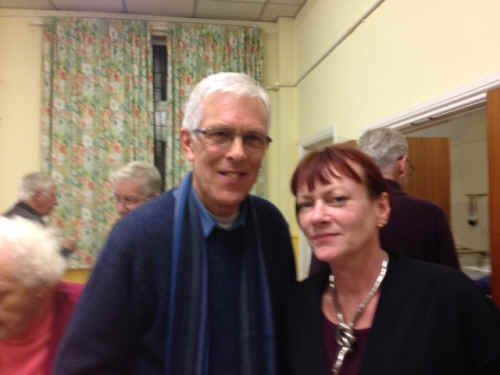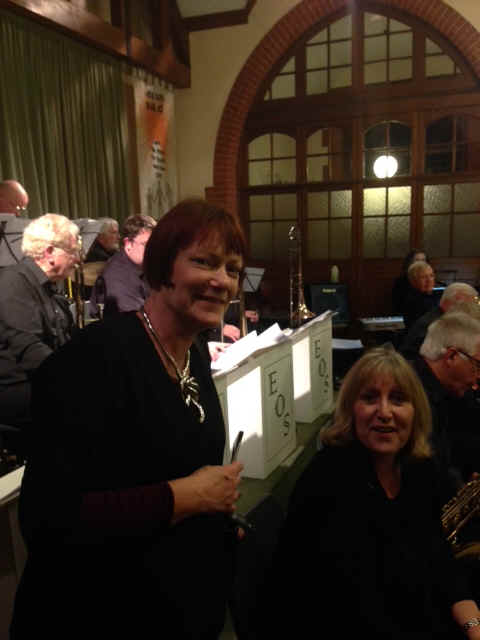 ---
RURAL BUSINESS RATE RELIEF
5 February 2016
---
Following the initiative led by Cookham Parish Council, we are pleased to report
that RBWM have re-assessed the designation of parts of Cookham as a rural areas.

Until recently, certain eligible businesses in Cookham were able to apply for a rebate on their business rates as Cookham was considered a rural area. Under national guidelines, this benefit was removed based on the fact that Cookham's total population was over 3000.

Cllr M J Saunders was able to encourage RBWM to consider Cookham as 3 separate areas. which meant that, in terms of population, Cookham Village and Cookham Dean still fall within the specified criteria.

We therefore hope that businesses in the two villages will investigate this opportunity to reduce their costs.

Cookham Parish Council will continue to support local businesses in an effort to maintain facilities and an active environment for the Community. We will welcome any enquiries for further information on tel 01628 522003 or office@cookhamparishcouncil.org.uk
---
COOKHAM PILATES AND YOGA STUDIO
4 February 2016
---
Jan Wickens has opened a beautiful Pilates and Yoga Studio in Whyteladyes Lane, Cookham. Their will be Pilates, Hatha and Restorative Yoga and PureStretch. With the New Year she is hoping to welcome all those who would be interested in coming to some of her new classes.

Jan's website is http://www.pilatesandyoga.co.uk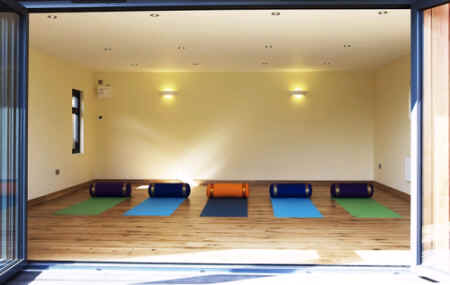 ---
COLOUR, PATTERN AND FORM AT THE GALLERY, ELIZABETH HOUSE
2 February 2016
---
Pat Shenstone's architectural work gives us reflections of colour, pattern and form with the architecture of Italian churches offering a visual confusion that sits alongside a modern reworking of spaces with glass. Pat's other subjects are more domestic. Patterned cups and saucers against patterned cloths and large flowers that are painted with an emphasis on shape and pattern are recurring themes in the paintings.
Pat has recently moved from Maidenhead to spend time in a new home in Derbyshire though retaining her local base. Following the opening event on 6th February, the exhibition continues to 1st April – open weekdays between 9am and 3pm, with a break each day between noon and 1pm.
The Gallery is on Station Hill, Cookham Rise , SL6 6BS .
---
HOLY TRINITY CHURCH CAROL SERVICE COLLECTIONS
1 February 2016
---

Thank you to all those who attended and who gave so generously following Holy Trinity Church's three Carols by Candlelight services for Advent, Christmas Day and Epiphany. The total raised from the collections, in aid of Alexander Devine Children's Hospice, was
£1,345.
---
STARLING MURMURATION
31 January 2016
---
From Cindy Barnes - Cookham Wildlife
I have to share this as I've just come back from seeing yet another amazing Starling murmuration at Otmoor RSPB reserve near Oxford. It's about a 40 minute drive from Cookham but when you get there allow another 30 minutes to walk from the car park to the viewing areas. They started gathering tonight about 4.45 with a few, very large and spectacular murmurations and by 5pm it was all over and they'd roosted. It's also very wet there so if you go wear wellies. Well worth a visit. You need a clear, dry evening so check the forecasts.
Click here for some more information about Otmoor from the RSPB
---
ARE YOU A HIGHLY SENSITIVE PERSON?
27 January 2016
---
Have you ever been told that you're just too sensitive? Maybe you feel emotions much stronger and for longer than others.

Some people are highly sensitive (HSP). This is a normal character trait that 15-20% of people are born with and is characterised by 4 things:

1. Depth of processing – You think about things deeply, things like the meaning of life and your purpose.
2. Easily over stimulated and overwhelmed – You may be more easily stressed by noise, by lights, chaotic situations, deadlines, or too many people.
3. Strength of emotions and empathy – You feel emotions deeper and for longer than most people. You have considerable empathy for others and often know intuitively what other people need.
4. Sensory sensitivity – You'll notice subtle changes in the environment like the texture and colour of objects in someone's home or a perfume. You might be very sensitive to noise.

The HSP trait has been validated by major research studies. If you think this sounds like you, take the short test on Dr Elaine Aron's website. http://hsperson.com/test/

Knowing that you are an HSP can be a huge relief as many people feel that they just don't fit in. The sense of overwhelm that many HSPs feel can lead to depression and anxiety.

Come and join the new group meeting for HSP to learn more about the trait. This is being run by counsellor and HSP specialist Cindy Barnes

February 13th 2016 in the WI Hall, Church Road, Cookham Dean from 1.30pm – 3.30pm. £10 to cover the room hire. Hot drinks and biscuits will be offered.

Please sign up and register via Meetup

http://www.meetup.com/Positively-Sensitive-Network/events/228304852/

Or email cindy@cindy-barnes.com for more details.
---
COOKHAM SOCIETY DESIGN AWARDS
18 January 2016
---
The Cookham Society is calling for nominations for its 2016 Design Award. The Award is available for buildings, extensions and landscape schemes completed in Cookham in 2015. The Award is for excellence and follows the guidelines in the Cookham Village Design Statement.

The closing date for nominations for the Cookham Society Design Awards has been extended to 23 January. Forms can be obtained from our Secretary ( Kirstytyce@hotmail.co.uk ) or Pablo Dubois (Pablo@dubois.me.uk).
---
PETER FINLAN'S THANKSGIVING SERVICE
17 January 2016
---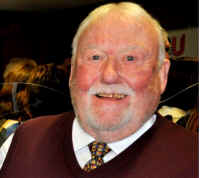 Peter Finlan passed away on the 3rd January 2016. Peter lived in Cookham as a child and his married life in Popes Lane Cookham Dean. His family have many wonderful memories of time spent in the villages which some of you may share. He was a wonderful man and contributed to many activities in the Cookham community. He will be sadly missed by his loving wife Jill, his three children and four grandchildren. Thank you for all your kind words and support at this time. Peter's Thanksgiving service will be at St John the Baptist church at 3.15pm on the 29th January. Donations to the British Heart Foundation care of Pymms and son. We are looking into donating a defibrillator which will be housed in Pinder Hall in memory of Peter.
---
TONY AUSTIN'S MEMORIAL SERVICE
12 January 2016
---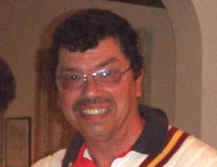 Tony Austin, President of Cookham Dean Cricket Club died just before Christmas and will be sadly missed by the Cookham community.
Tony was a member of the Club for 30 years, a fast bowling all- rounder and more recently a long serving Chairman and in his final year as President.
During his 10 years as Chairman he oversaw a radical transformation in the Club's facilities and the Club's rise from the lower echelons of the Chiltern League to the Home Counties Premier League. Tony was a well-liked and respected figure throughout the local cricket community having previously played at Slough and Marlow Park and served as Chairman of the Julian Cup competition. Tony will be much missed and thoughts are with his wife, Lesley and sons Christian and Alexis and family.
There will be a Memorial Service for Tony on Friday January 15th. at 12pm at Holy Trinity Church-Cookham Village.

Tony's family have asked that rather than flowers.... for donations to be made to Tony's charity WWW.Newlifecharity.co.uk .

Arrangements have been made for these donations to go via Skinners Funeral Directors Lower Cookham Road Cookham-just before Pinder Hall.

Parking at the Church is not available but we have been able to secure the following options please.

1.The Odney Club have very kindly granted access to their 2 sites in Odney Lane....The Grove on the left and Odney itself. They have asked if we can use The Grove first please followed by Odney itself.

2.Maliks Car Park-please leave the first 4 spaces on the right as you enter free please for their lunch time customers-feel free to use the rest of the car park.

3.Berries Road- beyond Vicarage Close-+Vicarage Close itself. From these 2 roads access to the Church is via a wooden door at the end of Vicarage Close.

4.Andy +Sue Finlan are very kindly running a shuttle service from CDCC to the service and back to CDCC after for those who wish to leave their cars at the Club. These will leave at 11.15am to Holy Trinity.

If parking at CDCC-please leave the area free by the mini conifer hedge on the right as we will need this reserved for when the family arrive.

5.Given the current weather we don't know as yet whether we can use the paddock-I will know more by Wednesday and send another email.