The Crier is always interested in any information, poems, bits and pieces that you may like to share. Just contact the Cookham Webmaster.
---
THE BOXING DAY GAMES - RESULTS
28 December 2021
---
The Cherry Pickers of Cookham Dean – 2021 Boxing Day Games Results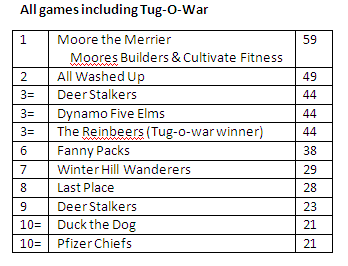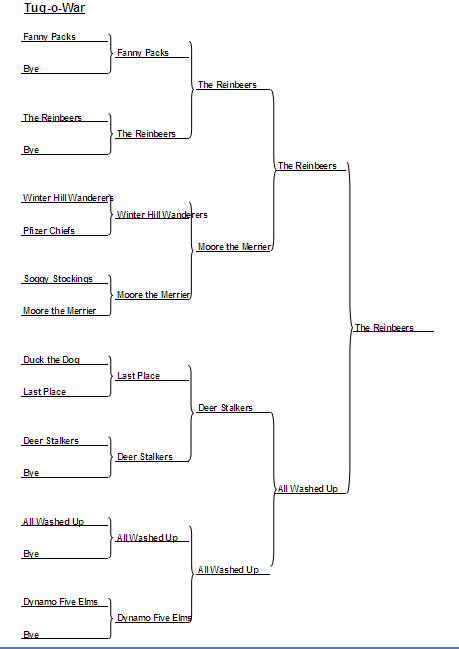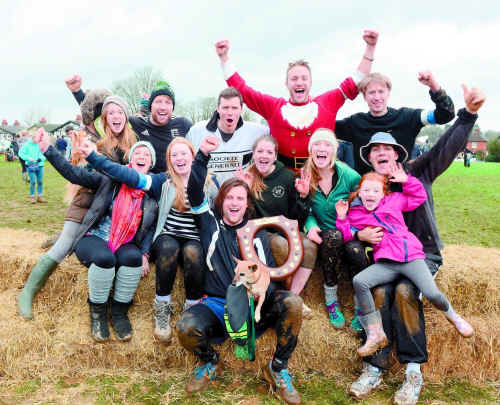 ---
MALIKS WINS CURRY AWARD
7 December 2021
---
Malik's Express Kitchen was named the best takeaway in the UK. This marks their 7th success at the awards - a highlight after a particularly difficult 18-months.

Their Cookham eat-in restaurant was a finalist in the "best restaurant" category - a prize that the family had previously won.

Rumel Ahmed, a member of the restaurateur family, said "after the access of our first Malik's Express Kitchen, we knew we had to open our second when the opportunity rose in Cookham".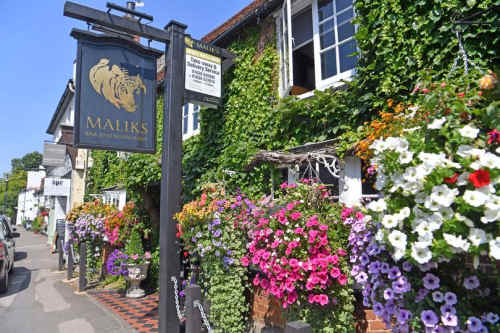 ---
MALIKS NOMINATED FOR CURRY AWARD
28 November 2021
---
Maliks of Cookham has been nominated in the coveted British Curry Awards - a high profile event dubbed "The Curry Oscars" by former Prime Minister David Cameron.

The awards mark a staple in the foodie calendar, and it's not the first time owner Malik Ahmed has been nominated.

Malik - who has restaurants in Cookham, Gerrards Cross and Marlow - has taken home the silverware on a number of occasions, at one point reigning victorious for three years in a row.

This year, he's up for two awards. His restaurant, on Cookham's High Street, is nominated for the 'Best Restaurant in the South East Award', whilst his takeaway on Station Parade - also in Cookham - has been nominated for the 'Best Takeaway Award'.

His restaurants are incredibly popular across the two counties in which he operates - even the big stars flock to eat at Malik's.
Heston Blumenthal - who owns The Fat Duck in Bray - described eating at Cookham branch as a "further adventure", whilst Dragon's Den Peter Jones dubbed it "another successful experience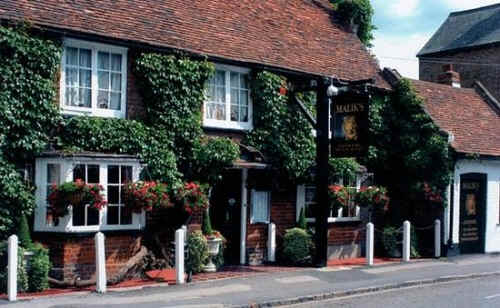 ---
HALLOWEEN
4 November 2021
---
Children were out and about in Cookham for Trick and Treat on Halloween. It seemed everyone was celebrating the end of Lockdown after everything being cancelled last year. Children had dressed up as ghouls and witches and there were pumpkins everywhere, with some really impressive houses decorated with Halloween themes.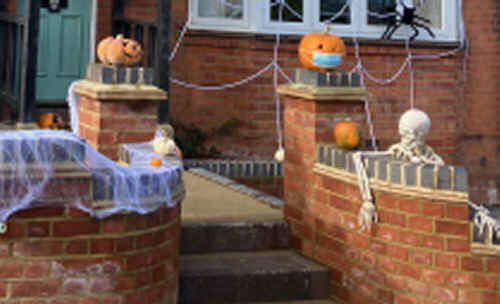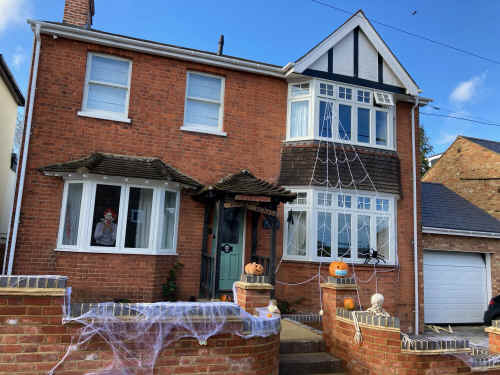 ---
STANLEY SPENCER GALLERY AWARDED GRANT
24 October 2021
---
The Stanley Spencer Gallery has been awarded £400 by the Maidenhead Arts' Society at Braywick Leisure Cente last Monday. . Chairman of the Gallery Bob Kottler accepted the cheque.The grant is to be used to buy books about Stanley Spencer so younger people can be introduced to the artist.

Photo from left to right: Ann Danks (Archivist for Stanley Spence Gallery), Jan Price (Member of 'Our Schools Team, Stanley Spencer Gallery), Robert Kottler (Chairman, Stanley Spencer Gallery), Eloise Clark, Chair of The Arts Society Maidenhead, Clare Ford-Wille, Lecturer for The Arts Society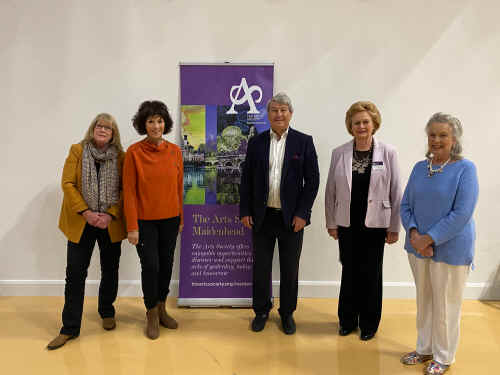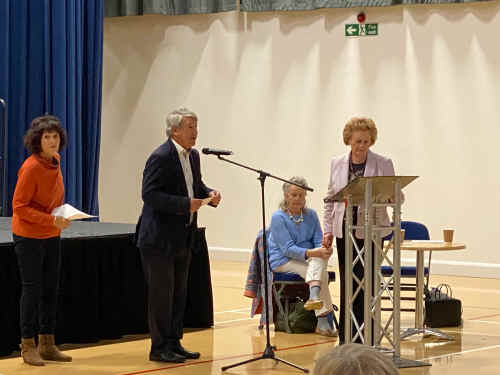 ---
VIKING'S STOLEN PRINCESS
14 October 2021
---
Sarah Rodi has had two novels published by Mills and Boon. Sarah has always been a hopeless romantic. She grew up watching old, romantic movies recommended by her grandad, or devouring love stories from the local library. Sarah lives in the village of Cookham in Berkshire, where she enjoys walking along the River Thames with her husband, her two daughters and their dog. She has been a magazine journalist for over 20 years, but it has been her lifelong dream to write romance for Mills & Boon. Sarah believes everyone deserves to find their happy ever after. Click here to read about her novel.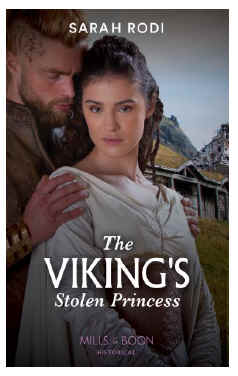 ---
SUNFLOWERS HELP THAMES HOSPICE
23 September 2021
---
Thanks to everyone who came to get sunflowers today, we raised £304 which Copas Traditional Turkeys will double to £608 in aid of Thames Hospice.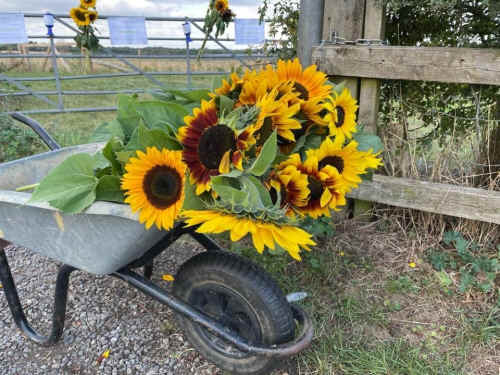 ---
VICTORIA HELPS MACMILLAN CANCER SUPPORT
14 September 2021
---
Victoria Strudwick, a Cookham resident, went in for the Wye Valley Mighty Hike (a 26 mile hilly hike!) on Saturday 11th September 2021 with her great friends from Southampton University, Natalie and Rachel, to raise funds for Macmillan Cancer Support that helps so many people facing cancer. Victoria had trained for this, but realised that 26 miles would be very hilly in the Wye Valley so was going to be a huge challenge! They estimated it would take 8-10 hours and in the end did it in 8 hours 15 minutes (with stops!!). So far Victoria has raised £1,447 and together they have raised £3,700,. If you want to support Macmillan and add to Victoria's fund for Macmillan click here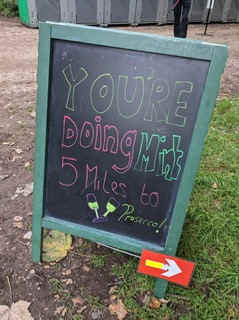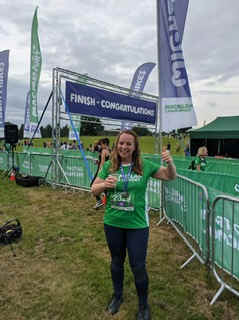 From Left to right Victoria, Natalie, Rachel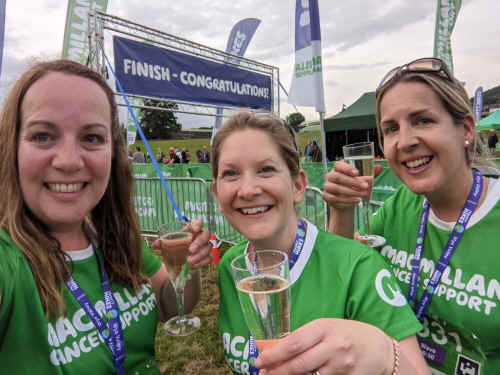 ---
GRAVITY GRAND PRIX
13 September 2021
---
A really fabulous afternoon!! The Gravity Grand Prix on Church Road, Cookham Dean attracted the crowds and supported Thames Valley Ambulance charity.
There were some amazing kart entries along and the food and drinks including Cricketers Gin
Well done to all the volunteers and the Cherry Pickers of Cookham Dean.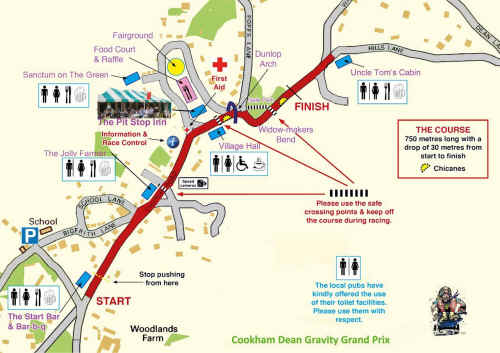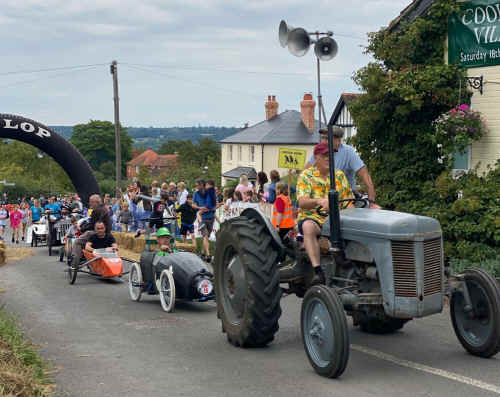 ---
BOROUGH IN BLOOM COMPETITION
15 August 2021
---
Congratulations to Carol Aisladie for winning the Borough in Bloom competition and runner up was Old Solomon's Cottage, Dean Lane. Thanks everyone who entered the competition.

Photo: Mandy Brar (left) Carol Aisladie (Centre) Gerry Clark (Right)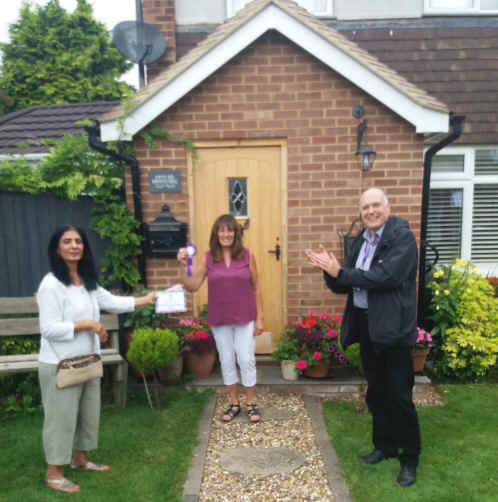 ---
WESTWOOD GREEN THAI FOOD FUNDRAISING
11 August 2021
---
On Saturday 8 August Amy organised a fundraising for the Royal Free Charity in loving memory of her father Kevin Elstow of Westwood Green. It consisted of Thai food for sale. So far they have raised £5,158.
https://www.justgiving.com/fundraising/kevinelstow

The event was so popular that they ran out of food. They had catered for 120-150 people and it all went within an hour and a half!
Amy says "We couldn't have done it without all our helpers so a BIG thank you to them too!"
---
ROSS POOLE OPEN NEW SALON
24 July 2021
---
Ross Poole is opening a new salon in Cookham Village. Sheffield House at 1 High Street Cookham SL6 9SH.

Opening Offer - 25% OFF Ladies Colour Cut and Blow Dry - first visit.

Call 01628 298384
Book Online www.rosspoole.com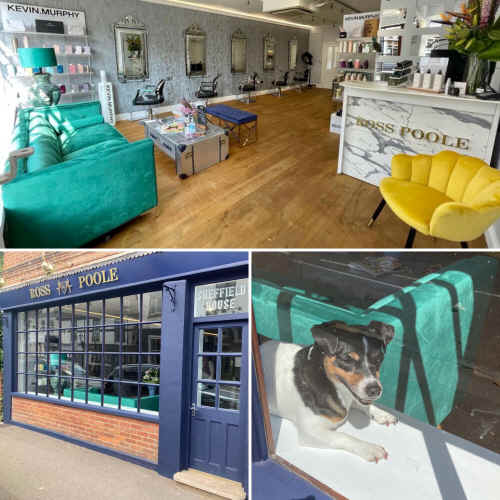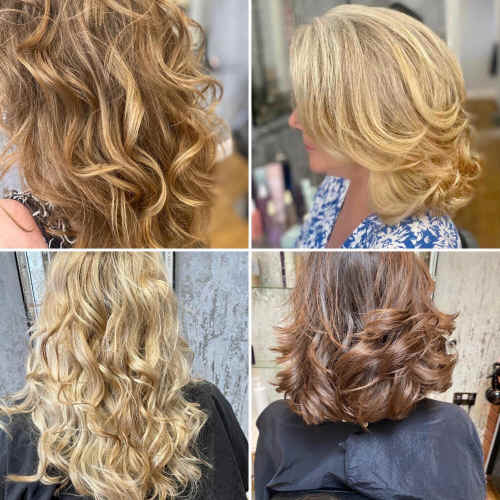 ---
STANLEY'S BIRTHDAY PARTY
3 July 2021
---
Last Wednesday the volunteers at the Stanley Spencer Gallery celebrated Stanley's birthday at Chrissy Rosenthal'd house in Cookham Dean. Shiaran, Spencer's daughter was also there and cut the beautiful cake made by Ann Danks' god daughter. There were lots of cakes made by the volunteers with enough to take home afterwards.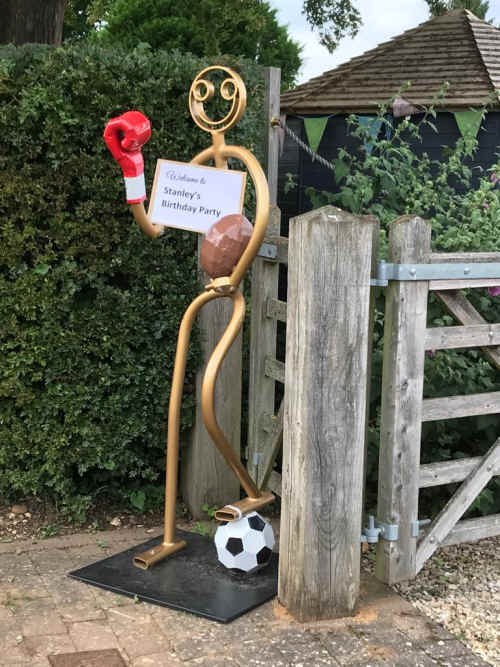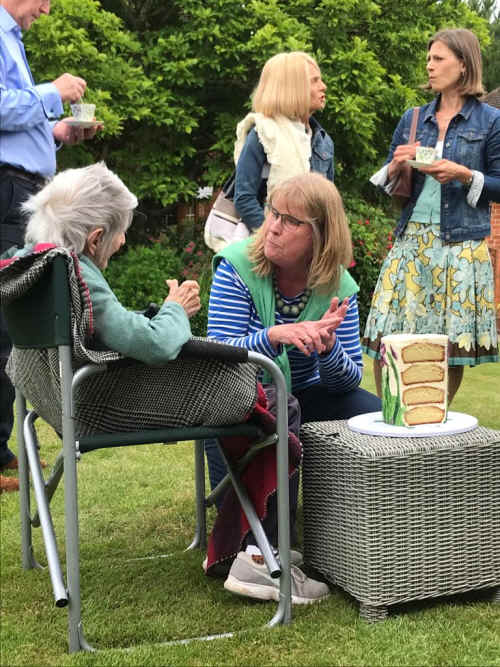 ---
COOKHAM COMMUNITY ALLOTMENTS 7TH BIRTHDAY
19 June 2021
---
Next Saturday 26th June Cookham Community Allotment are celebrating their 7th birthday!

Congratulations to all who have worked so hard to make this the success particularly Becky Pinniger , Ingrid Allen and Helen Philip from our horticultural society

The community allotment provides a very important amenity for many members of the community to benefit from, and this has been even more vital during lock down.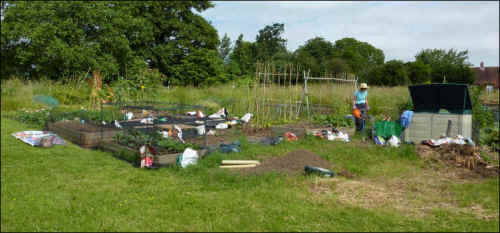 ---
RETURN OF THE FIRST COOKHAM GUIDES
15 June 2021
---
The 1st Cookham Guides, under new leadership, is returning to Trinity Parish Centre on Fridays 7pm-8:30pm starting 18th June, and is looking for new members to join us. We have some exciting activities planned for the summer term and are excited to be back meeting again (safely of course) . For more details, email Rae, Sarah and Ruth 1stcookhamGuides@gmail.com.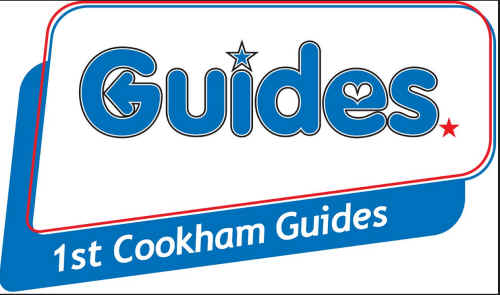 ---
THANKYOU MANDY AND HELEN
20 May 2021
---
Big thanks to two of our fantastic Parish Councillors, Mandy Brar and Helen Phililp, clearing out the bins on Alfred Major as the RBWM had left them overflowing.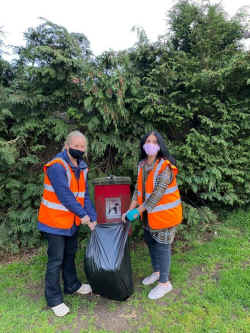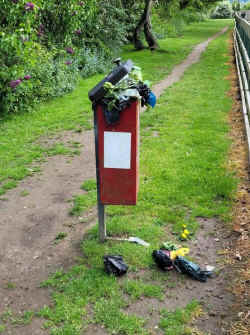 ---
A BENCH IN MEMORY OF DICK HURLEY
19 May 2021
---
The Stanley Spencer Gallery have installed a bench in memory of Dick Hurley, who was Chairman of the Gallery for many years and died recently. The photo shows Dick's wife Molly with her family sitting on the bench just outside the Gallery. The bench will be a great asset for people to be able to have a short rest when visitng Cookham.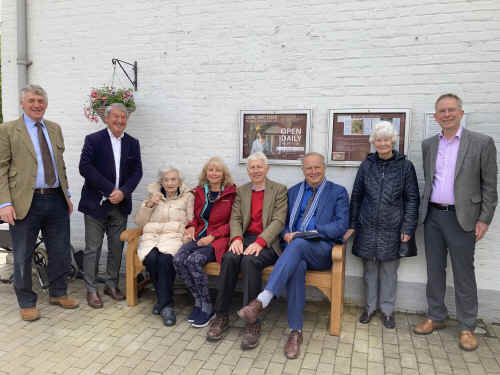 ---
SPENCER GALLERY ON TV
14 May 2021
---
Here is the itinerary for the two episodes of Cruising with Jane to be shown on Channel 5 on the 23rd and 30th May at 9.00pm
The Gallery is to be featured in the second episode.
Hampton Court Palace
Henry VIII's Hampton Court Palace needs to introduction. Here, we tour Henry VIII's apartments and the Royal Chapel, feel the chill in the haunted gallery and wonder in amazement at the Tudor kitchens. Outside, the gardens are breathtaking with The Great Vine, the oldest in the country still producing grapes and the famous maze.
A Walking Tour of Windsor
The Cruise takes guests on a tour around Windsor Castle. Built by William the Conqueror in 1066 and a royal home for over 900 years by the Royal Family, this is the largest inhabited castle in the world. We explore the State Apartments, see Queen Mary's Dolls House, St George's Chapel and enjoy the far-reaching views.
Visit to Cliveden
Cruise past the fabulous waterside houses of Bray and through the spectacular Cliveden Reach to the exclusive mooring on the Cliveden estate. Once home to the Astor family, it has amazing gardens and was, of course, the scene of much political scandal and intrigue.
Tour of the Stanley Spencer Gallery
A visit to the Stanley Spencer Gallery takes you on a journey through the life of the artist through his paintings, where he lived in the Thames-side village of Cookham. This tour also offers the opportunity to enjoy a walk around the village he once described as 'Heaven on Earth.
Exploring Peter Freebody's Boatyard
Peter Freebody's Boatyard, in the peaceful village of Hurley, is a traditional wooden boat restorer – ideal for those interested in the history of hotel barges. Visitors can watch in wonder as traditional craftsmen build and restore beautiful vessels.
---
HERO AWARD FOR COOKHAM PHARMACY
23 April 2021
---
Neem and hee team at Cookham Pharmacy in Lower Road have been awarded the Pharmacy Hero Award. This is thoroughly deserved. Over the pandemic over the last year they have bent over backwards to help the people of Cookham survive some of the problems sent to try us during that time.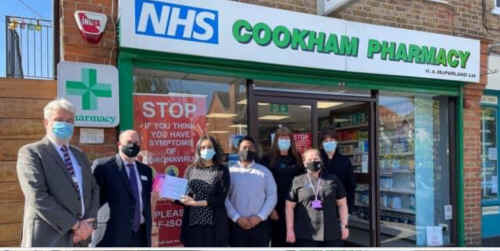 ---
ELIZABETH HOUSE TOMBOLA
4 April 2021
---
Thank you for all your support this morning - the Tombola was a roaring success and sold out in record time even with magicked up extras! Sorry to everyone who was disappointed. With added donations we have raised over £600.
The auction items will be available till 3pm Monday so keep bidding!!

Thank you to Stephen & Christine Doyle, Carol Aisladie, Ian Wernham, Emmeline Costa-Wagner and Jill Cruse for all your help.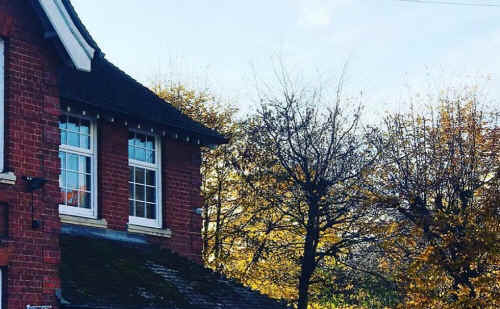 ---
BENCHES FOR COOKHAM
30 March 2021
---
The Forge Motor Company have very kindly donated two benches and a planter of flowers to Cookham. The benches and planters have been placed by the War Memorial in Cookham village. People can now sit and drink in a view of the beautiful village.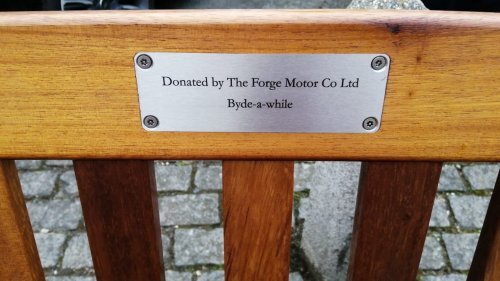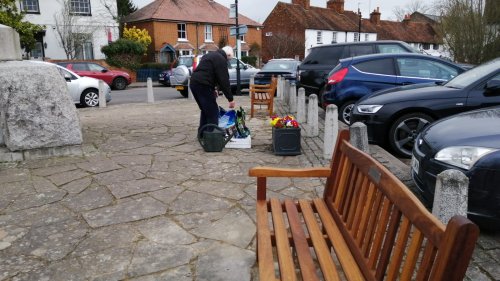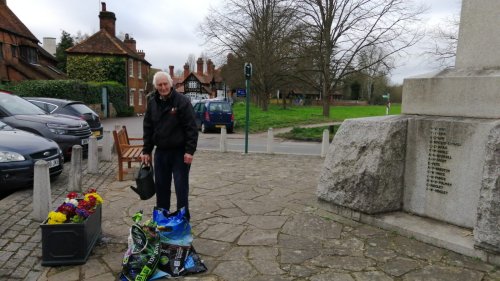 ---
NOW YOU SEE IT, NOW YOU DON'T
12 March 2021
---
The traffic calming that had been set up in Dean Lane a couple of weeks ago, has now been removed due to complaints and some near accidents. It is thought the cost of installing the bollards and then removing it has cost around £30,000.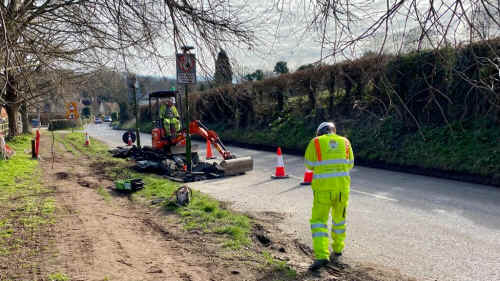 ---
CLOCK UP YOUR KILOMETRES
10 March 2021
---
I hope you are keeping well. I just wanted to give you a quick update about "Clock Up Your Kilometres" campaign which started on March 1st and finishes on Easter Sunday. We have clocked up 1000 kms so far and made it to Frankfurt. That means we need to travel another 7,000 kilometres before Easter Sunday! We would love you to help us - all you need to do is run, walk, swim, cycle or skate and send your total number of kilometres to Nicky Hyslop by 5pm on a Friday: pfcethiopia@gmail.com.
Melanie Perry (Poppy Perry Media) is then going to update our virtual map each week - we really hope that we can "make" it to Debre Berhan by April 4th and raise lots of money for 70 children at Debre Birhan School. Our campaign is being led by PFC Ethiopia Ambassador Nicky Hyslop and her daughter Bella who attends Holy Trinity School. Nicky can be reached outside school hours on:07764 884 747. Melanie Perry is also happy to do interviews - she has been providing a lot of support with our digital campaign: 07738 558 587.
It would be amazing if we can make it to Ethiopia - the last year has been challenging for all charities. We would be so grateful for your support.
With all good wishes and thanks,
Sarah Parfitt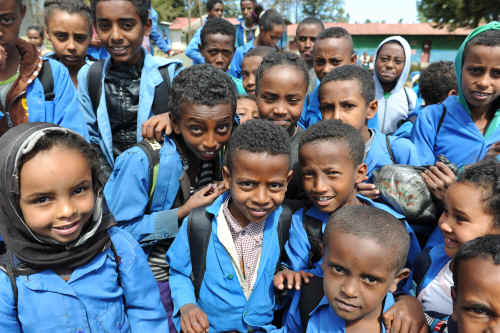 ---
ELIZABETH HOUSE RE-OPENS
1 March 2021
---
Elizabeth House, Cookham's Day Centre for independent senior citizens will reopen its doors after lockdown to a phased programme of restriction easing. The first phase will see two groups of 8 members per day enjoying either a morning session (9.30 – 12:30 pm including lunch) or an afternoon session (1-4pm including lunch). Our Covid secure protocol will continue to be observed – temperature checking, one-way system, mask wearing, sanitising stations, regular hand washing and social distancing. It is expected that members will have been further protected by the vaccination programme. Staff and volunteer helpers will be tested regularly to minimise any transmission risk. As the country increasingly returns to normality, so will Elizabeth House's arrangements.

Miriam Blazey, Elizabeth House's manager said "members have been yearning to get back to enjoy the companionship and support that Elizabeth House provides"

Chris Harris, Chairman of the Trustees, commented "As we are hosting the most vulnerable members of our community, every precaution will continue to be taken to keep our members, staff and volunteers, safe.
Chris Harris
1/3/21
---
ROBBIE SINGS ABOUT COVID
25 February 2021
---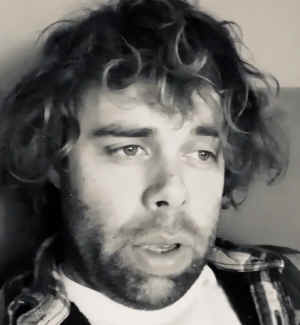 Robbie Castell, who lives in Cookham Village with his wife Zoe and son, has written and recorded his thoughts on the Coronavirus.

---
THERESA MAY COMES TO THE METRE MARKET
16 February 2021
---
VIP visit: The Metre Market were pleased to have been joined last week by our MP Theresa May; it is great to have support from our local government, and her presence created somewhat of a buzz at the Market!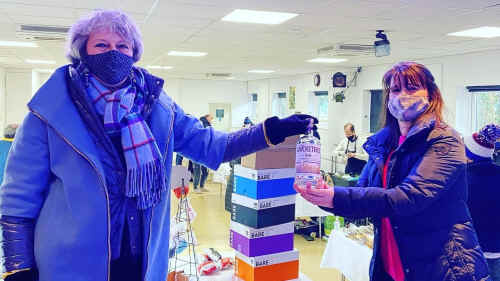 ---
MUSIC FOR SUNDAY
20 January 2021
---
Andra Rigby; Parish Administrator at Holy Trinity has sent these two lovely musical items. Click on image to access.
Sara and Vicky have produced some really lovely music on YouTube to brighten up these somewhat dismal days.
I'm just starting to create some playlists (bit of a learning curve!) to make it more accessible, but there's a real variety on there from individual songs (like this week and last week) to short services with readings and prayers - They aren't all Bible readings either!
Here are the two musical offerings for this Sunday. They are very short and will surround the morning service, but are distinct and detached from it. Enjoy.
When I Needed a Neighbour Sung by the Men's Choir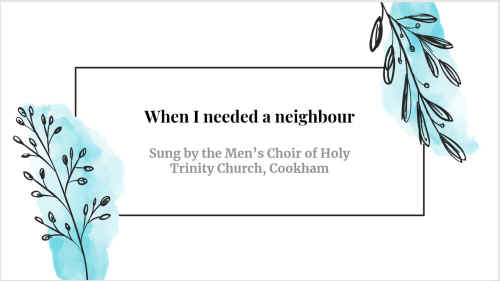 The Gospel of Peace Sung by the Choristers' Mums' Choir