Hear ye Hear ye! The Crier is always looking for things to shout about! Feel free to submit your Thoughts, Poems, Requests or anything you like to thecrier@cookham.com
---
HAVE YOU A STORY ABOUT YOUR FIRST TIME ABROAD?
23 April 2002
---
This is another feature for WOMAN and once again you do get PAID for appearing in the article. This one is about the first time you went abroad. Maybe it was on a school trip with all your class, or one of those language exchange trips, or inter-railing before you went to college, a week in the sun with your mates or just the family holiday. Or maybe it was your honeymoon, camping abroad as kids, you've got relatives, who live abroad, or maybe you've just been abroad for the first time recently. But I'm sure you've got your own experience. What we are looking for this light-hearted piece is your memories of how different it is going abroad - the unusual food, weird drinks, trying to make yourself understood, those bizarre 'hole in the ground' loos, getting about on local transport, odd hotels - I'm sure you've got an amusing angle on what you first thought when you went abroad whether you were five or 65! If you can help, please email me or call me on 01273 777693. Please feel free to circulate my details to anyone who might also be able to help. All the feature will involve is a quick chat on the phone and we will need a snap-style photo of you on that holiday. The photos will be returned safely.
---
DO YOU KNOW ABOUT BUTLER'S END - COOKHAM DEAN?
21 April 2002
---
I am doing some research on my family history, and wonder if any one in Cookham Dean can give me
any more information about the following:-
My Gt.Gt. Grandparents were the tenants of Butler's Gate, in the early 1800's I believe. Apparently it was decided to build gates to stop cattle straying off the Common and Butler's Gate was built at the junction of Winter Hill Road and Choke Lane at what was then called Stewed Corner. They took the tolls from travellers, and Gt.Gt. Granny was well-known in the area for her needlework. She used to sit in the doorway of the cottage embroidering monograms on various linen items, such as pillow-cases, etc. for the local gentry. Apparently on Sundays it was quite a sight to see the family of 9 children and Mum & Dad making their way up the hill to Church.

After Gt.Gt. Grandad died Granny Butler continued as gatekeeper for some time, until the duty of gatekeeper ceased. She held the cottage rent-free until she was evicted by the new authorities who superseded the old "Vestry" - presumably the villageor Church council. Poor Gt.Gt. Granny was in great distress and to help maintain herself and the family, she want round the village selling off her "goods and chattels" including her treasured set of silver spoons. I believe she then moved to what was then Garden Cottages in Maidenhead, where three centuries ago my mother was born - in the late l800's.

I would be most interested to know if there are any Parish records of when Butler's Gate was built and when the eviction took place.
I am also in contact with a lady in New Zealand, who also had relatives named Butler from Cookham Dean. So far we can trace no connection between my Butlers and hers, but in such a small village, there must be some link! Her Butlers worked at the brick kiln and possibly lived at the lodge at the entrance to the kiln.

Any information would be greatly appreciated.
Thanks,
Rosemary Fedrick. Fedrick@ic24.net
---
THE BLUEBELLS ARE OUT AT CLIVEDEN
7 April 2002
---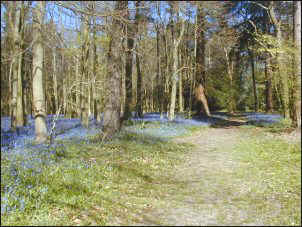 Why not visit the woods round Cliveden in the next few days, it is quite breathtaking. The blossom is out along with primroses, celandines, ground ivy, germander speedwell and carpets of bluebells. You can park in the Woodland car park and have a really enjoyable walk in the woods.
---
HERRIES HELPS THE HEDGEHOGS
20 March 2002
---
The children of Herries sucessfully installed hedgehog hibernation boxes in
the Marsh Meadow conservation area as part of the BA science week events.

For those who missed coming or the article in the Advertiser, pictures and
details may be found on the website www.geocities.com/marshmeadowuk/ in the 'news' section
---
VILLAGE TOASTMASTER
16 March 2002
---
Dear Village Crier:
Here you have an old village resident who now lives some eight hours west of you on the Island of Vancouver in the provincial capital of Victoria. Myhome is overlookingthe outer harbour and the Straits of Juan de Fucaand the Olympia Mountains of Washington State and the USA.
Besides my "Toastmaster" activities I am now a small publisher of a series of English grammar booklets, which are not only being sold in bookstores in Canada, but in some 25 Canadian universities.
---
HAPPY ST DAVID'S DAY
1 March 2002
---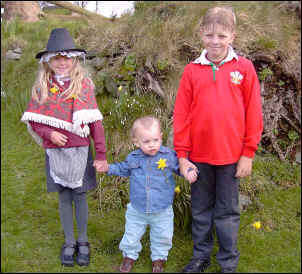 One of our readers has sent a photo of his grandchildren taken today St David's Day, before they went to school. St David is the patron saint of Wales.
---
WHAT DOES YOUR CHILD HAVE FOR SCHOOL DINNERS?
21 February 2002
---
What does your child have for school dinner? It's another one for the magazine WOMAN and should be quite a fun one. It's about what children eat for their school dinners. What we want to do is talk to six or so mums about what their child eats for dinner at school. We then want to talk to our resident nutritional expert to explain in the article what is in typical school dinner food. Ideally we want to speak to mums who have children aged 7 or 8, and we are looking for a good spread- maybe your son/daughter is really fussy, is a vegetarian, is a 'good-eater' and will try anything. For helping out you get PAID a small sum, have your photos taken for the magazine (which you get to keep afterwards) and have the fun of appearing in the country's best-selling women's weekly magazine. Please feel free to circulate my details either by email or on the notice board, and you can contact me at 01273 777693 or email adrian@amonti.freeserve.co.uk
---
THE COOKHAM GHOST-AN UPDATE:
4 January 2002
---
The person who works at the Odney Club says "I myself have seen this lady that looks like a servant woman and a couple of other people who I work with also say they have seen her.

My experience was a couple of weeks ago and I live on the top floor with 2 other girls. I was ironing on the landing, when something caught my eye. At first I thought it was my imagination but I saw a woman who looked to be around her late 40's. She was wearing what looked like a square necked tunic over another item of clothing which had puffed sleeves. She was also wearing a mop cap. She came up the stairs and turned to face me and then just vanished. Other people described similar clothing and one girl says she has seen this woman walking outside 'The Grove'. After this experience I wanted to know if the rumours about the fire were true and if the person I had seen was connected with it.
---
A COOKHAM GHOST-CAN YOU HELP?:
30 December 2001
---
Someone who is currently working for the John Lewis Partnership at the Odney Club, Odney Lane, in Cookham says "I live at "the Grove" in Odney Lane and wondered if anyone had any information on this house as there have been several sightings of a servant woman dressed in what appears to be Victorian period clothes. Rumours are that the original house burned down and servants were trapped on the top floor.

Can anyone shed any light? Contact webmaster@cookham.com
Pam Knight has given us this information about the Grove:
The previous house called The Grove was much larger and closer to the river and (without having any info. here to check at this moment) I believe it burned down in the early 1920's and was rebuilt a few years later, as it now appears, by John Lewis. The site was probably part of the old Cirencester Abbey holding at the Conquest, and was probably occupied at least as far back as the Anglo-Saxon period, so is steeped in history.
---
---
Hear ye Hear ye! The Crier is always looking for things to shout about! Feel free to submit your Thoughts, Poems, Requests or anything you like to thecrier@cookham.com