Hear ye Hear ye! The Crier is always looking for things to shout about! Feel free to submit your Thoughts, Poems, Requests or anything you like to thecrier@cookham.com
---
Home Thoughts from Abroad
22 July 2002
---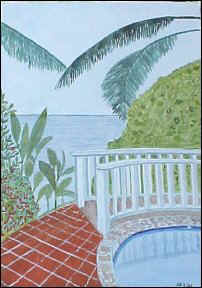 James Hatch, now resident in Canada, has sent us a watercolour he painted and writes:
"Casting my mind back to my school days and two of my teachers, Mrs. Snapes and Miss Graham, I often wonder what they would say now that I am instrumental in publishing a series of English grammar booklets. (www.punctuationtips.com)

"My wife, Deborah - the author, Deborah Wright - and I have just completed a 5,000 km sales trip through British Columbia and Alberta. We were visiting universities, colleges and independent bookstores, selling our first three booklets in the series of six.

"While my wife Deborah and I were spending last Christmas in Marigot Bay, St. Lucia, I painted a watercolour picture from our apartment poolside looking west toward the Caribbean Sea.

"While we were there, a well-known British TV personality stayed for a few days in the apartment directly below us. He was Peter Snow (of swing-o-meter fame) and his wife Ann.

"Marigot Bay has to be one of the most beautiful spots in the West Indies."

---
New Vista for Cookham High Street
19 July 2002
---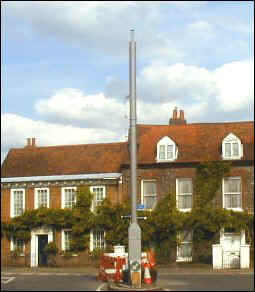 Several people have commented on the new CCTV masts being erected in Cookham High Street. For those who have not seen them, this is the one at the end of the High Street by the Stanley Spencer Gallery. The camera has not yet been attached.
---
Ragwort - Dangerous to Humans - In Cookham
17 July 2002
---
Most people in Cookham are probably aware that the weed, which landlords under The Environmental Protection Act 1990, Part III and the Town and Country Planning Act Section 215 are obliged to remove from their land, is extremely poisionous to horses and to a lesser extent cattle and sheep. However what they probably don't know is that recent research has also shown that it is dangerous to humans.
Ragwort contains an alkaloid which acts in the body causing the slow destruction of the liver, which may take a period of some years in cases of casual ingestion. In horses 75% of the liver may die before the poisoning is noticed, by which time it is too late to do anything and a slow, agonising death may follow.
This is in itself is bad enough, but little research has been done until recently into its effect on humans. It is now known that it does have an effect, and horse owners the main body of people who come into contact with it as they remove it from their pastures are being urged to wear gloves when they pull it up. This is because it seems that the juice from the plant, which contains the toxin, seeps into the skin and the alkaloid then passes into the bloodstream whereupon it can inflict its damage upon the liver. The other group of people who will potentially contact this pernicious weed by hand is children who will pull up 'those pretty yellow flowers' when out for a walk in the country. As it is not yet known how tolerant humans are to this alkaloid in terms of how much needs to be in the body to potentially cause a problem it is only sensible that precautions are taken when handling this plant.
The plant is just about to come into flower, in fact in Cookham quite a lot
is already flowering and with each plant able to produce upwards of 100,000 seeds now is the time to act to rid ourselves of this common and dangerous pest. The majority of herbicides are ineffective, and even when dead the plant is dangerous and needs to be removed and destroyed, leaving manual pulling up as the best method of control.
Click here for some information about the ragwort The British Horse Society, who in conjunction with the International League for the Protection of Horses are organising 'Root Out Ragwort Week' from 21st to 28th July 2002.
With thanks to Pam Raisey
---
Have you got an item of clothing that you love and he hates?....
11 July 2002
---
Another feature for WOMAN - CAN YOU HELP?
This feature is for WOMAN magazine (in which each couple gets PAID £50 and gets professionally photographed). We want to hear from you if you've got an item of clothing in your wardrobe which you love but your partner hates! Is there a dress or skirt that you feel great in but he just rolls his eyes at? And vice versa too- is there some awful Hawaiian shirt, ridiculous trousers or even a hat that he wears and you cringe at? I'm sure you must have something in the cupboard that the other one doesn't like much. It's a really light-hearted piece we're sorting out so it would be great if you could help.Here's a few points to bear in mind though.
* You both still need the items of clothing so we can do the photo shoot with you and the 'offending' item.
* Maybe there is slightly light-hearted or funny tale behind the item- maybe he bought it you for Christmas or your great aunt knitted it as a present!
*Ideally, if it is a nice bright colour, it look much better in photos.Anyway, if you can help, maybe email me at adrian@amonti.freeserve.co.uk or call me on 01273 777693.
---
FLOWER FESTIVAL RAISES MORE THAN EVER
29 June 2002
---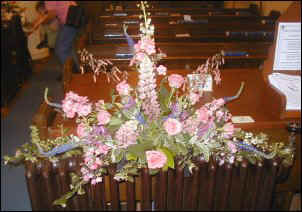 The St John the Baptist Flower Festival in Cookham Dean from 21-24 June raised more funds than ever before, over £3,800. This included over £800 at the fantastic and much enjoyed concert on the Saturday night.
---
COOKHAM SOCIETY CHRISTMAS CARD
24 June 2002
---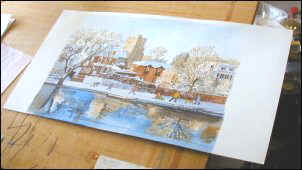 The Cookham Society are busy choosing Christmas Card designs although it is not even July yet. Juliette Palmer, Cookham's internationally acclaimed artist, has been commisioned to paint a scene for this year's Cookham Society Christmas card based in the village. She painted two, one of the Christmas Shopping Sunday last December and one of Holy Trinity Church viewed from the bridge. At the Cookham Society Committee meeting, there was a unanimous vote in favour of the one of the church. This may have been that people wanted snow on their Christmas cards. There will also be a smaller card on sale of the Forge in Dean Lane, Cookham Dean. Both cards should be on sale at the Cookham Society marquee at the Cookham Regatta on 7 September.
---
COMPETITION TIME
21 June 2002
---
Winner of the £10 voucher for the Cookham Tandoori is DAVE WALKER from Broom Hill. Congratulations Dave.
If you missed out on this competition, there are TWO TICKETS to the Importance of Being Earnest to be won for the Tarrystones Production in October. Were you one of the lucky people who saw the Variety Concert on the Moor during the Jubilee? If so, you'll remember that the Tarrystone Players asked if you could count how many British comedians/ comedy shows were mentioned in the introduction to each sketch. Well did you?? The first person to phone Lynne Smith 01628 520989 with the right answer will get 2 free tickets for the first night of the next production! "The Importance of Being Earnest" will be staged at the the Pinder Hall on 10,11,12 October. See you there!
If you were not at the Moor, give a guess. A clue is that the Tarrystones did 5 sketches in all.
---
STAG BEETLES BREEDING AT HERRIES SCHOOL
17 June 2002
---
Great News! The logpiles at Herries School have attracted a breeding pair of stag beetles! We have now collected lots of information with the data logger we recieved from the Royal Society Partnership grant and Mrs Harvey, the scientist partnering us, is delighted as this information will help her with her research. The Royal Society is very keen to fund other schools who want to carry out projects, so go for it!! - it has been great fun for us so far.
---
COOKHAM DEAN WEBMASTER TIES THE KNOT
15 June 2002
---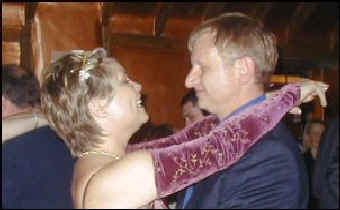 Saturday 15th June was the day when Jane Richards, the Cookham Dean Village Club Webmaster became Mrs Michael-John Saunders. After the blessing of their marriage at St John the Baptist by Rev John Copping there was a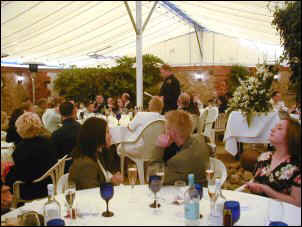 reception at the Inn on the Green. The couple do not have far to go home as they live next door, although they are off to Thailand on their honeymoon. Jane has recently set up a company with Susan Mather, another Cookham Dean resident. Her new husband M-J was a partner with Andersen. Several of his old team also attended the celebrations, it was the first time many of them had got together since leaving Andersens. The Crier offers its congratulations to Mr and Mrs Saunders.
---
2 FREE TICKETS TO BE WON!!
10 June 2002
---
Were you one of the lucky people who saw the Variety Concert on the Moorlast Monday ? If so , you'll remember that the Tarrystone Players asked if you could count how many British comedians/ comedy shows we mentioned in the introduction to each sketch. Well did you?? The first person to phone Lynne Smith 01628 520989 with the right answer will get 2 free tickets for the first night of our next production ! "The Importance of Being Earnest" will be staged at the the Pinder Hall on 10,11,12 October. See you there!

PS There are some clues in the photos on the news page.
---
JUBILEE GENERATOR STOLEN. CAN YOU HELP?
5 June 2002
---
The large generator hired for the Jubilee Celebrations has been stolen. For the Jubilee 4 generators were hired. A Security Guard Service was used for the whole of the Jubilee Celebrations. On Tuesday 4 June the marquee was taken down and most of the rented items were picked up apart from the generators and items hired from HSS the hire services shop. These items had been taken out and stored for us by the Crown apart from two very large generators which needed to be towed. The Moor was secured and locked up. The Environment Agency opened up the Moor this morning Wednesday and left the barrier open. One of them saw a white unmarked pickup drive in and hitch up the larger generator and drive it away between 8 and 8.30pm this morning. The van turned right out of the Moor towards Cookham Rise. The Insurance was only until Tuesday as it was thought HSS would be picking up then.
If anyone can help PLEASE phone Liz on 01628 525130 or the Police on 01628 777200
---
COOKHAM SOCIETY SELL JUBILEE SOUVENIRS
1 June 2002
---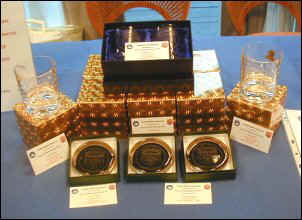 The Cookham Society have commissioned special glassware to commemorate the Golden Jubilee. There are whisky tumblers and paper weights, both with the Cookham emblem on them. There will be a limited edition of 50 items. The Cookham Society have also produced a Souvenir Programme for the Jubilee at £3 each. If you want to order any glassware or a programme call Bill Spicer on 525258
---
---
Hear ye Hear ye! The Crier is always looking for things to shout about! Feel free to submit your Thoughts, Poems, Requests or anything you like to thecrier@cookham.com