The Bounty - Cockmarsh, Cookham reviews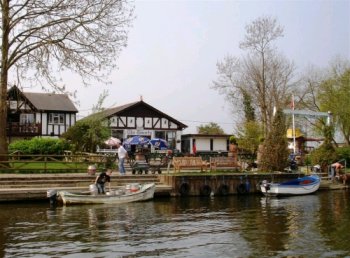 Cockmarsh
Bourne End, SL8 5RG
01628 520056
35 reviews
Average Score:

Add your review of The Bounty - Cockmarsh, Cookham
Review added 31/07/2020 10:50 by Meghan
Lovely setting with great outdoor area and reasonably priced drinks.

Review added 04/04/2016 17:17 by anon
We visit The Bounty at the week-end in the Winter, and as often as we can during the Summer. We love it. Good food and drink. However many times we go there, we notice something new. It is a very unique place. Wonderful for dog lovers. Lots of seating place inside and out.
A great place

Review added 13/11/2015 14:02 by anon
Is this place still open this time of year?

Review added 12/11/2015 14:53 by anon
Love the dog pub quirky and cool

Review added 26/03/2015 18:00 by anon
Possibly the best pub in the world, yep you have to be patient, but it is a pub with no cars and you lose your cares while supping a perfect pint and waiting, yes waiting, for your food

Review added 04/06/2014 15:56 by John
Delightful pub on the river. Difficult to get to (but easier to get back if you give the landlord some dose for his charity box and then he will take you back in the boat!)
Popular with dog walkers but sometimes overrun with toddlers who shouldn't really be in a pub.

Review added 02/06/2014 17:48 by Gazzetta
Such a perfect place to pause whilst walking the dog.

Review added 01/06/2014 21:25 by anon
Great location and selection of beer, however... The place seems to be overrun with dogs, and dog owners who didn't appear to notice that my 2 kids (under 4yrs old) are pretty scared of them.
The food is vastly over priced for the quality and selection (£3 for a plate of chips). Overall the place could simply do with updating (not to lose its character)
Also not keen on the mouldy marquee, the tables within which didn't appear to have ever been cleaned (baked on sticky ketchup stuck to the top of most).

Review added 16/03/2014 19:18 by Sarah
I used to go to the Bounty with my parents when I was young (called Captain Hooks bar) and thought I would take the family today as it was lovely and sunny. The walk was lovely the pub was busy as expected but my husband was pleased to see they had a proper queuing system at the bar however when it was our turn the bar an for some reason called the person behind us up to the bar when my husband politely pointed out it was our turn next he was very rude, he could have got confused as to who was next as it was busy but we didn't expect to snapped at. He was very grumpy throughout our order and when we asked how long the wait for food was he grunted and didn't answer when we asked again he huffed and went to find out but we were then told we couldn't order it anyway without a table number even though we told him the bench we were sitting on , it was only a portion of chips so we didn't need an actual table to eat at. Anyway I can understand the difficulty with the food without a number however his attitude and rudeness has put us off ever going again and recommending it to others.

Review added 27/05/2013 10:10 by anon
Pub: great location, have play areas for children and welcome dogs. Staff: having waited for a fish finger sandwich for 25 mins and politely enquiring how much longer he thought it was going to be, I was told "how long's a piece of string'! he then went on to argue with me over the counter having also been previously rude to another member of my family. I've never met anyone so rude and would have maybe expected that type of customer service if visiting a pub in a very rough area. I would not have expected that in somewhere like Cookham. We would NEVER return to this place again. Just watch out for him if you go, shortish, grey hair and psycho eyes who tries to be as intimidating as possible.

Review added 08/05/2013 11:48 by Elo
My husband and I had a lovely time yesterday at the Bounty.. Lunch was great. We really enjoyed our stay in the sun..

Review added 01/09/2012 17:36 by Cat
We love relaxing at the Bounty. And reeelax is what you do there...
Sitting outside and watching the big boats tying up is interesting, particularly when sometimes it takes a good few maneuvers before success is achieved!
Lots of friendly dogs who are absolutely expert at identifying a soft touch when it comes to begging some food scraps.
A safe playground for the children so the adults can eat and relax knowing their children are having fun.
Music, (sometimes Dave the owner will oblige on his mandolin or guitar), a good range of food options. I'm vegetarian, so I usually have either their baked potato with cheese, butter and beans or their veggie burger. My partner usually has the scampi and chips (we all know that chips that you steal from your partner are not fattening, so I can vouch for their chips!)
Good selection of beers, and wines by the glass. No posh rules here. Arriving in muddy boots and wet clothes is permissible and even welcomed. A pity more pubs along The Thames Path are not so sensible.
We hope the Bounty never changes. It's just great as it is.

Review added 31/08/2012 22:11 by anon
It is a lovely, quirky place and I still recommend a visit for the friendly ambience. However, I won't eat there again. Portions more than generous in my opinion, but far too expensive and quality is mediocre at best. No choice for veggies and not many healthy options.

Review added 18/07/2012 13:19 by Nick
Simply just a great place.
Good beer, friendly atmosphere, amazing riverside location,quirky, eccentric, relaxing and somewhere that is ageless. Kids and muddy boots are welcome, the beer is always kept well, the views are stunning, the bar staff have great character, the food is generous and the music is always good. A great place just to chill, meet friends, watch the world go by and take in stunning views of the river and Winter Hill.
Cockmarsh Greens " republic" lives up to its ethos that " the laws of common sense apply"
Dave and Sue run a unique establishment. No road access and having to walk or cross by boat adds to the charm of the place and stops it becoming too popular with people who would wish to change things

Review added 29/05/2012 21:41 by Mum of two
Just back from a post school treat at The Bounty. I don't really understand the previous comments re portion sizes - I ate a baguette (generously filled) and the four boys (ages 8-10, with large appetites) didn't quite finish their children's burger and chips. A great way to spend an afternoon with four energetic boys - a long walk there, kiddie friendly food, plenty to amuse them in the garden while I watched the river, and a long walk back. They'll sleep well tonight! The Bounty is a one-off and a real treat to have nearby.

Review added 27/05/2012 07:36 by Mary M
Have been to The Bounty lots of times, first time this year was yesterday. Yes it was busy, very busy but Dave and Sue still great hosts. Looking at the last review I have to agree about the food portions. I was very surprised how they have reduced in size, especially the chip portions. My husband after his lasagne was still hungry!! But still a great place to go on a sunny day, next time we will eat beforehand.

Review added 26/11/2011 16:23 by Her upstairs
Used to be good value for money but the prices have gone up and the portions sizes have gone down. Maybe it was just an off day, or the usual chef was away, or they had run out of salad but not impressed to spend nearly a tenner on lasagne and salad when the salad consists of 5 tiny wilted leaves, one cherry tomato and a couple of slices of cucumber. And that was early in the lunch shift. The children's meals were not as generous as usual, either. But you could never fault them for service speed, atmosphere and nice staff. Hope it was just an off day so gave them 4 stars anyway. Other than that, a great visit as usual.

Review added 26/07/2011 18:15 by Carol P
Loved it, what a find, antedote to all the 'chain' pubs. A bit eccentric, a little rough round the edges but full of character & a fabulous atmosphere; lots of dogs, kids, smiley people chilling by the river on a rare hot sunny day. Perfect! Food: Calamari was spot on, chips good, veggie burger a bit plain, pimms perfect! Service good considering it was packed. We think it could be the best pub in England & will def' be walking that way again!

Review added 13/05/2011 14:36 by Paul from Slough
I've given it half a star for opening roughly on time (slightly late) but despite being only the second person through the door, I was kept waiting so long that I gave up and walked out.
If the food had been more reasonably priced I may have hung on, but at almost £7 for burger and chips I expect to be served promptly.
I ended up walking to the Odney Club and getting a decent meal and drink there, with prompt service and waiting staff, for the same price.

Review added 07/05/2011 15:11 by anon
Walked down to the Bounty today, what a great place, friendly atmosphere, they like dogs and the food is great too.

Review added 04/05/2011 10:43 by Bill.
Strange to see a negative review - cracking location, top beer and just a great place to while away a few sunny hours by the river. Not exactly michelin food, but extensive and wholesome menu. This is probably one of the most unique pubs in the country, & the landlord's laid back and friendly attitude tops it off perfectly. Perhaps Lee (review below) had better stick to Harvesters, as this freehold quirky gem clearly isn't for him!

Review added 25/04/2011 15:47 by anon
Very nice food, lovely location!

Review added 24/04/2011 09:24 by Lee
This is a lovely pub, however, do not eat there. The food is very greasy. Also, it is so wonderful to have the playground next to it, however, I wish they would look at their equipment for some health hazards. The little boat right in the middle has extremely sharp edges and one of the slides does need replacing. It seems that there is no effort made for general upkeep. The benches are rotten and one of the barstaff was very rude. The only think this place has is its location.

Review added 15/04/2011 12:38 by Eleanor J Brooks
I love to come here with my parents. You have to take a beautiful scenic path along the river to get there and there is your reward at the end, a beer and a (veggie) burger. We have also taken a dog there so it makes a great option for an alternative dog walk.

Review added 23/06/2010 08:52 by Robert Harris
My friend and I walked from Cookham last evening and sat outside to enjoy an excellent hot (in more ways than one!) chillie and rice. Considering the number of people filling the outside tables we were served pretty quickly.
My only slight grouse is that the kitchen closes at 8.00 pm which is pretty early on a working day.
It was a beautiful mid summer evening, the shimmering river added to the ambiance. I gave 'The Bounty' 5 stars in August 2009 and have no hesitation in doing so again

Review added 26/05/2010 07:58 by Mary
For you walkers, take a trip along the towpath from cookham towards the Bounty Pub in Bourne End. Great Landlord and Landlady and good atmosphere.No chiller foods here, all home made.Dogs welcome and muddy boots so do not expect fine dining just a great place.

Review added 29/03/2010 12:38 by Suzie
Love it, Love it, Love it.
What a super little gem, felt so welcome and so did my dog. All I can see is bring on the longer evenings and summer days and this is be a regular retreat.

Review added 10/01/2010 10:04 by anon
We walked through the snow from Cookham to the Bounty yesterday, not sure if it would be open in such harsh weather.
But, the place was packed with happy, excited children, their parents and friends and a large selection of very happy dogs.
A great atmosphere as usual as walkers, ruddy-cheeked from their walks through the snow lined the bar chatting and laughing. No-one here frowns on muddy boots and casual clothes.
Lunch by the roaring fire, a glass of mulled wine, and we were suitably fortified for our walk back again to Cookham.
Thanks again to all the staff at the Bounty. Whenever we visit it is always to the same warm welcome no matter how busy the staff. And the prices are also brilliant.

Review added 13/12/2009 09:02 by anon
We took my son and his girlfriend to Christmas lunch at the Bounty yesterday. I could see that my son was immediately relaxed the minute he entered the pub. No boutique pub this, warmly friendly and inclusive and lives up to its 'mission statement' that this is the independent republic of Cockmarsh where 'the rules of common sense apply'.
Down to earth owners and down to earth food. We had a great time together, the food was tasty with plenty of it, the other tables were jolly and relaxed and a party atmosphere reigned. Good selection of beer and wine and the pub was decorated in the festive spirit so it all looked very pretty and inviting. The staff were great, keeping the spirit going by joking with us but at the same time serving us all with our food with well timed efficiency.
Thank you to all the staff at the Bounty. We had a terrific time and hope we can come again for Christmas lunch in 2010!

Review added 05/06/2009 16:03 by A Cookham Resident
I agree with the last reviewer. It's very difficult to rate, but in my book it gets 4 stars because it has set out its stall for the towpath trade, dog walkers, hikers etc and meets their needs in every way, including free bar snacks on a Sunday.

Review added 20/02/2009 18:03 by Cookham Resident
Great pub, with an all embracing and welcoming atmosphere. Difficult to score, lacks general ambience, but good beer selection and 100% welcome from management/staff.

Review added 06/08/2008 15:07 by James Hatch
This place sounds great. I wonder if with a name like "BOUNTY" If the odd ghost of Captain Blythe or Fletcher Christian roan the place. As a matter of fact I spend with my wife Deborah a month on the Island of Rarotonga in the Cook Islands,where the decendants of Fletcher Christian still live and are very proud of the fact. Maybe a "Breadfruit Tree" would be most fitting in the bar!

Review added 05/08/2008 11:07 by Robert Harris
Most of the pubs in Cookham have disappeared or changed out of all recognition since I moved to Cookham 24 years ago. Since Sue and David took over the Bounty it has always been the same, friendly with cheerful bar staff, good plain food, excellent local beers and a fantastic location. It does get crowded on warm summer weekends so please don't tell anyone else about it!

Review added 01/08/2008 21:15 by Jo Jo
I'm not sure that I want people to know about The Bounty as one of its big advantages is that it is certainly not that easy to get to resulting in a pub that is never too packed to enjoy. And a lot of people just don't know about it!
On summer days it is great to sit outside and observe the marina opposite and watch all the river traffic float past. It really is a million dollar view. If you sit inside in the back lounge there is a marvellous view of Winter Hill.
In winter it is like sitting in a smuggler's den. Few people venture there then except locals, some of whom row across in little boats with little lights attached, from the other side of the river. Really romantic and different but bring a big torch for the walk home.
Food is basic and plenty of it. It's also at a very reasonable price.
Other locals have posted great reviews of The Bounty on the discussions page of Cookham.com
So really The Bounty have a bigger following then you might imagine. But, hush, don't tell too many people.

Review added 21/06/2008 23:17 by Andrew
You could argue that the Bounty is really in Bourne End (rather than Cookham), but the owners would undoubtedly point you to the sign that reminds you that you are actually in the Independent Republic of Cockmarsh (where the Laws of Common Sense Apply).
Regardless, this is simply a unique pub in a unique setting. With no road access, you'll either make it by boat or on foot. On a hot summer day, everyone sits out the front, looking over the river, but what makes this place unique is that the view to the rear is equally lovely, across National Trust land to Winter Hill.
I'm particularly fond of the Bounty in winter, when the place is quiet, and you can sit at leisure enjoying a pint or two of Rebellion, brewed in Marlow, but at any time of the year the staff are friendly and the pub grub excellent. There's a nice playground for the kids, too.
There's nowhere quite like this place, and although it's a 20 minute walk, I think of it as my local.....long may it prosper!.