Guys and Dolls
A COMMUNITY ART PROJECT FOR THE TRINITY FESTIVAL COOKHAM 2005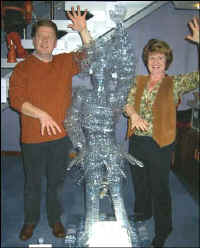 The idea is to get everyone in the community involved in making three-dimensional figures to decorate the Cookhams for the festival. You may want to build a "Guy" in your front garden, Clubs and societies may wish to display a figure to symbolise their activity.

Stitched, carved built from junk, the more diverse the better, we are not expecting sculpture cast in bronze. Get collecting your materials right away, and then get creative!

Even those with lesser creative energy, can help, we shall need to display our Guys and Gals, and you may have just the spot; in your garden, or shop front, or would you like a welcoming figure in the reception of your office, or restaurant perhaps? If you feel you would like to play host to a figure for a fortnight next year, we would like to hear from you. From putting a scarecrow in the front garden, to sugar-icing figures in a shop window, everyone can use their skills to take part. As an added incentive, there will be modest prizes in the following categories:
Children – under 12.
Young people 12-16.
Adults.
Group entries.
Contact Mandy McAllen, 01628633541,or email I_Dissagree@hotmail.com, for more information or to share your ideas.
Click here for Rules and Entry Form (Word Format)
Click here for Rules and Entry Form (.pdf -Acrobat Reader)