A performance of diamante brilliance by The Albrecht Ensemble directed by Alexandra Wood provided a sparkling finale to the 2013 Cookham Festival.
The concert, sponsored by Hitachi Europe, opened with Bach's Double Violin Concerto in D minor. The soloists Marcus Barcham Stevens and Alexandra Wood performed with stunning virtuosity and empathy in a crisp Vivace, an elegant Largo ma no tanto and a determined Allegro.
The next captivating piece was the Duet written for Yehudi Menuhin by the US composer Steve Reich, in the early 1990s. Reich wrote minimalist music that uses a short notation that repeats in a loop which is a construct popular in film music.
Alexandra described the Duet as a bridge between the Bach and the Britten with two violins playing in a cannon and accompanying strings in the background. The driving pulse gives the piece its energy. Performed by Alexandra and Marcus the Duet had a dancing, bell like quality with a final section that accelerated to a grand conclusion.
2013 is Benjamin Britten year and to mark this anniversary we were all entranced by their performance of the Britten Simple Symphony op4 a 1934. Alexandra described this composition as one showing innovation and ingenuity, with the individual movements 'doing exactly what it says on the tin'.
The second half of the concert programme was the four concertos of Vivaldi's The Four Seasons. It is always a challenge to find a fresh approach to such a well known piece but one to which Alexandra and the Albrecht Ensemble rose with alacrity and charm with a particularly poignant Largo e pianissimo sempre and singular clarity in the Allegro Pastorale in 'Spring'.
Allegro non molto of 'Summer' was played with a caress contrasting with a strident Adagio e piano – Presto e forte during which the artists were playing with great enthusiasm and joy, before moving on to the Presto performed with dedication and gusto.
'Autumn' brought us the strains of a melancholy keyboard before progressing to a 'Winter' which alternated between the spiky and the smooth to an enigmatic conclusion.
A fabulous performance enjoyed by everyone present, and a perfect finale to the 2013 Cookham Festival.
Alexandra Wood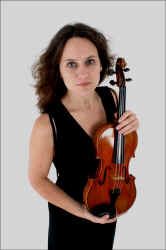 "highly charged yet imaginatively refined" (The Times), won major prizes at International Violin Competitions including Wieniawski, Tibor Varga, Lipizer and Yampolsky. Alexandra graduated with a starred double first from Selwyn College, Cambridge before going on to the Royal College of Music in London, where she was President Emerita Scholar and studied with Itzhak Rashkovsky. She then held the Mills Williams and subsequently the Phoebe Benham Junior Fellowships.

She has given performances for numerous International Festivals (including Cheltenham, Bath, and Aldeburgh) and also in London at the Wigmore Hall, South Bank, Kings Place and live on BBC Radio 3.

As a concerto artist she has performed with orchestras such as the Philharmonia, City of London Sinfonia, and the OSJ. She has given the premiere of violin concertos specially written for her by Hugh Wood (2009) and Charlotte Bray (2010). Leader of City of London Sinfonia, and regular leader of Birmingham Contemporary Music Group (with whom she has appeared at Carnegie Hall) she also frequently guest-leads other ensembles including London Sinfonietta, Aurora Orchestra, and Music for Ballet Rambert, and has collaborated with chamber groups such as The Schubert Ensemble and Endymion.

Alexandra has won many prestigious awards including the Worshipful Company of Musicians Medal, Maisie Lewis Award, Wingate Scholarship, Hattori Award and MBF awards. She was selected for the Tillett Trust Young Artists Platform, and won a "Star Award" from the Countess of Munster Trust.

Her CD of world premiere recordings -"Chimera"- was described as "splendid" in The Sunday Times, and in BBC Music Magazine as "agile, incisive and impassioned". In 2009 the ABRSM volume "Spectrum for Violin", which she compiled, edited and recorded, was released. She has also recently recorded for NMC- two violin pieces by Oliver Knussen.

She plays a violin made by Nicolo Gagliano in 1767. This instrument was purchased with generous assistance from the Countess of Munster Trust, Abbado Young Musicians' Trust and the Loan Fund for musical instruments.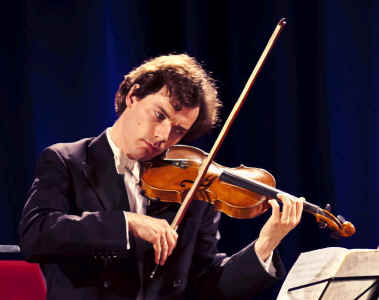 Marcus is a member of the Fitzwilliam String Quartet, and has just been appointed co-leader of the Britten Sinfonia. Marcus has broadcast as a soloist on BBC Radio 3, played with the Nash Ensemble at the Wigmore Hall, and performed chamber music with Freddy Kempf, Peter Donohoe, Paul Lewis, Alina Ibragimova, Leon McCawley, Paul Watkins, and with Thomas Adès as pianist in music by Adès at Carnegie Hall, New York. He has guest-led the City of Birmingham Symphony Orchestra (with whom he also held the position of Principal First Violin), the Royal Liverpool Philharmonic, Ensemble Modern (Frankfurt), Musikfabrik (Koln) and the Birmingham Contemporary Music Group. Period work includes playing with Sir John Eliot Gardiner's orchestras ORR/EBS, the Orchestra of the Age of Enlightenment and Jonathan Cohen's ensemble Arcangelo. Marcus is a member of the mixed chamber group Chroma, and is also a composer: "Dhyana" for soprano and ensemble was described by George Hall (the Guardian) as "hugely impressive" and he was a finalist in 2012 in the New Music for St.Paul's Cathedral competition.