Cookham's New Venue Sparkles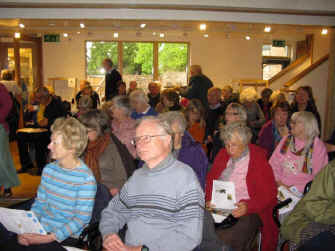 A bubbling event for the fleetest ticket buyers - the talk on the John Lewis Fabric Archive was very sought after, and the tickets could have been sold many times over.
It was a previous talk at the Cookham Festival some years ago, on the history of the old pottery at Grove Farm, that set running the germ of an idea to bring the Textile Collection to Cookham. Judy Faraday, the Partnership Archivist, approached the John Lewis board and the idea took wing.
The sun shone to show to its best the new Grove Heritage Centre's building. The Charles Voysey inspired cedar paneling on the exterior was looking splendid as was the light, bright interior so that the 5,500 textile designs could be seen in all their richness. After a welcoming tea and delicious cake supplied by the ladies of the church, we were given a talk by Judy Faraday on the development of fabric printing processes over time; the Lewis family history; and how the John Lewis Partnership came about.
We were told about the opening of the Oxford Street, London store 150 years ago next year; the purchase of Peter Jones in Sloane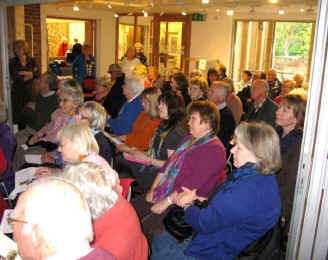 Square and how it was managed on more modern lines by John Spedan Lewis, not always with his father's approval. Judy described how when, John Spedan was recuperating from a horse riding accident, he thought up the partnership scheme. He convalesced at a house called The Grove, in Harrow, surely some co-incidence. She also said that 100 years ago the grocery store was 'Waite, Rose & Taylor'. The ten shops were acquired by The Partnership in 1937.
In John Lewis stores, in previous times, did people really go to a store, take a seat, and be served by the assistant while sitting down – how things have changed in our internet world.
As for the fabrics: there was a rosy design with Albert & Victoria's profiles hidden in it, designed for the royal yacht; the purple and red floral for the R.M.S. Titanic; and coming more up to date and within my and many Cookham folks' memory, the daisy-chain pattern sold in the 60's & 70s, the biggest seller in the John Lewis repertoire. Judy said the number of metres produced could have stretch from Cookham to Moscow. It was a very enjoyable and entertaining presentation.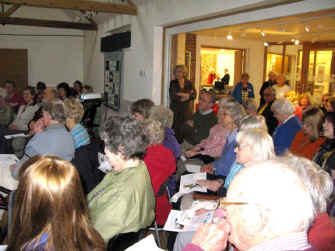 As well as its research facility the plan is to open the archive from September 2013 to the public on Saturdays, for Partners on Thursdays and for groups by appointment. So take a look, sure you'll remember the daisy-chain patterns and others as well - a real trip down memory lane.