Welcome to the 2009 Cookham Festival!
Click here for the Highlights so Far
********************** LATEST NEWS - STOP PRESS ***********************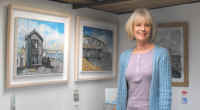 Take advantage of this lovely weather for a tour around the open studios this weekend. There are 16 studios open today tomorrow and some on Monday. A Google map of locations is on the artists studios page of this web site. The artists are waiting to chat to you about their work and techniques. if you are inspired to have a try yourself come along to May Day on the Moor where some of the artists will be guiding you in a painting Masterclass. There will be four sessions lasting about an hour for £5 including all materials. Many other crafts to take part in including clay, paper-making and embroidery. Lots of fun so make it a date!

Local Poets Herald Spring at Festival

It's still not too late to get tickets for the Festival's poetry evening on Tuesday 28th April.. Local poets and poetry lovers will be sharing their enthusiasm for all things Spring at the WI Hall in Cookham Dean starting at 8pm. Local poet Mike (appropriately) Springate will be host for the evening and you are invited to bring along your own poems or your favourite poems with a Spring theme. It's all accompanied by a delicious home-cooked supper and tickets for the whole evening are just £12. Bring your own wine!

GREEN GRANNY APPEARING LIVE ON 4 MAY 2009

Barbara Walmsley, Oxfam's green Granny will be appearing live at May Day on the Moor on May 4th. She will demonstrate her famous potato salad and give tips for frugal times!

She will also be presenting the prizes for the competitions etc.

COUNTDOWN TO THE FESTIVAL

The Private View for Gail Dorrington's Art Exhibition which can be seen during the Festival gets everyone into Festival mood. Left to right: Timmy Mallett, Gail Dorrington and Rolf Harris.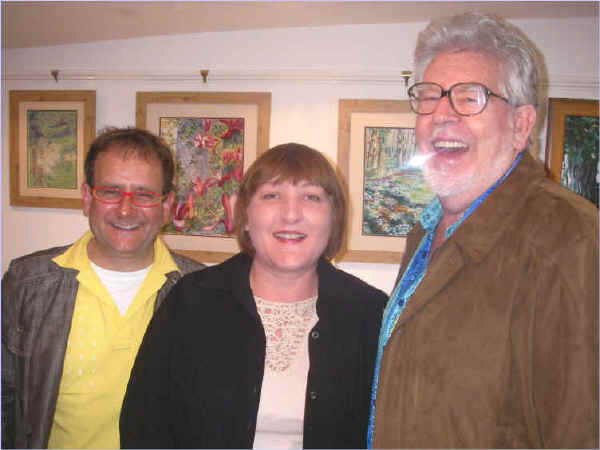 Local Boatyard Comes to the Aid of Mole
Local boatyard Heyland Marine is providing a traditional rowing boat for Kenneth Grahame At Home - A local view of life in The Wind in the Willows. This is a new entertainment devised by Jean Hedger from material concerning the Grahame family and readings from the children's classic The Wind in the Willows. The setting for this will be Herries School , the very house in which the family were living when stories were written which would later form part of Grahame's famous book. Jean, who previously adapted The Wind in the Willows for dramatised readings on Cookham Summer FM, will be working with some of the local actors who took part in those programmes. The performance features a traditional rowing boat as a well as Ratty and Mole stuffed portrait toys made by Sally Jane Miniatures.
Sunday 3rd May at 3.00pm Tickets Adults £4, Children £3
Modern Jazz comes to the Festival for the first time, with rising tenor saxophone star
Vasillis Xenopoulos who is bringing his quintet to Pinder Hall for an evening of modern jazz. The hall will be arranged in cabaret style to enable patrons to bring their own food. Drinks will be available from the bar. The evening will be compered by local jazz trombonist Clive Burton. Tickets £8 from The Stationery Store, Cookham.
Award Winning Film Director Jan Dunn's Festival Workshop
Cookham Festival Comedian Tom Rosenthal wins top award