At home with Kenneth and Elspeth Grahame was one of the highlights of this year's festival. The entertainment devised by Jean Hedger on Kenneth Grahame could not have had more superlatives, those that attended the event could not speak more highly.
Who can resist "story-time" and particularly when in the company of Toad, Ratty, Mole and Badger. Toad resplendent in green and yellow check, natty nautical Ratty and lovely mole softly suited in black smoking jacket, three splendid performances from these actors. All brought together beautifully by John and Jean Hedger as Kenneth and Elspeth Grahame ably assisted by Joe Worsfold as the young Kenneth, John Brooks as Toad, Alan Cox as Mole and Peter Hughes as Ratty. Their wonderful costumes were from the National Theatre. In addition Sally Lloyd-Parry had made some beautiful models of the Wind in the Willows characters, which she had sat in a boat borrowed from Bourne End.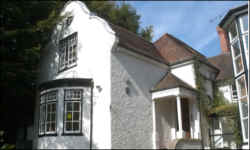 Herries school children are to be congratulated for their Wind in the Willows art work around the room.
Delightful setting, perfect music and all of our favourite characters brought to life.
Jean had used material concerning the Grahame family and readings from the children's classic Wind in the Willows. The setting was appropriately Herries School, the very house in which the family were living when stories were written which would later form part of Grahame's famous book. Jean, who previously adapted The Wind in the Willows for dramatised readings on Cookham Summer FM worked with some of the local actors who took part in those programmes.
Not a bad way to spend a Sunday afternoon!