Did you know that Ralph Thompson, the Cookham Dean based wildlife artist was an early television celebrity? Well, not so much Ralph – more the brush in his hand! In the late 1950s a short slot before the news on the BBC, entitled 'Ralph Thompson draws an Animal' would show Ralph's brush, to the accompaniment of a guitar, magically creating a painting of an animal out of nothing on the black and white screen.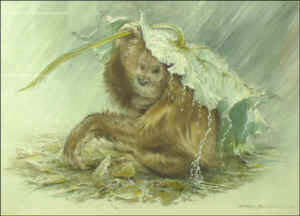 As part of this year's Cookham Festival there is an exhibition of Ralph's work in the Parish Centre, entitled 'Animal Magic', and on Friday Ralph's step son Wyn, who has kindly lent the works for the exhibition, gave an entertaining account of the artist's life and career at the talk 'Ralph Thompson: a very rare creature'. Ralph attended art college in both Leeds and London (spending a short time at the beginning of the Second World War spray painting camouflage on factory roofs) before settling locally and concentrating on his now well known paintings of wild animals. At first it seems he would spend a lot of time at zoos, drawing from life, but later was lucky enough to travel to South Africa, Nepal and India for inspiration. The wonderful paintings of leopards, tigers, pumas, cheetah kittens, lions and other exotic animals, hanging on the walls of the Parish Centre are testament to his talent. One of the most endearing was a colourful watercolour entitled 'The Leaf Umbrella' which shows a young orang-utan sheltering from the rain under a gigantic leaf.
Chris Tyrell, himself a well known artist, then pointed out the details of his friend Ralph's technique, showing us the shaving brush he had used to get the correct effect on 'Guy the Gorilla'! He explained that the swift sketches Ralph produced 'on location' were like a visual shorthand as animals move so quickly, and described in detail the 'wet on wet' method of painting used by Ralph placing watercolour on damp paper, a very precise art. Chris also showed some lithographs produced by Ralph, and Wyn remembered the enormous unwieldy machine needed for this technique arriving at the family home at Bigfrith End and taking over the dining room!
The discussion which took place after the talk demonstrated the high level of esteem that Ralph and his art are held in, both locally and further afield. Those present were then able to watch BBC archive footage of 'Ralph Thompson draws an animal' on computer and listen to an extract of Ralph's voice talking about his fellow artist and friend, Stanley Spencer.
Thanks must go to Tess Marsh and her team for organizing this event and hanging the exhibition.