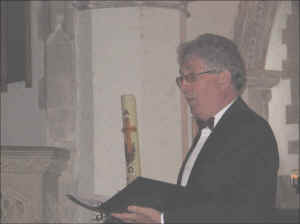 "Who could think of a better way to spend a couple of hours on a warm May afternoon than to sit in the cool of Cookham Church to listen to two very talented tenors treating us to a programme of wonderful music and singing. Malcolm and Jonathan Stork regaled us with a variety of beautiful pieces ranging from Purcell, Sartori and Benjamin Britten through to the delights of Richard Stilgoe and Ivor Novello.
The classical pieces were so beautifully sung with such feeling and the pronunciation was really clear enabling the audience to understand every word. The rendition of the famous Die Forelle - The Trout had been very carefully translated from the original German into English by Malcolm and Jonathan and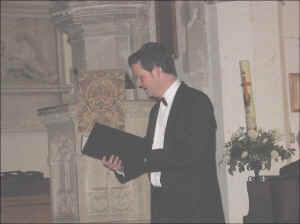 provided a hilarious change of mood. This was following by a classic Richard Stilgoe number which had us all laughing.
After the interval we were again treated to a second half equally as brilliant as the first with Marianne joining Malcolm for a jolly duet about giving up jogging' which was very well received.
The concert concluded with a duet from Les Pecheur des Perles which brought the audience to their feet for a standing ovation which luckily resulted in another duet encore. The piano was very skillfully played by Gordon Collins - a friend of the family - whose contribution to the concert was enormous all in all an afternoon not to have been missed"