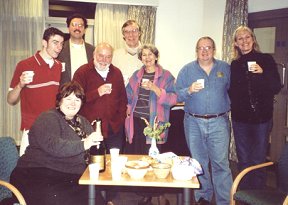 Over Christmas and the New Year an Internet Café was set up by the Cookham.com team. It was held at the Chartered Institute of Marketing offering free access to the Internet for anyone, young and old, computer literate or not, who wanted to have a go.

The event had been planned over several months as part of the Cookham Millennium Celebrations, but the one thing that was desperately needed were computers and as Cookham.com did not have the finances, the team needed to beg, borrow or steal them. At the beginning of December there were still no computers and the event was planned to open on the 27th December through to the 3rd January, running six hours a day (excluding New Year's Day and the evening of New Year's Eve), in two three hour shifts, 11.00am - 2.00pm and 6.00pm - 9.00pm. Posters were printed, advertising the event and the press were informed, a matter of blind faith on the organisers' part, with still no idea where the computers were coming from, however, the Royal Borough of Windsor and Maidenhead bailed the team out at the eleventh hour offering them six machines. This, with an ISDN high speed telephone line and the wonderful facilities at the Institute of Marketing the Cookham.com team were again in business. All they needed to do now was to find hubs, routers and cables and install a network, all for nothing. Also they required six trainers a session, with thirteen sessions in all, to show people how to use the Internet. They also needed people to help organise the crowds that were expected. Anyone with computer knowledge was forced into service, including young people from the surrounding schools. Anyone with tea and coffee making ability was also called upon.
---
Setting it all up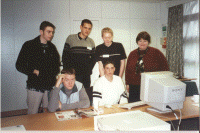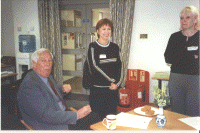 Christmas Eve found a dedicated group arguing about where things should go in the Berkshire Conference Suite and surrounded by piles of cables, monitors, keyboards and computers. Two and a half hours later everything was installed and up and running with only one broken network card. It was decided that the main screen would be the Cookham.com website, which contained things that would be familiar to the attendees. In addition it was also possible for people to set up their own E-Mail addresses, search the web, sign the guestbook and find out what was going on in Cookham. Then at 11.00am on Monday 27th December the doors were opened to the villagers of Cookham, they had been arriving since 9.00am in the morning, but had been firmly sent away again by the security guard. They were at last allowed in and the room was filled with about thirty people and six computers. A minor hiccup was, that due to Health and Safety rules, there could not be an urn for making the coffee. An Internet Café without the Café. People rushed home for their kettles, little did they know that they would be using saucepans at home for boiling water for the next eight days.
---
Local Residents think it's a blast!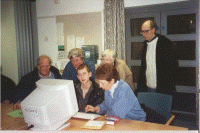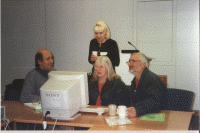 The residents of Cookham and the surrounding areas flocked to the Chartered Institute of Marketing, all ages and all levels of experience. One elderly gentleman who said that he was eighty years old and had never used a computer before, had within minutes called up the BMW site and was contemplating whether to buy a silver or black BMW - 5 series. He plumped for the silver one. Luckily his wife was at home with the credit cards.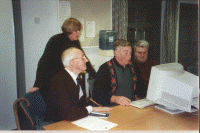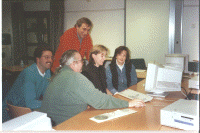 Friends were made, people were teaching each other how to do things, some amazing pieces of information were gleaned and passed round the room, there was a total integration of ages, the young were teaching the old how to surf the web and the old loved it. People came back for more, they got their E-Mail addresses and sent messages to their friends, relatives and children. "Nobody will believe that I have actually got an E-Mail address" was a phrase heard often. People were impressed with the amount that was happening in Cookham, ''I didn't know you could do all those sports". One American lady found photos of members of her family still living in the US, whom she had not seen for years and was able to say "that's my brother in law", "oh, that's one of my sisters".
---
They think it's all over!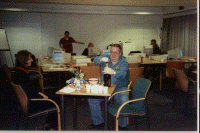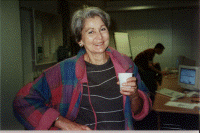 Only too soon it was all over, at 9.00pm on Monday 3rd January and not a Millennium bug in sight, the computers were switched off, having run without a hitch. Those remaining opened a bottle of champagne and pulled the plugs out.