December 2000
Well, the floods are effecting us all, and they are affecting the birds too. Those
which depend on foraging in fields and hedgerows, such as Lapwing, Woodpigeon, Partridges, Dunnocks and Blackbirds, are really struggling at present and many will have foresaken Cookham for a while to find drier feeding.
Owls and Kestrels too will be having real difficulties, with many voles drowned or relocated. Only time will tell the real toll.
However, it has had the affect of drawing in other species, and there have been huge numbers of gulls around this last week or two. At present, there are typically 2,500 Black-headed Gulls on Widbrook Common. Of course, it is out of the breeding season so most will not in fact have black heads, just a black smudge behind the eye. Other species such as Herring Gull and Lesser Black-backed Gull are to be seen as well.
But probably the most exciting has been the arrival of a small party of Bewicks Swans, all the way from Russia, and making use of huge expanses of water outside the traditional wintering areas in the UK.
Two adults and four immatures arrived in Widbrook around lunch-time today (18th December) and if the water level stays high and they are not disturbed, they could well hang around for a while.
They can be discerned from the Mute Swans by their black and yellow bills and the lack of a knob on top of the bill. They will probably stick together so look for a group of six, 2 white and 4 brownish ones. But you will need binoculars for successful observation.
Today they were on the west side of the road, looking towards Cookham Rise. Good hunting.
27 September 2000
I wonder how many readers may have been wondering why so many people have been on Winter Hill lately looking up to the skies? No, they were'nt observing spiralling fuel prices! They were looking for Buzzards.
And not just any Buzzards. The UK receives about 20 pairs of Honey Buzzards from Africa each year and they spread themselves throughout the UK, breeding in about three locations only. And so they are a rare bird to find.
So imagine the surprise in birding circles when news started getting out that dozens were being seen in the north-east of the country, gradually moving south.
A check of the weather pattern suggested that huge numbers of Scandanavian Honey Buzzards were being blown across the north sea and using our eastern coast to travel south along, instead of the west of scanwegia etc.
Well, over the next three days, some 300 to 400 of them streamed down the UK and many got as far inland as Berkshire.
In the past thirty years there have only been 13 individuals reported in the County. Over the last few days, almost twice this number have been spotted passing overhead, a good number over the Cookhams.
Ornithological history was being made right over our heads, and even on Monday 25th, no less than 9 went over.
So next time you see someone looking straight up, ask them 'Are you looking for Buzzards, Honey?'
September 2000
"Well, after yet another wet spell, here we are in the second week of September experiencing some of the highest temperatures yet this summer. And if that confuses us, what does it do to the birds.
House martins in the Cookham's not only arrived late, but delayed breeding due to the very wet start to the season. In fact,most left it too late to start a second brood, so that does not bode well for numbers next year.
Lots of tits and thrush species lost out to the rainy spring spell also. 'Our garden Blue Tits abandoned in early May and didn't bother again after that. Anyone had similar experiences?
Of course, we are now in the main migration window for many species. Swifts had already left the Cookhams by end July, and Whinchats were moving through Strande Water by end August. Hobbies have had a good year and I saw 3 over Widbrooke, 7 over Winter Hill Golf Course, and 3 more over Bourne End this Sunday. They look so majestic chasing dragonflies and flying ants, often in the midst of much more ungainly gulls trying to do the same thing!
Slightly further afield, a Hoopoe has taken a fancy to a paddock in Twyford and has staked a claim to it for three weeks now. Swallows are on the move and warblers are slowly disappearing. However, Skylarks should soon be back with us having spent the end of their breeding season on the coast to moult.
Why not let us know of any unusual sightings in the Cookhams, or whilst you were on holiday."
June 2000
Well, I guess you can say spring has come and gone and we had the two days of summer earlier this week. So what has this meant for the birds. The very wet April and May seems to have taken its toll on small birds. Our garden Blue Tits failed for the second year running to raise a full spring brood, but may try again before the end of the season. However, Robins seemed to do better.

Robins tend to feed more on ground pests whilst Tits go more for caterpillars and insects in trees and bushes, which were perhaps fewer in number. Also, the rain water taken into boxes on birds feathers has far less opportunity to dry out than in open nests such as robins etc causing rapid cooling of the chicks. Global warming is not having entirely beneficial effects on garden birds after all! House Martins too are having mixed fortunes. The traditional colony in Broomhill has been ignored so far, the first two explorers arriving only four days ago. But others have been active elsewhere in the village, and the Sand Martins are nesting again in the drain pipe holes of Odney's riverside wall, and in farmer Copas' sand bank in Long Lane.

Tawny Owls will have fled their cavity nests a few weeks ago. Did you happen to see us on TV a couple of Sundays ago? Country File covered the inspection of the Tawny Owl boxes that we installed in Quarry Woods during the winter, and several Cookham birders were involved with the Hawk & Owl Trust, and the Woodland Trust, checking which ones may have been used. We did find evidence of at least one having been used to raise owlets, but several were empty, quite a few had been taken over by squirrels, and two had been stuffed full of material by Great Tits (which must have taken ages!). The most interesting one however, and fortunately captured on the camera, was a quickly-departing Mandarin Duck, leaving a bemused Roger Parkes to look inside and find no less than 16 Mandarin eggs! These chicks will eventually have to leap down onto the ground and be quickly led to the nearest part of the Thames - which must be hundreds of yards away!
Many of you may have seen the regular sorties of Red Kite over the village this summer. A most welcome sight. And not too far away, at Bray Gravel Pit, a much rarer Red-footed Falcon lingered for a short while. Meanwhile, I am doing a sponsored 24-hour bird race in support of the Cookham Millennium Pageant fund, so if you would like to sponsor me, do get in touch.
March 2000
March seems to have crept up on us somewhat but it is an exciting month from an avian point of view with the first migrants appearing. Already, Swallow, Sand Martin and House Martins have been spotted on the south coast.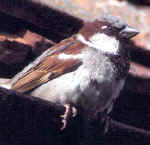 You may have had one of Germany's Blackcaps in your garden this winter (do let me know if you have) but they will soon be off and our 'own' Blackcaps from Africa will arrive by the month's end. There are still flocks of Redwing (70 in Strand Lane yesterday) and Fieldfare (20 over Alleyns Lane yesterday) but they too will be off north before too long. Many have said House Sparrows are disappearing. Well, I took it upon myself to check so I have walked most of the streets of the Rise this week counting those I could see or hear. I found 180! Biggest groups were in Broom Hill and Whyteladyes Lane, and most roads had a few.

Again, I would be grateful to hear from anyone who has them in their garden regularly. After all, at the present rate of national decline, you might not for much longer!
February 2000
Well, It's February and in our crazy 'global warmed' world, the birds are totally confused. Our local Broomhill Song Thrush has been singing his heart out all January and February, and so has the one in Alleyns Lane. Have you got one near you? Blackcaps have been wintering in several Cookham gardens; these are not the same birds as those spending the summer with us, but ones who have come from Germany, having worked out it's quicker to get back there from UK than from Africa. And who said animals were dumb!!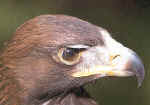 From the 'raptor watchpoint' on Winter Hill yesterday, there was a group of 4 Red Kites over the Cressex Centre, another with three Buzzards about a mile to the west, another Buzzard over Medmenham and yet another Kite a couple of miles from there. You will need good bins or a telescope to separate them, though. If anyone fancies a Kite Hunt from there anytime, let me know and I will organise a viewing with Cyclops, my 'scope.

Having mentioned raptors, I have received three independent reports of an eagle-sized species being seen in Langley this week. Descriptions seem to fit juvenile Golden Eagle, or possibly White-tailed Eagle, three of which have spent the winter in East Anglia having journeyed from the Polish colony, where there are some 500 pairs!

Anyway, back to Cookham. There have been a few Brambling with Chaffinches on the corner of Long Lane and Switchback this week. Delightful little birds, again just with us for winter.

If you would like to know about the local birding scene, give me a ring - 01628-525314
January 2000
Well, we are into AD2000 and we should see soon how many of the Little Owl boxes get used. In the meantime, we have not been idle and have been working with the Hawk & Owl Trust, and the Woodland Trust, to install 20 Tawny Owl
boxes in Quarry Wood and Bisham Woods.

Come the spring we will be inspecting these to see how many Tawny's have taken a fancy to them and, all being well, will be putting in another 20 elsewhere in the woodlands between Cookham and Pinkneys Green.

To find out more about these projects, birdlife in the area, and the special events in the area, ring Brian on 01628-525314."
BIRDWATCH ARCHIVE
ARCHIVE 2000