LATE SUMMER UPDATE
- SEPTEMBER 2008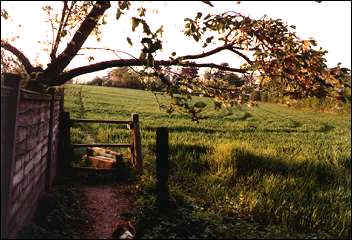 What on earth happened to summer 2008? Did I miss it? Meteorologically, September 1st is the commencement of autumn, and it certainly felt like it! And so we have already seen the quick departures of many of our summer visiting birds, with Reed Warblers the first to abandon there reed beds. A few could still be found buzzing plaintively in the last week of August along Strand Water and several of their relatives, the Whitethroat and the Lesser Whitethroat were feeding up in bushes around Widbrook common in readiness for their long migration ahead. I have always felt it a pity that the latter species was awarded the name 'Lesser' Whitethroat, For it is most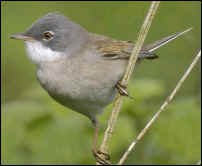 certainly a more distinctive bird than the Common Whitethroat in my opinion. True it is more skulking, but its darker cap, gray mantle and dramatic white underparts make for an altogether more notable plumage than the duller-shaded Common. And the Lesser's call is far more noticeable, particularly at any distance, with its shrill 'clucking' sounds.
The Swifts however are usually the first summer visitors to depart and most had gone by end of July. House Martins, for which I still only heard of 2 nests in all the Cookhams this year, may well still be feeding second broods, even with the help if first brood youngsters, as it is often the case that the fledglings have to commence on their migration within a couple of days of emergence from the nest at the end of September, so anything that speeds up their development is helpful. Of course, some of our resident birds are still completing their breeding season, and dare I say it, but it seems our local House Sparrows have had better luck with their 2nd (or even 3rd) broods than their first. With only 1 or 2 young successfully raised in some first attempts, there appears to be 5 or so in each of the current broods visiting feeding tables.
I mentioned the Hobby in the last Update, as being in short supply locally, and I have had very few sightings over the village. However, it seems they bred nearby (1 pair certainly at Cliveden and possibly another on White Place Farm) as 2 family groups were feeding over Saches Island this week.
Many will have noticed the dearth of insects this year, especially butterflies. Following a couple of poor years for these delightful creatures, emergence was much later this year for most species and numbers of them all way down. Moth numbers have picked up slightly in the last couple of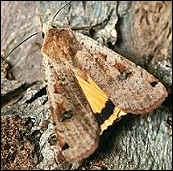 weeks, Large Yellow Underwings particularly prominent in the village. These are the very large moths that bash around the lounge or bedroom having slipped in through an open window on hot sticky nights (not that we've had too many of them!) As large as they are, they are still dwarfed by the huge Old Lady moth, which is often abroad at the end of August, with a gentle flapping flight style, reminiscent of small bats. The brilliant yellow Brimstone Moth has also been fairly well spread around the villages and the striking Vapourer Moth has also recently emerged, pretty much on schedule. It seems the emergence dates for most species had returned to more normal dates towards the end of the season compared with the beginning of it. The seasonal migrants from across the continent however, such as Silver Y, often widespread in late summer meadows, have been almost absent, reflecting a similar pattern with our migrant butterflies such as Red Admiral and Painted Lady, the latter of which I have seen none this year at all!
Of the other insects, Roesel's Bush-cricket was seen on Marsh Meadow. Just a few year's back, this would have been a notable sighting, as the species was rarely seen west of London . But it has greatly spread its range in the last decade and seems to crop up all over the place these days. With a name like Scorpion Fly, one might assume this species is one of those horror bugs we seem to be importing from overseas of late, but in fact it is quite a common species on wayside vegetation, and it seems to have had a good season around Cookham, with several sightings. The even-worse sounding Assassin Flies have, to the best of my knowledge, not yet been found in Cookham, but I am sure they are there. Thankfully, the 3" long varieties they get in some parts of the world have not reached UK – yet! Other insects are continually arriving here however as more and more of our foodstuffs and garden plants are imported from overseas. The Harlequin Ladybird is a prime example, but other pests such as the Green Shield-bug, which makes a terrible mess of crops, are arriving on our shores with increased frequencies. Villagers will have noticed the rusty autumnal appearance to our conker trees from early in the season this year. This is the result of the spread of the Horse Chestnut Leaf Miner, first seen in Wimbledon in 2002.
Bees have been busy in recent weeks, perhaps making up for lost time in the damper parts of the summer. Such weather, combine with the varroa mite, has been blamed for the huge losses of honey bee colonies in Britain in recent years. Added to the ongoing loss of wildflower meadows and field margins, these features will continue to make life difficult for this important insect, upon which we are reliant for pollination of fruit and crops. If you have room for a wildflower patch in your garden, or have a larger piece of land you could convert to wildflower meadow, it would make an enormous difference to our local bee populations. (By the way, a new CD, Gardening With Wildlife In Mind, is available from Natural England at www.naturalengland.org.uk/wildlifegardening).
But at least Cookham has not been affected by a mass of biting insects in the way Blandford Forum has in recent years, with the so-called Blandford Fly having been attacked by a succession of 'control' techniques for decades, with only limited success. Nonetheless, I have had 2 particular pests to deal with for the last few weeks – but school starts again this week, so phew!
Many thanks again for those who took the trouble to send in reports. Please do continue to keep the information flowing in. We would still be grateful for late House Martin nest information, counts of House Sparrows, and any hooting Tawny Owls.
BRIAN CLEWS
THE DOSSIER ARCHIVE
Late Summer - September 2008