Hear ye Hear ye! The Crier is always looking for things to shout about! Feel free to submit your Thoughts, Poems, Requests or anything you like to thecrier@cookham.com
---
WATCH OUT FOR PERFUME THIEVES: 14 May 2001
---
Cookham.com has been told by a reader that there have been stories going around that people have been offered bottles of perfume at knock down prices. They are then asked to have a smell of the perfume and something is sprayed at them that momentarily incapacitates them, allowing for the crooks to steel their handbags etc.
---
WHAT A CARRY ON - the Town Hall: 10 May 2001
---
The Royal Borough of Windsor and Maidenhead have plans to sell off the land where the Town Hall is currently located in St Ives Road and build on a new site to accommodate the Council.
Friends of the Earth are organising a Gentle Demonstration on Saturday 12th May 2001. Assemble at the Nicolson Centre at 10.45am and there will be a march to the Town Hall to arrive there at 11.00am.
Friends of the Earth ask you to come and make your views known. Come along, join in and meet new people.
---
Paul Farnborough is Cricket's Colt of the Year: 22 April 2001
---
At a recent pre-season get together for colts and parents Paul Farnborough was presented with the "Colt of the Year " award for the year 2000 season. Paul was a prominent member of the very successful Under 13's side which won through to the semi finals of the Berkshire Cricket Cup.
Colts practices start at the Cricket Club from Thursday 26 April. Contact Tom or John Mellor on 01628 526369 for further details.
---
Welcome to our French visitors: 20 April 2001
---
Cookham is being host to a group of French teenagers visiting us from our twin village, St Benoit.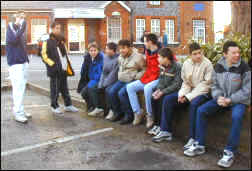 The young people are accompanied by three adults and will be taking part in a Sports Challenge organised by Cookham Twinning and the Cookham Youth Project.
---
Memories of Cookham: 15 April 2001
---
Just spent a nostalgic morning looking through this site. I lived for 26 years in Cookham Rise, (most of them in High Road) and would move back tomorrow if I could afford to!

It's great to see that things like The Tarrystone Players (of which I was a member for many years) and the Bourne End and Cookham Rotaract Club (I was a founder member and secretary) are still going strong.

Hello to anyone reading this who may remember me....

Jane Armstrong (neé Stephens)
---
Poundfield Ponies: 2 April 2001
---
Visitors arriving at Cookham via Maidenhead Road are greeted with this pleasing view. Actually they are rescued Dartmoor ponies and happy to graze in the lower field next to the nursery school.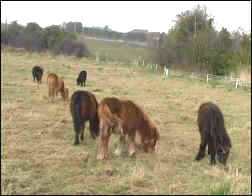 ---
Sad Death of Tony and Mishtu Bevins: 27 March 2001
---
The sad and unexpected deaths of a Cookham couple from Widbrooke occurred last week. Tony Bevins, the first political editor of The Independent, died on Friday at Wexham Park Hospital from viral pneumonia. His death follows that of his wife, Mishtu, four days earlier, also in Wexham Park hospital. Mishtu had returned from the States, when she heard of Tony's illness, only to be taken ill herself. Mishtu's funeral took place last Sunday at Slough crematorium. The building was packed full of friends and a moving moment was when a tape was played of Mishtu singing. Her coffin, sprinkled with rose petals, had a photo of Mishtu and Tony on their wedding day.
Mishtu helped everyone and used to work with special needs, where she had a real affinity and understanding. Many people would have seen Mishtu riding her bike around Cookham or walking along Sutton road. As Sutton Road had no pavements, Mishtu always appeared to be covered in mud.
Tony was the son of Reginald Bevins, who was Postmaster General in the Conservative government in the early 1960's. Tony loved to have dinner parties and invite people along with opposing political views, then make some comment and then lean back and watch the outcome. He had a name as having an insatiable appetite for causing mischief in the political world much to his amusement. Alastair Campbell, Mr Blair's spokesman, said: "Tony's individualism made him stand out when so much of the media operated like a herd. But above all he was human and his real interest in politics flowed from his insight that it had a huge impact upon the lives of people."
Tony was much respected by politicians on both sides and a memorial service, which will be attended by many, is planned in London in his memory.
---
Sarah Tubb - A Little History: 21 March 2001
---
Alan Fairlie, who is related to Sarah Tubb, portrayed in one of Stanley Spencer's paintings that can be seen at the Stanley Spencer Gallery, gave us the following information about his family.
Yes I am related to Sarah Tubb - in fact there were two of them as you will see below which is an extract from my History of the Fairlies. The elder Sarah was my great grandmother.

"On the 2nd. April 1925 Charlotte died and was buried in Cookham Cemetery where she was joined by William when he died exactly two years later aged 87. Charlotte had a mother, named Sarah (known as Sally), who was a bit of an eccentric. In 1910 she knelt down and prayed when Halley's Comet appeared, fearing that it was the end of the World. It was this event that gave rise to her daughter, also named Sarah, being depicted in a painting called "The Heavenly Visitors" by Sir Stanley Spencer in 1933 . Apparently Stanley Spencer regularly saw Sarah and her brother, Tommy "Titter" walking around Cookham, but because he never knew Sally he used the daughter as a model for this painting as she was about the same age as her mother would have been: he also
included her in some of his other paintings including one of her rising out
of a grave. Some of the paintings and prints depicting Sarah can be seen at the Stanley Spencer Museum in Cookham."

I am not sure whether any of the Tubb family are still living in Cookham as my part of the Fairlie family do not seemed to have been in contact with each other a great deal. However, I am in touch with Sylvia Middleton (née Fairlie) who now lives in Wales and who has been a great help in tracing our ancestors. She lived in Cookham up until she was married (she is now in her mid 60's).
---
---
Hear ye Hear ye! The Crier is always looking for things to shout about! Feel free to submit your Thoughts, Poems, Requests or anything you like to thecrier@cookham.com