---
A SET OF FOUR
30 March 2012
---
The Gallery at Elizabeth House is delighted to host a series of exhibitions by
the Maidenhead Painting Club
over the next two months (till 2 June).
With the overall title 'A Set of Four', f

our exhibitions, each lasting three weeks, reveal the immense range of talent in our local artistic community.

Each show features the work of one of the various groups which make up the Club, reflecting a broad range of media and styles.

Make a point of calling in a few times over through April and May and get a taste of the high quality of work produced by members of the Club. The works are for sale with a commission on sales going to Elizabeth House.
The Gallery
, on Station Hill, Cookham Rise, is open weekdays from 9.30 to 11.30 and Saturdays between 10am and 4pm.

It is now into its third year and over that time the gallery has exhibited the work of more than 20 local artists and has recorded some £7500 of sales of paintings, bringing

Elizabeth House valuable extra revenue through commissions on sales.

Our continuing thanks to all the artists who have contributed to our exhibitions, and to the many others who help with the gallery. And if you would like to help in some way, please contact Mike Copland on 01628 630375 or by replying to this email.
---
COOKHAM IN RUNNER'S BLOG
26 March 2012
---
Dear Cookham Crier,
I am running 1000km in 2012 to raise money for Child Bereavement Charity (Buckinghamshire based charity!) and Cancer Research, UK

I blog about many of my runs and like to include details on where I have run. I have run in many famous locations this year, including having the Silverstone race track all to myself to run round. I will go onto run Spa Francorchamps circuit in May and be one of the very few Brits to take part in the Nurburgring run in September.

However, I have to do lots of local runs to rack up my km's. I am fortunate to live only 10 minutes away from Cookham, I have included Cookham in my recent blog. Click here for my blog.

I am the Youth Worker for the Child Bereavement Charity and I can safely say all sponsorship will help a bereaved young person feel less alone and give them a chance to spend time with others who have had a similar experience.

I have been a long supporter of Cancer Research UK. My Grandfather died of cancer in November 2008, and at his funeral he asked for donations to go towards Cancer Research UK. I am continuing this legacy for him.

If you can relate to my reasoning for why I want to raise money for these charities, please sponsor me via my fundraising page.
http://uk.virginmoneygiving.com/Challenge1000

Kind Regards and Thank you,
Victoria Young
---
COOKHAM RISE TAPESTRY ON DISPLAY AT GUILDHALL
19 March 2012
---
Cookham Rise School's beautiful tapestry is on display in Windsor Guildhall. The exhibition, for which admission is free of charge, is in the Council Chamber and the opening times are:
Monday 19th, Tuesday 20th, Wednesday 21st March 10am to 4.30pm

Thursday 22nd March closed

Friday 23rd March 10am to 3.30pm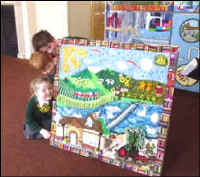 Today, Mrs Bown and Mrs Brett took three pupils (Bethan Terry, Jacob Smith and Zeke Anderson) to the press opening in order to represent the school.
Click here for more information on the Tapestry Project.
click on photo for larger image
---
COOKHAM RISE SCHOOL PLANS AN AFRICAN GARDEN
15 March 2012
---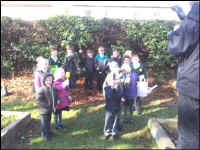 Cookham Rise Primary School invited the Maidenhead Advertiser into school last week as they need your help to collect as many recycle bank points as it can by the end of April 2012. We would like to build an African garden in our school grounds. We have teamed up with the Royal Borough recycling scheme and they will grant us up to £1000 for our project if we can get local residents to donate their unwanted/unused recycle bank points. It is easy to donate just login to your recycle bank account and go to about us/green schools programme. There is a link that will take you to the donation section where you can decide whether to donate all or some of your points.

We have recently achieved the ECO schools silver award and RHS level 3 award and would like to further develop our grounds for the children to expand their knowledge of the 'grow your own' concept, retaining the beauty of our village and also make them aware of the global aspect of caring for our environment.

It would be wonderful if this project could be a real community effort.

Please see http://www.sendacow.org.uk/keyhole-gardens for more details of the African garden idea and our ECO warrior section at www.cookhamriseprimary.org

Thank you in advance for your support.
click on photo for larger image
---
HERRIES VISITS THE NIPPERS
7 March 2012
---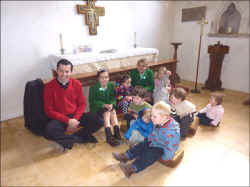 Two pupils,

Emma Hipkins aged 11 and

Jamilla Smith-Joseph aged 10,

from Herries along with Sophie Green, Herries Headmistress, visited the Trinity Nippers on Tuesday 6th March. After a candle procession they were welcomed by Father Andrew and there were songs with the toddlers, prayer and a bible reading by the Herries pupils followed by a short address by Father Andrew.

Emma Schumacher, whose daughter Alice attends the Nippers said "We moved to Cookham last summer from London and we didn't know a soul. My 3 year old daughter and I turned up at the first Nippers of the new term in September and we instantly felt welcomed to the village! My daughter really enjoys the songs, stories and packed lunch with her friends whilst I have met lovely people who have helped us to settle into Cookham life".

Chantal Williams whose son Tom attends said "Tom loves to go to Nippers because the children learn to feel comfortable in the church - they feel a sense that it's their church and that they're part of the community."

All parents, carers, toddlers and babies are welcome at Nippers at 11.15am every Tuesday in term-time. The mini-service takes place at Holy Trinity Church and there is lunch afterwards at the Parish Centre. If you would like more information, please contact Bridget King on 0797 478 1920 or Sarah Parfitt on: 07900 4117 15.
---
LET'S ROCK THE MOOR HELPS LOCAL SCHOOL
4 March 2012
---
Let's Rock the Moor is back in May and will be raising money for charity again. Last year the proceeds went to help local charities and also the Wooden Spoon which is a children's charity for those who suffer from a lifelong disability. With thanks to a donation from Let's Rock the Moor the Wooden Spoon was able to give £15,000 to the BESD school, Westfield School, in Bourne End for children with behavioural and emotional disabilities. November saw the opening of an outdoor learning and activity centre with the help of those who supported Let's Rock the Moor 2011.
Click here to see some more information about Westfield School and the help from Let's Rock the Moor.
---
PENNY IS NUMBER ONE
2 March 2012
---
Preparing for a dance competition is hard work, which Penny Bysshe from High Road has been discovering. Their minibus left Reading at 6.45am. Penny had hair, make up and tan already done and was carrying ballroom and Latin dresses in a dress bag. The competitions started at 10.00am in Southend and went on without a break until 6.30pm when there was the prize giving ceremony. Penny says " It was a long day but it was great fun and we all did well in our group.". Penny in fact came first in the ballroom section.
The competition was run by the ISTD, (the Imperial Society of Teachers of Dancing) . The dancers who reach the finals in their competitions are eligible to dance in the all-England competition held in Blackpool in November. Penny had already come first in both Foxtrot and Samba at other venues and so qualified again in Southend where she came first in Waltz and third in the Paso Doble. Is it Strictly Come Dancing next?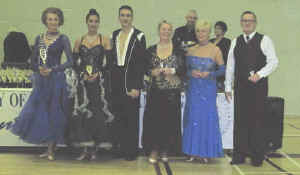 The photo shows the line up of the finalists for the Waltz at Southend in which Penny (on the far left) was first.
---
BARBARA'S OXFAM FAST
24 February 2012
---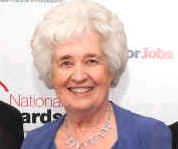 Barbara Walmsley, who lives on High Road, has been standing outside Sainsbury in Maidenhead for thirty six hours while she fasts. for twenty five years, to raise money for Oxfam. Unfortunately just before she started her 26th year's fast, she was rushed into hospital. However she had a cardboard doll to help fund raise in her place. Barbara is now bright eyed and bushy tailed again and is delighted with the support she had. She raised an amazing £16,446 for Oxfam. Barbara was overcome with the generous support and said "It was very humbling and helped so much in my recoverey...It's sometimes difficult to remember how great an impact that the money that we give has on people in desperate situations."
---
DRY HANDS AT THE PINDER HALL
14 February 2012
---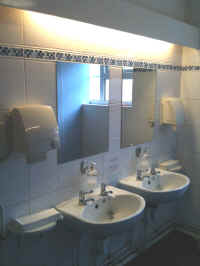 For all those who have used the Pinder Hall over the last few years and discovered that the hand driers only have been working intermittently, if at all, will be glad to hear that thanks to Councillor Michael-John Saunders and the Royal Borough the Pinder Hall is now the proud owner of two new hand driers one for the ladies and one for the gents. Liz Kwantes, chairman of the Pinder Hall Management Committee said "This is a great relief, the old driers were always breaking down and in the end we could not repair them, the cost of replacement was quite a lot, so we are very grateful to Councillor Saunders for supporting us in this way".

With thanks to Martin Delahaye for the photo
---
THANK YOU
12 February 2012
---
Peta Bee and Sarah Parfitt wanted to say a big thank you to all who supported their "Think and Drink" workshops in Cookham. The events wouldn't have been possible without inspiring guest speakers and their sponsors, Station Hill Cafe and Hive Industries. The final workshop took place on Thursday 9th February when Charles Luxford and Andrew Prewett gave a really lively and colourful presentation.
Altogether £540 was raised for local schools, and lots of really positive feedback was received about the events.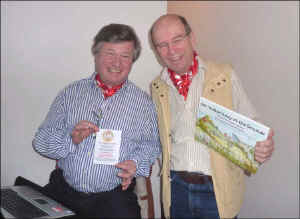 Charles Luxford and Andrew Prewett
---
BEL & DRAGON SUPPORT MAYOR'S CHARITY APPEAL
11 February 2012
---
The Bel & Dragon, Cookham, hosted a reception for around 95 supporters of Elizabeth House on Wednesday which raised just under£1000. James Molier manager of Bel & the Dragon welcomed everyone and congratulated the Mayor on his charity intiative. This event was in support of the Mayor's Charity Appeal which Councillor Asghar Majeed launched last May. The Mayor asked local restaurants and busineses to support a charity of their choice as part of his Appeal. At the event the Mayor said " We now have ninety six businesses in the Borough supporting a wide range of charities.
I would like to thank the Bel & The Dragon for their support this evening and providing free drinks and canapes, they were one of the first to come forward when we launched last year. Elizabeth House is a very important centre providing friendship and services in comfortable surroundings."
John Lloyd Parry Chairman of Elizabeth thanked the Mayor and the Bel & The Dragon and all their supporters for attending.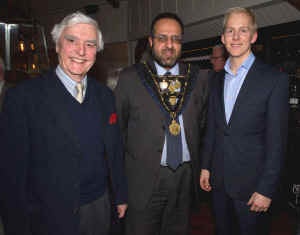 left to right John Lloyd Parry Chairman Elizabeth House, Mayor Asghar Majeed, James Molier Manager Bel & The Dragon, Cookham
(with thanks to Maureen McLean for the photograph)
---
SNOW SCENE IN COOKHAM
10 February 2012
---
Sutton Road this morning saw a car with a bit of a problem. The driver walked away uninjured, but made a bit of a mess of the hedge!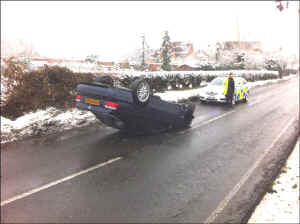 with thanks to Stuart Conlin (click on photo for larger image)
---
PHILIP AVERY AND ADRIAN MOORHOUSE AT THE COOKHAM DELI
7 February 2012
---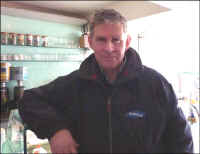 On 2nd February weatherman, Philip Avery, came to talk at the Station Hill Deli as part of the "Think and Drink" workshop series being run by Parfitt and Bee Media. He had a lovely story of how he became a weatherman, an interesting slant on the use of HR.

" After 6 months of flying training with the Royal Navy, it was considered that I had come to the end of the road. As a consequence I had to see the Chief Flying Instructor at the Royal Naval Air Station Culdrose, Cornwall. He was an old and bold Lieutenant Commander, a darker hair version of Captain Birdseye. He tried to convince me that he had never 'chopped' anyone from flying training in all his years in the service. Strange I thought as several of my fellow students had already been removed from course. At that moment, he reached into his bottom drawer, and his hand emerged, covered in a Sooty glove puppet. 'Sorry Phil. What's that you say, Sooty?' A quick whisper in the senior officer's ear and my fate was sealed. 'Sorry Phil, Sooty says you're chopped!' And so it was that my naval flying career came to an end thanks to a glove puppet., and I then went on to become a weatherman."
On 6th February a second workshop was held with swimmer Adrian Moorhouse.
(The following is with thanks to Brian Bower)
What better way to start the day than in the company of friends,
enjoying a fresh brew at the Stationhill Cafe, listening to
inspirational words from Olympic Gold Medalist Adrian Moorhouse.

Adrian's workshop was one of many varied and interesting presentations organised in recent weeks at Stationhill by Parfitt & Bee Media ( all proceeds donated to local schools). Now currently heading a major Buckinghamshire Leadership company, Adrian was talking of how success in sport is closely linked to success in other parts of peoples lives especially business. Find what motivates you and with ,dreams, focus a plan and obviously hard work WE could all suprise ourselves with what WE could achieve.

A highly enjoyable and thought provoking hour spent with a truley great and very likable Olympian.

Details of future events can be sought at Stationroad Tel; 07957395561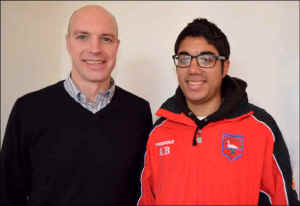 Adrian Moorhouse with Arun Brar (who is becoming a sports coach)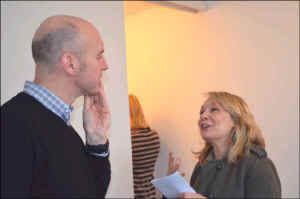 Adrian Talks to a Member of the Audience
Andrew Moore had a photo taken with Adrian Moorhouse about 30 years ago when Adrian visited his primary school - he is showing Adrian the picture here!
(With thanks to Dave Humphrys for the photos)
---
GRYFF RHYS JONES VISITS HERRIES
23 January 2012
---
PUPILS at Herries School, Cookham Dean, were treated to a lesson by the television presenter Griff Rhys Jones on Monday morning [January 23rd]. Rhys Jones and an ITV1 production crew spent several days in Cookham and the surrounding area tracing the life of Kenneth Grahame, author of The Wind In the Willows, who grew up in the house that became Herries School.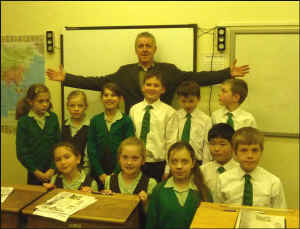 It is the proximity of the Herries buildings to the River Thames and the nearby Bisham Woods that are believed to have provided the inspiration for the setting of Grahame's tales of Mr Toad, Ratty and Mole. And to mark the 80thanniversary of the author's death, Rhys Jones is presenting a programme called'In Search of Toad: The Story of wind In the Willows' to be screened in Spring 2012 on ITV1 as part of the channel's Perspectives series.
During filming, Rhys Jones visited the home of one Herries' pupil - 9-year-old Sam Martin - to read sections of The Wind In The Willows as a bed time story. "We had lots of conversations about the book and the characters," says Sam. "Griff asked me to read from The Wind In the Willows and asked me about my favourite character which is Ratty because he is really kind."
Rhys Jones describes himself as a big fan of the book; twenty years ago he played Mr Toad in the National Theatre's acclaimed production of the story adapted by Alan Bennett. "It was a joy to spend time at Herries," he said. "People mistakenly think that The Wind in the Willows is too sophisticated a story for children, but in fact it is a book that appeals to every generation. The children here have a great understanding of its messages and people of all ages enjoy losing themselves in Grahame's description of the countryside."
---
GOOD NEWS FOR COOKHAM!
15 January 2012
---
---
COOKHAM JOURNALISTS LAUNCH MEDIA CONSULTANCY
10 January 2012
---
TWO leading journalists from Cookham are launching a media consultancy for local companies with a series of inspirational talks by high profile villagers.
Sarah Parfitt, a freelance radio producer and trainer at the BBC who has worked on many programmes on Radio 4, Radio 5 Live and the World Service, and Peta Bee, a multi award-winning author and writer for The Times, plan to kick off their new company, Parfitt & Bee Media , with the hour-long 'Think and Drink' sessions to be held at Station Hill Café in Cookham.
Each of the talks, which start on Thursday January 19 at 10am, will feature a villager who has achieved notable success in the arts, media or sport with all money raised from tickets going to local schools. Among those lined up to speak are renowned music producer Stuart Epps who has worked with Robbie Williams, Oasis and Elton John, BBC weatherman Philip Avery, Olympic gold medalist swimmer Adrian Moorhouse, children's author, Charles Luxford, and illustrator, Andrew Prewett.
"We have such a wealth of talent in Cookham and we thought it would be a great idea to celebrate that while raising money for local schools at the same time," says Peta Bee. "We hope the talks will provide an insight into the worlds in which these fascinating people have excelled."
Sarah Parfitt says: "Our 'Think and Drink' workshops are open to anyone in the area who is interested in sport, media and the arts - we hope that they will inform, entertain, and inspire people. If as a result of one our sessions, someone discovers a new talent or even launches a new career, so much the better.". Manjit Jaspal, owner of Station Hill Café says: "I think there promises to be some very inspiring and stimulating talks from really successful people, and we are delighted to be hosting the events.
Parfitt & Bee Media offers a range of consultancy services including public relations, media training, copywriting and one-off media campaigns. Between them, Sarah and Peta have provided media services for companies ranging from Asics, Nike, Condor Ferries and Singapore Airlines, to Save the Children, the MicroLoan Foundation, and Gillette.
Tickets for the Think and Drink sessions cost £10 by emailing info@stationhilldeli.co.uk . Please note - there are a limited number of tickets for each workshop, so it's advisable to book early to avoid disappointment.
---
A VERY SPECIAL COOKHAM CHRISTMAS 2011
22 December 2011
---
Gareth Evans, a video producer, who has recently moved to the area has produced a Christmas video of the Cookham area to wish everyone a very Happy Christmas.

---
CHRISTMAS CAROLS AROUND THE TREE
19 December 2011
---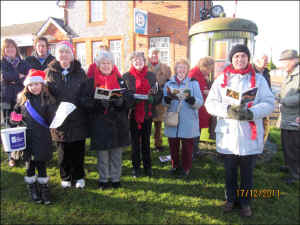 The Christmas Carols around the Tree held at Cookham Parade on Saturday 17th December, went extremely well, with approximately twenty singers, singing their hearts out. £140 pounds was collected, so along with the generous donations Cookham businesses, £500 pounds was raised in total for The Runaway Campaign, through The Children Society.
---
REPLY TO COUNCIL'S DECISION TO CLOSE CAUSEWAY
13 December 2011
---
Over three hundred people signed the petition to keep the Causeway open for vehicles in the case of flooding. The RBWM Cabinet will discuss this on Thursday.
Comments on Officer's report
Summary
The Officers recommendation invites Members to note the development of the Cookham Community Flood Plan but omits to mention that there was no alternative to the closure open to them without the withdrawal of this order. (background point 17.4 does not indicate any agreement with the closure by the Cookham Parish Flood Group). The Petition is supported by 212 signatures submitted by Cllr Stretton plus 89 e-signatures via the web site (a total of over 300).
If the recommendations are adopted, there will be NO benefit to residents
The Risk Assessment does not consider any the means of mitigation such as marshalling or technological assistance. On previous flooding occasions, the marshalling was initially carried out by the Police before the erection of traffic lights. Today sensors could detect when vehicles are on the Causeway enabling better control of the lights.
The Risk may arise only rarely – flooding occurs possibly once every three years for a short period.
In the Strategic links section the proposed closure cannot in any way improve Environment, Economy and Transport. There is no consideration in the report of the effects on the 20 or more businesses operating in the Village (including two of the larger employers in the Borough – John Lewis and CIM).
There is no consideration in the Officers report of the practicalities of closing the Causeway: where will the residents park their vehicles even if the "48 hour warning" is used to remove them from the village? There is no parking with sufficient capacity nearer than the Alfred Major playing field which is too far for some of the village residents to walk. How will the businesses in the village receive their supplies?
Background information
In previous flooding events the Borough and the Parish Council have successfully managed traffic using the Causeway despite the lack of proper signage. The occasions when vehicles have entered on the Causeway simultaneously from both ends despite the traffic lights were very rare and could have been avoided by appropriate signs being used.
Despite the assertion that "it was not safe to allow the use of the Causeway for both pedestrians and vehicles" there have not been any instances of collision or injury during previous flood events. Why should it be any safer for pedestrians when emergency vehicles are using the Causeway? Do the residents of Cookham Village and their visitors have no common sense?
Our recommendation
Installation of temporary traffic lights at either end of the Causeway during the 48 hour "warning" period (or as soon thereafter as practicable).

Erection of signs at each end to indicate that vehicles should expect a delay of up to, say, 4 minutes between green lights and emphasising that anyone who uses the Causeway does so at their own risk.
Installation of road and depth marker posts on the B4447 across the Moor to allow commercial vehicles to use the road for as long as possible
---
COOKHAM ARTS CLUB OPENS CHRISTMAS SHOW AT ELIZABETH HOUSE
7 December 2011
---
Cookham Arts Club is closing its 70th anniversary year with an exhibition at the Gallery at Elizabeth House, opening this Saturday, 10th December. There is a wide range of work on show and for sale, representing the varied talents of local artists. It's a great opportunity to enjoy the high quality of work created locally - and maybe find just the right Christmas present. The exhibition continues to the end of February.
The Gallery is open 9.30 to 11.30am weekdays and 10am to 4pm on Saturdays -
but note that the gallery will not have its usual Saturday opening from Christmas Eve through to the end of January.


Full details of the artists who have exhibited at the Gallery can be found at www.thegalleryatelizabethhouse.org.uk . Elizabeth House receives a commission on any works sold.
---
CHRISTMAS AT THE HOCKETT
5 December 2011
---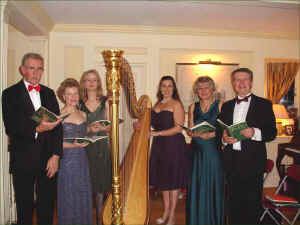 It is the beginning of the Christmas period and Genevieve and Friends were at the Hockett on Friday 2nd December to offer some musical Christmas entertainment for Thames Hospicecare. The entertainment was accompanied by a delicious two course supper.
Click on photo for larger image (photo with thanks to Rosalind Hazeldine)
---
SAD DEATH OF ALAN JAY
20 November 2011
---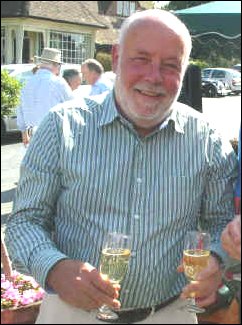 Many Cookhamites will remember Alan Jay who lived in Job's Lane in Cookham for many years until he moved to Hungerford with his wife Sheila in 2009. Sadly Alan died suddenly on Thursday evening 17 November 2011. Alan had spent much of his working life with IBM, including some time in Paris. He was always interested in computers and was involved in the set up of the Cookham website in 1999 when it was launched. Alan was very much the life and soul of Cookham Bridge Rotary and was involved with Cookham Twinning, More recently he worked hard to keep the Cookham Dean Post Office when it was in danger of closing down and was involved in its transfer to the Jolly Farmer. Alan was always active and getting involved in village life.
Following a private cremation, a service of celebration for the life of Alan will be held on Monday 28th November. It will be held at St. John the Baptist Church, Cookham Dean, SL6 9PD at 4pm.
Family flowers only, donations to Macmillan nurses.
---
JULIA'S GOT TALENT
1 November 2011
---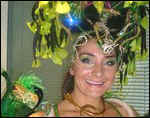 Julia Bysshe, who was born and bred in Cookham, and whose parents still live in High Road, is becoming known internationally. Julia has got into the papers and onto China television with her dancing for a Chinese talent show which took place on London Tower Bridge last week. She mentioned that she was from Cookham. Click here to see the article

Julia was also in a Saudi Arabian talent show last week – two talent shows in one week! She said many of the Saudi girls had received death threats for showing their hair. Julia said they all looked very ordinary when they arrived, but after they put their make up on the Saudi girls looked stunningly beautifully!
---
FUNDS FOR LEUKAEMIA
26 October 2011
---
Leukaemia and Lymphoma Research will be £1,550 better off this week thanks to Val Eckett who organised the Elvis Evening at the Pinder Hall on 23 September. This is a wonderful effort and a lot of hard work. Congratulations to Val.
---
CHARLES CREATES MR WALKER'S WORLD
23 October 2011
---
Charles Luxford has been busy over the last twenty months. He has been creating Mr Walker's World in the form of e-books. So far he has written two books and they are now in the public domain.
Charles says "The character emerged from my imagination when I was providing some bedtime entertainment for my youngest sons. Since being encouraged to go public, the appeal has spread from seven years old to seventy-seven!"

Click here to find out more about Mr. Walker and make contact.

The eBooks are available from: Amazon