---
29 March 2013
---
Arendall Piercey, 19, who attended Cookham Dean Primary School and then Sir William Borlase Grammar School and is now studying Anthropology at the University of Kent, last summer spent seven weeks interning in Antigua, Guatemala for a British charity called Education for the Children. This charity helps educate some of the poorest children in the region giving them an opportunity to improve their life instead of begging on the streets.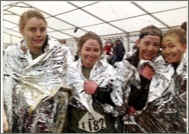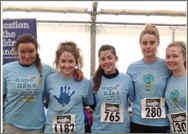 She was so moved by her experiences there, that she has continued to raise money for them. She organised ETFC to be the recognised charity for Cookham Dean Primary School. On March 2nd, she embarked on the NUTS Challenge; a grueling 7km assault course that tests the limits of fitness. Arendell and her two friends, finished it in under 2 hours on a freezing cold day in Surrey. They raised over £1,000 for Education for the Children in Guatemala. Well done Arundell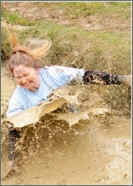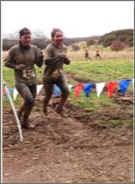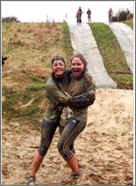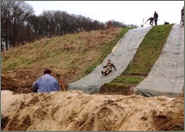 ---
28 March 2013
---

"Making Sense of it All" is a new reading group with a dual function. It is a warm friendly group that is open to all comers.

However it is being run by two experienced counsellors who have understood, through recent research, how therapeutic such groups can be. So the group also welcomes people who may be going through personal difficulties such as loss, loneliness, stress or anxiety. So a welcome to all, to come and enjoy some nice company and a bit of fun. You do not have to be clever or well read. Just come and meet some nice people.

The group will meet once a month starting on the 9th Of April, and the second Tuesday of every month thereafter. We are meeting at Elizabeth House at 1.15pm

Please ring Val 07932747623 or Paddy 01628 523985 or just turn up
We look forward to meeting you.
---
THE MEAN RED SPIDERS
25 March 2013
---
Stuart Epps has done a review of the Mean Red Spiders who played at Sanctum on the Green on Friday 22 March 2013.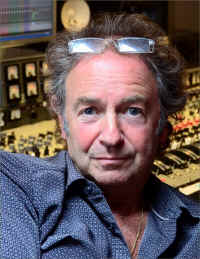 I have been going to the Sanctum, previously the Inn on the Green, for many years and it brings back many good memories.
When I was working with Chris Rea (back in the last century!), I actually used to live just across the green from Sanctum in one of the cottages which locals in Cookham Dean will be familiar with.
Back then, it was very much a traditional style pub – very well run and with good food..
I don't remember there being any live music back then though.
Not many of the pubs in Cookham have really succeeded in consistently putting on great live music whilst also offering a memorable restaurant experience.
Not until now that is. Andy Taylor, music manager and entrepreneur, who I have known for some years in the music business, has now turned the Sanctum into a very classy boutique hotel and restaurant/pub.
This on its own would be enough to give it a 5 star rating in my opinion, but under the great management team of Colin and Tina Rooney , they are now offering live music some Friday nights which makes it a really unique and special venue to meet friends.
Friday night saw the Mean Red Spiders performing. They are a local, six piece band who regularly play at Let's Rock the Moor, comprising Lance Gerrard-Wright on vocals, Simon Milner on guitar, Tom Keohane on drums, Matt Podesta on percussion, Richard Bradley on bass and keyboardist, Rob Strachan.
I have not seen them before, although Richard Bradley is an old friend, who has run the Mr Music Store for many years and is a great character and now I find out, also brilliant on bass.
In fact all the members of the band are superb musicians. The sound balance was great, and I had an excellent evening with friends.
The bar is such that you can either get up and dance close to the band, or be in the lounge sampling the superb bar-snacks with the music in the background.
Either way we had all the right ingredients for a brilliant evening. The band played a great selection of favourites from the 60s onwards - Clapton , the Kinks , the Stones and even my old mate, Elton .
Lance Gerrard-Wright handled the vocals superbly and was a great front-man.
I would highly recommend the Mean Red Spiders for any event and I've heard a few great bands in my time.
I would also recommend you get over to the Sanctum soon, to see it for yourself under the new management, and also to experience the culinary delights of 19 year old celebrity chef, Luke Thomas who was on the Great British Menu on BBC 2 last week.
In my opinion, it is the best hotel and restaurant venue the area, especially with live music there some Friday nights.
I am looking forward to the 19th April which will see Paul Bacon performing in his role as Ultimate Elton .
In my opinion, Ultimate Elton is the best tribute act in the world. I worked with the Real Elton for many years so I should know just how good he is ….
Happy Easter one and all!
Stuart
Stuart Epps is an internationally-renowned record producer and audio engineer who lives in Cookham. He has worked with many great artists, including, Elton John, Led Zeppelin, George Harrison, Robbie Williams and Oasis.
---
NEW MUCKY MONSTERS STARTS IN COOKHAM
22 March 2013
---
Mucky Monsters arts & crafts / messy play for preschool children has a new session on Fridays at Pinder Hall Cookham 1.30-2.30pm, starting FRIDAY 19th APRIL.

There's also an Easter fun session running on MONDAY 8th APRIL at Marlow Youth Centre 11-12pm. We'll have more activities than usual and older siblings are welcome.

Mucky Monsters also runs on Thursdays 11-12pm Marlow Youth Centre.

Sessions are drop-in at £6 per child, £4 per sibling.

Free Costa coffee, tea and biscuits!

Check out www.muckymonsters.com for more information or find us on Facebook Mucky Monsters.

---
22 March 2013
---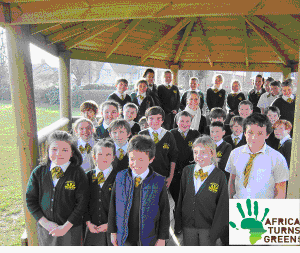 Séverine Dieudonné, founder of Africa Turns Green, paid Cookham Rise Primary School a visit on 4th March 2013 and spoke at length to our Year 6's whose topic this year is 'Lights, Camera, Action.' We presented her with a cheque from our recent mufti day and took part in a quiz. Africa Turns Green supports entrepreneurs such as

Dr. Gladys Kalema-Zikusoka

and her work with Gorillas. The children have embraced Africa with all their hearts and have filled our C.R.E.W. notice board with some wonderful poems and information about the animals of Africa.
---
SIMA SHORTLISTED FOR PRESTIGIOUS AWARD
22 March 2013
---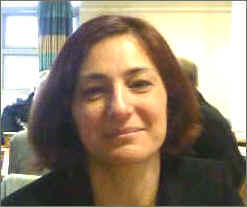 Sima Stannage from Sima's Action Kids has been shortlisted for a coveted national award and is now urging the people of Berkshire to come out and vote for her in the final stages of the competition.
The nomination is for "Best Children's Entertainer" in the "What's On 4 Junior 2013 Awards" which have been sponsored by Konfidence swimwear. Last year, over 45,000 votes were cast in the national competition, and the event is expected to be even bigger this year.
"I am over the moon about this nomination," says Mrs Stannage. "I have a great job, singing, dancing, playing games with children and having lots of fun all day. When I see a child laughing and jumping for joy at their birthday, I always feel so proud and to have received recognition from so many of my clients that I am doing a good job is an amazing feeling. Thank you Berkshire!
Dan Allen from Konfidence says that his company is very proud to support these awards: "Everyone in our company is thrilled to be part of these awards for the third consecutive year. As always it is fantastic to see all the nominees and finalists rewarded for their hard work, and for the opportunities and joy they give to the children, parents and carers they engage with."
Voting starts today, so please support Sima! Everyone who votes for her (or others in the competition!) will be in with a chance to win 2 VIP tickets to the Champagne Award Ceremony at the BabyExpo Event on June 30th:
Just go to: http://whatson4littleones.co.uk/awards.asp for more information. If you would like to contact Sima, please phone: 0795 699 3439
---
EASTER FUN FOR THE FAMILY
18 March 2013
---
The Sanctum on the Green in Cookham Dean are celebrating Easter with fun for the family. They are planning a bouncy castle, Easter Egg Hunt, Adult Pole Jousting, egg and spoon racing and Sima who will be entertaining the little ones with singing and dancing. It is starting at 2pm on Easter Monday 1st April 2013 and should be a fun family afternoon.
---
15 March 2013
---
On Palm Sunday 24th March 20143, pupils of Holy Trinity Primary School will be making their way to Holy Trinity Church through the village following a donkey! In order to stand out from the crowds the children will be wearing brightly coloured clothes not school uniform. During the service the children are going to be delivering readings, performing a sketch and singing.
---
DAVID SHEPHERD ART COMPETITION
12 March 2013
---
Pupils from Herries Preparatory School in Cookham Dean recently took part in the 2103 "Fragile Future" Global Canvas art and poetry competition, which was organised by the David Shepherd Wildlife Foundation:
http://www.davidshepherd.org/education/competition/index.php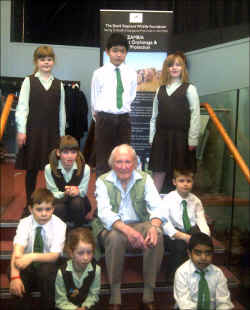 "The theme this year was "Fragile Future" and the pupils had to come up with a 2D or 3D piece of art and they were incredibly creative," said Maureen Bell who teaches Maths and Art at Herries. "We were really proud of them."
There were over 1,500 entries this year from all over the world, including Russia, India, South Africa, Nigeria and Zambia. Although Herries had no outright winners, the work of ten pupils was highly commended and exhibited at the Flett Theatre in the Natural History Museum on March 7th.
"We have been told that the standard was higher than ever this year, so for this number of Herries pupils' pieces of art work to be chosen to be exhibited amongst the 300 selected for the exhibition is a real achievement," said Head teacher, Sophie Green.
------------------------
The ten pupils who were shortlisted were able to meet wildlife artist, David Shepherd in person last Thursday, an experience they will undoubtedly never forget!
Congratulations to Niroop, Charlie, Millie E, Andrew, Annabel, Kento, Isabella, Holly S, Emily S and Jessie!
---
KIDS' FOOTBALL TEAM GETS A BOOST
11 March 2013
---
GENEROSITY OF LOCAL MAN GIVES KIDS' FOOTBALL TEAM A BOOST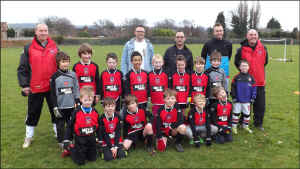 Cookham Dean Football Club's youngest team has secured a local sponsor to provide much needed financial support for kit and equipment. Rad Khalil, owner of Rads Barbers in Maidenhead High Street, was so impressed by the under 8 team's success in their first season of competition in the South Bucks Mini Soccer League that he pledged a £300 sponsorship for the year ahead. The Rads' Barbers shop logo is now emblazoned on the shirts of the football team who are based at Alfred Major Recreation Ground in the village and have won some of their matches 5-0. "It is fantastic to have this sort of backing from a local business," says Sid Newell, vice chairman of Cookham Dean FC. "Running a sports club can entail tremendous overheads and we would struggle to survive without this sort of generosity." Mr Kalil [pictured in black top and glasses] was presented with a club shirt to display in his shop. Anyone wishing to join CDFC should visit the club's website: cookhamdeanfc.co.uk
Pictured: Jodie Roberts, coach (far left), Paddy McGrath, coach (far right), Tom Grant, coach (blue/black top), Rad Khalil (black jacket) and his colleague Matt with members of CDFC U8 team.
---
SPEEDY RUNNERS WIN FOR COOKHAM
11 March 2013
---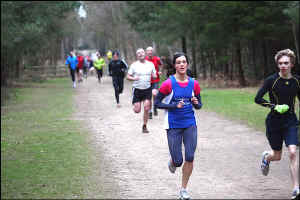 COOKHAM Running Club members finished in first and second place at a recent 5km event in Black Park, Slough. Ibet Stanley and Bridget King out-ran the rest of the women's field to record times of 20:36 and 20:37 on the muddy parkland course. In two weeks time, 22 male and female members of the club, based at Cookham Dean Cricket Club in Whyteladyes Lane, will tackle the Water of Life 10km in Bisham. Cookham Running club has gone from strength to strength since it was set up three years ago. With a fully-functioning committee, there are regular races and social events for members as well as training runs for all levels (including walkers) on Saturday mornings at 9am. From April, members will be doing track and grass speed sessions on Tuesday evenings (7.30pm). The club welcomes everyone from complete beginners through to speedsters.
For details visit www.cookhamrunningclub.com.
---
SPENCER PAINTING COMES HOME
9 March 2013
---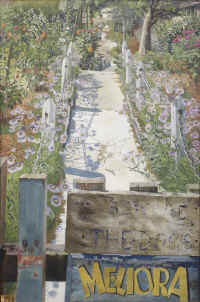 On show at the Stanley Spencer Gallery Cookham for a limited time only (9th – 24th March) is a painting with an important local connection which will have started its life just along the road from the artist's house in High Road, Cookham Rise.
Garden Path Cookham Rise , painted in 1949, shows the entrance off Briar Glen to Jack and Clara King's market garden. The Kings were greengrocers in the village for many years and Jack was known to help Stanley by transporting large paintings to London in his horsedrawn cart, usually used to deliver fruit and veg to local customers. 'Meliora' the name plate on the gate refers to the converted bungalow that Jack and Clara lived in, an interesting building that can be seen in another of Spencer's paintings Goose Run, Cookham Rise (1949). Originally sited in New Rd as a temporary replacement for the outgrown Wesleyan Chapel in Cookham Village (now the Stanley Spencer Gallery), it was moved to High Rd when the new Methodist Church was built in Lower Rd.
The picture perfectly captures the informal atmosphere of the working garden; viewed from the road, the autumn sun beats down upon the path casting shadows in which the heads of the asters mingle with the posts and chain link of a fence which struggles to contain the abundance of flowers and vegetation. Spencer was known for his meticulous observation of nature which he reproduced in great detail; plant lovers may wish to discover how many varieties they can identify in this colourful painting.
This delightful painting, shown here for the first time in the Gallery, has been generously offered for a short period by its owner in association with Bonhams. It has been in a private collection ever since it was painted, and will shortly come up for sale, as a result of which it may disappear again for many years. We would urge all lovers of Spencer landscapes to make an effort to come to see this work.
(Also last chance to see another Spencer highlight: Cookham On Thames, a stunning landscape painted in 1937 from a spot on Winter Hill, now part of the golf course, looking down towards the river and Cookham Bridge. Not seen in public for many years, this beautiful painting as been very generously lent by a private owner especially for this winter exhibition which ends on 24th March.)
---
MEET THE SPANISH TEACHER
5 March 2013
---
Meet the Spanish teacher who is running the After School Spanish Club at Herries….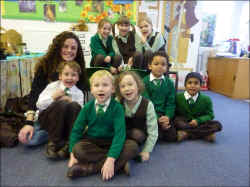 Hola! My name is Eva María Pérez, and I'm a 27 year old primary school teacher from Madrid in Spain. My special subjects are P.E and English.
I have been working as an au-pair in Cookham since October and I feel very lucky. Having worked as a teacher back in Spain, I decided to come to England to improve my linguistic skills and learn about more about the country's cultural heritage.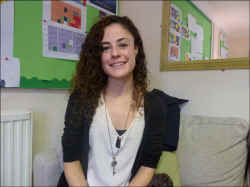 From the moment I arrived in Berkshire, I felt very at home here – everyone is very friendly and people always seem to greet you with a smile. I am working for a lovely family in Cookham and teaching Spanish at Herries School in my spare time. Everyone –without exception- has given me a warm welcome.

Teaching at Herries School has been wonderful. It's great teaching my native language to a small group of children, who are so inquisitive and keen to learn a new language. At the After School Spanish Club there's a relaxed atmosphere, as I think children learn best that way. The girls and boys, all aged between 5 and 11, are learning topics such as greetings, introductions, colours, numbers and animals and I use games and songs to introduce them to new vocabulary and am even getting them to create their very own dictionary! The focus is always on learning in a fun way.

When I go back to Spain, I hope to teach English and P.E, and I am sure my experiences here in Cookham will give me a great foundation.
---
VISIT OR LEND A HAND FOR EXCAVATION
4 March 2013
---
From Marlow Archeology
Wednesday 13 March marks the date when we open the Heritage Lottery funded trench in Rookery Park, Marlow, in search of an earlier building under the Victorian mansion that we have been excavating for the last two years. There are reports of a medieval chapel in the area: is this where it is?
The excavation is planned to last two weeks, and the public are welcome to come and visit, and maybe even lend a hand (Contact Joy Blake - see the website).
---
WHEN THEY GET OLDER
2 March 2013
---
A new website, When We Get Older has recently been set up. Jacquie Rollett who lives in Cookham Dean is being part of it. When They Get Older is a website sharing ideas to help support increasing numbers of elderly family and friends - whenever, where ever and however . Jacquie says "Its a community where we hope you will find information and insights that can be trusted and we wrap our findings around the experiences and advice of people who have already trodden the path. We have just had an exclusive report from Sarah Guthrie about having to sell the medals received by her father

Wing Commander Branse Burbridge to pay for his Care Home".

Click here to see When They Get Older

Leave your feedback and comments
---
VACANCY FOR A PARISH COUNCILLOR
27 February 2013
---
MAKE A DIFFERENCE TO YOUR COMMUNITY
A vacancy exists for a Parish Councillor
1. There is a vacancy on the Council caused by the resignation of a Councillor representing Cookham Rise Ward.
2. A Bye-Election to fill the vacancy will be held if, within 14 working days from the date below, ten electors for the Ward give notice in writing claiming to the Returning Officer that such an election should take place.
3. The Address of the Returning Officer is c/o Electoral Services, Town Hall, St Ives Road, Maidenhead, Berkshire. SL6 1RF.
4. If no such notice is given, the Parish Council will fill the vacancy by co-option.
Contact Anne or Margaret on 01628 522003 or cookham.parish.council@gmx.co.uk for further info
---
ALLOTMENTS AVAILABLE
20 February 2013
---
The Parish Council have allotments available for rent at Sutton Road and on the Alfred Major.

Our concern is to allocate these plots asap and before the growing season gets underway.

The plots are available to those living in the Parish and anyone interested should contact either Anne or Margaret on 01628 522003 or cookham.parish.council@gmx.co.uk for further info.
---
COOKHAM FESTIVAL PROGRAMME
20 February 2013
---
We are happy to announce the programme for the 2013 Cookham Festival. It will be available in locales around Cookham, plus will be delivered at the end of February/beginning of March to every household in Cookham. If you can't wait that long, you can look at it online! www.cookhamfestival.org.uk Just click the swirl above marked "Programme".
---
ARENDALL GOES NUTS
9 February 2013
---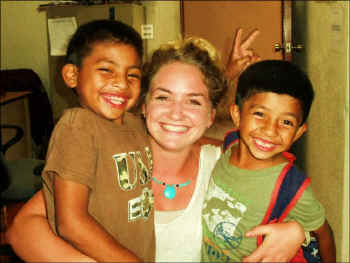 Arendall Piercey, 19, who attended Cookham Dean Primary School and then Sir William Borlase Grammar School and is now studying Anthropology at the University of Kent, last summer spent seven weeks interning in Antigua, Guatemala for a British charity called Education for the Children. This charity helps educate some of the poorest children in the region giving them an opportunity to improve their life instead of begging on the streets. She was so moved by her experiences there, that she has continued to raise money for them. She has also organised ETFC to be the recognised charity for Cookham Dean Primary School. On March 2nd, she will embark on the NUTS Challenge; a grueling 7km assault course that tests the limits of fitness. The interesting twist to this fundraising is the ETFC has recently opened a US branch and the two nations are now in competition with each other to see who can raise the most money!! US v UK. Don't let them win!!! This is a UK charity!
Arendall says "it would be great if you could sponsor me on the 2nd March, even if I have to climb muddy riverbanks and scramble through assault courses in Surrey."
---
COLLAGE COMES TO COOKHAM
6 February 2013
---
Collage comes to Cookham for our opening show for 2013 at the Gallery at Elizabeth House. The exhibition of works by Sheila Riley is called

Contemporary Collage

. Sheila took up art seriously only recently but has developed a clear style of her own creating collages with an abstract, contemporary feel. She says she is fascinated by reflections and water and this comes through clearly in many of the works she is exhibiting at the Gallery. Much of it involves torn tissue paper and magazines, coloured threads, ribbons and string, resulting in vibrant, colourful images. She started exhibiting in public last year, has had two of her own shows locally and was also at Maidenhead's Art on the Street.
The Exhibition is from 10 February and will continue till Easter Saturday 30th March, open weekdays from 9.30 to 11.30am and Saturdays 10am to 4pm. More gallery details are on our website www.thegalleryatelizabethhouse.org.uk
---
NEW VESTRY IS OFFICIALLY OPEN
1 February 2013
---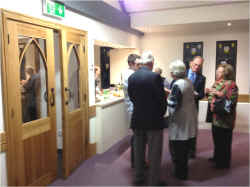 After frantic fundraising over a long period of time, the new vestry at St John the Baptist in Cookham Dean is officially open. There was a launch on Tuesday 29th January when people were able to view the interior. There have been some glitches, one being that the government announced they would start charging VAT just before building started, which caused panic. However after a lot of fundraising and some very generous donations from residents the vestry is now ready. This will allow for activities that had to take place at the WI Hall, to be able to move to the vestry location instead. The main room is bigger and also the kitchen is larger, which is something that a lot of the congregation will be pleased about.
---
TAKE PART IN A BRAND NEW MUSICAL
29 January 2013
---
Jonathan Yates has written a musical play based on Victorian Cookham and is holding open auditions to the general populace of Cookham to come and join in the chorus or perhaps in a cameo role (maybe with their own song, if they dare!). The musical will take place during the Cookham Festival at the Pinder Hall on 15 and 16th May 2013. The auditions are on 9th February from 2.30pm - 5.00pm at the Scout Hut off Grange Road, Cookham. Just come along.
---
CAROLS FOR RUNAWAYS
14 January 2013
---
The Saturday morning before Christmas was not the best of days for carol singing. However, as the rain poured down a number of brave souls from the

C

ookham

c

hurches sang their hearts out outside the railway station in aid of The Children's Society, a leading children's charity.

The money raised on the day and monies collected from a number of Cookham businesses was £384.00. This worthy sum will be allocated to the Children's Society's projects which include helping and supporting runaways, some as young as ten. More information about the society can be found at www.childrenssociety.org.uk

There was further fundraising for The Children's Society over Christmas. A retiring collecting after Holy Trinity Church's Christmas Day Carol Service amounted to just over £600. Adding this to totals raised from collections at the church's Christingle Service on 2nd December and the "Thanksgiving for the Gift of Music" service on 16th December, the total amount raised for The Children's Society in December was £1100. Thank you to all those who gave so generously.

Many thanks to all those who took part and to those who contributed.

Cookham Business Contributors

Barnside Motors, The Little Shop, Flour Power, Herries School, Executive Advisory Services, John Lewis (Odney Club), CIC Services, Brent de Clipper, St. Annes House Dental Practice, Stationery Depot, Giggs Butchers, Car Parts, Maceys, The Chequers, Moor Cottage Nursing Home, Cookham Tandoori, The Jolly Farmer.
---
THE FOOD SWAP DIET
12 January 2013
---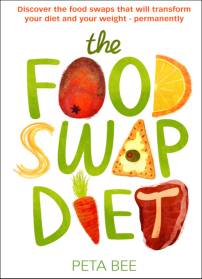 Cookham resident