---
FIRSTFRUITS CELEBRATIONS
22 July 2013
---
Firstfruits Celebrations is all about 'Helping People Celebrate'! Whatever the need is to make their celebration an enjoyable success, I am there to help. If it is event planning, catering a lovely meal, providing delicious desserts, or if it is just helping prepare the home for their special occasion. It can be a lot of work inviting people over to one's home and help is essential to make sure the host enjoys the celebration too.
Since October 2012, I have been supplying Baked Vanilla Cheesecakes to Countrystores which have been selling out every week. The cheesecake is called Mum's Favourite Vanilla Baked Cheesecake because it was my mum's favourite and becomes the favourite of everyone who tastes it. I can send photos of cakes and give great references upon request. My contact details are:
---
COOKHAM DEAN FOOTBALL CLUB
17 July 2013
---
The Football club is looking to raise its profile and encourage more local support ahead of the new season that gets under way in August, over the past two summers the club has spent time and money on improving its facilities on the Alfred Major recreation ground to qualify for a good level of competition and to achieve certain standards. The club now needs to encourage more locals to become more actively involved either as players or volunteers who can help run the club to enable the popular club to develop further.

Cookham Dean Football Club is now 134 years old and is very proud of it's place at the heart of the local community. The Club provides football at all ages from Under 9 years in the Youth section through to the veterans side, and the Season runs from August to May. The Seniors play on Saturday afternoons while the Youth teams play on Sundays.

The Senior teams play in the Reading League with the First Team challenging in the top section of the Senior Division and the Reserves not that far behind in the Premier Division.

The sprightly veterans side are entered in Cup competitions and are involved in the clubs many charity events.

All of the clubs sides play on the Alfred Major Recreation Ground Hillcrest Avenue Cookham Rise Training nights are held on Tuesdays from Mid - July onwards

The members are always looking to bolster their numbers and are looking for help in running the club, whether it is someone who could make the tea at half time or someone who would like to get more actively involved and join the committee and help with fundraising and moving the club forward.

Cookham Dean Football Club requires the support of the local community to continue to thrive.
For more information and contact details visit www.coohamdeanfc.co.uk
---
LAUNCH OF COOKHAM MEDIA HUB
2 July 2013
---
LET'S GET TOGETHER, FELLOW JOURNALISTS!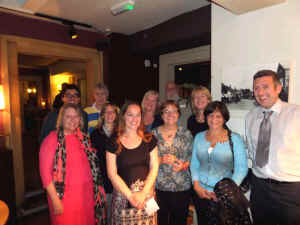 Thursday 27th June marked the launch of the Cookham Media Hub – a monthly gathering for media professionals in the area, some of whom can be seen in the photo.
The lively event took place at the King's Arms pub on Cookham High Street and those who attended were treated to a complimentary glass of champagne.
Two Cookham-based journalists, Sarah Parfitt and Sarah Rodi, organised the networking event, hoping to bring together various media types to share information and ideas. And they did just that, proving there's a hive of talent in the area, as those present ranged from film producers, to print journalists, broadcasters, PRs, graphic designers, actors and marketing consultants.
Mandy Temple, an award-winning and independent film producer and director, attended the event and says: 'I really enjoyed meeting fellow colleagues in a relaxed and non-pressurised environment. It can be quite isolating when you are self-employed, working from home – however successful you might be – so it was wonderful to think we are developing a fun and supportive group of people who share a passion for their profession. I loved the venue and the whole experience.'
Business Editor and Media Relations and Communications Consultant Carla Delaney says: 'It was refreshing to discover a wealth of media talent, people I have not met before, and I hope to get to know them better through this exciting and interesting new networking club.'

The next meeting will take place at the beginning of September. "The first Cookham Media Hub was great fun and proved to be a dynamic forum for swapping ideas with like-minded people,' says Ms Parfitt, a freelance radio producer, media trainer and consultant. 'Any media professional is welcome to come along to the next free event.'
Register by emailing your details to Sarah Parfitt by July 20th: sarah_parfitt@mail.com or phone 07900 4117 15.
---
GET YOUR SUMMER OFF TO A SIZZLING START
20 June 2013
---
Question: Where can you and the children unwind, make sandcastles and enjoy some top quality acts this summer without leaving Berkshire? Answer: At the first ever Maidenhead Festival.
The (first ever) Maidenhead Festival will be taking place on July 26th and 27th, and will replace the Carnival which has traditionally taken place in June. Alongside a beach and children's entertainment, such as Sima's Action Kids in Kidwells Park, the town is going to be buzzing with live music in local pubs, street markets, fairground rides and fireworks.
"We thought it was time for something fresh and different and hope that the whole town will embrace the Festival. With the range of activities on offer, there will be something to suit all ages. It's definitely not an event to be missed!" said Maidenhead town manager, Steph James. "Why trek all the way to Brighton when you can enjoy a beach on your doorstep as well as some of Berkshire's best entertainers and musicians?
Having recently appeared on stage alongside celebrity, Dave Benson Phillips at Let's Rock the Moor in Cookham, Sima Stannage, the founder of Sima's Action Kids will be providing her high-energy children's entertainment at the Maidenhead Festival:
"I am incredibly excited about being involved in the festival," said Ms Stannage. "To play a small part in celebrating our wonderful beautiful town by helping our children enjoy the beginning of the summer holidays means so much to me."
The Maidenhead Festival will run from 11am -10pm on Friday, 26th July and from 10am -10.30am on Saturday, 27th July. For further information, please go to:
http://www.enjoymaidenhead.com/events-and-offers/events.aspx
---
HERRIES AND THE WONDERFUL WIZARD OF OZ
20 June 2013
---
From Sophie Green – Head Teacher at Herries
Our head pupil, Kate recently said that the highlight of her school year was taking part in the summer production, and that the best moment of all was when our music and drama director, Jami Castell announced which musical it was going to be.

After a dazzling performance of Annie last year, the pupils will be taking us on a journey to Kansas and performing the Wonderful Wizard of Oz on July 9th and 10th. The excitement around the school is palpable, especially as there are five Dorothies!

The musical, which is based on the eponymous children's novel by L. Frank Baum, chronicles the adventures of a young orphan called Dorothy who is swept away from her Kansas farm home in a cyclone along with her beloved dog, Toto.
Dorothy and her much trusted canine friend find themselves in Munchkin Country, and that is where their adventures begin. As they travel along the yellow brick road to find the Wizard of Oz, Dorothy and Toto encounter the Scarecrow, the Cowardly Lion and the Tin Woodman.
"I chose the Wonderful Wizard of Oz because it's one of my favourite musicals of all time," said Mrs Castell. "I also felt that it would appeal to this particular year group. There is also no shortage of roles because of the Munchkins and the other main characters."
We have a strong tradition of celebrating the arts at Herries and we are very grateful to Mrs Castell for everything she contributes to the school. Having grown up in a musical family, she is passionate about drama and music and this enthusiasm is infectious and has inspired many Herries pupils who may not have previously considered drama or music.
Recently, our pupils joined Cookham Dean and Holy Trinity schools and performed Andrew Carter's Galloping Godiva at the Odney Club as part of the Cookham Festival. After rehearsing collaboratively for just two hours, the pupils from all three schools combined to create one "village choir".
The very impressive performance was conducted by Gillian Dibden, MBE, one of the country's leading young people's musical educators and conductors, and coordinated by Mrs Castell from Herries.
Several of the pupils from all three primary schools gave solo performances, including Sam, a Year 6 pupil at Herries, who sang "Peeping Tom". This expression refers to a man named Tom who, according to legend, watched Godiva ride and was struck blind or dead.
To Sam's surprise, the audience asked him to repeat his performance at the end, capping off a memorable afternoon for him and his friends:
"I enjoyed Galloping Godiva because the songs were fun and witty. I also liked getting to know people from other schools."
We really benefitted from the expertise of Gillian Dibden and the standard of the performance was very high. All of the pupils who took part are to be commended for their commitment, hard work and skill.
---
NEW LANDING STAGE AT COOKHAM LOCK
17 June 2013
---
For those anxious we had lost our landing stage at Cookham - fear not!
A brand new one, shorter but with new robust handrails, and even any easy access ramp for wheelchairs, has arrived in time for the Salters boats this summer!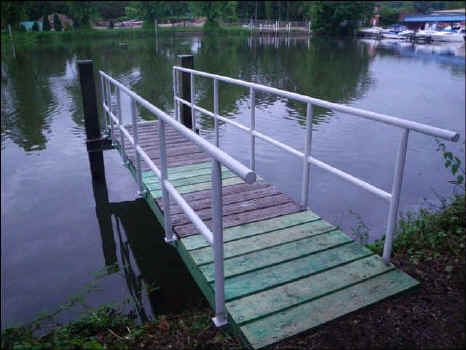 ---
14 June 2013
---
We have a new exhibition opening this Saturday with two artists new to the Gallery at Elizabeth House - Tom Smith and Helen Thomas. And you are invited to the Opening Reception on Saturday (tomorrow - 15th June) from 5pm.

And if you cannot join us then, the exhibition is open until Friday 19th July - weekday mornings and Saturdays 10am to 4pm, so do call in.

See more about the Gallery at www.thegalleryatelizabethhouse.org.uk

THE SMITHS
Paintings, Portraits, Posies
Tom Smith is a self-taught painter, specialising in non-traditional portraits, mostly painted in acrylics.
He was a singer in 80's/90's bands 'Gee Mr Tracy' and 'Cas Carnaby 5'. His subjects range from anonymous models to famous and infamous celebrities. Tom says he likes to paint "ugly men and beautiful women but not necessarily in that order."

Helen Thomas is a passionate walker of this area. Using different mediums she hopes to express some of the appreciation she has for the beauty of nature, flowers in particular.

Based in Maidenhead, the recently married couple want to celebrate with their art not only the power of PAINT but also the power of LOVE.
---
12 June 2013
---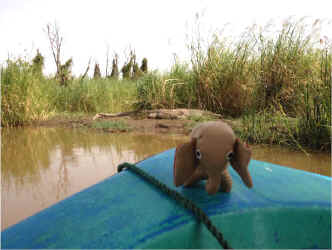 Trunky the elephant is now in Ethiopia with Africa Turns Green founder, Séverine Dieudonné. The Herries school mascot

was handmade by a local group of disabled adults



Latest reports have confirmed that they are south of the capital, Addis Ababa and have seen some hypos and crocodiles.

Ethiopians are really lovely and welcoming and this is a fantastic country to visit," says Ms Dieudonné.

Trunky will experience travelling by bus for the first time today when he and Ms Dieudonné head to Tanzania. They are going to stay near Kilimanjaro and will hopefully see some other wild animals.

"I am looking forward to meeting some more of my brothers and sisters," says Trunky.
---
5 June 2013
---
Pupils from Herries Preparatory School in Cookham Dean (and members of the public!) are being invited to sponsor a mascot, Trunky the elephant, as he travels across Africa.

The school is supporting a charity called Africa Turns Green which raises the profile of green entrepreneurs across Africa:

www.africaturnsgreen.org,uk

Séverine Dieudonné, a freelance BBC journalist and founder of the charity, Africa Turns Green, is currently making four documentaries about Climate Change for the European Commission and is travelling to Ethiopia, Kenya and Tanzania.

She has taken Trunky with her, so that families can sponsor his journey.

If you'd like further information, please contact Séverine Dieudonné: severinedieudonne@yahoo.co.uk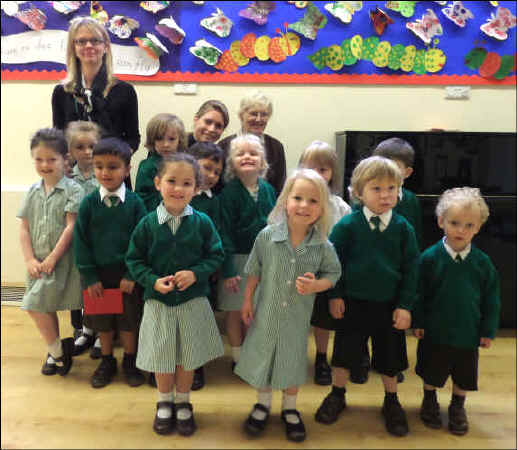 ---
LOCAL BERKSHIRE STORES REMAIN AN IMPORTANT PART OF THE COMMUNITY
27 May 2013
---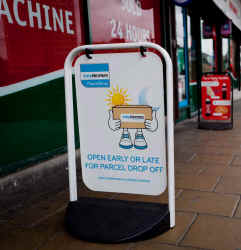 Convenience stores and corner shops are an important part of the local community in Berkshire, providing a high quality experience that the majority of residents feel is at least on par with that of large supermarkets. This is according to an independent survey commissioned by myHermes, the online delivery service, which launched its myHermes Parcelshop network last year located in 1,500 local convenience stores nationwide. In particular, there are 2 myHermes Parcelshops in the Cookham area including Queens Convenience Store on Queens Street. Mandy Brar at Hillcrest Stores, Hillcrest Avenue, Cookham also offers a parcel collect service and the Co-op in Furze Platt has an Amazon parcel service.

Over 90% of the respondents agreed that convenience stores play a vital role in the community, with the over 45s feeling the most strongly about the issue. Over 50% of all those questioned stated that they visit their local shop at least once a week with 11% visiting daily.

With the issue of trust at the forefront of consumers' minds following the recent horsemeat crisis, the survey also asked respondents about levels of trust in their local convenience stores. Almost 75% trusted their local convenience shops as much or more than the major supermarkets to provide high quality, relevant products at a competitive price.

Commenting on the research Rob Edson from myHermes said: " Our myHermes Parcelshop service is all about providing a convenient and cost effective alternative to the Post Office. By teaming up with trusted local stores in Berkshire, who are typically open early and late, we can offer businesses and consumers the ability to send parcels and return online purchases whilst they are picking up a few essentials from their local shop, often without making an extra trip. This is also good for the local store as it creates additional footfall and revenue."

The myHermes ParcelShop network is an extension to the current myhermes.co.uk service, which offers an affordable delivery solution that can be quickly ordered online with items collected direct from the door. By opting to take items to a myHermes ParcelShop, rather than have a courier collect them, parcels are delivered on a 2 day service (rather than 3 day), making it a comparable service with Royal Mail (2nd class) but cheaper (over 1kg) and fully tracked, for no extra cost.

myHermes.co.uk has been set-up by Hermes, the UK's largest home delivery courier network handling more than 160 million collections and deliveries each year, and is based on the hugely successful Parcel Shop model operated by the company in Germany.

You can find your nearest ParcelShop using the online finder (https://www.myhermes.co.uk/parcelshopfinder).
---
24 May 2013
---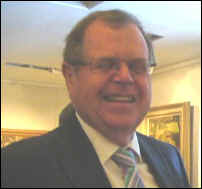 Stuart Conlin, Chairman of Trustees of the Stanley Spencer Gallery, gave a live interview on BBC Radio Berks, on Thursday 23 May, on Mike Read's programme just after 3 pm. It is on the IPlayer if anyone is interested in listening. Mike Read has been walking the Thames path from Wallingford to Windsor this week and Stuart met him at the Ferry Inn, an appropriate place to discuss various aspects of Spencer the artist and his association with the river and Cookham. He was well briefed on both Spencer and Cookham and was thus able to bring some intelligent, if at times somewhat tricky, topics to the conversation as well as some aspects of Cookham history of which Stuart was not aware.
Stuart showed him round the Gallery exhibition after the programme finished, which he seemed to enjoy. He's finishing the walk from here to Windsor today, Friday, in this filthy weather!
---
17 May 2013
---
The stunning setting of the new John Lewis Heritage Centre at the bottom of Odney Lane was the backdrop for the Cookham on Canvas exhibition opening night on 16 May. Artists were to be found out and about Cookham painting furiously all last weekend despite the very unkind weather and the result is a display of over 30 works of art ranging from pencil drawings to oil paintings.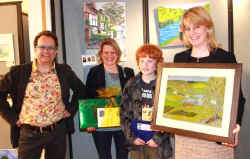 The judging began in the morning to find one outstanding piece and the panel of Timmy Mallett, Ann Danks and Chrissy Rosenthall from the Spencer Gallery, Marie-Ann Leonard from Bovilles art shops and Gail Dorrington the event organiser had a very difficult task indeed.
She explains "Our main difficulty was that there were so many beautifully executed paintings, from experienced artists right through to complete beginners so we were not looking for the best painting but the painting that expressed most clearly the "Spirit of Stanley Spencer" " Chrissy Rosenthall explained this to the artists and their guests before Timmy took the crowded room through every single painting pointing out all the good bits and how the panel felt about the works during the judging process.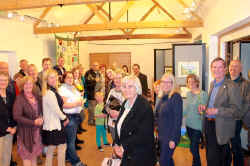 And so to the winners…
Prizes of art materials generously donated by Bovilles art shops were presented by Marie Ann Leonard to:
Junior prize in the youth category went to 13 year old John Conacher for his drawing of the war memorial. The detail in the drawing was fantastic and he had been observed over the weekend out there in the cold working all day on it.
Junior prize for our younger artists went to 8 year old Mollie Thorne for her water colour pencil painting of the Cookham bridge and toll house. The judges loved her use of colour which shows real promise for the future.
Over all winner was Stephanie Gay who miraculously managed to produce a silk painting over the weekend of the view from Winter hill capturing the light over the reservoirs.You can see the weather rolling in across the sky- an outstanding piece of work and a unanimous decision by the panel.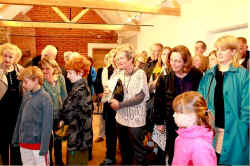 Second place went to Michelle Jackson for a water colour pencil painting of Cookham bridge.The panel picked this out because of the way the artists had chosen her viewpoint from an unusual angle. The details of the wrought iron work and the flower pots in the foreground were very much in step with the spirit of a Spencer.
Third prize awarded to Sarah Luton for her acrylic and oil painting of a view looking directly down Cookham High street. Sarah was to be found outside both days over the weekend under an umbrella to produce this painting which included the kinds of details Spencer would have painted; the bus stop, the cars and people standing in their garden It is a painting of a moment in the here and now.
Runners up prizes went to Nancy Ovstedal, a view for the end of Mill lane in the gardens of formosa court and to Ruth Daniel for a water colour of a tree stump with a nest of moor hens.
Honourable mention also went to Valerie Ann Benham for a view of Holy Trinity churchyard.
The exhibition is open to the public as part of the Cookham Festival Open Studios Trail.
---
BREAST FEEDING IN THE HIGH STREET
9 May 2013
---
A Cookham.com reader sent in this photo of Cookham High Street, with thoughts of Ovey's Farm one hundred years ago.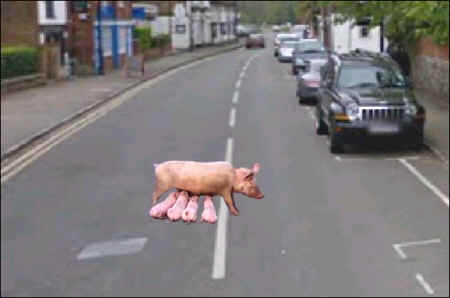 ---
8 May 2013
---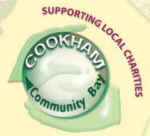 After five years of running Cookham Community Bay, Chris Harris is having to call it a day. CCB offered to photograph items people wanted to sell and put them on eBay. A percentage of the sales was kept by CCB and the profits were shared between Holy Trinity and Elizabeth House. If anyone wants to run it, Chris Harris would be happy to tell them what to do.
---
2 May 2013
---
The Rainbow Pre-school Barn Dance on Saturday, 27 April was a big success. We'd like to thank our sponsors: The Handmade Cake Company, Bradburys of Buxton, Countrystore Cookham, Sanctum on the Green, The Vanity Lounge, Fairmont Hotels & Resorts, Peaseblossom, The Pretty Pantry, Firstfruits Celebrations and Mucky Monsters. We raised £450 and a great night was had by all.
---
30 April 2013
---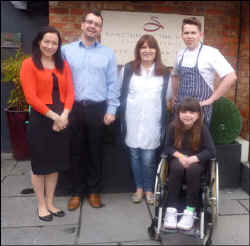 There's a lovely event happening at Sanctum on the Green on May 19th which celebrity chef Luke Thomas is supporting.
It's in aid of a wonderful little girl called Vivi who has undergone a big operation recently. She is brave beyond words and a real delight:
The Taste of Summer event on the 19th May is going to be a truly memorable experience. It will include a cooking masterclass with award-winning chef, Luke Thomas - Britain's youngest head chef, and Peter Dickson will be hosting an auction.
Tickets are £10 each and are available from Sanctum on the Green.
---
28 April 2013
---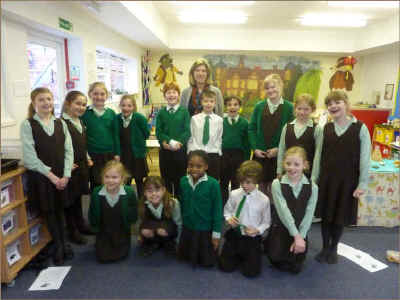 Once again, Herries pupils have achieved fantastic results in their LAMDA
exams (London Academy of Music and Dramatic Art). All of the individual entries passed and many achieved merit and even distinction! All of the group entries were also successful, again passing with either merit or distinction. Head teacher, Sophie Green said:"Much hard work went into the performances which the pupils gave during their exams and I remain convinced that this is very much a confidence and self esteem building experience for the children, as well as being lots of fun!"
---
22 April 2013
---
Penny Bysshe sent this to cookham.com. (Click on photo for larger image.)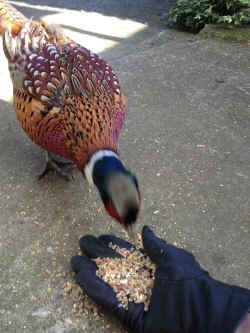 Here is a photo of the pheasant I took this morning. It has taken about 10 days for him to peck bird seed from my hand. At first I threw the food down for him at some distance, squatted down holding out my hand out with some bird seed on it and watched while he pecked away, keeping a careful eye on me all the time. I kept very still until he finished eating. He would not let me get near him. Every day he would come a little closer. He seemed to like it when I coo-cood at him. He coo-cood back happily but would not come close. I was putting bird seed on my bare palm but when I noticed how hard he pecked at the seed on the ground I put a glove on. It took a couple of days for him to get used to the glove. Every day he came a little closer and eventually he came close enough to peck the corn on the ground around my hand but would not take the corn from my hand. Then the day before yesterday he was very brave and took a few tentative pecks from my hand before backing off. Yesterday he was very confident, strutted up to me purposefully, greeted me with a happy squawk and straight away started to peck the corn from my gloved hand, his stabbing pecks sending the feed flying everywhere! I was very glad I was wearing a glove! I know that he "does the rounds" locally and presumably gets food from several homes - I can hear his loud squawks echoing round the neighbourhood - and wondered if anyone else had succeeded in getting him to peck bird seed from their hand?
Lou wrote in reply: "I'm in Cookham Rise and we have a pheasant who I have called Frank (Spencer) because I rather uncharitably decided that even for a bird with a brain the size of a pea, he must be particularly silly to try and take up residence here with us and a road full of cats! Sometimes he roosts on the tree outside my living room window, which you'd think would be quite charming but he screams VERY loudly at any one who has the cheek to drive past or worse still, walk their dog past him!"
---
20 April 2013
---
John Lloyd-Parry, who is well known in Cookham for his bird photography, spied some birds at the famous (or is it infamous?) swimming pool at Cliveden. It looks like the ducks were taking a rest after their swim.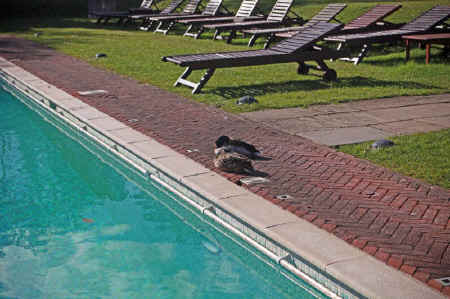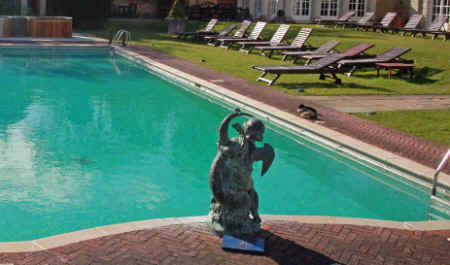 ---
LUXURIOUS BEDROOMS NOW AT BEL & THE DRAGON
19 April 2013
---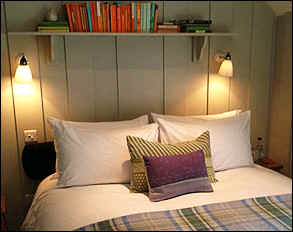 Bel & the Dragon in Cookham Village has been sensitively restored to provide five superbly luxurious bedrooms for their guests.

There are period features throughout this 15th century building that lend all rooms their exquisite charm.

All the rooms are individualised, incorporating their own unique features.

The

rooms are made comfortable by great big beds, using White Company linen and towels. The rainfall showers are the highlight of the magnificent bathrooms, many of which have underfloor heating installed as well.
---
18 April 2013
---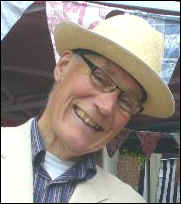 Cookham residents who knew Charles Benson who lived in Cookham Dean will be saddened to hear that he died on Wednesday 17th April 2013. Charles was well known in the Cookhams and was the titular head for the jazz group the Fabulous Shirtlifters. He was very active in Cookham Bridge Rotary and was often to be heard as the MC at the Cookham Regatta and Cookham Dean Village Fete. Charles had previously lived in Bradcutts Lane with his family where they had a B&B, although Charles was actually an engineer and had travelled the world working for multi national electronic companies.

Thoughts go out to Charles' wife Diana and his children and grandchildren.
---
16 April 2013
---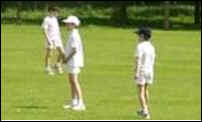 Jon Stewart, a resident of Cookham Dean, has set up a new and exciting cricket academy for budding young cricketers in and around Cookham.
Jon says "It is called the Thames Valley Cricket Academy and is based at Cookham Dean Cricket Club on Monday evenings. We offer specialist cricket coaching for talented young players from all clubs in the area."
You can find more information on their website www.tvca.co.uk
There is a free coaching session / trial on Mon April 29th and the full academy starts on Mon 13th May.
---
SPECIAL RECOGNITION AWARD FOR BARBARA
13 April 2013
---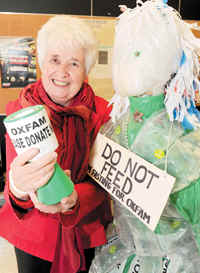 On the 11th April 2013 at the JustGiving awards dinner, Barbara Walmsley from High Road, Cookham received a Special Recognition Award.

The citation reads 'This award recognises your incredible 27 years of tenacious and dedicated fundraising for Oxfam'

The only complaint Barbara has is that it is now about 60 years since she first collected for Oxfam!
---
8 April 2013
---
A diary note! It's time to don your dancing shoes and do-si-do your partner for the annual Rainbow Pre-School barn-dance at Pinder Hall on Saturday, April 27th. Whether you are seven or seventy, single or married, an award-winning dancer or have two left feet, we would love to see you there to help raise much needed funds for our beautiful pre-school.
For those Cookhamites who have never ventured to a barn-dance before, they are tremendously energetic and social affairs and no previous experience is required because a caller will guide you through the dances. While most dances are danced in 3/4/5 couple sets, many others are "mixer dances", where you and your partner get to dance with lots of different people.
Mid-way thought the evening, we will be pausing for a ploughman's platter, guaranteed to tantalise your taste buds - a dish recently voted one of England's most important cultural icons. There will also be bar, and a raffle. If you would like to purchase tickets for this very special evening, which are £12.50 per person including dinner, please phone Kathy Rickman: 01628 522 797. Be quick to avoid disappointment!
---
3 April 2013
---
It is not too late to sign up for the Cookham on Canvas event and take your place at an exclusive talk in the Stanley Spencer Gallery on April 17th.

The event is part of the Cookham Festival 2013 arts programme.
The talk will give participants an idea of how the event will happen and link the painting locations to works created by Spencer. Not to be missed!

More details and for an entry form call in to the Stationery depot or follow this link to the Festival web site where you can download it on line.

http://www.cookham.com/cookhamfestival/programme/programme.htm#arts

The event takes place over the weekend of 11th and 12th May. Prizes of art materials donated by Bovilles with an exhibition in the beautiful new John Lewis Heritage Centre from 17th to 19th May.
Open to all including youth and children's categories.
---
FORMER INTERNATIONAL RUNNER OFFERS COACHING
3 April 2013
---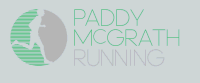 A former international athlete from Cookham is launching a unique coaching service for runners of all levels. Paddy McGrath of Cookham Dean Bottom once ran for Ireland and Northern Ireland recording times that placed him among the UK's best runners. At the peak of his career, Paddy ran 1500 metres in 3:44 minutes and covered the half marathon distance in 64 minutes. Since his focus switched to coaching he has guided runners of all levels from complete beginners to those competing internationally. He holds UK Athletics coaching qualifications and will offer both bespoke one-to-one or group coaching and workshops for keen runners in the Cookham area.
"I have an expert back up team of sport psychologists and sport nutritionists who have worked with Olympians, so I hope to offer people the complete package to boost their running whether they are starting out or wanting to get faster," says Paddy who also coaches the Cookham Dean Under 8 football team in his spare time. "We'll be holding a workshop on 'how to run a half marathon' in June."
For details, email paddymcrun@btinternet.com or call 07714 950748. Check out Paddy's website www.paddymcgrathrunning.com, facebook page paddy.mcgrath.running or follow him on twitter @paddymcgrathrun
---
3 April 2013
---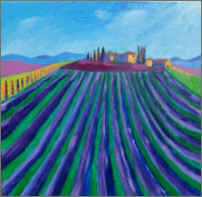 Local artist Nick Kennedy is returning to the Gallery at Elizabeth House with a new set of paintings under the title " Land & Sea". It's an exhibition bringing together his most recent paintings from travels abroad to Greece and France. Harbours, sunsets, fishing boats all feature strongly, with a focus on balancing light and colour.
Nick studied Art and Design at Amersham College and Bristol University, then taught Art at secondary schools before moving on to his current vocation as Art Lecturer for East Berkshire College.

Past Exhibitions include Wolfson College, Oxford; Windsor and Norden Farm Arts Centres; Maidenhead Art on the Street; Cookham Festivals and South Bucks Art Week.

The exhibition opens on Saturday 6th April and continues to Friday 3rd May. The Gallery - on Station Hill, Cookham Rise, SL6 9BS - is open weekdays 9.30 to 11.30pm and Saturdays 10am to 4pm. Elizabeth House benefits from a commission on all works sold. More gallery details, including past exhibitors, are at www.thegalleryatelizabethhouse.org.uk
---
1 April 2013
---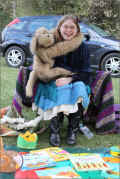 The Maidenhead Bridge Rotary Club organised a family fun day on Easter Saturday. Sima from Sima's Action Kids was one of the many performers giving their time for free. More than 700 local people supported the event.
(Click on photo for larger image)
---
COOKHAM DEAN FOOTBALL CLUB IN CUP FINAL
1 April 2013
---
Cookham Dean Football Club are in the Cup Final of the Norfolkian Senior Cup Final on Thursday April 11. The Norfolkian is Maidenhead's oldest Footbal Club competition. On Thursday they will be playing Wraysbury Village FC at Maidenhead United FC York Road Ground with a kick off at 7.30pm
Cookham Dean normally wear Red/ Black but for the Cup Final but this time they will be wearing the change strip of all Green.
Please come along and cheer your local side on as they try to bring the Trophy back home to Cookham.
---
EU FUNDS SECURE NEW GRANDSTAND FOR COOKHAM DEAN
1 April 2013
---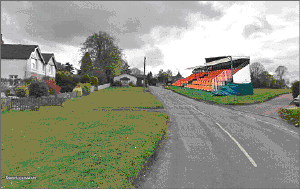 Sport for Europe has confirmed full funding for a spectacular new grandstand to be built on the old cricket common in Cookham Dean.
The state-of-the-art structure will be prefabricated in Germany, shipped to the UK and erected by a crack squad of German workers in less than a British worker's lunchtime.
"We are thrilled with the announcement, and delighted with the size of the cheque." said Peter Bartlett, one of the supporters of the scheme. "We applied for a grant for a temporary structure to cover the Gravity Grand Prix, but to our surprise they have given us full funding for a permanent erection.
"We did point out to them that a mistake may have been made, but nobody in Brussels wants to know. Apparently, there is no mechanism for returning overpayments back to Europe because no member country has ever tried to do it before. They said it would be much cheaper for us just to keep the Grandstand than it would be to pass the legislation needed to set up a refund system."
However, some in The Dean are outraged. One resident said "Before retirement I was a very important person and although I fully support the idea, I am angry that nobody has asked for my opinion. It would seem that because the structure is prefabricated in Germany, it is governed by German planning regulations not English ones. What is this country coming to? I didn't fight in the war just so these faceless Eurocrats could give us a well-made, useful structure that will benefit the village for generations to come, without even giving me a chance to rant about it in the local pub."
A spokesperson for The Kaffers of Cookham Dean said "We welcome any help, from whatever quarter. The Gravity Grand Prix is becoming a bigger event every year, and last year some spectators couldn't see properly. The Grandstand will come in very handy, and we are currently looking for volunteers to help turn the thing round for the Boxing Day Games."
The Gravity Grand Prix will be held on Sunday 1st September. Further details including entry packs are available at www.cookham.com.
---
---