---
VILLAGERS OUTRAGE AT CAR PARK RACKET DURING FLOOD
19 January 2014
---
Cookham Villagers are up in arms after the owners of a village car park fined four teachers for parking there during the floods. The central village car park in Station Rise is owned by a shareholding company called PCM UK Ltd. During the recent Moor floods, Holy Trinity Church of England Primary School in school had to close for a day since staff, pupils and parents could not readily get to the school. Subsequently the Executive Head, Dave Rooney, encouraged the staff to leave home early (6.30 am for some) to get into the village and walk through the Pound, over the Causeway so the school could open on time. He suggested they park their cars near the village station. Four of them used the car park and were consequently fined £60 for exceeding the time limit. "These teachers arrived in the dark and returned in the dark and did not notice the restriction signs which are not displayed well," says Peta Bee, a parent governor at the school. "They are staff who travel from outside Cookham and who don't know the area well. It is outrageous that they are being fined for their attempts to help the village's children, especially when fees for car parks run by RBWM were waived during the floods." Chris Harris, also a governor at Holy Trinity, says attempts to get the four tickets waived have been blocked at every stage. "We thought that, in the exceptional circumstances, and the fact that the community and the teachers had pulled together so well to overcome the flood difficulties, they might relax their views, but apparently not," Harris says.
---
AU PAIR GATHERING
19 January 2014
---
Around 30 au-pairs, including one from Japan, turned out for the social gathering at the King's Arms on Sunday. The pub resembled the United Nations with young people from lots of different countries, including Poland, Romania, Germany, Spain and New Zealand.

Host-mum and journalist, Sarah Parfitt said: "I organised this get-together for my new au-pair Leire, who arrived in the UK last week. I wanted to make her feel at home and ensure that she didn't feel isolated. I don't think that's going to happen now! I actually booked a table for eight people initially and was worried that no one would come because of the floods, but I have been thrilled by the response."

If you are an au-pair living in the area and would like to meet other people from the group, please contact Leire: leire_auritz@hotmail.com or phone Sarah Parfitt: 07900 4117 1
---
MORE FLOOD PHOTOS
11 January 2014
---
With thanks to Jacob Pearce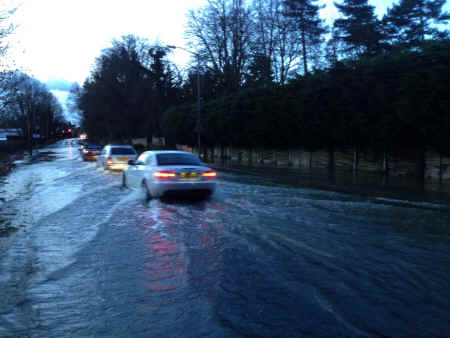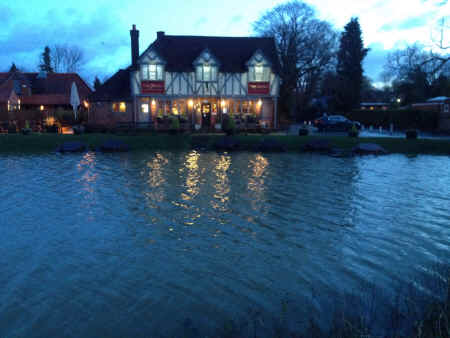 ---
SOME FLOOD PHOTOS
8 January 2014
---
With thanks to Nick Read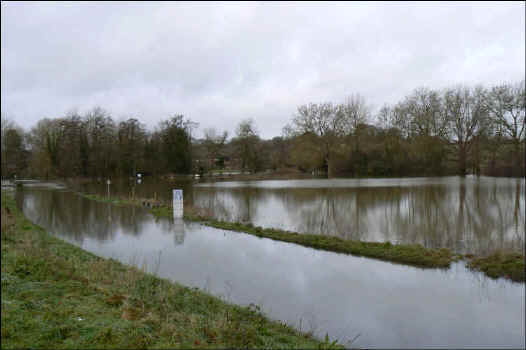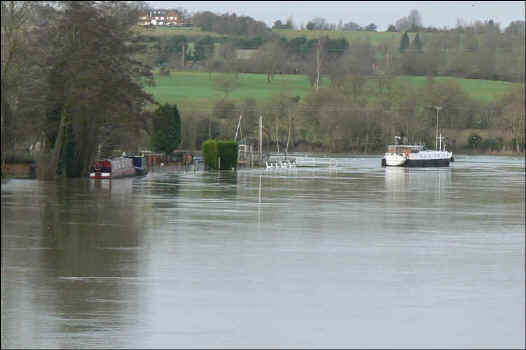 ---
ROAD ACROSS MOOR CLOSED
7 January 2014
---
The Police, in consultation with the Royal Borough, closed the Moor Road on Monday 6 January. Pedestrians and cyclists can use the Causeway. Drivers who use a road closed by the police are committing an offence and also invalidate their insurance. Emergency vehicles and other vehicles in a genuine emergency can use the Causeway. Community wardens are in attendance for the time being.
The Flood Warden tells me that the river is now on the tow path in parts by Cookham Bridge, on the Cookham side. It was also beginning to breach on the Bucks side this morning.
The River at Cookham Lock is now up to 1.05m (upstream gauge). The EA 3-day forecast is for the level of flood risk to increase tomorrow and Wednesday, so I'm not expecting a let up any time soon.

Cookham remains on EA Flood Alert (Flooding is possible, be prepared), but because property flooding is expected in Bourne End, Bisham and Little Marlow, those areas are now under a Flood Warning (Flooding is expected. Immediate action required).
Further information is available from
EA Floodline 0845 988 1188
---
MORE SESSIONS AT RAINBOW
6 January 2014
---
COOKHAM COMMUNITY PRE-SCHOOL OFFERS MORE SESSIONS,
GIVING PARENTS MORE FLEXIBILITY
Rainbow Pre-school in Cookham is now offering a Tuesday morning session from 14th January, with the option of staying for lunch, giving parents in the community more flexibility.
Rainbow welcomes children from the age of two until they start school. They meet in the Wesley Hall - which provides a bright, warm, friendly and safe environment for young children – and means the Tuesday morning mums and toddlers group would run in the church instead.
The pre-school children also enjoy outdoor play in the garden, where there is a covered sandpit, climbing frame and raised beds for growing vegetables and flowers.
Team leader Lorraine Brown says: 'We are delighted to be adding an extra session to our week – we are responding to the needs of our families, which are really important to us. We pride ourselves in providing a stimulating, caring and happy environment in which children grow in confidence and independence and learn through different play activities. All staff are parents themselves and are very experienced in working with young children, and we look forward to meeting any newcomers.'
Sophie Morris, a Maidenhead mum of two boys, says: 'I could not have wished for a more wonderful pre-school for my sons. I felt completely at ease leaving my eldest there for the first time - the staff are so welcoming, experienced and friendly, I can't sing their praises enough.'
Cookham mum of two Sarah Rodi says: 'My daughter, Mya, loved going to Rainbow. Her imagination and creativity developed in leaps and bounds, and she formed firm friendships with the other children and the dedicated and caring staff. I loved the flexible sessions and the community feel. I am now certain my youngest daughter, Ayda, will enjoy Rainbow when she starts there next year.'
To arrange a visit, please email Jill Gavin at jill.gavin@talktalk.net or phone the team leaders, Lorraine and Allison, on 01628 533150. Rainbow meets at the Wesley Hall, Lower Road, Cookham Rise on Mondays, Wednesdays and Thursdays from 9am-3pm and on Tuesdays and Fridays from 9am-1pm. Lunch Club is available every day, it runs from 12 to 12.45pm.
---
GO FROM COUCH TO 5 KM in 6 WEEKS
31 December 2013
---
Cookham Running Club's latest 'Couch to 5km' course starts on Wednesday January 15th at 7pm. The course is held weekly over 6 weeks and is intended to be a fun introduction back to running or to the sport for the first time. It doesn't matter if you haven't laced up your trainers for decades, we guarantee you will be running 5km after 6 weeks - and, more to the point, enjoying it. What's more, you will be slimmer, fitter and healthier to boot!

The club's beginner courses are lead by experienced UK Athletics qualified coach and former Irish international runner, Paddy McGrath. More details about Paddy can be found at www.paddymcgrathrunning.com and more info about Cookham Running Club is at www.cookhamrunningclub.com. Couch to 5km courses cost £40 for the 6 weeks and include:

. 3 month free trial membership of Cookham Running Club (affiliated to England Athletics)

. Entry to a 5km event at the end of the course

. Discount at Runners' Retreat, Marlow

. Online support and back-up from Paddy

The club has had great feedback from the courses that have been held so far - most people astounded at the progress they have made in such a short time. Many of the graduates have become addicted to running and regularly enter races, despite having thought they were born 'not to run'!

If you are interested in either this or the 'improver' running course (held on Tuesday evenings), please get in touch with Paddy at paddymcrun@btinternet.com or on 07714 950748 asap as places get booked very quickly and there is a maximum of 8-10 per group.
---
HERRIES CHOIR URGED TO REST THEIR VOICES
16 December 2013
---
Herries choir urged to "rest their voices" as they embark on marathon singing week.
Herries school choir have undertaken a busy week of performances starting with the Cookham Village Street Fayre. The choir performed a medley of carols including an ensemble with Michael Buble tribute act, 'Mitchell'.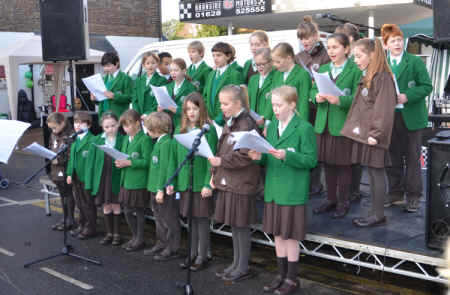 The award winning choir followed the performance with a recital for the residents of Elizabeth House Day Care Centre which was extremely well received.
With a production for parents at the Carols and Mince Pies evening, Tuesday singing practice and a Carol Service at St John The Baptist Church in Cookham Dean, it was a demanding schedule for the 37 strong choir.
"The carols we chose were jazzy versions of the traditional Christmas songs and the children really enjoyed learning them because they were something different. I did however have to urge the pupils to rest their voices when they could, to cope with the demanding week" said Music and Drama Director, Mrs Jami Castell.
---
SECRET SANTA SHOWS UP AT MEDIA HUB
16 December 2013
---
The fourth and festive Cookham Media Hub – a monthly gathering for media professionals in the area - took place on Thursday 12th December.

The lively networking event, set up by Parfitt Media and MumsaboutCookham.com to bring media types together, was held at the Bel & the Dragon pub in Cookham and those who attended were treated to complimentary seasonal canapés by chef Ronnie Kimbugwe.

Photos by Mohammad Sabahi click for larger image

At this month's festive meeting, the two Cookham-based journalists, Sarah Parfitt and Sarah Rodi, who set up the hub, organised for a 'secret santa' to arrive and the attendees had to guess who it was to win a prize! BBC TV editor Charlotte Serpell discovered the truth and won a Pizza Dreams Café voucher, so the surprise Father Christmas took off his hat and beard to reveal he was Mayor Andrew Jenner. 'Santa' proceeded to give all the media members a gift, courtesy of Costa Coffee.

'We would like to thank Andrew Jenner for being a brilliant sport and a perfect Santa – we appreciate him making the time to come along - and also Pizza Dreams Café and Costa Coffee for providing the fantastic prizes, which went down really well. A brilliant night was had by all,' says Sarah Rodi, Editor of MumsaboutCookham.com.

'We are also very grateful to Ronnie and James and the team at the Bel & the Dragon for hosting the Media Hub every month. We couldn't wish for a better location - delicious food, friendly staff and such a beautiful setting!' added Sarah Parfitt, a freelance radio producer, media trainer and consultant.

The 'hub' has attracted more than 40 members since they launched the monthly gatherings six months ago. The popularity of the 'hub' shows there's a hive of diverse talent in the area, as those present range from film producers, to print journalists, broadcasters, PRs, graphic designers, actors and marketing consultants.

Website editor Jill Paul, who attended the event, says: 'The Media Hub has been a great way to expand my contacts in the area and each meeting has been good fun. I would recommend it to other locals who work in the media.'

The next three Cookham Media Hub meetings will be at 8pm on Thursday, February 13th and March 13th at the Bel & the Dragon.

'The Media Hub is so much fun and a useful networking tool for those in the industry. It is a dynamic forum for swapping ideas with like-minded people,' says Sarah Parfitt. 'Any media professional is welcome to come along to the next free event.'

Register by emailing your details on our Facebook Cookham Media Hub page, or by emailing sarah_parfitt@mail.com.
---
14 December 2013
---
It is a final goodbye to the Cookham Fire Station which has been situated at the end of Berries Road since the second world war. It is being knocked down and will be replaced by a single dwelling house.

Click here for a sort video. with thanks to Paul Strzelecki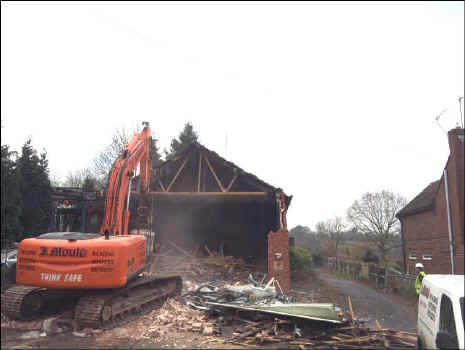 ---
COOKHAM MEDICAL CENTRE QUESTIONNAIRE
3 December 2013
---
The Cookham Medical Centre Patient Questionnaire is now available, and would really like to have feedback from as many people as possible. CLICK HERE
Miles Dagnall (Practice Manager) says: "At a time when resources are ever more restricted and patient demand is rising, it is vital for the medical centre in designing its service that you tell us what is important to you about the service that we deliver now - the good things that we do, as well as those that you would like to be different. We do listen." The action plan (and progress made against it) can be seen on the website.
The questionnaire has been prepared by the Patient Participation Group in conjunction with the medical centre to ask the questions that we believe are important to you. Last year we had a good response, but we're looking for a much bigger response this year. We would appreciate it if you could take a few minutes to complete it online, and all members of your household are also welcome to do so. We welcome any feedback (there is space at the end of the questionnaire) and please get in touch if you have any questions. The closing date for the questionnaire is 31st Jan 2014.
Paper copies are available in the Medical Centre or at Cookham Pharmacy if you would prefer to complete it on paper, but please complete it only once, either online or on paper. (Online is better for us, it saves us time and money, if you are able to choose.)
---
29 November 2013
---
The Gallery at Elizabeth House closes the year with the third in its sequence of shows celebrating the work of local arts clubs. Our very own Cookham Arts Club opens its exhibition '

Art at Christmas

' tomorrow (Saturday 30th November) with works in a mix of media and at very affordable prices - the ideal opportunity to find an unusual gift for Christmas.
You are invited to call in tomorrow (Saturday) from 11am for refreshments
and to meet some of the artists
The exhibition runs till the end of January.
Opening times are Saturdays 10am to 4pm (10am to 1pm on 21st December) and weekdays 9.30 to 11.30am. Weekdays only during January.
---
24 November 2013
---
Another successful Christmas Fayre was held at Moor Hall on Saturday 23 November. The Golden Raffle was won by one of the ladies on the Thames Valley Adventure Playground stall.

The Trustees of Elizabeth House wish to thank everyone who bought raffle tickets and everyone who supported the Fayre and made it such a success.
---
COOKHAM MEDIA HUB GOES FROM STRENGTH TO STRENGTH
19 November 2013
---
The Cookham Media Hub is going from strength to strength with between 15 and 20 journalists and media professionals attending each of the meetings. Founders, Sarah Parfitt and Sarah Rodi are extremely pleased with the way it is going so far.
"We have been delighted by the response we have received to this initiative, which is essentially a monthly, social catch-up for freelance media professionals," said Ms Parfitt.
"Sarah and I have been surprised by the range of media professions out there! Some of our members are print and broadcast journalists and others are involved in marketing and PR, but we have also been approached by people working in more unusual roles. For example, a musician who composes music for TV advertisements and programmes has contacted us this week and we also received an enquiry from a horse-racing media specialist recently, so there is a huge range out there!"
The final meeting for 2013 will take place at Bel and the Dragon at 8pm on Thursday 12th December and the organisers are a promising a few festive surprises! If you would like to come along, can you let Sarah Parfitt and Sarah Rodi know by this Friday (22nd November). You can register on the Cookham Media Hub Facebook page or by emailing sarah_parfitt@mail.com or phoning her on: 07900 4117 15.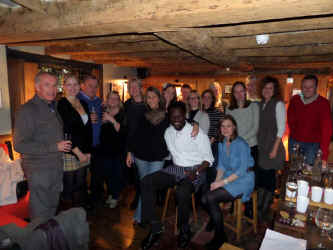 ---
MAIDENHEAD PAINTING CLUB AT THE GALLERY
13 November 2013
---
The Gallery at Elizabeth House continues their celebration of local art groups with a short exhibition, opening this Saturday16 November, by the Maidenhead Painting Club. It's the Club's Thursday Evening workshop members and they will be showing a selection of works in different media.
The exhibition is on for two weeks only, closing on Friday 29th November. Opening times are Saturdays 10am to 4pm and weekdays 9.30 to 11.30am.
The local Cookham Arts Club is up next, exhibiting at the Gallery from 30th November through December.
---
12 November 2013
---
Cliveden hotel opened its doors on Monday evening 11 November to recognised food connoisseurs to launch their totally new look for their dining room, including Tom Ketteridge from the Michelin star pub, the Hand and Flowers, in Marlow. Cliveden has recently been taken over and the new owners have employed the Michelin star chef André Garrett. Although André loses his star on moving and so will be looking to obtaining one for Cliveden. The Terrace dining room has been totally redesigned with the rather ugly red walls and the artificial books gone. One of the menu options on offer was a tasting menu with eight courses, some of which one could dream about for a long time afterwards they were so delicious. Anyone considering a special lunch or dinner will be blown away by the new look, outstanding food and ambience.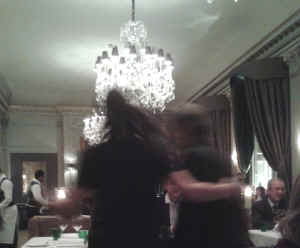 ---
ARTISAN PIZZA AT STATION HILL CAFÉ
4 November 2013
---
Cookham café teams up with Artisan Pizza operator to add wood fired pizzas to the menu.
The Station Hill Café in Cookham has entered into a joint venture with Wood Fired Pizza operator Pizza Dreams, which will see a new wood fired pizza oven installed in the café and delicious pizzas added to the menu. The oven will be capable of reaching temperatures of 800 degrees and cooking pizzas in just 90 seconds. The café will continue to offer coffees, breakfasts and lunches in the daytime and will be re-­‐named Pizza Dreams Café. It will open in the evenings and Sundays too. Fine Italian Wines will be available by the glass and bottle. Takeaway pizzas will be available for collection. Pizza Dreams are well known on the festival and street food circuit having successfully catered for the masses at events all across the country from their restored Citroen H van and converted vintage horse trailer. Locally, Pizza Dreams wood fired pizzas have been enjoyed by thousands at Penn Festival in Buckinghamshire and this year's Lets Rock The Moor in Cookham.
---
31 October 2013
---
The Tarrystone Players of Cookham have a treat in store to cheer our dark November evenings - comedy double bill, with supper, "The Book Club of Little Witterington" and "Little Grimley Presents Strictly Sex Factor (on ice)". The first play gained success at the Maidenhead Festival Winning Best Comedy and Best Set awards. The cast are excited to welcome the author of the play, Joan Greening, who is to be a member of the audience on Saturday 23 November. This will be the first time Joan has seen this work performed.

The second play is guaranteed to bring tears of laughter to your eyes when popular figures such as Simon Cowell, Bruce Forsyth and Philip Schofield are parodied as Little Grimley prepares an unmissable 'talent' show. For this play they are seeking to acquire a pair of roller skates, size 6, as a loan or donation. If you can help please call 01628 529988.

The Tarrystone Players hope for another sell-out performance, like 'Calendar Girls' in November 2012, and charitable donation as a result of these performances will be in memory of member Marianne Stork and go to the refurbishment of the Church windows at Holy Trinity Church, Cookham.

The Double Bill will be performed on 21, 22, 23 November at the Pinder Hall in Cookham tickets £12.50 include a ploughman's supper.
Phone 01628 522486 to book your tickets!
---
BECOME A FRIEND OF THE SURGERY
30 October 2013
---
The Cookham Patient Participation Group has an email group called 'Friends of the Surgery', which at present has 215 members. We are looking to increase the number in this group (there are 7,800 patients at the Cookham practice), in order to represent all ages and all interests. We use the group to canvass opinions on services, advertise events or news, or simply spread information or concerns very fast. We would welcome a larger number of people in this group. We won't inundate you with emails - a couple a month at present, but you will be alerted to any health information evenings that might interest you, as well as information about all aspects of health and changes at the surgery as they arise. Please email

chris.oxtoby@btinternet.com

to join the group and keep in touch with the surgery (N.B. you must be a patient of Cookham Medical Centre). We'd like your voice to be heard in Cookham!
---
COOKHAM MEDIA HUB A HIVE OF TALENT
29 October 2013
---
The third Cookham Media Hub – a monthly gathering for media professionals in the area took place on Thursday 10th. October. The lively event was at the Bel & the Dragon pub on Cookham High Street and those who attended were treated to complimentary canapes.
The networking event, sponsored by Parfitt Media, Mums about Cookham and the Bel and the Dragon, brings together various media types to share information and ideas.Two Cookham-based journalists, Sarah Parfitt and Sarah Rodi, launched the monthly gatherings and the popularity of the 'hub' shows there's a hive of talent in the area, as those present ranged from film producers, to print journalists, broadcasters, PRs, graphic designers, actors and marketing consultants. They even had a graduate looking for work experience who had traveled all the way from Malmesbury in Wiltshire to be there! Emma De Ujfalussy, owner of Laurus PR, who attended the event, says: 'The Media Hub is a great opportunity to meet other local media professionals in the area, make new friends, share news about the industry and network in a relaxed, fun environment.'
The last two Cookham Media Hub meetings of the year will be at 8pm on Thursday, 14th November and on Thursday, 12th December at the Bel and the Dragon. 'The Media Hub is so much fun and a useful networking tool for those in the industry. It is a dynamic forum for swapping ideas with like-minded people,' says Ms Parfitt, a freelance radio producer, media trainer and consultant. 'Any media professional is welcome to come along to the next free event.'
Register by emailing your details on our Facebook Cookham Media Hub page, or by emailing sarah_parfitt@mail.com.
---
28 October 2013
---
Ellinson Bibby from Cookham did it (along with 91 other ladies)! She took part in the Women v Cancer Challenge in Cuba. She said "the biggest challenge was the heat – cycling for 6-7 hours a day on tarmac without any shade in temperatures 30°+ and high humidity. However, the landscape more than made up for it, and Havana is a fascinating place. If you have not visited, then I strongly recommend it!
Ellinson has raised over £2,500 – and as a group they totalled over £285,000 (plus gift aid)! The 3 women's charities that benefit – Jo's Cervical Cancer Trust, Ovarian Cancer Action and Breast Cancer Care - are all relatively small and this fundraising is a very important part of their income that they use for supporting research groups and most importantly, cancer sufferers and their families.
You can contribute to Ellinsin's fund at http://www.justgiving.com/Ellison-Bibby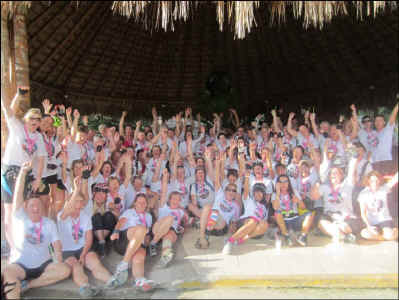 ---
FINE PERFORMANCE FROM COOKHAM RUNNING CLUB
24 October 2013
---
[U111 Girls from left Emily Taylor West, Lana Wallis, Caitlin Murray, Holly Bird)
Cookham Running Club members produced some fine performances in the club's first outing in division 2 of the Chiltern Cross Country League at Cassiobury Park, Watford (October 19).
Thanks to tremendous packing, the Under 13 boys team of William Taylor West, Freddie Yuill and Sonny Lewis finished in 2nd place in Div 2, just 7 points behind top club Bracknell AC. Cookham's Under 13 Girls were 6th team thanks to the efforts of Emily Fisher and Jess Devereux.
In the highly competitive Under 11 age groups there are no divisions. Great runs by Lana Wallis (32nd) and Emily Taylor-West (56th) backed by Holly Bird and Caitlin Murray to place 12th team out of the 37 clubs. In the U11 Boys race, injuries meant a 3rd scorer was missing yet fine runs by Sam Hayes (33rd overall) and Joseph Haselhurst (36th) suggest a high team placing in the next event.
Senior races were tough, taking them out into woods for distances of 6km (women and 8km (men), but Cookham's runners fared well with Ibet Allan in 17th place and Sarah Walker coming home 28th.
UNDER 11 GIRLS

3nd - Lana Wallis 9.30

56th - Emily Taylor-West 10.11

88th - Holly Bird 12.46

89th - Caitlin Murray 12.47

UNDER 11 BOYS

33rd Sam Hayes 8.09

36th Joseph Haselhurst 8.12

UNDER 13 GIRLS

24th Emily Fisher 14.14

26th Jess Devereux 15.01

6th team Div 2

UNDER 13 BOYS

5th William Taylor-West 10.19

7th Freddie Yuill 10.45

10th Sonny Lewis 11.40

11th Max Yuill 12.04

13th Alex Brown 12.57

16th Alastair Kenton 14.39

17th Harry Cormack 14.40

2nd team Div 2

SENIOR WOMEN

17th Ibet Allan 30.47

28th Sarah Walker 32.59

68th Kelli Dickinson 43.02

72nd Sue Gauld 44.28

73rd Tina Scanlon 44.35

10th team Div 2

SENIOR MEN

97th Adam Burke 47.38

119th James Dickinson 49.15

138th Gerald Cooper 55.17
---
SEARCH FOR DIANA DORS COOKHAM LINKS
21 October 2013
---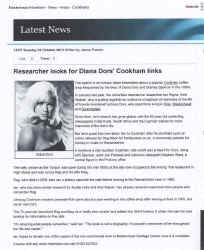 Ian Payne who lives in Walsall is researching Diana Dors who lived in the Maidenhead area. He has done an enormous amount of research and has found out information about the blonde bombshell from people all over the world.

You can contact Ian with any information at elandimpayne@uwclub.net

Click on image to read about the search for Diana Dors' Cookham links
---
COOKHAM WALK BY JANET STREET-PORTER
19 October 2013
---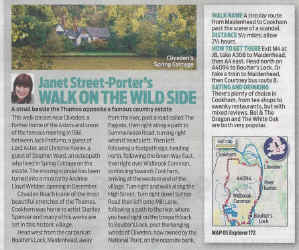 A Cookham Walk by Janet Street-Porter was sent to cookham.com by one of our readers. They said "this was a gem of a find yesterday, just as I was about to throw my Daily Mail TV magazine in the recycling bin. Enjoy and quite apt really as we've been talking about it all over the past few months/weeks.

Click on image for a larger version.
---
15 October 2013
---
Thank you to everyone who came to the Elvis evening - we made just over £2000, which will be added to the Forget me Not Fund for Ron at Leukaemia and Lymphoma Research. I hope you all enjoyed yourselves it certainly was a noisy evening but no complaints as far as I know. Big thankyous to all who helped me organise the night and help clear up - who knows maybe I will do another one in 2015 - watch this space.
Val Eckett
---
SLOUGH OPENS ITS ART TO COOKHAM
12 October 2013
---
The Slough Art Society comes to the Gallery at Elizabeth House for the first time this month with an exhibition opening today, Saturday 12th October. Now more than 70 years old, the Society is bringing a show reflecting the varied talents of the group, across a range of media. As well as its 'home' exhibitions, the Society (http://sloughartsociety.webeden.co.uk) has successfully exhibited at recent Art on the Street exhibitions in Maidenhead and looks forward to impressing Cookhamites with their work.

Next Saturday, 19th October, the Society is holding an Open House at Elizabeth House with refreshments - between 12 noon and 3pm. You are very welcome to come to this.

The exhibition continues to Friday 15th November and will be followed by a two-week exhibition by Maidenhead Painting Group.


The Gallery is at Elizabeth House, Station Hill, Cookham SL6 9BS. It is open 9.30 to 11.30am weekdays and 10am to 4pm on Saturdays. Full details of the Gallery's artists can be found at www.thegalleryatelizabethhouse.org.uk
---
JUNIOR SECTION FOR COOKHAM RUNNING CLUB
8 October 2013
---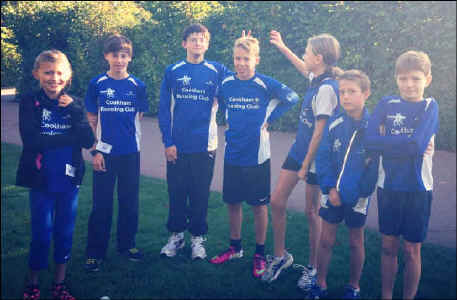 COOKHAM Running Club's newly formed junior section had an impressive first outing at the Under 14 Junior Park Run in Saville Gardens, Windsor on Sunday October 6. William Taylor West, 12, finished in second place in 7:51 closely followed in fourth by another of the club's under-13 age group runners, Tom Giddings who recorded a time of 8:31. Frank McGrath, aged 8, displayed a fearsome finishing kick to finish 6th boy in 8:42, one second ahead of Cookham's Sam Hayes (10). Ollie Walter and Alastair Kenton also had fine runs in their first races for the club. The girls were equally competitive in the race with Emily Taylor-West (10) finishing third girl in 8:55 and Devan Gibson (10) coming in 23rd girl in a field of almost 80. Cookham's senior runners were also in fine racing form with Bridget King finishing second in the Black Park 5km (21:03) while Kelli Dickinson and Caroline Trowell both ran personal best times in the Reading 10k (58:57 and 60.01 respectively). To join the club visit www.cookhamrunningclub.com
---
CHARLOTTE RAISES MONEY FOR CHARITY
7 October 2013
---
On 30th November, Charlotte Brunton will be holding a family quiz night at Pinder Hall, in aid of Teenage Cancer Trust - a charity very close to her family's heart after losing her teenage cousin to cancer. Doors open at 7.15pm, for a 7.45pm start. The cost is £4 per adult for Cookham residents, £5 for non residents, and children are free.

You can bring your own alcohol, teams of 8 and can be made up on the night. Contact Charlotte on charlotte_brunton@hotmail.co.uk for more information and tickets - can be bought on the night. All profits will go straight to Teenage Cancer Trust.

Charlotte has given herself the challenge of running the London Marathon in April for Teenage Cancer Trust. She says anything anyone can give would be greatly appreciated - donations can be made at http://www.virginmoneygiving.com/charlottebrunton
---
MEET UGANDA'S LEADING GORILLA VET
4 October 2013
---
Herries School invites you to meet Uganda's leading gorilla vet in October
For the past year, the pupils at Herries Preparatory School in Cookham Dean and Cookham Rise School have been helping a very special charity called Africa Turns Green, which showcases the work of African green entrepreneurs who are protecting their environment.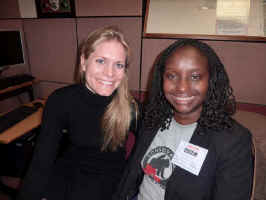 The charity was founded by Séverine Dieudonné, a Belgian freelance producer at the BBC. Over the course of the last year, Ms Dieudonné has been visiting pupils at both schools, updating them about various innovative projects across the African continent. They include an Ethiopian entrepreneur who makes shoes from recycled car tyres, and another green organisation in Burkina Faso which empowers disadvantaged women by teaching them farming skills and enrolling them in educational programmes.
"My goal in life is to build bridges between different cultures and inspire people to set up their own eco-friendly companies by sharing success stories. Africa Turns Green is giving me the opportunity to do just that," said Ms Dieudonné.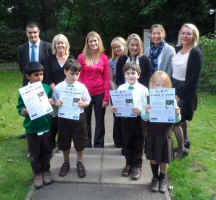 Given its close collaboration with Africa Turns Green over the last year, Herries School is delighted to announce that it will be hosting a very special event for the charity at 7.30pm on Tuesday, October 15th which is open to the entire community and will include African-themed songs sung by Herries pupils.
One of Uganda's leading gorilla vets, Dr Gladys Kalema-Zikusoka, who won the Whitley Gold Award in 2009, will be giving a presentation about her ground-breaking work to protect indigenous wildlife. Her grassroots, non-profit organisation, Conservation Through Public Health (CTPH), which links public health with the conservation of mountain gorillas has won worldwide acclaim:
"Gorillas share 98 per cent of our DNA, which means that they can catch human diseases and also pick up antibiotic resistance from us," says Dr Kalema-Zikusoka. "If we are serious about protecting the health of our gorillas and the health of local communities, we need to have a more joined-up approach. Most gorillas are facing extinction in Africa, so the situation is very serious."
Sophie Green, Head teacher at Herries, spoke about the importance of the school's relationship with the charity: "It is so important for our pupils to forge links with particular charities and in this instance we have been able to also educate the pupils about the causes in Africa that this charity supports. We are very much looking forward to this fundraising event. '
The event is being coordinated by journalist and media consultant, Sarah Parfitt: "It has been a real privilege to organise this event. I have been to Africa on a number of occasions, and also work with colleagues from Africa at the BBC World Service."
"Across the African continent, visionary green entrepreneurs such as Dr Gladys Kalema-Zikusoka are working on innovative projects and acting as catalysts of change for their continent. Africa Turns Green is giving them a voice and inspiring future generations of entrepreneurs not just at a pan-African level but globally," she added.
Africa Turns Green is very grateful to Herries, Parfitt Media, Thomas Franks ltd, Living Streams, ISOMOSYS, the Old Butcher's Wine Cellar, Ustarvideo, Mah Images, Hive Industries, the Bel and Dragon and writer, Emmy Costa for sponsoring the event. The charity would also like to thank its recently appointed Ambassadors, Julie Armstrong and Lisa Peters from Cookham Rise School for their dedication and hard work.
Tickets for the Africa Turns Green event are £10 per person – the ticket price includes a complimentary glass of wine and canapés. They can be purchased from the school office at Herries School in Cookham Dean. Ph: 01628 483 350 or via the Africa Turns Green website:
---
1 October 2013
---
The Mums About Cookham launch was a huge success on Friday, 27th September. More than 100 mums and tots took part in the event at Cookham Dean Cricket Club.
All of the children's entertainment went down well (Sima's Action Kids, Mucky Monsters and the Hartbeeps) - all of the local businesses volunteered their time which was amazing!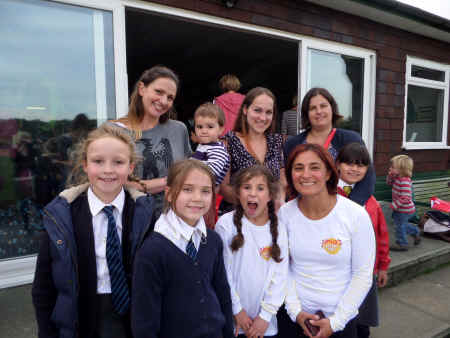 ---
A BIG THANKYOU
1 October 2013
---
The staff, parents and pupils at Holy Trinity C of E School in Cookham would like to thank all of the local businesses who so generously sponsored their school disco last Thursday. The Reception and KS1 pupils all had a wonderful afternoon.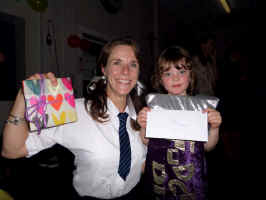 "Everyone seemed to have a terrific time dancing to the music and joining in the games which Dave the Disco so expertly led," said Deputy Head, Anna Smith. "The children enjoyed a delicious early supper of hot dogs and cake and were delighted to be sharing the occasion with Cheeky Charlie!"
One of the organisers of the event, Sarah Parfitt said that she and fellow mums, Karen Wray and Tricia Phillips had been amazed by the support they had received: "No fewer than eleven local businesses helped us with the event by donating goods or services – this speak volumes about the tremendous community spirit which exists in Cookham and the surrounding area."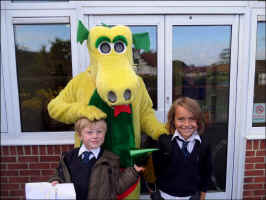 The disco raised £420 for Holy Trinity School. All proceeds from the event will be used to buy new equipment for the pupils.
A big thank you to: Dave the Disco, Country Stores, Vibe teaching, Maceys, the Teapot, Vanilla, the Magnet Leisure Centre, Odds Farm, the Handmade Cake Company, Allied Bakeries and the Fruit Market in Bourne End
---
27 September 2013 (updated 4 October)
---
(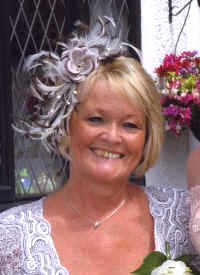 Marianne Stork passed away on 26 September 2013 at the age of 63 in Wexham Park Hospital after a short illness.

Marianne was an integral part of the theatrical and musical community in Cookham since moving to the village in 1977.

Her passion for singing and performance made her a well-known personality in the area.
Marianne was born in Derbyshire and spent her early years in Buxton – she was very proud of her Derbyshire origins. She showed great ability even as a small child and, at the earliest opportunity, she joined an operatic society. It was not until her parents moved to Leicester, however, that she took any serious singing lessons, which in turn led to a scholarship to the Manchester College of Music (now the Royal Northern College of Music), studying voice as her principal instrument. Following an operatic tour in Germany, where she played a principal part in Britten's Peter Grimes, she was invited to join Opera North. A letter lost in the post could have seen her continue in opera with Opera North, but fate dealt its hand ...
Marianne's talent was quickly recognised and, during her early 20s, she became in demand with theatre groups around the country. She toured extensively performing principal roles in the major Theatres with such stars as Dora Bryan, Russell Grant, Dickie Henderson, Mark Wynter and Arthur Askey. Whilst touring with the cast of Dad's Army in 1976 (playing, amongst other roles, the part of Pyke's girfriend) she sang in an Andrews Sisters Trio together with Pauline Stork, with whom she struck up a firm friendship. A year later, she married Pauline's brother, Malcolm. Having moved to Cookham, where she and Malcolm started a family, she spread her talent and passion to the local music and drama scene.
Marianne's contribution to the community since has been significant. A regular fixture in Cookham's annual pantomimes, her roles varied from Principal Girl in early days to more comical characters in latter years. She will probably be best remembered for her humorous roles, such as the well-meaning if lovably incompetent "Fairy Nuff", where she combined her well-honed acting and singing skills with a natural comic timing to great success.
Over the years she worked with many local groups with whom she shared her professional knowledge, enthusiasm and sense of fun. Her particular passion was small-group cabaret performances, predominantly for local groups and charitable causes. She and Malcolm formed a quarter of "The After-Eights" and Marianne had particular success in bringing a uniquely funny interpretation to the work of Val Rice. As a singer, she was a founder member of Cantorum Choir but was equally at home performing songs from the musicals or jazz. Beyond her stage performances Marianne was a constant support to other local performers. Singing and coaching lessons with her were very popular where she ensured that every pupil left inspired and always positive.
She was a shining star in the local community and a great friend to all who knew her touching so many lives with her vibrant personality, kindness, concern for others and generosity. But most of all she was a loving wife, mother and grandmother, Marianne leaves behind Malcolm, her children, Philippa and Jonathan, and two grandchildren, to whom she was devoted.
Marianne's funeral will be on Monday 14th October at 2:30pm in Holy Trinity Church to be followed by a private cremation service at the Chilterns Crematorium, Amersham. No flowers please but if people would like to make a contribution to the window renovations in Holy Trinity, we know that Marianne would approve. Thank you.
---
24 September 2013
---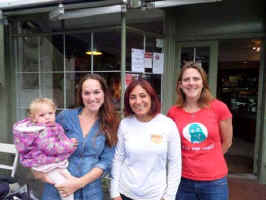 Sima's Action Kids will be one of a trio of entertainers at the Mums About Cookham launch at Cookham Dean Cricket Club this Friday, providing her infectious high-energy dance routines, games and fun. She will be joined by Mucky Monsters and the Hartbeeps.
"It's a real pleasure to be invited to help kick-start this fantastic new business venture. I am a busy working mum myself, juggling work, social and family commitments and this website is just what I need," said Ms Stannage. I hope to see some of my regular "action kids" at the launch and meet lots of new faces too. It will be a great way of celebrating the start of the school new year."
The founder and inspiration behind Mums About Cookham is Sarah Rodi, a Cookham-based journalist and mother of two, who saw a gap in the market for a glossy lifestyle website for local mums:
"I wanted to give mums of new-borns to teens a chance to keep up to date on local news, while enjoying a bit of "me time", ogling the latest family-friendly destination or new pair of boots in the Lifestyle Lounge section."
Sarah hopes that the launch of Mums About Cookham will be a celebration of motherhood and a chance for mums to catch up, whilst their children have fun and enjoy the entertainment: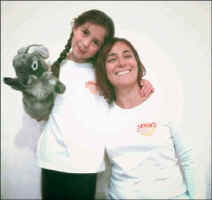 "When I began to think about a launch do for my website and what activities would draw mums - and children - in, I knew I had to have Sima there. The kids wouldn't miss a session with her for the world! I know she'll help to make my launch a huge success," said Ms Rodi who first saw Sima at the Big Friday Chill last summer.
"When I first saw Sima at the Crown last August, I was amazed at how quickly she managed to get the kids involved, all up and dancing. I've since seen her at various children's parties and each time I've noticed how engrossed the children are. They love what she does, and it's easy to see why. Her sessions are jam-packed with entertainment, fun songs and activities."
Mums About Cookham launches at 3.45pm on Friday, 27th September at Cookham Dean Cricket Club. For editorial or advertising queries, please contact Sarah Rodi : mumsaboutcookham@gmail.com or phone:07815 841 041. For interviews with Sima, please phone: 0795 699 3439
SIMA WILL BE OFFERING ALL FAMILIES WHO ATTEND THE LAUNCH A 10 PER CENT DISCOUNT ON ALL FUTURE PARTY BOOKINGS.
---
23 September 2013
---
A TEAM OF women from Cookham Running Club finished in first place at the notoriusly tough Helly Hansen Beauty and the Beast relay event on September 21. The race, held in West Wycombe park, is billed as the most gruelling event of its kind and entails running a full marathon as a 6-person relay. The team of Bridget King, Sarah Parfitt, Rachel Harding, Peta Bee, Ibet Allan and Sarah Walker crossed the line ahead of all other women's teams and in second place overall, beating all men's teams but one.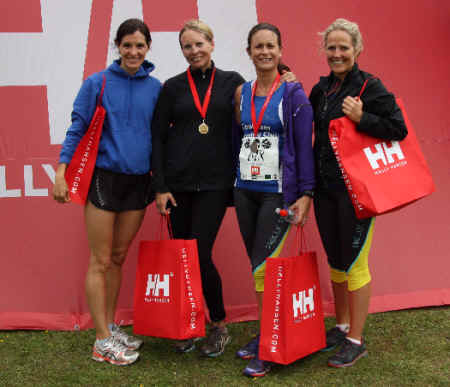 ---
21 September 2013
---

On the evening of Thursday 19th September 2013, Tom Copas of Copas Turkeys received a lifetime achievement award at the British Turkey Awards in recognition for a lifetime dedicated to growing happy turkeys!
Among the other awards Asda was crowned retailer of the year for their turkeys for the fourth year running. while Aldi won the best Traditional Christmas product.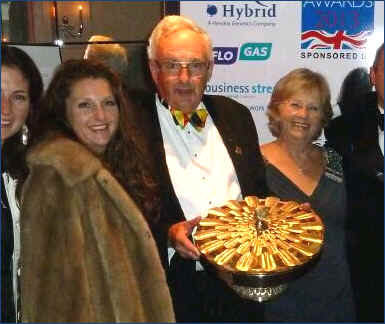 ---
WHERE ARE YOU GIRLS? WE NEED YOU!
14 September 2013
---
Cookham Running Club's new junior section has been inundated with boys, but few girls. Now the club, which is affiliated to England Athletics, is putting out a call for girls aged 10-15 to join the team by coming along to try one of their free training sessions on Tuesday evenings and Saturday mornings. "Nobody is too slow," says coach Peta Bee. "And the good thing about running is that the more you do, the better you get." Annual subscription is just £30 and includes a club top as well as entry to races if you want to do them. More information is on the club website www.cookhamrunningclub.com or contact Peta on peta.bee@btinternet.com.
---
FREE STAY AND PLAY A GREAT SUCCESS
11 September 2013
---
The free community Stay and Play session at Herries had a great turn-out with around 20 children and their parents and carers!
The Stay and Play sessions are being run by a grandmother and daughter team - Sarah and Frances Lindley.
The new 2013-2014 Definitive Guide to Activities for the Under 5s in Cookham was also launched. This is a collaborative project between Herries and Parfitt Media.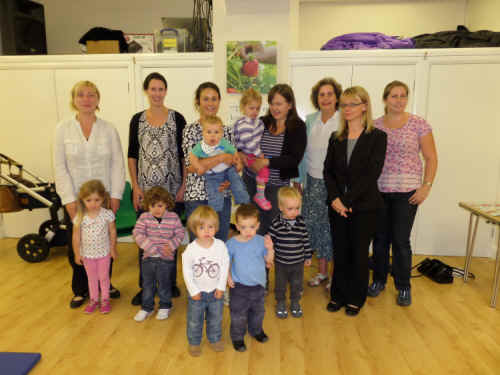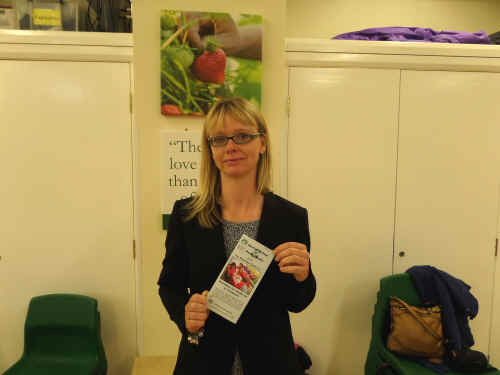 ---
NEW DEFINITIVE GUIDE FOR UNDER 5s
9 September 2013
---
Herries Preparatory School has just launched the fourth Definitive Guide to Activities for the Under 5s in Cookham at its Stay and Play session this morning. The Guide for 2013/2014 was put together by journalist and media consultant, Sarah Parfitt and Brian Harding, tactical marketing manager from the Spectrum Group.
Sarah moved to Cookham three years ago with her husband and two young children and she felt that it would help other parents if there was one leaflet listing all the different activities.
Click here to view the Definitive Guide
The Guide will also be available from the Station Hill Cafe and the library in Cookham later this week.
---
6 September 2013
---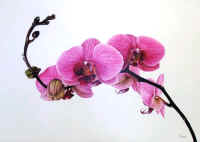 Cookham artist Joanna Yates returns to the Gallery at Elizabeth House with a new exhibition which opens next Monday, 9th September, and runs to 11th October. Titled 'An Extended View', the exhibition covers a range of media - watercolours, acrylics, weaving and photo cards, including Joanna's stunning botanical studies. And there's something new – painting bridal bouquets on canvas. This is a new venture which Joanna hopes will capture the imagination of brides and their families.
Visitors to the Gallery on Saturdays will see Joanna at work and will have the opportunity to discuss her approach. She welcomes commissions and is always happy to discuss any personal requirements. You can see examples of her work at http://www.fidgiti.com/

The Gallery is at Elizabeth House, Station Hill, Cookham SL6 9BS. It is open 9.30 to 11.30am weekdays and 10am to 4pm on Saturdays. Joanna's exhibition will also be open on two Sundays - 15th and 29th September. Full details of the Gallery's artists can be found at www.thegalleryatelizabethhouse.org.uk
---
5 September 2013
---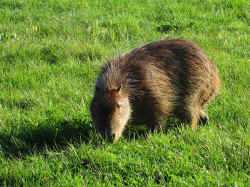 Anyone down by the river at Marsh Meadow in Cookham might have seen a very large rodent. It was thought to be a coypu, but in fact it is actually a capybara, normally found in South America. The largest rodent in the world. The one in Marsh Meadow is called Jack and is owned by Lady McAlpine, Jack seems to have escaped a few weeks ago and seems to be making his way happily down river.

The photo of Jack was taken by Ann Wilder (click for larger image) who says "We were boating on the Thames today and moored our boat alongside the meadow next to the Cookham Reach Sailing Club this afternoon and a capybara was grazing close to the river, seemingly unperturbed by passers-by".
---
VILLAGE DESIGN STATEMENT (VDS) LAUNCH PARTY
31 August 2013
---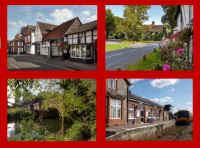 The exciting VDS Launch Event at the Odney Club on Friday evening, 20th September, is planned to maximise the profile of the VDS and combines helpful information with fun happenings such as the 'Cookham quiz' and the 'Very Special Raffle'. The Event is being mounted completely free of charge to Cookham residents, with the financial support of the Royal Borough Council, the Parish Council and the Cookham Society. The latter two bodies, as VDS Sponsors, have supported the VDS both financially and in many other ways throughout its long period of gestation.
Speakers at the VDS Launch Event include Tim Brooke-Taylor as a Cookham Resident, the Mayor of the Royal Borough, Councillor Andrew Jenner, and the Borough Council's Cabinet Member for Planning, Councillor MJ Saunders. Mr Richard James will compere the Event and a further VIP visitor will attend.
You can also reserve a place FREE at the VDS launch - at the Odney Club - on 20th September by contacting Cookham Parish Council - at cookham.parish.council@gmx.co.uk or call 01628 522003. Click here for more details
---
30 August 2013
---
The Gallery at Elizabeth House is staging an exhibition of photographs taken for the Cookham Village Design Statement. The exceptional set of images will be raffled at the launch of the Design Statement on 20th September and you get your chance to see them between this Saturday, 31st August, and the following Saturday, 7th September. The photographer is Patrick Blake, a professional photographer and Cookham Dean resident, and his images reflect the beauty and variety of our local environment.
The Gallery is open weekdays during normal Elizabeth House opening times and Saturdays 10am to 4pm.
---
28 August 2013
---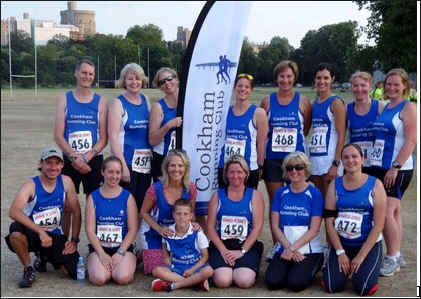 Fancy the idea of lacing up your trainers to get in shape this Winter, but don't know where to start? Cookham Running Club's latest Couch To 5km Beginner course starts on Tuesday September 10. The 6-week course is lead by club coach Paddy McGrath (www.paddymcgrathrunning.com) who has trained international athletes to medal winning success. The emphasis is on having fun while you get fit and you will slowly progress from jogging/walking to completing a 5km at the end of the course. An 'Improvers' course for those with a little running experience starts on Wednesday 11 Sept for 6 weeks. Both courses cost £30 and include a 3 month trial membership of Cookham Running Club, weekly schedules and feedback and entry to a 5km at the end. For details email paddymcrun@btinternet.com or visit www.cookhamrunningclub.com
---
COOKHAM RUNNING CLUB WELCOMES JUNIORS
27 August 2013
---
COOKHAM RUNNING CLUB is launching a junior section in September 2013. Since its launch in 2010 the club has become a thriving club at senior and veteran level and takes part in local road leagues and many other races. This season members will be participating in the Chiltern Cross Country League which offers age group races from Under 11 upwards. The club would like to welcome boys and girls who are no younger than 10 and no older than 15 on August 1, 2013 to join their training groups. Junior coach will be Peta Bee who has UK Athletics qualifications, a degree in sports science and was a former international runner. She will be supported by our other England Athletics-qualified leaders, all of whom are CRB-checked. Training sessions will be on Tuesday evenings 5.30-6.30pm and Saturday mornings at 10.30am Please email Peta (peta.bee@btinternet.com) for details. Annual junior subscription, which includes EA affiliation, coaching, race entries and a club vest is £30. More information about the club is on www.cookhamrunningclub.com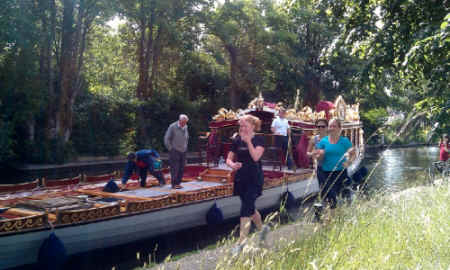 ---
A LOVELY CHILDREN'S ACTIVITY BOOK
26 August 2013
---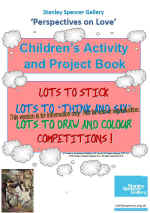 Children of all ages love stickers and the Stanley Spencer Gallery has had the unusual idea of incorporating stickers and other activities into a special booklet which is planned to engage children in the work of the genius artist, Sir Stanley Spencer, and may well fascinate their parents too.
The book features many of the artist's major works and includes tasks such as matching stickers to pictures, making patterns and drawings, and adding 'Think and Say' comments in response to little questions posed. The book takes the child in a wholly absorbing way through some of the key features of Spencer paintings, culminating in the task of creating a 'Picture of People I Love', borrowing a few ideas from Stanley Spencer. The book is suitable for children aged from 7 - 12, and can be tackled by each age group in their own way. There are competitions for 'Best Completed Activity Book' and 'Best Picture of People I Love', with a closing date of 8th November 2013.
The book helps make the Spencer Gallery a lovely, low-cost, family-friendly outing. It costs £2.50 and there is also plenty of free material in the Gallery to keep children of all ages happily occupied.
Click to see the extracts from the booklet and find out more.
---
LIFESTYLE MAGAZINE FOR COOKHAM MUMS
13 August 2013
---
Launch of online glossy lifestyle magazine for
mums – the ideal destination for yummy mummies wanting to live country life to the full
Come along to the launch on Friday 27th September at 3.45pm. Parents enjoy a drink at the bar, while the kids get stuck into a free Mucky Monsters and Sima's Action Kids session.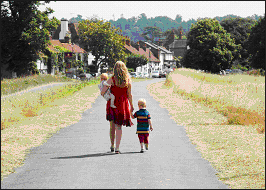 A Cookham-based journalist is launching a glossy lifestyle website for local mums. Sarah Rodi hopes Mums about Cookham will help women in the village and surrounding areas live family life to the full.
'As a new mum who has recently relocated to Cookham from the city, I knew the area had loads to offer, but it took me a while to discover the various playgroups and activities, best days out and child-friendly cafes – I found my way through recommendations by friends and word-of-mouth. I wanted to create a website specific for mums in Cookham, Marlow and Maidenhead, who are eager to get out and about and make friends, and enjoy the precious early years as a parent,' says mum of two Sarah Rodi.
'I also wanted to give mums of newborns to teens a chance to keep up to date on local news, while enjoying a bit of 'me time' ogling the latest family-friendly holiday destination or new pair of boots in the Lifestyle Lounge section. I have worked on national women's magazines for 12 years, so decided to use my skills to create a useful guide and community hub for local mums like me. It's a one-stop-shop for all your needs as a glamorous mum.'
The stylish site offers news stories, a what's-on guide, including fun family events, clubs and activities for all ages, plus information on playgroups, schools, shops, restaurants, pubs and other services. The Lifestyle Lounge includes fashion, health and beauty, travel, recipes and home interiors, buggy walks, plus a lively social forum for mums to chat, organise meet-ups, share tips and sell baby goods or toys within the local community.
Mums about Cookham launches on 27th September 2013. The launch will take place at Cookham Dean Cricket Club from 3.45pm, with free entertainment for the children by Sima's Action Kids and Mucky Monsters. For editorial or advertising queries, please contact Sarah Rodi on srodi@o2email.co.uk or call 07815841041.
---
"NEIGHBOURS" CHOSEN FOR WORLD'S LARGEST ART SHOW
9 August 2013
---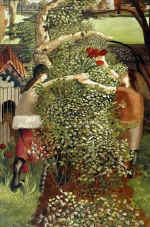 Stanley Spencer's painting Neighbours has been selected as one of the nation's favourite British works of art selected from a longlist from the UK's public collections and will be part of a vast exhibition, entitled Art Everywhere, that will go on display on thousands of poster and billboard sites across the UK from 12-25 August 2013. Neighbours painted in 1936 is part of the Barbara Karmel Bequest at the Stanley Spencer Gallery in Cookham and is currently on display in the Summer Exhibition Perspectives on Love. Stuart Conlin, Chairman of Trustees Stanley Spencer Gallery said "We are delighted to be participating in Art Everywhere which will give an opportunity for people all over the country to appreciate the work of Spencer and we look forward to welcoming visitors to the Gallery to see the original oil painting."
---
MAIDENHEAD ADVERTISER COUNCIL NOTICEBOARD REPORT
8 August 2013
---
Recently the Parish Council have put in an application for planning permission for a noticeboard on the Causeway and this was met with a certain amount of opposition from residents. The planning permission was accepted by RBWM on 31st July and was discussed by the Parish Council at their meeting on Tuesday 6 August with several members of the public attending. This was duly reported in this week's Maidenhead Advertiser. The Parish Clerk wanted to point out an error in the paper and said "I wish to point out that the picture attached to the article about the proposed notice board in the Maidenhead Advertiser dated 8th Aug is only a library picture and not indicative of the permitted location.'
A correct photo should soon be available.
---
---