After a few hiccups the National Trust have now installed a payment machine at the car park on Cookham Moor. The cost is two pounds a day although the first 30 minutes is free. Members of the National Trust do not have to pay but will need their National Trust card.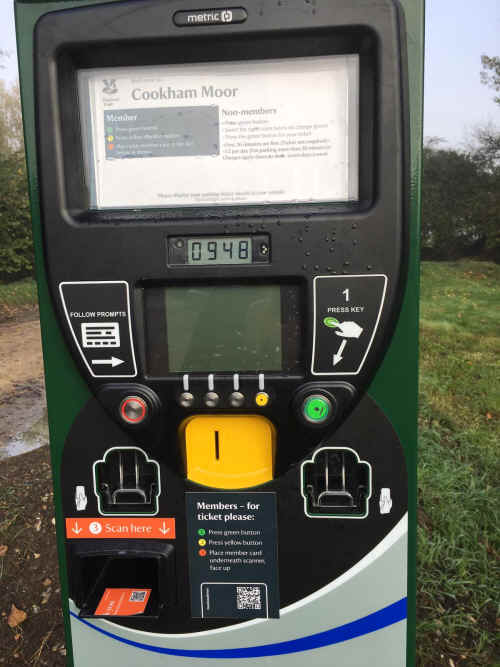 ---
NEWLY REFURBISHED FOOD STORAGE FACILITIES AT ELIZABETH HOUSE
17 October 2018
---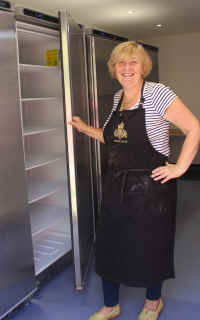 The food storage facilities at Elizabeth House have been refurbished. Insulation, ventilation, a new UPVC door and a new floor covering have been installed in the garage, improving both hygiene and security for the food storage area, thanks to a contribution from Louis Baylis Charitable Trust.
We replaced four domestic chest and upright freezers with three upright, energy efficient commercial models and a commercial fridge, suitable for storing quantities of fresh fruit and vegetables. We also installed shelving in the garage for the storage of dry foods. Our non-food items are now stored separately in an external storage area.
Cook Tina Trice, pictured, said: "These new facilities are a huge improvement. The upright freezers make it so much easier for me to see everything and control the stock. The new fridge gives us loads of new space, so we can keep foods fresher for longer".
Manager Miriam Blazey said: "We are delighted with the result. Disruption to our members was minimised, and we thank Barbara Partridge and Margaret Mellon for the use of their family freezers to store food and our Elizabeth Close neighbours for their patience during the work."
---
DON'T HOLD BACK
16 October 2018
---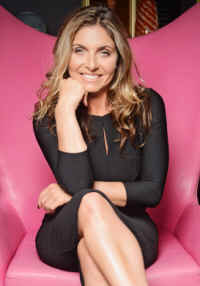 With mental health issues very much in the news at the moment (
https://www.bbc.co.uk/news/health-45804225
), our next Media Hub at the Bel and the Dragon in Cookham on November 1st has already generated a lot of interest. Our guest will be Henley-based author, presenter, mum and Media Hub member Emma-Jane Taylor.
Emma-Jane will be talking about her new book, "Don't Hold Back", which is a
motivational tool book based on Emma-Jane's personal experiences of abuse and abandonment. She has learnt through her journey that she has a voice and she uses her voice in this book to help others live better lives and be heard. She encourages people to face their fears, to understand who is important in their life and how reconnecting with yourself brings power and confidence.
The Media Hub recently celebrated its 5th Birthday. It's the only networking group of its kind in the region. If you would like to join our Media Hub Facebook page, here is the link:
https://www.facebook.com/groups/MediaHub/
---
DAVID LEACH CARTOONIST
14 October 2018
---
It was great to see so many people at our last Media Hub. Cartoonist David Leach was passion personified and gave us all a fascinating insight into how much time and energy go into creating a character like Psycho Gran. Thanks again to David, Melanie Perry, Mohammad Sabahi, Ronald Kimbugwe and team, Carillion Communications and the TV Training Academy.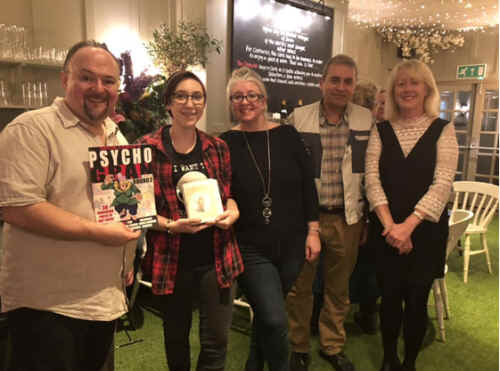 ---
TRAGIC DEATHS OF NICK AND JEAN DENNIS
5 October 2018
---
Cookham.com was saddened to hear of the tragic news of the death of Cookham resident Nick Dennis. Nick and his wife Jean were travelling north in Scotland on Wednesday to attend their daughter's marriage when Nick's car came off the motorway flyover at Moffat and crashed to the road below. He was killed and Jean was severely injured and was taken to hospital in Scotland where she died last Tuesday.

Richard Kellaway, a good friend of Nick said "'All Nick Dennis's friends are shocked to hear of his and Jean's death in Scotland just before his daughter Anna's wedding. Nick has been a great friend to many of us, a stalwart of Winter Hill Golf Club, bridge clubs and 'Mastermind' of Cookham Dean Village Club for many years.

Our thoughts are with Nick and Jean's family.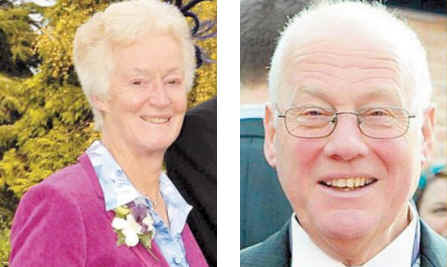 ---
FROM ODNEY BRIDGE TO FLANDERS FIELD
25 September 2018
---

As part of the local commemoration of the 1918 Armistice there will be a special performance of the 2015 Cookham Festival success "From Odney Bridge To Flanders Fields: the Cookhams during the Great War" at Cookham Dean Village Hall at 7.45 on Friday 9 November. Compiled from the pages of the Maidenhead Advertiser and other contemporaneous accounts this dramatized reading will be performed by a local cast. All proceeds to go to the Royal British Legion. Tickets are £10 unreserved seats and are now on sale from the Stationery Depot Cookham Rise (cash or cheque only); Ros Hazeldine on 01628 782933; or www.ticketsource.co.uk/cookham-festival (booking fee applies).
LEST WE FORGET
---
THE KINGS ARMS WINS GARDENS IN BLOOM
18 September 2018
---
Billy the Gardener displays the certificate for Gardens in Bloom 2018 presented by the Royal Borough to the King's Arms in Cookham Village. Billy looks after their gardens..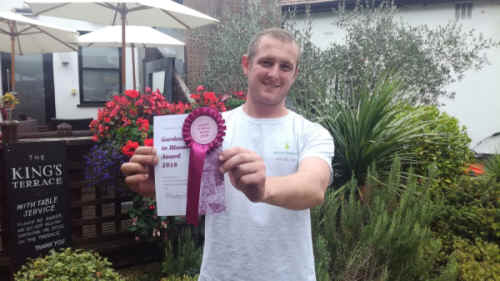 ---
POSSIBLE PARKING CHANGES
13 September 2018
---
The council is considering changes to parking in various locations, in response to requests from residents.

Details of the current proposals are listed on the following pages,

https://www3.rbwm.gov.uk/info/200213/parking/664/parking_consultations

along with plans showing the proposals.

Details of resident parking permits can be found at our resident parking permit pages.

https://www3.rbwm.gov.uk/info/200213/parking/8/apply_for_resident_permits
---
LONDON ORPHEUS SINFONIA JOIN CANTORUM TO SING BRAHMS
11 September 2018
---
The Cantorum Choir are going to be accompanied by members of the London's Orpheus Sinfonia and professional soloists Rebecca van den Berg and Michael Mofidian at their next event, Brahms German Requiem . It is being performed just over the river in All Saints Church, Marlow on 13th October at 7.30pm Tickets are available from The Stationery Depot, in Cookham Rise, or via the website www.cantorumchoir.org.uk and are priced £16 or £10 for under 18s with under 10s free.
---
BILLY THE GARDENER SPONSORS COOKHAM DEAN FOOTBALL CLUB
23 August 2018
---
Billy the Gardene,r who lives in Cookham, has kindly sponsored the Cookham Dean Football Club's red jerseys. Don't they look great?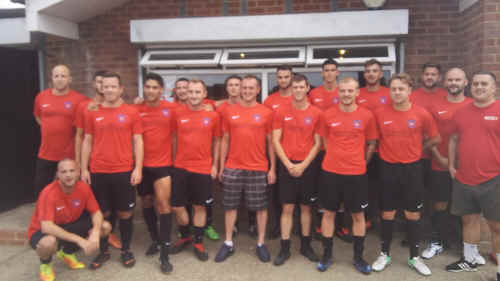 ---
PLAYBALL FOR KIDS
17 August 2018
---
Playball is a multi-sport and movement program teaching the main ball sports (tennis, football, rugby, hockey, cricket, basketball, baseball, netball & volleyball) in very small age-specific structured classes for 2-3s, 3-4s, 4-5s & 6-8s.

The program has been designed by sport and child specialists to teach children locomotive, manipulation and stability skills. In the pre-school years we teach the base ball skills - throwing, catching, kicking, hitting, dribbling and bouncing. With skills pitched at the correct developmental level for each age group, children quickly progress from simple to complex activities.

Playball also teaches cognitive skills such as listening and concentration, the ability to follow instructions, team-work, decision making and good sportsmanship thus developing their social and emotional self by building confidence and independence.

Children love to be active and thrive in our fun filled lessons, taught by coaches passionate about teaching children. We have classes in Marlow & Bourne End on Wednesdays - Fridays.
Email joanne@playballsouthbucks.co.uk for a FREE trial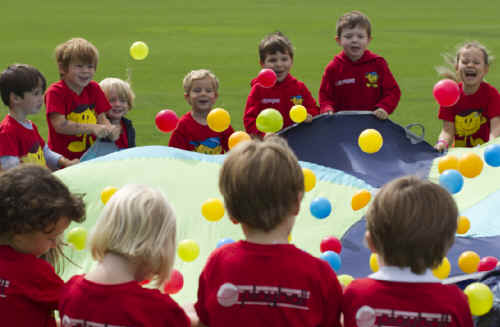 ---
TIMMY OFFERS REWARD FOR STOLEN BIKE
10 August 2018
---
Cookham Resident, Timmy Mallett, was distraught to find that his giant e-bike had been stolen from the King's Arms last week. The bike was particularly special as Timmy had cycled down to Santiago de Compostella earlier this year which took him two months. You may have seen his blog on cookham.com. Timmy had ridden around 2,500 miles as a special journey of remembrance for his brother Martin who died earlier this year. It would have been his birthday the day after the bike was stolen. Timmy said that you can cycle all over the world and then his bike gets stolen in his own village.

Timmy says he is offering a substantial reard for its return.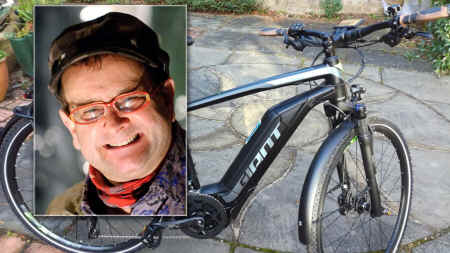 ---
DEATH OF THE REV JOHN COPPING
7 August 2018
---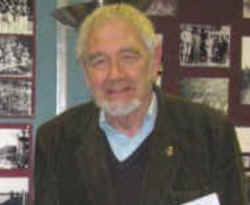 A much loved and well known residen,t the Reverend John Copping, died on Sat 4 August. He had been vicar of St John the Baptist in Cookham Dean for many years and when he retired Holy Trinity joined up with St John the Baptist to become a Benefice. John was always very active in the village and used to be the Quiz Master for many years of the annual St John the Baptist quiz which was fiendishly good. It used to have a theme with people dressing up and was an annual must be there event. As vicar John was very much part of Cookam, particularly Cookham Dean and lived in the Vicarage in Church Road. He will be very much missed by many people and will be particularly remembered for his sense of humour.

Memorial Service with Holy Communion for John Copping at St John the Baptist Tues 28 August 2pm
---
HANGING THE NEW SHOW AT THE GALLERY
4 August 2018
---
The Windsor Art Group moved into the Gallery at Elizabeth House on Friday, mounting their Summer Exhibition. Caught in the act with some of their paintings are (l to r) Alan Rutland, Pauline Watkins, Grahame White and Linda Burley with a long-necked friend taking particular interest. The show opens this Sunday 5 August (10am to 2pm) and then is open during normal Elizabeth House hours (9am to 3pm with a break for an hour at noon) and will be open one day each weekend until 14th September.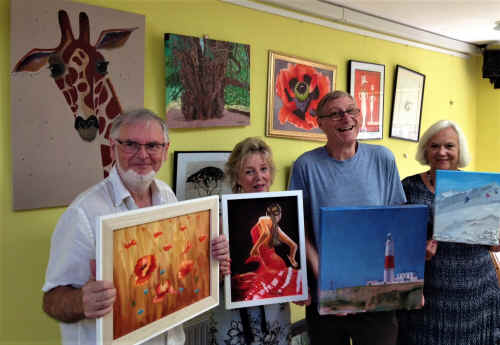 ---
THE WAGS ARE COMING
28 July 2018
---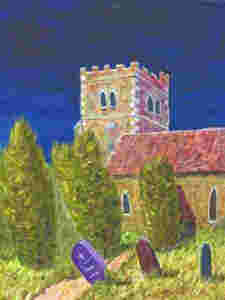 A group new to Elizabeth House is putting on its Summer Exhibition at the Gallery in August. Windsor Art Group (WAG) is a thriving society of local artists who meet to paint and draw, each with their own approach to painting. This summer members will be exhibiting recent paintings and artworks in a wide range of media (watercolour, acrylic, oil, and mixed media). Some 40 artworks include local views, landscapes, seascapes, floral and animal themes. As well as the usual weekdays opening (9am to noon and 1pm to 3pm), the gallery will be open 10am to 2pm at least one day each weekend when members of the group can assist with any queries, sales or commissions for artworks or about the club's activities. You can see more of their work and find information about the group on their website www.windsorartgroup. org
The exhibition runs from 4th August to 14th September. The Gallery is on Station Hill in Cookham Rise, SL6 9BS.
---
LIVE@ THE CHURCH
21 July 2018
---
Myself and my husband Trevor both live in Cookham and run an events production company, we are going to be holding a series of live music events at Holy Trinity this year starting this Saturday the 28th. We would love to get as many people down as possible as we plan to share any profits with the church. The idea of the event is to transform the beautiful church with atmospheric lighting and showcasing quality original singer/songwriter acts from all over the country with everything from folk, country, bluegrass and blues. We will also have a bar selling a good selection of drinks including Rebellion with a discount for brewery members. We would love to make the nights a success as we love living in Cookham and would like to provide some quality events that locals would like to come to.
---
THE VIRTUAL PA
21 July 2018
---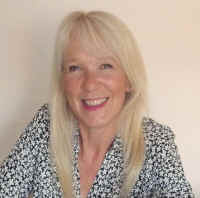 My name is Julie Scott and I set up PVPA Consultancy Ltd, a virtual Personal Assistant and Administration company, so that I can do what I do best and love doing – helping people.
I support small businesses and busy people by dealing with the daily administration tasks that take up so much time but are vital to the success of any business.
Do you have a presentation that needs creating, travel to be arranged, meetings to be booked and an overflowing email inbox? Does your office run smoothly, do you need a new utility provider, assistance with invoicing and credit control? I can take these time-consuming tasks away from you, in a cost-effective manner, giving you back the time to do what you want to do.
If you just need a couple of hours support, a one-off project or would prefer guaranteed hours every week, or even on-site assistance, I'm here to help. Drop me a line at julie@pvpa.co.uk or call me on 07557 092651. I look forward to hearing from you.
---
LISTEN TO HIM
2 July 2018
---
The Celebration of the release of the new album "Listen to Him" by John Church and Stuart and Juliet Epps that took place at Holy Trinity on Friday 29 June raised a magnificent £2,000 for the church funds. Everyone agreed it was a fantastic evening.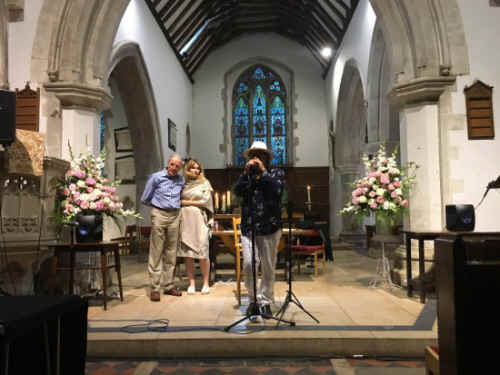 ---
AN EVENT YOU WON'T WANT TO MISS
22 June 2018
---
An event you won't want to miss! Everyone welcome.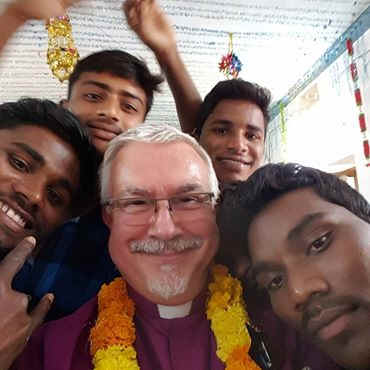 The Media Hub is celebrating its 5th birthday at 7.30pm on Wednesday, June 27th at the Bel and the Dragon in Cookham. We are the South East's largest networking group for media professionals, so if you haven't attended one of our meetings yet, do come along.
We are delighted that BBC Radio 5 Live presenter Dotun Adebayo, MBE is going to be our guest speaker. Dotun will be talking about his career as a radio presenter and writer to Media Hub member and former 5 Live colleague Helen Foster.
After Dotun's presentation, there will be the chance to mingle, enjoy some of chef extraordinaire Ronnie Kimbugwe' s canapés and relax and listen to music from Acoustic Soul. With the smooth, hypnotic music of Renee Cullen on vocals, Steve Hopwood on guitar and former "Mean Red Spiders" keyboardist Rob Strachan, it will definitely be a night to remember.
To celebrate this special occasion, we have decided to support a cause close to our hearts - a charity called Partners For Change Ethiopia (www.pfcethiopia.org), which helps children in poor communities. Media Hub Founder Sarah Parfitt and her family have been helping the charity since 2013, and Sarah has travelled to Ethiopia on three occasions.
Holy Trinity C of E School and the village of Cookham have raised more than £28,000 to support the community of Gende Tesfa in eastern Ethiopia, which is a PFC Ethiopia project. Thanks to the generosity of people in this area, we have been able to fund a sports ground, the Breakfast Club and small business training for 100 mums and dads in Gende Tesfa.
Over 230 children at Gende Tesfa School are currently going to school on an empty stomach. Every penny from every ticket sold at the Media Hub's 5th birthday will help transform lives. By purchasing a ticket for £20, you will be funding breakfast for six children for a week.
Our guests will include the Rt Revd Andrew Proud, the Bishop of Reading, who was a Trustee for the charity and Mulugeta Gebru, the head of the charity in Ethiopia. BBC presenter and journalist Michael Buerk, whose reporting of the famine in Ethiopia in 1984 inspired the Band Aid song, Do they know it's Christmas?, will be sending the Media Hub a special video message. Michael is currently filming with John Sergeant otherwise he would have attended our event.
A big thank-you to all of the businesses and individuals who are helping to make June 27th a night to remember, including the Bel and the Dragon, Carillion Communications, the TV Training Academy, Mah Images, Caroline Field Photography and Rachel Sellman.
Whether you are a Media Hub member or a friend of Partners For Change Ethiopia, do come and join our Media Hub 5th birthday celebrations. For further information, please contact Sarah Parfitt: sarah_parfitt@mail.com. Mob: 07900 4117 15. Do join our Media Hub Facebook page if you haven't already: https://www.facebook.com/groups/MediaHub/
If you are unable to attend the event, but would like to make a donation to save Gende Tesfa Breakfast Club, click here
---
RUN AWAY SUCCESS
16 June 2018
---
Over a staggering £8,000 was raised at Cookham Rise School's Interior Design Sale on Saturday 9th June. It was an absolute must for anyone looking for designer curtains and fabrics at ridiculously low prices. Some fabric and curtains are still available if you are interested. Contact Lisa Peters lisapeters@cookhamriseprimary.org Another sale is planned soon.

Many of you will be aware of the Saving New Brainstorm School initiative. Started in 2016 by Lisa Peters and the children of Cookham Rise Primary School, the project is looking to build a new school for their pen pals; 200 orphaned children in Kampala, Uganda. Every single penny raised from the sale will go directly into funds for the new build.

FANTASTIC RESULT!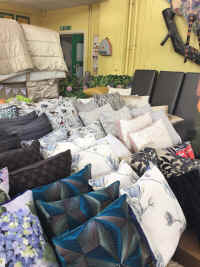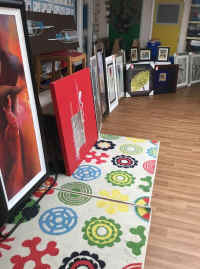 ---
MUM BOSS: VICKI PSARIAS
8 June 2018
---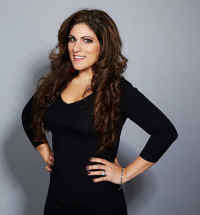 Vicki Psarias will be speaking at the Media Hub at the Bel & the Dragon in Cookham on Thursday 14th June at 8pm. She is a blogger, vlogger, author, filmmaker, TV director and founder of one of the biggest blogs worldwide, Honest Mum®, Vicki lives in Windsor. You can read an interview with Vicki click here.
---
THE MOVEMENT OF LIGHT
3 June 2018
---
Elizabeth House, Cookham, is delighted to be showing the vibrant watercolours of Polish artist Agata Szymaniec from 11th June - 13th July.
Agata Szymaniec is a watercolour artist based in Wallingford and born in 1978 in Katowice, Poland. An inveterate traveller, her inspiration comes from the movement of light. "The moment when paper absorbs the water with every touch of the brush - from a strong feeling translated into light, from a straight line into a mysterious wash - it is so powerful and magical. I present the dynamic of life in the city where I try to capture atmosphere, mood, light, colour and obviously people who are in the middle of my artwork. Painting with watercolour is an illusion, a spectacle where I create the story, catch the feelings and stop the audience for a moment to convey emotion, optimism, warm atmosphere or even mysterious moments."
Do come and see Agata's work during the usual opening hours of Elizabeth House i.e weekdays from 9am to 3pm with a one hour break from noon. The Gallery is on Station Hill, Cookham Rise, SL6 6PE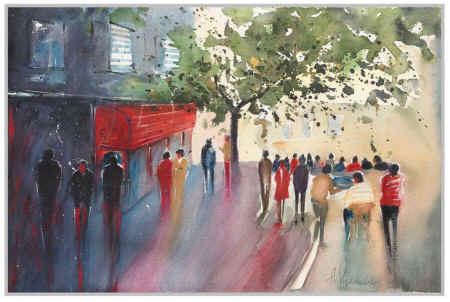 ---
"COOKHAM - ST BENOIT TWINNING 2018
20 May 2018
---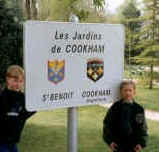 Mark the dates Saturday 20th October to Monday 22nd October when Cookham will be welcoming visitors from St Benoit, continuing the annual Twinning exchange started in 1993.
Activities planned in the full couple of days include a skittles evening at the Greyhound in Eton Wick on Sunday evening, a trip to Oxford including the Bodlean Library, Sheldonian Theatre and Exeter College on Monday, and a social evening and Indian meal at Cookham Dean Cricket Club. Anyone can participate in one or more of these events.
Twinning helps us to learn about other countries, in this case France, both through visits that show aspects of local and national life, and general conversations between visitors and hosts. Visitors stay in family environments and informality is the order of the day.
A knowledge of French is useful but certainly not essential as there are several English speakers in the St Benoit group. However if you want to brush up on your French language skills, this is a good opportunity to do so!
The Cookham Twinning team are currently looking for hosts to accommodate our visitors – if you'd be interested in doing this please contact Keith Le Page (keith_le_page@hotmail.com). And if you'd like to join Cookham Twinning and get involved in the weekend's activities in part or full, please contact Membership Secretary Stephanie Diggon (stephaniediggon@hotmail.com).
---
"LISTEN TO HIM" ALBUM LAUNCH
20 May 2018
---
(From Cookham Reident Stuart Epps)
We are very pleased and proud to announce the forthcoming release of our album "Listen to Him "

This has been an amazing journey with our co - contributor and amazing lyricist John Church .

We are about to promote the Launch, including an evening at holy trinity Church on the 29th June .

We will be playing the album and talking about its making .
All proceeds for the sale of the album and the evening are going to the Church restoration fund .

Would be very grateful if you could help promote it on Cookham.com and any other way you might think of .
Tickets are already available at the church office and at the stationers .
All details on the poster attached .

Here is a trailer to give you some idea of the album content .
---
COOKHAM'S WORLD BIODIVERSITY EXPERT
18 May 2018
---
Cookham's world biodiversity expert to speak at WildCookham event - 11th June
Cookham-born Nigel Stork is a leading world expert on biodiversity and he returns home in June for a WildCookham event on the subject. His talk, 'Biodiversity: the local response to a global crisis', will be in the Odney Club's Sir Peter Miller Centre, courtesy of the John Lewis Partnership, with the added attraction of a chance to see the club's grounds and also enjoy a guided tour around them.

Nigel, brother of Cookham Festival chairman Malcolm, now lives in Australia and was most recently Dean of Research for Sciences at Australia's Griffith University before retiring and being appointed Emeritus Professor at the university. His particular field of study has been insect biodiversity patterns in forests across Europe, the Americas, Africa and Asia as well as Australia. He also served on the UK National Biodiversity Committee and was a lead author of the 1994 UK Biodiversity Action Plan.

He will bring this exceptional experience to his talk and will relate it to more local issues – for example, urban biodiversity, public parks and golf courses – all of which is highly relevant to our own local challenges.

Register to attend at www.meetup.com/WildCookham/events/250481077/ or by emailing lpeperell@f2s.com. If you want the guided tour you can register at the Odney Club from 6pm: spaces are limited. The bar in the Sir Bernard Miller Centre will be open from 6pm to 7.30pm, so come and make an evening of it!

There will be no charge for attending the event but a donation to Wild Maidenhead and WildCookham funds will be welcome.
---
TRIP TO WATERPERRY GARDENS
13 May 2018
---
Thanks to a generous benefactor, a coachload of members, volunteers and staff from Elizabeth House went to Waterperry Gardens in Oxfordshire in April for lunch and wandered around the gardens.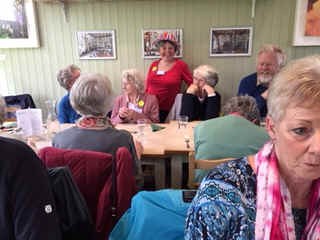 We arrived, had a quick coffee and then visited the onsite museum full of old brewery memorabilia, farming and village life – with a few surprises! Who knew that sheep and goats could have little welly boots for their feet?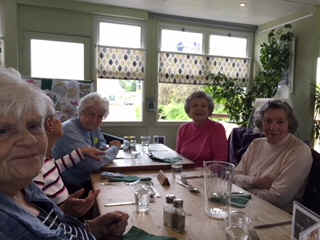 Returning to café, we enjoyed an amazing roast chicken dinner, apple pie and cream and tea or coffee, then spent time shopping, visiting to the old church to see the stained glass windows or walking in the grounds. There is so much to see at Waterperry Gardens that members have asked to come back for a longer visit later in the year.
---
BEST QUIZ IN TOWN
12 May 2018
---
Definitely the best Quiz in town (on the night)
Regular quizmaster John Sykes put the general knowledge of Elizabeth House supporters to the test with his challenging and well-researched questions.
Trustee Jill Cruse and helpers cooked and served a delicious meal and Bernadette Clark (pictured) sold raffle tickets on the night.
This fundraising event raised over £1,625 for Cookham's much loved day centre.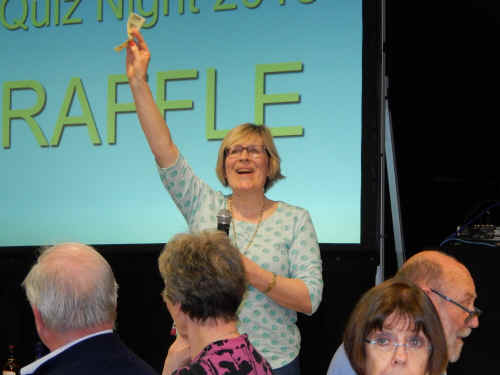 ---
WANT TO DANCE YOUR WAY ROUND THE BALLROOM?
13 April 2018
---
Want to dance your way round the ballroom? Now is the time to learn!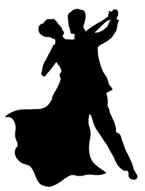 Following the success of her present Beginners Ballroom and Latin class which has now graduated to become an Improvers class, Penny Bysshe, a professional Ballroom and Latin teacher and a Cookham resident, is starting a new Beginners Ballroom and Latin class at the Pinder Hall, Lower Road, Cookham Rise on Friday 8th June 6.30-7.30pm. The class will run every Friday until 20th July and after the summer break will start again at 6.30pm on Friday 14th September. Couples and singles are welcome and the cost is £7.50 per person.
The dances taught at the classes are the Waltz, Quickstep, Foxtrot, Tango, Cha-Cha-cha, Rumba, Samba and Jive.
Penny already runs two Ballroom and Latin classes on Friday evening at the Pinder Hall, one for Improvers and one for those who know the basic steps and want to learn a bit more. If you would like to start the Beginners Ballroom and Latin class on June 8th or one of the classes already running please contact Penny Bysshe on 01628 526819.
---
WILD GARDENS' SCHEME SPRINGS INTO LIfE
13 April 2018
---
There was a full house at Lea Barn in Cookham Dean for last Thursday's launch of Cookham's Wild About Gardens Awards. WildCookham supporter Pam Campin announced the Awards with the help of local Wildlife Trust expert Hilary Phillips.

The self-assessment awards scheme - a pilot scheme which it is hoped to spread across other Maidenhead parishes in future years - encourages garden owners in the Cookhams to take account of 25 possible features under four headings related to wildlife support - food, shelter, water and general garden management. You can download the assessment form at www.wildmaidenhead.org.uk/wild-about-gardens or collect a copy from the Stationery Depot in Cookham Rise. Depending on the number of features in a garden, bronze, silver and gold awards are on offer - all to be presented in October.

Pam and Hilary stressed the importance of gardens to supporting our biodiversity, given the dramatic fall in diversity overall following increasing urban development and intensive agricultural practices. Cookham, Pam said, can show the strength of its community, and its commitment to making Cookham a wildlife-friendly community, by making a real success of the new scheme. She also stressed that the awards criteria are a great way to get some simple ideas about how to encourage wildlife.

Cathy Costello, on 01628 485246, can be contacted for more information about the awards.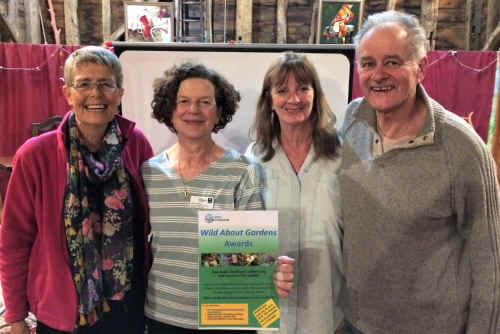 (l to r) Pam Campin, Hilary Phillips, Cathy Costello and David Norris)
---
TIMMY MAKES THE FRENCH PRESS
6 April 2018
---
Timmy Mallett is half way through his journey to Santiago de Compostela. He has been making the most of his mammoth cycling trip by painting pictures of the various scenes he has come across on the way.

He has even made the French press. Click here.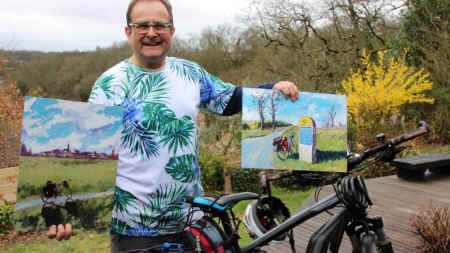 ---
COOKHAM - A COMMUNITY THAT IS PROUD OF ITS WILDLIFE
5 April 2018
---
With Easter behind us and Spring in the air at last, it's time to get busy making our gardens fit for wildlife. First step is to come to WildCookham's meeting next Thursday, 12th April, to hear about Cookham's Wild About Gardens Awards launched this month, and to get useful ideas and tips from Hilary Phillips of Berks, Bucks and Oxon Wildlife Trust. The Awards will be presented later this year to local garden owners based on the number of wildlife-friendly features in your garden - and you have between now and the end of June to submit the very simple self-certification form.
You can also get full details about the Awards at the meeting and join up if you wish.
Already there's been a lot of interest in the Awards and the organisers hope that we are on the way to making Cookham a Community that's Proud of its Wildlife!
All details of the meeting are on the WildCookham Meetup site (https://www.meetup.com/ WildCookham) or email lpeperell@f2s.com to confirm you plan to attend.
---
JEAN STRETTON'S FUNERAL
30 March 2018
---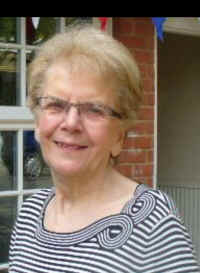 Jean Stretton's funeral will be held on 4th of April at the Parish Centre next to Holy Trinity Church. It will be at 1pm.
---
COOKHAM DEAN SPRING CLEAN
22 March 2018
---
On Saturday 7th April, the Cookham Dean Village Club are getting together with The National Trust and as many Cookham based organisations as we can raise, to have a 2 hour litter pick. Meeting up at 9:45 at the Village Hall and returning for refreshments at mid-day, we hope to get enough people involved to cover the whole of Cookham Dean.
We would be very grateful for all the support people are able to provide to help make this event a great success. Primarily, this would be by just turning up on the day to help collect litter from allocated zones. We will provide most of the equipment needed but would advise pickers to bring their own sensible gloves.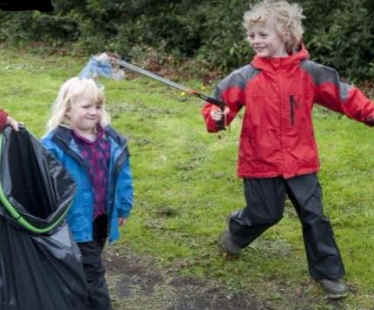 ---
TIMMY ON THE ROAD TO SANTIAGO DE COMPOSTELA
21 March 2018
---
Timmy Mallett is taking on a mammoth cycle ride from Cookham to Santiago de Compostela in Spain following the route of the pilgrims. He is planning to reach Cookham's twin village St Benoit which is on the route by this weekend and will be staying with the Mayor. He has already stayed with a group of nuns in a flatlette, for the grand cost of ten euros a night.

He has had many people offering him support, including Theresa May MP and French President Emmanuel Macron, also Bear Grylls and Professor Brian Cox, plus many others.

You can see Timmy's progress on his website at http://timmymallett.co.uk/track-timmy/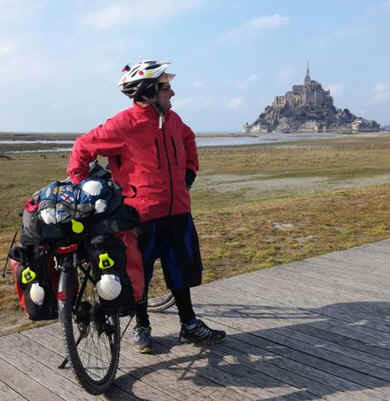 ---
ST LUKE'S COPIES COOKHAM
20 March 2018
---
It looks like St Luke's School Maidenhead is copying Cookham. (See below). St Luke's have given Brainstorm School a selection of

bright yellow kit, trainers, letters and gifts. Great minds think alike.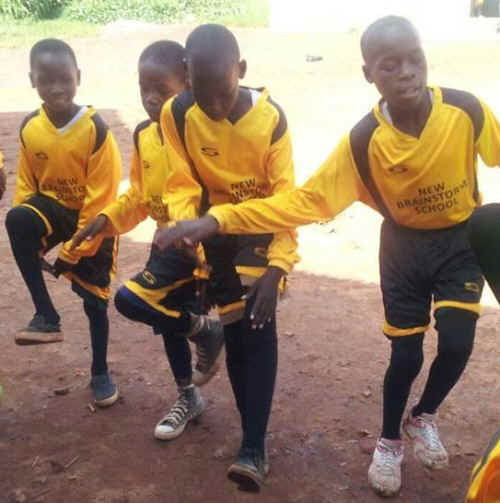 ---
SAVING NEW BRAINSTORM SCHOOL
19 March 2018
---
FROM COOKHAM TO KAMPALA! An incredible surprise from an incredible couple! Frank and Julia Cronin from Cookham are in the slums of Kampala! Today they made a surprise visit to New Brainstorm School. Mr.Nickolas and the children were so excited to meet them They are going to visit the children again on Monday - this is so truly wonderful - we had no idea they were going. I feel so proud of them both - way to go guys!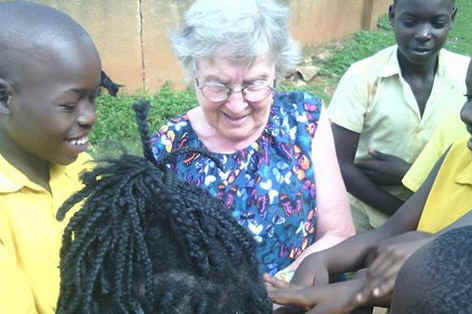 ---
DEATH OF JEAN STRETTON
13 March 2018
---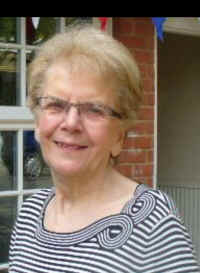 It was with sadness that Cookham.com heard of the death of Jean Stretton. Jean was well known in Cookham and had lived here for many years. She had been a member of the Parish Council since the 1970s when she was also a member of the Cookham Society for which she was a founder member. Recently she had been living in Berry's Road in Cookham Village where she had moved from Cookham Rise. She was very interested in the history of Cookham and has written various articles about the village including the history of the Pinder Hall which can be seen on their website www.pinderhall.org.uk She has always been very active in Cookham and was often seen at the various events around the village.

Condolences go to John her husband and her family. Information about the funeral are not currently available.
---
THE COOKHAM SOCIETY DESIGN AWARD 2018
9 March 2018
---
At its Annual General Meeting on Thursday 8th March the Chairman of the Cookham Society, Mr Evert Groeneweg, announced that the winner of the Society's Annual Design Award for 2018 was Orchardfields, a newly extended and refurbished dwelling in Bigfrith Lane, Cookham Dean. Heighway Associates, of Marlow, were responsible for the design.

The Chairman noted that the Award had been granted in recognition of the excellence of design achieved in meeting the` principles enshrined in the Cookham Village Design Statement. The Society's assessment was made in consultation with the renowned architect Professor Robert Adam, DipArch RIBA FRSA, and concluded that:

"the Award is given for the extension and renovation of a 1920s Tudor style half-timbered house in an open location in Cookham Dean. This is a large extension but fits in well with the existing building, maintaining a low-key approach. The exposed timber features provide continuity and care has been taken to ensure consistency throughout, including the door and window frames. Seamless continuity with a sometimes unfashionable early-twentieth-century style is unusual and the result is an attractive building which integrates well with the unique green setting and rural character of Cookham Dean (see Cookham Village Design Statement, p.58)."

He added that the standard of entries this year had been high and the selection of a winner had not been easy. However the Society was delighted to show through the Award that the Society is happy to encourage new high-quality construction, while continuing to oppose developments which are considered inappropriate.

Mr Groeneweg then invited the President of the Society, Mr John Bowley, to present the Award Certificate to the representative of Mr and Mrs Spray, the owners. On presenting the certificate Mr Bowley added that a blue ceramic plaque would follow in due course.
---
SPEAK OUT
6 March 2018
---
Cookham residents Richard James (left) and Justin McCarthy (right)are teaming up to bring people in the area a new course in public speaking. They will be presenting a two-evening programme called 'Speak Out!' which is aimed at presenting the basics of public speaking to anyone who has a message to deliver.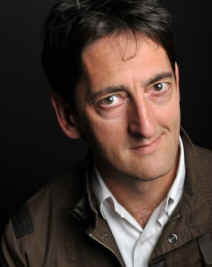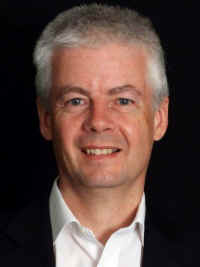 Richard has been an actor for over twenty five years and is currently on a national tour of the world premiere of David Walliams' 'Awful Auntie'. He will be introducing the basics of voice and body and exploring how we can use both to create a confident and interesting presentation.

Justin is the lead trainer at Saxon Coaching and a communications expert. He will be showing how structure and the use of rhetoric can keep your audience engaged, as well as exploring how to answer difficult questions.

'Speak Out!' is aimed at business professionals and those who simply want to feel more confident when speaking in public; from presentations and pitches to Best Man's speeches and motivational talks, if you have a message, 'Speak Out!' can help.
Part 1 Tuesday, 17th April
Part 2 Tuesday, 15th May
Part 1 Tuesday, 19th June
Part 2 Tuesday, 17th July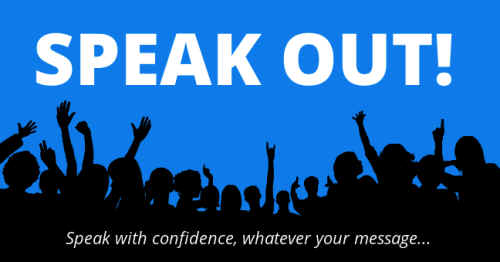 ---
BAGS 2 SCHOOL
5 March 2018
---
Unfortunately, due to the snow we had to delay our bags to school campaign for Gende Tesfa (Ethiopia) until

Wednesday, March 14th.



We are still hoping to collect lots of second hand clothes.

If you could spread the word, that would be wonderful. PFC Ethiopia Ambassador Helen McLean is coordinating this campaign at Holy Trinity (I will be in Senegal next week).

I attach a photo of Helen's daughter Cleona, who is also an Ambassador.

Please do get in touch with Helen hmclean4@icloud.com if you can help.

It's vital that we raise much needed funds for Gende Tesfa Breakfast Club - just £3.10 will give a child breakfast and some support at the Breakfast Club for a week.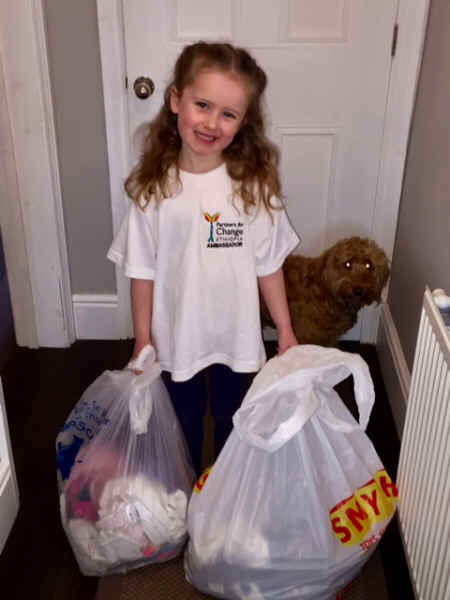 ---
LUCY IN GREASE
28 February 2018
---
Grease is being performed at the Theatre Royal in Windsor and at these performances the lead role of Sandy Dumbrowski will be played by Cookham's very own Lucy Fuller.

Lucy was a pupil at Cookham Dean C of E School and Newlands Girls School.

She is now pursuing her dream at full time Performing Arts School in Reading.

Tickets are selling fast - especially the matinees, so come along if you can and support some very talented young people from our local area.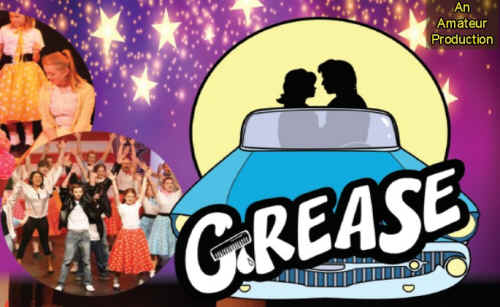 Click here for more information
---
BILLY DISCUSSES GARDENING NEEDS
15 February 2018
---
Cookham's Billy the Gardener was pleased to discuss his growing gardening business with our MP, Theresa May MP. And yes, she has his business card and number 0777 252 7837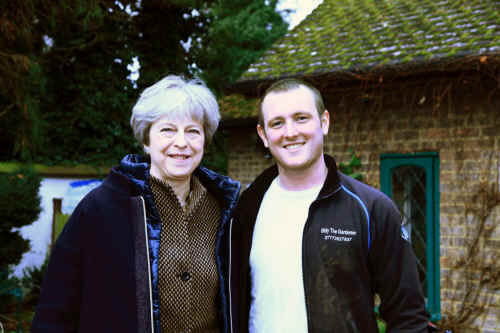 ---
MASSAGE THERAPY AVAILABLE AT ELIZABETH HOUSE
3 February 2018
---
Emma Nevins Massage Therapy will be giving treatments in Elizabeth House in Cookham every Monday between 10am and 2pm from 19 February 2018. There are special rates for registered members and volunteers of Elizabeth House but all are welcome. Please call 07850214079 or email
info@emmanevins.co.uk
for more information or to book an appointment.'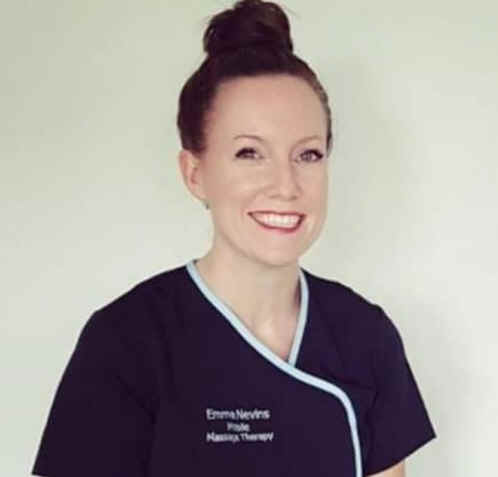 ---
CAROL COLLECTIONS FOR THAMES HOSPICE
22 January 2018
---
Thank you to all of those involved in Holy Trinity Church's three carol services (Advent, Christmas & Epiphany) and to everyone who gave so generously to the retiring collections.
A combined total of £1780.11 was raised for Thames Hospice.
Advent Carols by Candlelight = £440.15
Christmas Day Carols by Candlelight = £904.24
Epiphany Carols by Candlelight = £435.72
---
COOKHAM - VILLAGE OF THE YEAR 2017
10 January 2018
---
Village Of The Year which Cookham entered last year will start transmitting on the 15th January 2018 on Channel 4. Unfortunately Cookham did not actually get through to the finals.
Details of all transmission times are below – with COOKHAM being on - Friday, 26 January 2018
All shows will then be available online via All 4 .
You can also go online on Facebook and Twitter, using the hashtag #villageoftheyear (but please do not let on how far you got in the competition until it is broadcast).
Thank you from everyone at Reef Television, and we hope you enjoy the show.
Heats: Weekdays at 3pm on Channel 4.
Western Zone Semi Final: Saturday 20th January 2018 | 8pm
South East Zone Semi Final: Saturday 27th January 2018 | 8pm
Central Zone Semi Final: Saturday 3rd February 2018 | 8pm
Northern Zone Semi Final: Friday 9th February 2018 | 3pm
Grand Final: Saturday 10th February 2018 | 8pm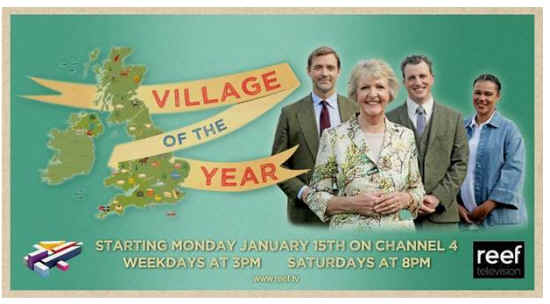 ---
WELCOME COFFEE FOR LULU MARTINET
6 January 2018
---
A welcome coffee for Lulu Martinet with other au pairs in the area and members of Cookham Twinning Association at Costa. Lulu comes from St Benoit in France which is Cookham's twin village.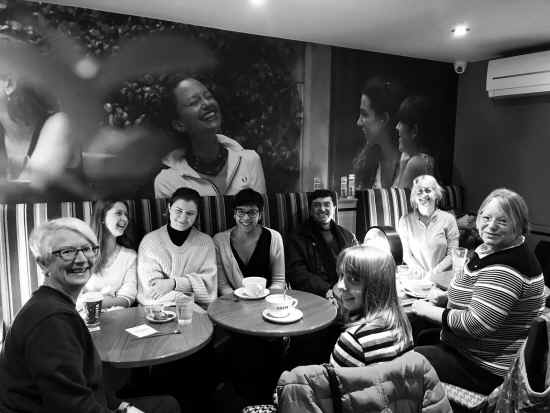 If you are an au pair in the area and would like to catch up for a coffee, please email Lucie: martinet.lucie@yahoo.fr or join the Cookham Au Pair Network Facebook page.