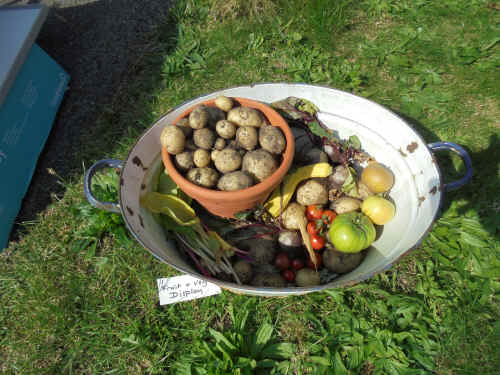 ---
PAWZ AND BONEZ IN COOKHAM
2 September 2020
---
BRUCE'S BRINGS AWARD-WINNING DOGGY DAY CARE
TO PAWZ & BONEZ IN COOKHAM
Industry-leading doggy day care specialist, Bruce's, has taken ownership of local doggy day care centre Pawz & Bonez. The move brings the Bruce's philosophy to the dogs of Cookham: to unleash happiness and enrich the lives of every dog (and their families) through a magical combination of passionate expertise and social fulfilment.
All staff have been retained, ensuring familiarity for the centre's existing canine customers, and Tyna Howell, owner of Pawz & Bonez, will remain for some time to ensure a smooth handover. The arrival of Bruce's will continue the exemplary doggy day care that Pawz & Bonez is known for, with a few extra benefits for customers to enjoy.
The centre will now be open 5 days a week and dogs will enjoy the Bruce's enrichment themes, with fresh, carefully developed scents to sniff out at every visit, plus the introduction of a designated puppy preschool area, will allow younger dogs to play and learn social skills with confidence.
From 1st September, doggy buses will provide the option of luxury travel for visiting dogs, with a convenient pick-up and drop-off service from customers' homes for the ultimate convenience. Bruce's buses feature air-conditioned interiors, relaxing classical music and trained, dog-friendly, DBS-checked drivers.
Customers will also benefit from the bow-wow factor of the Bruce's app, which allows them to receive pictures of their four-legged friends living it up at the day care centre, easily update bookings, and receive automated alerts in real time.
Bruce's provides dogs with the perfect antidote to the monotony of lockdown, with hours of stimulating and social play that satisfy doggy instincts. They unlock the doggy senses with agility obstacles, a sensory zone, and open spaces to run and play with canine companions. And every pooch gets an allocated carer, fluent in dog, to bond with, who will devote individual one-on-one time during their days on site.
Tyna Howell commented, "It is an exciting step for Pawz & Bonez to become part of the Bruce's family, especially knowing that it was founded on the same uncompromised dedication towards the happiness of dogs that I have always felt. I'm incredibly proud to hand over into such perfect hands."
Bruce Casalis, Founder of Bruce's said, "We recognised in Pawz & Bonez the same passionate ethos that Bruce's has been built on; to unleash happiness and enrich the lives of dogs in our care. We are excited to be bringing Bruce's doggy day care services to the pups of Cookham and can't wait to become part of the canine community here."
To find out more or book your taster session and bus space, visit brucsdoggydaycare.co.uk or call 01494 485 400.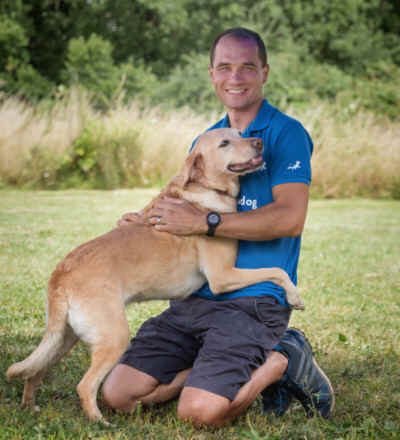 ---
THE GREAT LITTER PICK UP
30 August 2020
---
With teams from Cookham Dog Walkers, Rotary Club Cookham Bridge, Christine Doyle and Cookham SOS and over 60 residents, we set off from three Cookham meet points and covered a vast area. Over 30 sacks of rubbish containing takeaway wrappers, bottles, cans, dog mess, a trifle, a pram and even someone's big Y fronts were hauled and efficiently collected and responsibly disposed of by Owen Hibben from the National Trust.

Regardless of just how sad it is that we have to do these picks in our picturesque village, the team morale was fantastic and it was heart warming to have such enthusiasm on board. Thank you so much to all of you who came along to help. You really were the dream team.

Huge thanks also to Christine Doyle, Lou Young, Paul Overstal and Owen Hibben for pulling this together behind the scenes and helping to Keep Cookham Tidy.

Jus Moody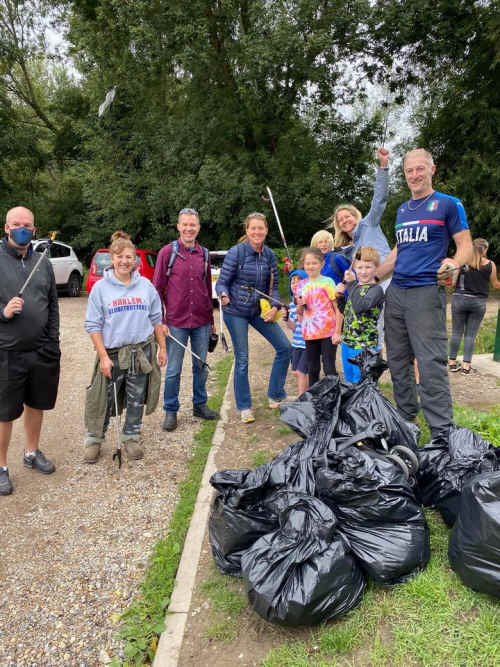 ---
THE RUNNING POSTMAN
19 August 2020
---
Lots of people will know Guy (the running postman) from Cookham Rise.... he is about to walk 24 hours to raise money for Thames Hospice. Please dig deep and sponsor him if you can.....

So he and Adam Lewis have 9 weeks to get ready for their Epic 24 hour Challenge on October 17th to 18th from Woodley to Brighton beach... If any friends or family ant to help out or meet them there your more than welcome... please have a read and donate if you can for a great cause.

www.justgiving.com/fundraising/guy-coles1

The photo is of Guy Coles on the left and Adam Lewis on the right.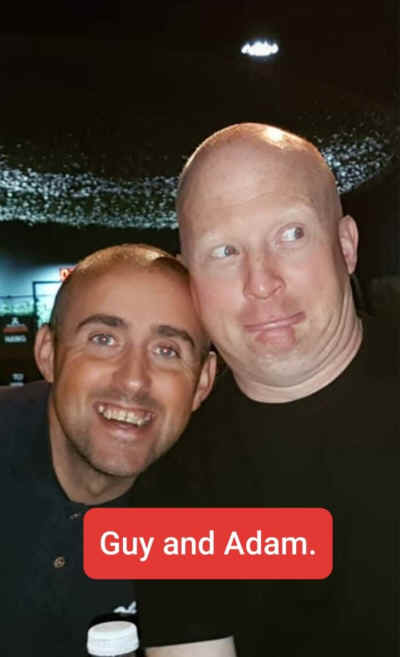 ---
SPENCER GALLERY ON FRONT PAGE OF THE TIMES TODAY
15 August 2020
---
The new exhibition at the Stanley Spencer Gallery is being reviewed by the Times today, Life with Stanley Spencer and has a photo on the front page of their Saturday Review.
The Gallery opened again on 15 August 2020 with their new exhibition 'Love, Art, Loss - the Wives of Stanley Spencer'. The Gallery had to close for several months due to Covid.
Click here to see a review on the Gallery Exhibition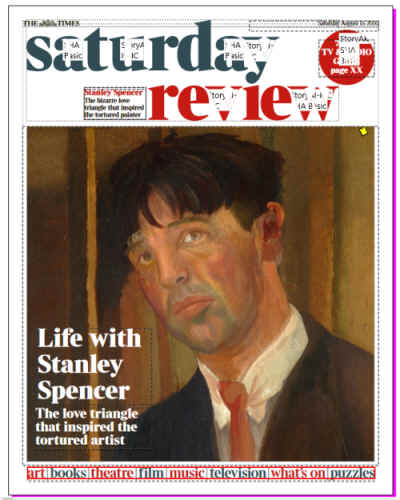 ---
COOKHAM ALLOTMENTS CARRY ON
12 August 2020
---
After the awful vandalsim of the Alfred Major allotments when they were trashed in June things are running again after a magnificent job was done to get things back to normal.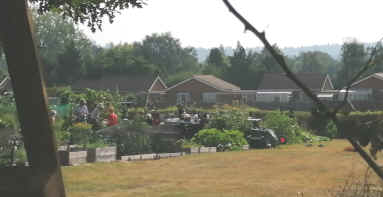 ---
CARS DAMAGED THROUGH NEEDLESS VANDALISM
8 August 2020
---
On Thursday evening several cars were damaged in Cookham due to needless vandalism.
Thames Valley Police says that it was called to Groves Way at about about 10:15pm It seems around 10 parked cars had their windscreens cracked with one vehicle's back window smashed. It is thought that a young male had been seen with a skate board which he had been using to smash the cars' windows.
A police spokeswoman added: "Anyone with information is asked to contact police by calling 101, or making a report online, quoting reference 43200243772."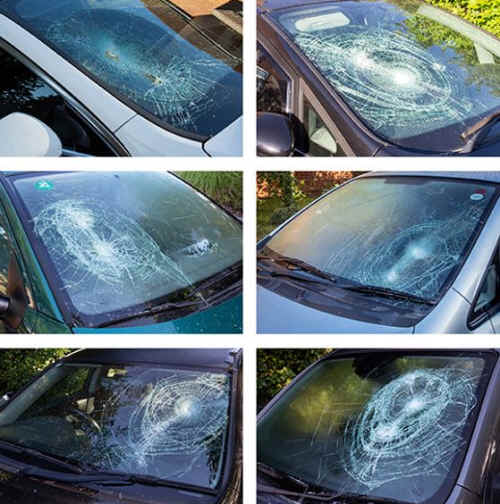 ---
DEVINE CHOSEN FOR ADVERT
27 July 2020
---
Devine Flowers has been selected as one of 5 businesses nationally to have a 30 second advert made about them – it will be sponsored by Lloyd's Bank to be broadcast nationally on Channel 4 on 31st July from 9 pm as part of the
#Back4Business
campaign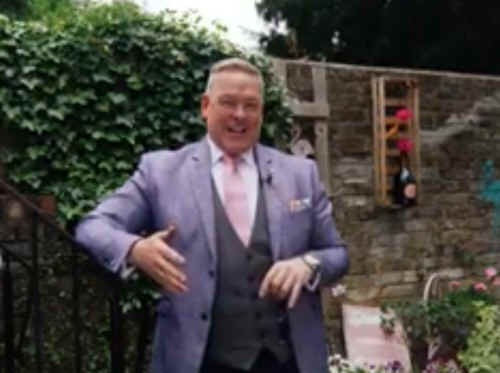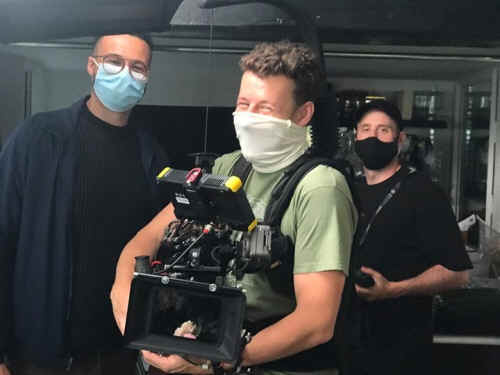 ---
COOKHAM CUBS' ZOO
4 July 2020
---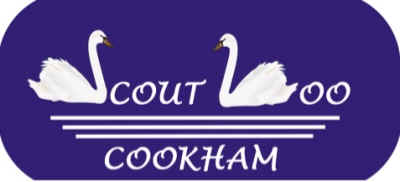 I wonder if I might ask for some help with something we are going to do with the Cubs.

We are planning to run Zoo!

Not a real zoo, of course, but they will design posters and put them up from 11 to 18 July.

For most, they will do this outside their own homes but we have some who do not live in the village and I wondered if there was anybody with an alternative location we might be able to borrow. It does not need to be a home. A shop window or similar place would work. So long as it could be seen from outside the premises.

If others want to join in, we will be happy to welcome them but please get in touch first as we have divided the village into continents and each will have its own animals. We also don't want to duplicate animals.

Thanks
scoutzoo@gmx.com
---
COOKHAM PHARMACY STARTS TO SELL STATIONERY
23 June 2020
---
The Pharmacy in Lower Road, Cookham is starting to store stationery. This should be a great help for Cookham sparticularly ince the Stationery Depot closed down.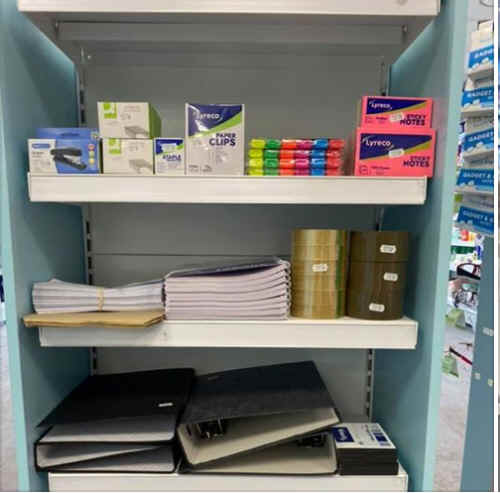 ---
ALFRED NAJOR ALLOTMENTS TRASHED
22 June 2020
---
People were horrified by the damage caused by vandals on Friday night at the Alfred Major allotments. There was a lot of damage to plants structures, and a greenhouse on a neighbouring property, residents said it is appalling. Two or three boys were seen when someone heard the smash of glass. Such things as compost bins, arches, netting and tool boxes and general structures were damaged. Beans were pulled down and the bamboo sticks destroyed. A water tap was broken off so water poured out and the water could not be turned off. Plants were trampled and the whole area was laid waste for no apparent reason. It seemed like a totally mindless action.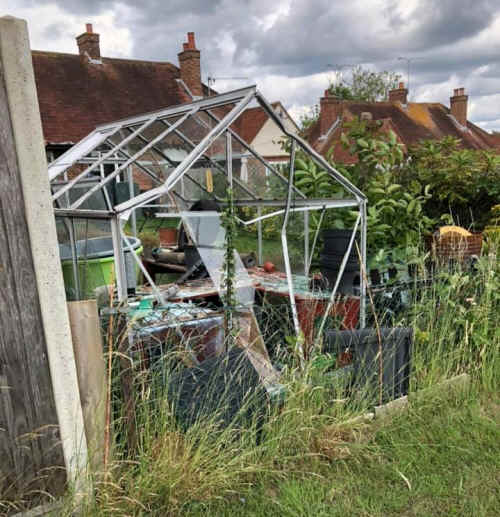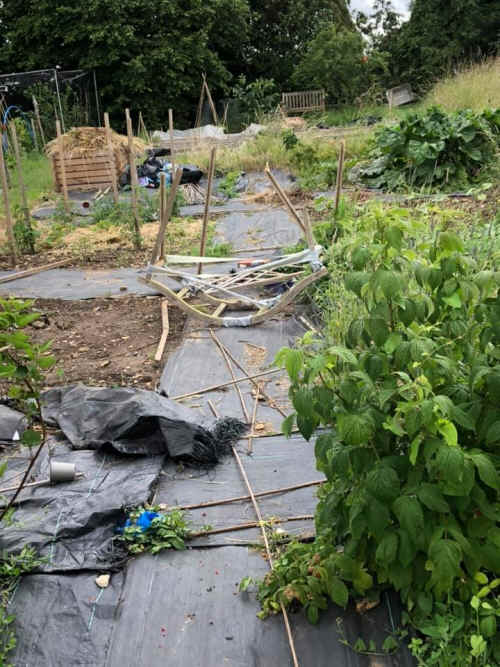 ---
COOKHAM DEAN VILLAGE FETE 2020
6 June 2020
---
The 2020 Cookham Dean Village Fete, due to be held on Saturday 12th September, has regrettably had to be cancelled in view of the continued Government restrictions related to the Coronavirus pandemic.

Pam Forrester, chair of the organising committee, said: "Apart from the logistical issues of effective social distancing in both indoor and outdoor attractions, the fete committee had to consider significant financial costs including insurance, medical cover and road closure, which need to be paid well in advance, as well as potential late cancellation payments. It would not have been possible to cover such losses in the event of a late cancellation.

The fete committee very sadly therefore felt that they had to cancel this year's event."

The committee recognises this means that the numerous charities supported by the fete will not benefit from it this year. The main charities which had been chosen for the 2020 fete are listed below. If you would like to show your support for the wonderful work they do, please visit their main websites as below to find out more about the work they do and how you can get involved or donate:

· · The Brett Foundation (supports the homeless in RBWM): thebrettfoundation.org.uk

· Family Action Windsor & Maidenhead Young Carers Service:
family-action.org.uk

· Samaritans of Slough, Windsor and Maidenhead: samaritans.org

· The DASH Charity (supports families and individuals who experience domestic abuse in RBWM): thedashcharity.org.uk

· Thames Hospice: thameshospice.org.uk

· CoppaFeel! (promotes awareness of breast cancer amongst young people): coppafeel.org

Pam Forrester commented: "We know that this fun community event for all age groups will be sorely missed, particularly in these times of social isolation. We look forward very much to welcoming everyone back to the fete on Saturday 18th September 2021.''
---
STANLEY SPENCER CLOSED BY COVID-19
25 May 2020
---
With doors to the Stanley Spencer Gallery closed due to the coronavirus pandemic the volunteers who run the art museum have turned their attention to creating a virtual exhibition space.
Through the gallery's website www.stanleyspencer.org.uk mand its social media channels people have been able to view Spencer's paintings in exhibitions that have been updated every two weeks.
They have included the artists paintings which chart the Easter story, and a walk around Cookham, with Spencer's works depicted alongside contemporary photographs of the places he painted.
Over half term the gallery has a 'Colour in with Stanley project, for children and adults, where line drawings of Spencer's works can be downloaded from the website to colour in.
Chairman of the Management Committee, Robert Kottler said "It was a big disappointment that this terrible virus arrived just at the point where we were about to open the door on our new summer exhibition, but luckily I work with an energetic team of people, who immediately decided to turn disappointment into an opportunity."
The exhibition, which is entitled 'Love, Art, Loss The Wives of Stanley Spencer' is expected to run into next year.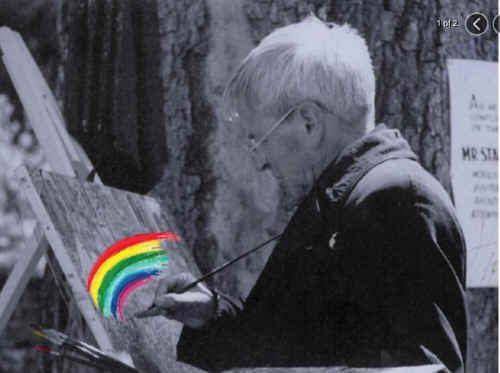 ---
ROSS KEMP VISITS ELIZABETH HOUSE
23 May 2020
---
Ross Kemp has had programmes this week looking at Britain's Volunteer Army on BBC One It featured appearances from the kind-hearted people giving up their spare time during the coronavirus pandemic.This included the work of Elizabeth House shown on 20 May and available on iPlayer.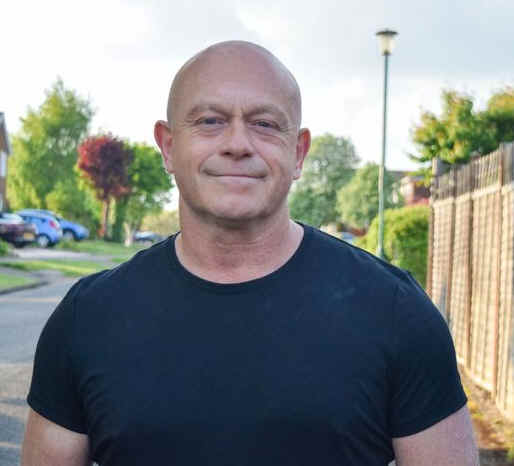 ---
VE DAY
9 May 2020
---
Some photos of the celebrations for the 75th Anniversary of VE Day. Here are some photos of Westward Green celebrations with thanks to Josephine Crabb.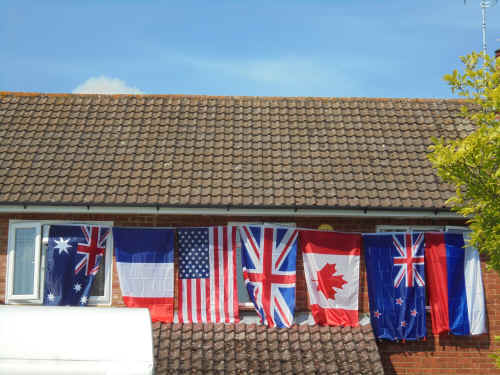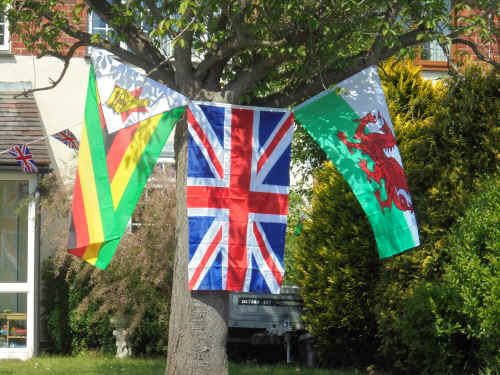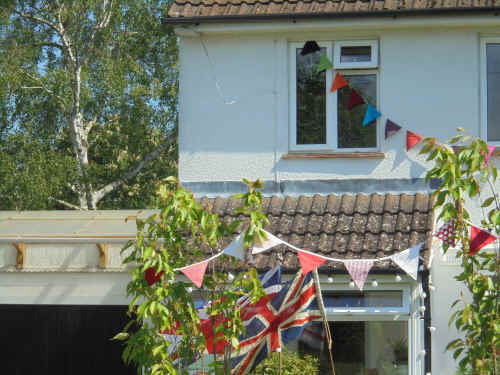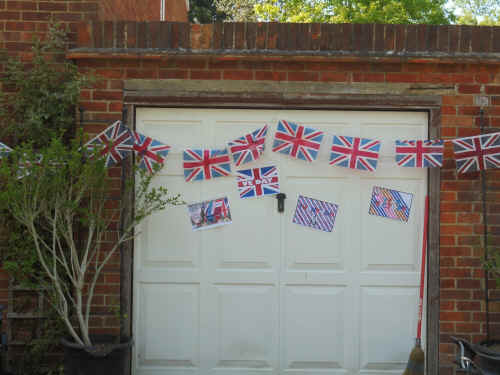 ---
RUN A MARATHON IN YOUR GARDEN
4 May 2020
---
A mum ran her London marathon in her garden (Sunday 3 May 2020), raising over £2,600 for the local food bank.

On Sunday 3 May, Louise Ferriman, a personal trainer and mum of four from Furze Platt in Maidenhead, ran 26.2 miles, or 524 laps of her garden, raising money for Foodshare Maidenhead. She was running for five hours and five minutes.

Commenting on her challenge, Louise said: "I made a bit of a miscalculation with the laps and realised a day before that I had to complete 524 laps rather than 416! But I was determined to do it for all those people out there who need the help of our local food bank, to support the amazing work that FoodShare Maidenhead does and also to celebrate our local key workers.

"When I came up with the challenge I had hoped to raise £500 for the charity, so to have raised over £2,600 is incredible - thank you so much to everyone who has sponsored me and cheered me on from the sidelines, and to my family who have supported me through the whole thing."

Debbie Gee from Foodshare Maidenhead said: "We are incredible grateful to Lou for her amazing fundraising efforts. The money will make a huge difference to FoodShare Maidenhead."

In addition to raising money for Foodshare Louise has been taking nominations for local key workers, carers and charity workers who are working tirelessly to help and protect others at this time.

Louise explained: "The less well known, unsung heroes and charities need support too. So £250 of the sponsorship money has been allocated to team up with local business, Brown Paper Packages, to hand deliver a well-being box to 10 nominated local key workers and carers as a small token of thank you and appreciation from us all."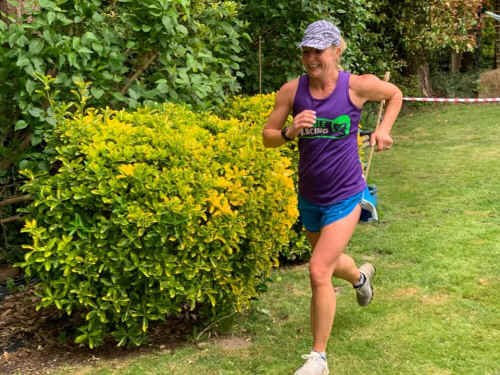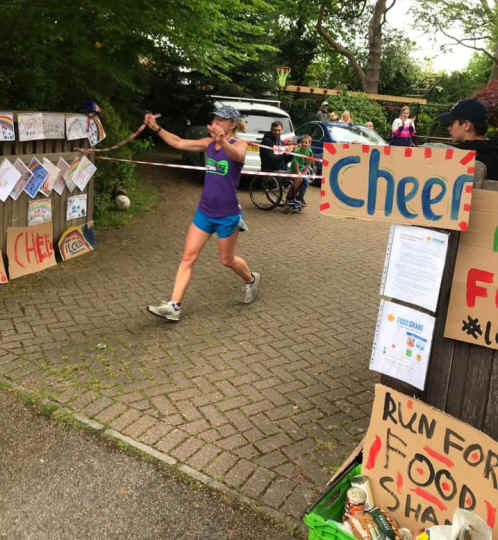 ---
WHAT IS STANLEY PAINTING?
1 May 2020
---
Chrissy Rosenthal has designed a special front page for the Stanley Spencer Gallery website. I am sure you will agree that it really has captured the time we live in and Stanley would agree.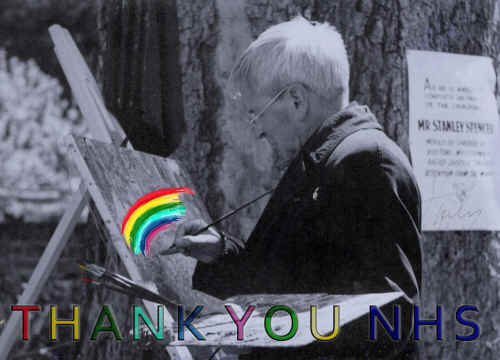 ---
DEATH OF GRAVITY GRAND PRIX FOUNDER
21 April 2020
---
Peter Bartlett, founder of the Gravity Grand Prix which is held in Cookham Dean every year has sadly died. He set up the Gravity Grand Prix in 2007 after seeing a similar idea in the West Country while on holiday. It became more and more popular each year it was run with some wonderful soap box designs. Peter who was a member of the Cookham Dean Cherrypickers will be very much missed.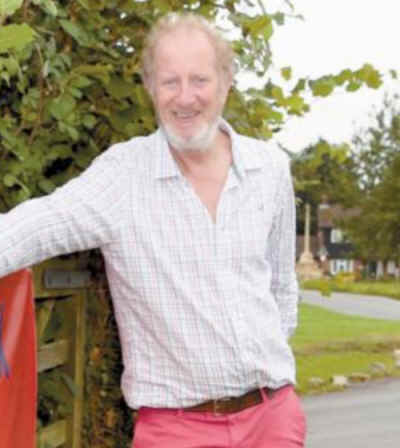 ---
GOODBYE TO A GOODIE
14 April 2020
---
Cookham is digesting the very sad news about Tim Brooke-Taylor who died last week from Coronavirus. He and his wife Christine had lived in Cookham Dean for many years.
The Media Hub said "we were honoured to have him as our special guest at our Christmas Media Hub at the Bel and the Dragon in 2018".
He was a true gentleman! Our thoughts are with his family and friends this Easter weekend.
photos were taken by photographer Caroline Field.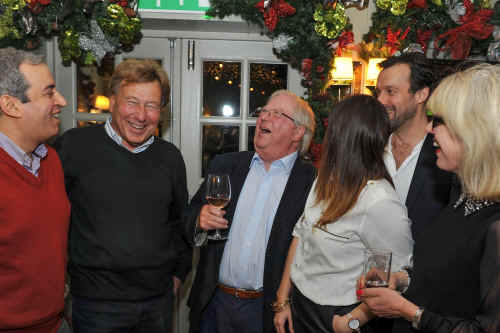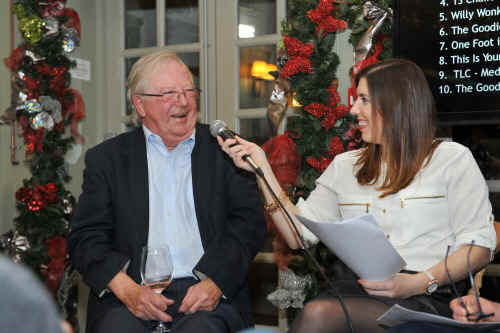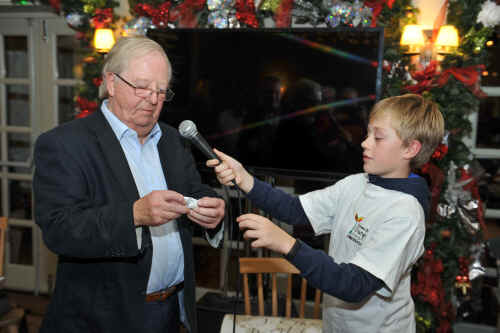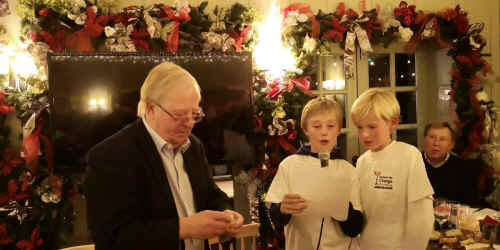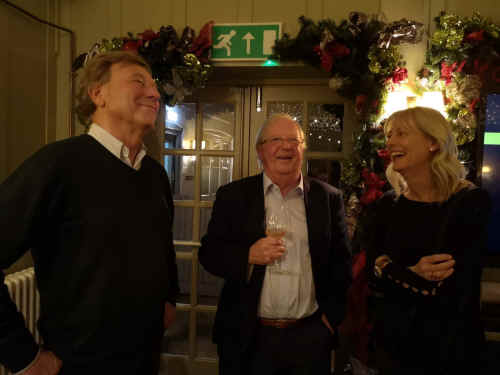 ---
THE VIRTUAL GRAND NATIONAL
11 April 2020
---
Well done to everyone who took part with Devine Flowers in the virtual Grand National The profits with Adam's extra donation came to £325 and have been sent off to make a difference and support NHS through NHS Charities Together.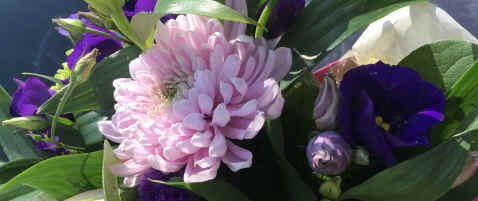 ---
GICANTICUS WRITING COMPETITION
7 April 2020
---
We are delighted to announce our first ever Most Giganticus Writing Competition! Open for entries from 13th April to children in the RBWM catchment in key stage 1, 2 and 3. The title must include the word 'Little' and have a Roald Dahl-esque Gobble-funk word. Fantastic prizes! See our website for the full list of dos and don'ts and get your kids writing!! https://www.thelittlebookshop.info/
---
CAN YOU SEW?
3 April 2020
---
The NHS is desperately in need of scrubs. Does anyone have a sewing machine, and are able to volunteer to make them up as soon as soon.

A call was put through via Thames Valley Police for volunteers.

If you're able to help:

Lynda Yong
01344 628200
01344 625045
Lynda.yong@icloud.com
---
PLEASE HELP THE THAMES HOSPICE
28 March 2020
---
Over the last few days the Hospice has been making enormous efforts to assist in the fight against Covid-19 by preparing their beds to take the most vulnerable cases, taking on staff, and reorganising the way they look after their traditional patients. They feel passionately that they should help in this action but all this effort is unfunded. I therefore bring their letter below to your attention and hope you can help. Any donation however small will help enormously. The text below includes a donate link which you can use.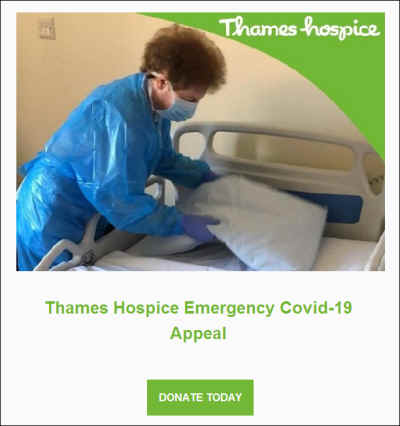 ---
FIND A STONE
27 March 2020
---
These lovely done by The Autism Group last yeary will be hidden around Cookham in the next few days.If you find one take a photo and send it to webmaster@cookham.com or post it on Facebook Cookham Rocks https://www.facebook.com/search/top/?q=cookham%20rocks&epa=SEARCH_BOXand then rehide the stone somewhere else.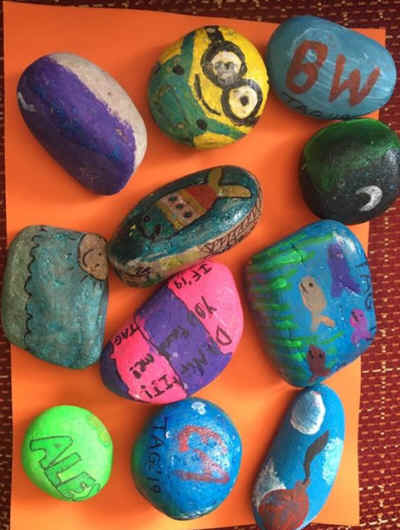 ---
PINDER HALL PLANT SALE MOVES TO THE CRICKET CLUB
25 March 2020
---
Vernon & Linda Brown who run the Pinder Hall Plant Sale set up their plant sale at Cookham Cricket Club on Whyteladyes Lane, as Pinder Hall had to close its doors. They had all their lovely Mother's Day planters and baskets and loads of veg plants.
This was great news as Sunday was the day for people to collect their pack of plants made possible through the WildCookham Let's BEE Friendly scheme for Cookham Rise residents (https://lbfcookhamrise.blogspot.com/). It was also great news for Vernon who depends on the sale as an important part of his business and who has been really supportive of the plans to encourage local residents to do something for local wildlife.
It is unlikely that Vernon will be able to continue coming to Cookham for a while due to the Coronavirus rules.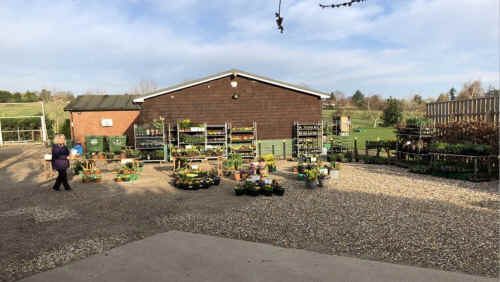 ---
HAPPY INTERNATIONAL WOMEN'S DAY
8 March 2020
---
from Sarah Parfitt
Happy International Women's Day everyone! #IWD2020 #EachforEqual. I am thinking all our Ethiopian sisters in Gende Tesfa this morning - mums like Fatuma, who live with the crippling scars caused by leprosy in very difficult circumstances.
When I first met Fatuma five years ago, she was trying to survive and feed her children by collecting firewood all day and only earning the equivalent of a couple of dollars from it. Life was incredibly challenging, and yet Fatuma showed incredible resilience. I am pleased to say that thanks to your support and the small business training Fatuma has received from PFC Ethiopia, she now has her own fruit and vegetable business and is also supporting other women in Gende Tesfa through the community organisation. Can you help us to reach out to more women like Fatuma and their families in Gende Tesfa on International Women's Day? We want to offer around 30 women there the chance to have small business training and also support their children at the Breakfast Club in 2020:
https://uk.virginmoneygiving.com/…/displayCharityCampaignPa…. Ameseginalehu .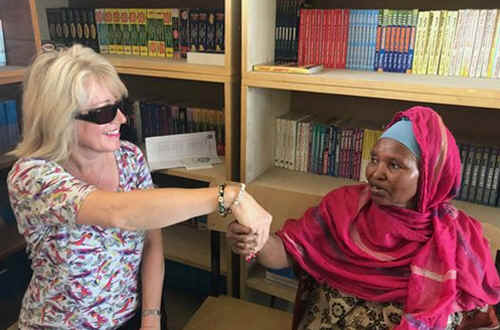 ---
Wet Junior Golf Taster
7 March 2020
---
Thanks to all the families who attended our Junior golf taster session last Saturday.

We got really lucky with the weather?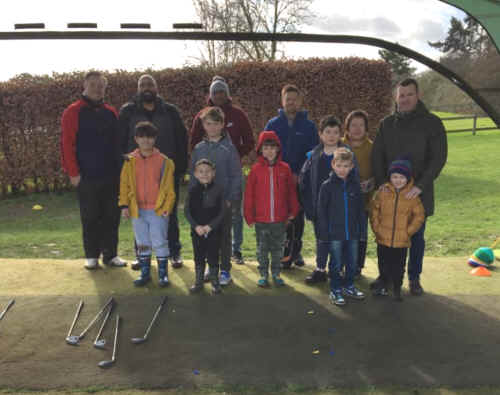 If you know of any children/families who would be interested in attending any of our future sessions please get in touch on the number below.
Gavin Clark
07789 766872
---
GLAM NAIL AND BEAUTY OPEN IN COOKHAM
28 February 2020
---
A new Nail and Beauty Salon is opening in Cookham. The Opening date is Thursday 12th March 2020. Opening hours: 9.30am-6.30pm Monday-Saturday.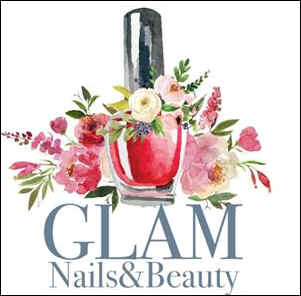 They have special offers for everyone.
30%off Special Weekend 12th-14th
Giveaways for our first 100 customers
Complimentary Drink and Food all day
Address: GLAM Nails&Beauty, shop 2 Pockett Yard, High Street Cookham. SL6 9SL

Manicure/ Shellac Manicure:
Hot Stone Pedicure:
SNS Dipping powder:
Acrylic Nail Full set:

Anna who runs Glam Nails and Beauty says "Hygiene and sanitation are very important and we always make sure everything safe and sanitised before using. Our aim is to provide customers a warm, friendly environment but a professional approach."
---
LITTER CLEAR UP
21 February 2020
---
In spite of the residue of hurricane Dennis a group of hardy Cookham residents joined in the Community Litter Pick. There was a big thank you from Cookham Parish Council, to all those who attended the Community Litter Pick as part of the Keep Cookham Tidy scheme on Monday 17th February. A great turn out and effort resulting in 14 black bags of rubbish from the Station Car Park and surrounding areas in addition to bigger items, a bike, ironing board, flat screen TV, microwave and blender. Pictured are some of the 'pickers'

With thanks to Carol Aisladie and Christine Doyle.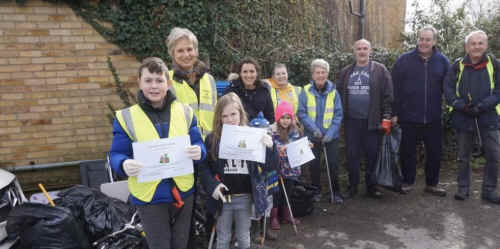 ---
COUNTRYSTORE GOES GREEN
16 February 2020
---
Countrystore are now not just offering a good selection of Vegan products but are now continuing to make Cookham as sustainable as possible! They now stock reusable Bathroom and Multipurpose cleaner as well as Antibacterial Saniti

ser..

All you have to do is buy a bottle in your first purchase and then once you run out, bring it in and refill it at the eco-station in-store.

Countrystore plan to roll out a wider variety of products in a similar format but need our customers to get behind the cause, to make it possible!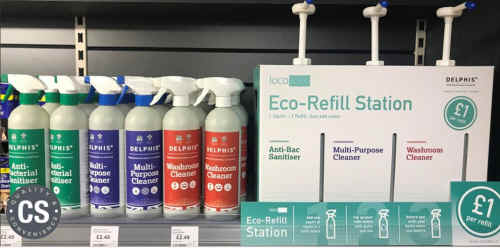 ---
GIRLS FOOTBALL COMES TO COOKHAM
14 February 2020
---
Hello everyone we just wanted to share the great news that Cookham Dean Football Club have been successful in their application to start a new FA (Football Association) funded girls WildCats centre from April 2020 onwards. Qualified football Coaches Nick Philips and Emily Sherwood will be the primary coaches with David Bell also helping to get the ball rolling. Please feel free to spread the news to those who may be interested. Timings and venue are still to be confirmed, but girls of the ages 5-11 can participate to begin with. Any questions about this then please contact the club via nickp@cadence.com,
Cookham Dean currently run seven Junior sides which are almost entirely made up of boys, although one of the Under10s teams is mixed with both boys and girls in the team, The Club hope to be increasing the amount of football training and matches on offer for youngsters in the very near future as the popular Junior section at CDFC continues to go from strength to strength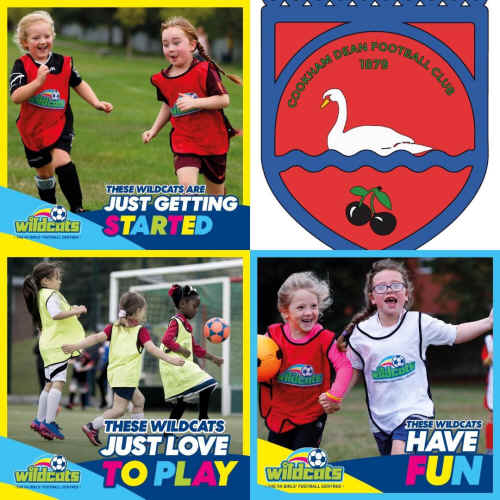 ---
RAMBLINGS COMES TO COOKHAM
14 February 2020
---
You may have heard Ramblings on BBC Radio 4 on Thursday afternoons with Clare Balding, where she takes a walk in a beautiful area of the company with some others and chats. It seems unbelievable that someone must have said 'I have had a wonderful idea, lets have a programme where we have Clare walking around beautiful areas of the country and we will have it on radio!' Claire came to Winter Hill for her latest Ramblingswith Olympians Steve Backshall on Winter Hill. Clare obviously likes this area as she was at Cliveden at the end of last year giving a talk. She brought her dog with her so she could walk through the grounds after the talk.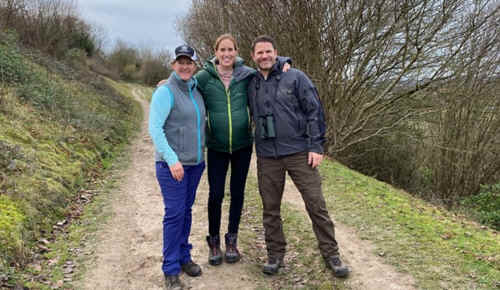 ---
TIMMY MALLETT'S BOOK SIGNING
9 February 2020
---
Timmy Mallett was in the Little Bookshop signiing his new book on his cycling ride on the Camino from Cookham to Santiago de Compostella, which he did in 2018. An excellent read.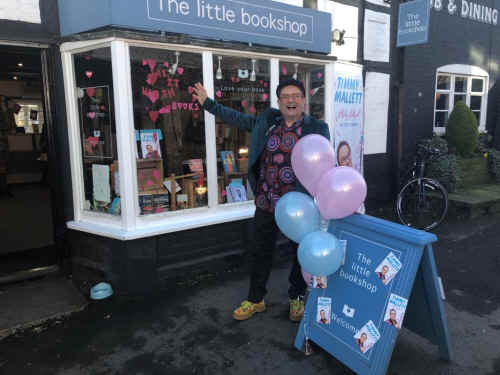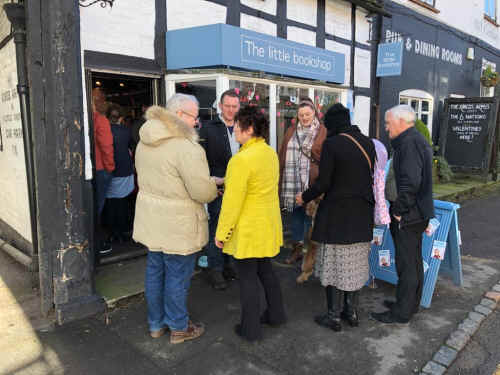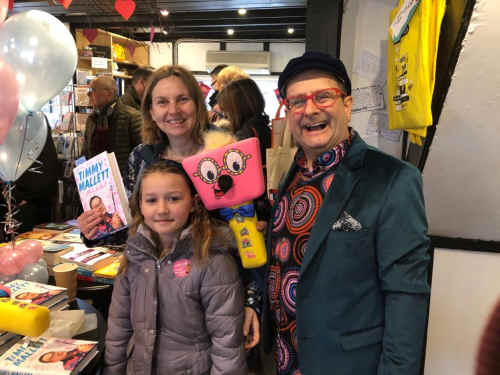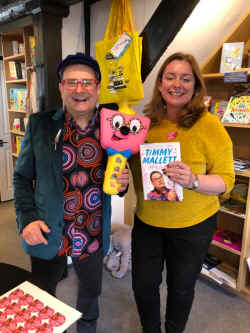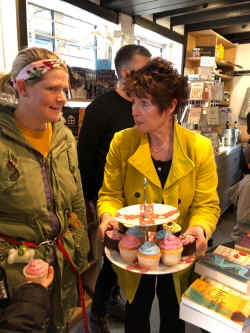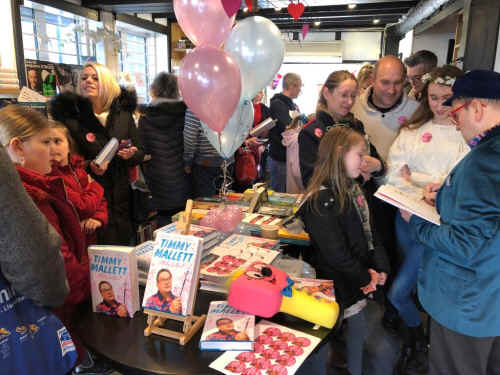 ---
SPLASH FOR CHANGE ETHIOPIA
8 February 2020
---
A great success this week for the swim disco opened by gold medallist Adrian Moorhouse raised over £600 for Gende Tesfa in Ethiopia. The money will pay to train mothers and also a breakfast club for the disadvantaged children at the school in the village.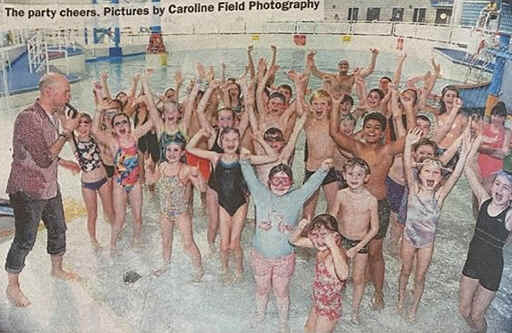 ---
ECO HOME CLEANING BUSINESS
3 February 2020
---
We (David & Lynda Turner of School Lane Cookham) have recently started an Eco Home Cleaning Business. We use the best Eco Products and clean your house just like we would clean our own. For more information please see our Facebook Page Cookham Eco Cleaners.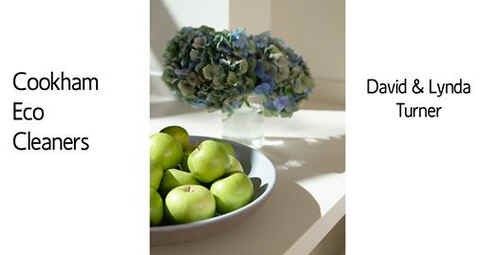 ---
GOODBYE TO THE STATIONERY DEPOT
2 February 2020
---
It will be with sadness that Cookham will be saying goodbye to the Stationery Depot which as been in Cookham Parade for the last eighteen years bailing us all out when we needed a birthday card or a new print cartridge, not to mention selling tickets for various events in Cookham.

As a thank you to Paul some people in Cookham got together and bought a framed photo of the Causeway by Mick Vogel on behalf of all the friends and customers of the Stationery Depot.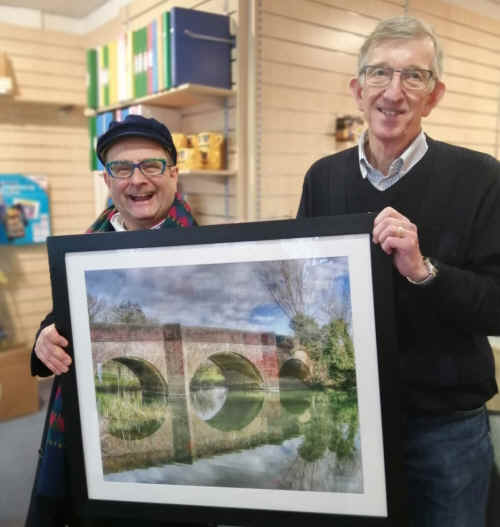 ---
MALIK'S EXPRESS FULLY FUNCTIONAL
1 February 2020
---
Well done to our new Cookham takeaway - Maliks Express!

They are now fully functional and after some hiccups on delivery timings they are now producing fantastic tasty food in good time. Also if you go to Countrystore and buy a carrier bag you will find a Malik's menu inside. It seems Malik's is well up on their PR too. Malik it would be nice to have a name sign on your Takeaway though.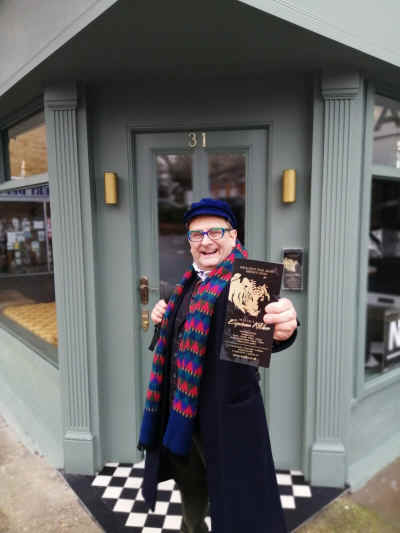 ---
CAROL SERVICE COLLECTION
31 January 2020
---
The three Carol Services by Candlelight for Advent 2019, Christmas 2019 and Epiphany 2020 at Holy Trinity Church raised a combined total of £2178.67 for Alzheimer's Society. Thank you very much to everyone who attended and who gave so generously.
---
WRESTLING AT THE PINDER HALL
30 January 2020
---
Some of us may remember wrestling on TV with Big Daddy and Giant Haystacks. Last Saturday LDN Wrestling came to the Pinder halld so you could see it LIVE. It was a great success and it is hoped they may come back. LDN Wrestling tours the country putting on events the entire family can enjoy from theatres to town halls, and stage well over 150 shows a year.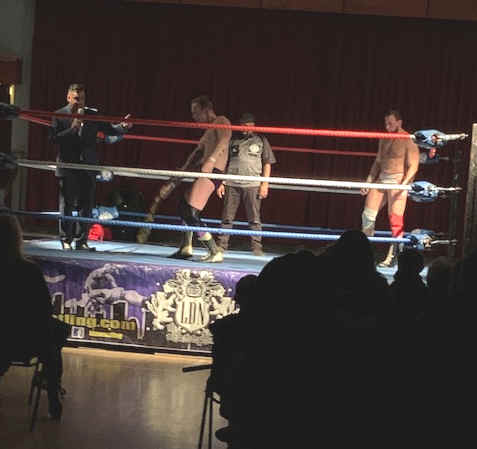 ---
NEW YEAR CLEAR OUT FOR ETHIOPIA
17 January 2020
---
From PFC Ethiopia
Drum roll please... our New Year Clear Out for Ethiopia at raised £228.40 this morning. Our phenomenal Junior PFC Ethiopia Ambassadors collected 571 kgs of clothes, shoes and soft toys, which is 50 kgs more than last time. Whoop whoop! Amazing teamwork. A big thank to everyone from Holy School, Holy Trinity Church and Cookham Scouts & Cubs who supported our campaign - and also to other neighbours and friends. But the biggest thank you goes to Helen McLean for organising it. All of the money will go to Gende Tesfa Breakfast Club.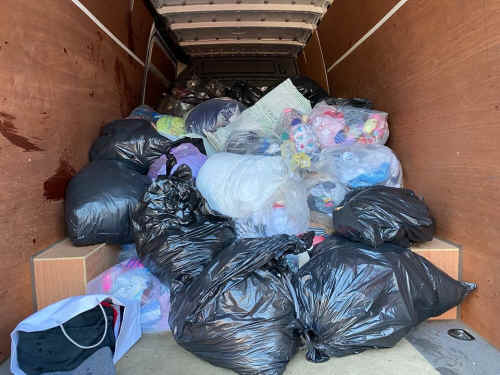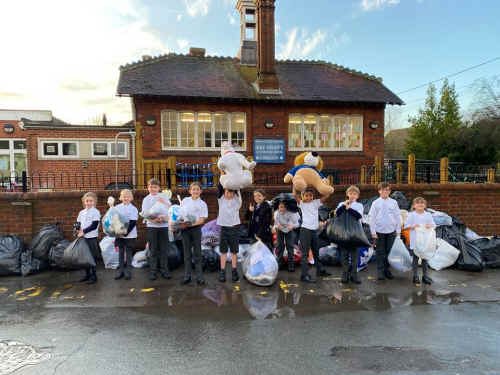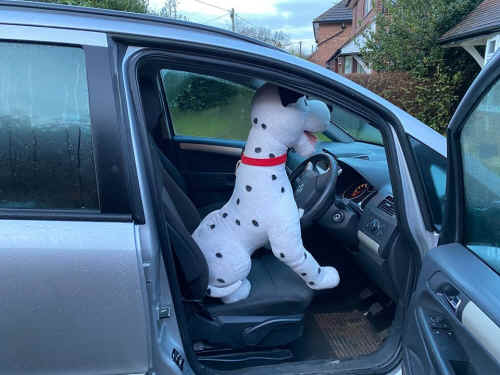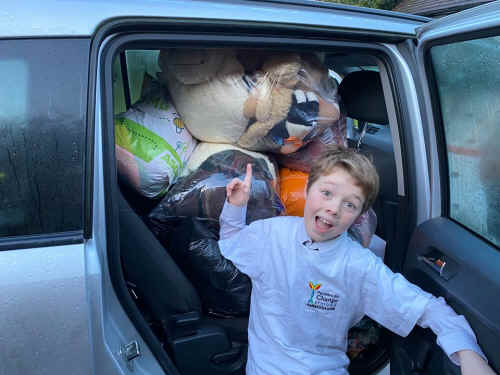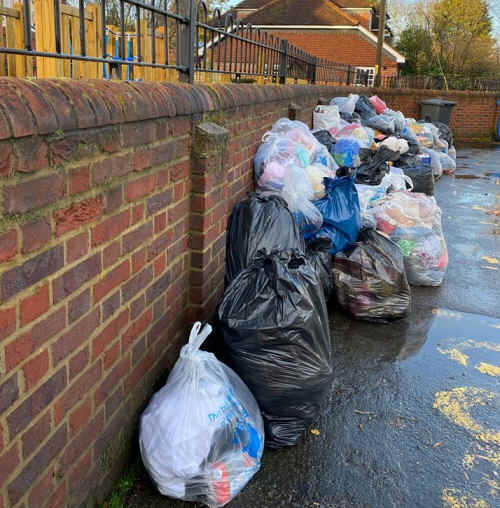 ---
TIMMY MALLETT'S BOOK LAUNCH
15 January 2020
---
In 2018 Cookham resident Timmy Mallett braved the Beast from the East to cycle 2,500 miles from Cookham to Santiago de Compostela in memory of his brother Martin, who was born with Down's syndrome and had died just a few days earlier. This was a journey of exploration, honouring Martin's outlook on life that everyone can reach their potential. And so, with his painting gear strapped to his bike, Timmy set off on his journey. He has know documented this in his book, "Utterly Brilliant" which is being launched in London tomorrow 16 January 2020. Well done Timmy.

Timmy's book is available for sale from Amazon and is in their top ten new books.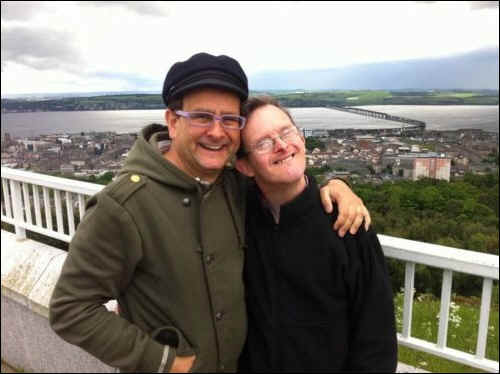 Timmy with his brother Martin
---
MALIK'S EXPRESS TO OPEN 14 JANUARY
11 January 2020
---
The new Malik's Express in Cookham Rise will be opening on Tuesday 14 January 2020. It is based in the Parade, Cookham Rise and takes over from the old Indian take-away. It should be a great asset to us all. Malik will be having an initial 'trial' month and then will start full delivery after that.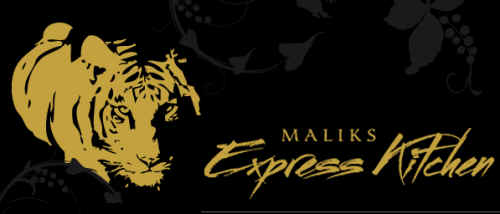 ---
COOKHAM FESTIVAL APPOINTS NEW CHAIR
7 January 2020
---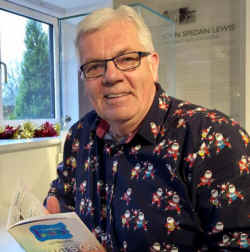 The Trustees of the Cookham Festival are pleased to announce that Derek Bond has taken up the role of Festival Chair-person. Derek is well-known in the village having first managed the John Lewis Sir Bernard Miller Centre at Odney and then the Partnership's Winter Hill golf club and also from the Festival's People's Shakespeare – most memorably as Falstaff in the 2015 production of The Merry Wives of Windsor. An employee of John Lewis for 48 years, 20 of which were in this area, Derek brings considerable managerial expertise to the Festival Team. As a marketing events manager, Derek was responsible for a large number of high-profile marketing and hospitality events, including: The BBC Good Food Shows, Hampton Court Music Festival, Cheltenham Literary Festival, English Heritage Concerts, Blenheim Palace and Gatcombe horse trial and numerous agricultural shows, including The Royal Show at Stoneleigh.
"The Cookham Festival is a cornerstone of our Community life here in Cookham and I am very much looking forward to helping it grow and prosper in the years to come" said Derek. "Our next Festival will be May 2021 and as ever, we are looking for people to help. We have a fantastic leadership team but we need more help, particularly with music, drama and visual arts event management". If you think you can help in any way, please contact me through info@cookhamfestival.org.uk".
The Cookham Festival is a biennial celebration of the Arts. It is a local festival run by and for the people of Cookham and our surrounding communities. It is by far the largest community activity held within the village and, with more than 15,000 visitors over the Festival period, it is a major event on the regional arts calendar.
---
CHERRY PICKERS RAISE £640
4 January 2020
---