November 2001 - Autumnal Bird Scene
Well, we've had our first taste of frost, and snow was not far away from us last week, so what do the birds make of all of this?
We are pretty much at the end of the migration period for those birds which came to us for the summer. Some Swallows are still lingering on the south coast but had started departing the Cookham area in September. The last of the House Martins were still feeding young in the nest in early October but they too had well gone by the month's end. All the small warblers such as Chiffchaff, Willow Warbler and Whitethroats are already well into their two-month journey to various parts of Africa, along with Blackcaps, which are often the last to depart.
However, it may not be the last you will see of Blackcaps this year. A recent phenomenon has been the over-wintering of this delightful little warbler throughout much of the UK; but it has been shown by ringing schemes that these birds are not the ones which summer with us, but ones which breed in Germany and then flit over to spend winter with us before returning once again to Germany in March/April time. I did a small county survey of garden birdwatchers last winter and found that no less than 42% of participants had recorded Blackcap in their gardens between December and February.
During the end of October, following the breeding season, many birds replay a little of their courtship song and be
haviour for a short period. Song Thrushes and Blackbirds were singing again and Kestrels, Sparrowhawks and larger birds of prey tumble and dive together in the sky for a few days, as if to say, "well missus, we did it and all went well". But now they are all getting set for the winter ahead. And as that season approaches, and the leaves fall from the trees, the birding scene will change again, with large gatherings of Crows and Rooks on farmland, with luck accompanied by flocks of Lapwings returning from their western breeding grounds. We often see flocks of up to 1000 around here, but the vast majority of them are non-breeding adults which, when they reach they end of their ten-year life, will disappear and not be replaced by any progeny. For this reason, all the major ornithological bodies are hosting a special Lapwing monitoring programme over the months ahead, so if you see any, please do count them and let me know.
Inevitably, the winter thrushes will soon be with us in good numbers; you may already have seen the stocky Mistle-thrush-sized Fieldfare or the delightful Redwing with its distinctive eye stripe, but they will increase in numbers throughout the next few weeks, reaching their peak around January. The orchards in Long Lane are a good place to find larger flocks. Huge numbers of gulls may roost on Widbrook when it gets inundated with water nearer Christmas, and if any Grey Partridges have survived the summer, they will be easier to see as vegetation dies down.
In the meantime, unless you have fed your birds during the summer, time to get out, wash and install your feeding stations to help those Blue and Great Tits, House Sparrows and Dunnocks through the winter. Who knows, you may be lucky enough to get Great Spotted Woodpecker, Siskin or Nuthatch on your nut feeders, and those entertaining Blackcaps on the fatballs you can buy from the Garden Shop in the Parade. So, enjoy the birds in your garden and, Eyes to the Skies!
May 2001
Well, Foot and Mouth continues to disrupt normal bird watching activities (though RSPB Minsmere opened just in time for our coach trip this weekend!).
Locally, many footpaths and woods remain closed but Quarry Wood has now opened enabling me to check out some of the Tawny Owl boxes we installed last year. What a thrill to find one with three down-covered chicks inside - a great result and still a few to check. Last year a Mandarin Duck used one to raise 16 young and there were signs that they used an adjacent one this year too.
Widbrook Common is looking wonderful – just as a marshy piece of common-land should do. Loads of buttercups and daisies, some real boggy flashes and, for the first time ion years, Lapwings looking like they might nest there. Amazing what a bit of freedom from disturbance can achieve, so even if Curly Carver does open it soon, please keep off the main area and give the Lapwings a chance – they are one of the rarer breeding birds in the county these days.
Most of the summer visitors are here now. I heard my first Cuckoo in the Dean this week from my allotment, where a Whitethroat and a Blackcap kept Chiffchaff and Garden Warbler company. A Goshawk also flew over last weekend; the second time I have seen it over the village this month. It looks like a very large Sparrowhawk and has a distinctively damaged tail. Many raptors are migrating through the country at present and magnificent Marsh Harrier over-flew the village on Saturday. The same day, a Hen Harrier was over Bracknell, 2 Osprey over Reading and a Honey Buzzard over Regents Park. (remember my article about the invasion of them last autumn?)
Many resident birds have of course been nesting since March, but the earlier ones have suffered with cold and wet weather and subsequent lack of food for young. I suspect many may have perished unfortunately, just like last spring. however, many will try again so there is still hope.
There has been much controversy this year about feeding of peanuts to birds. Many deliveries were found to be sub-standard leading to fears about bird safety. Please do ensure you get yours from a reputable source, and for the summer months, I suggest you grind them up before putting them out to ensure no problems with fledglings choking on them. I am finding that many species in my garden have reverted to the fat balls I buy from Village Hardware (6 for £1) as they are a source of high-energy food for busy parent birds.
Swifts, Swallows and Sand Martins have been streaming in, but, just like last year, House Martins seem very slow in arriving. They have been breeding later and in smaller numbers in recent year so the RSPB have been encouraging folk to have artificial House Martin nest boxes installed to see if this helps. (I have some in stock if anyone is interested).
Anyway, good birdwatching for the remainder of spring-time. Do remember to take some bins with you on any walks you take round the village – you never know what you might see. (I even take mine when I go shopping, but then I am a sad case!!)
January 2001
We are just emerging from one of the coldest spells we have had for some time, with ground solid in frost for several days and little un-frozen water. These conditions make it extremely hard going for small birds, many of whom need to eat almost their own weight in food just to survive one night of such temperatures (unlike us who probably also consumed our own weight in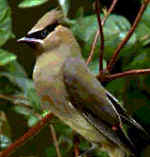 food over Christmas!!) So if you normally feed your garden birds, keep it going through these cold snaps and don't forget to put out fresh water each day. The cold snap at last sent some Waxwings our way but regrettably, they were only in the village for one day. Some 2000 or so seem to have been spread out down the east coast for a few weeks, and there is still time for some to turn up again. One of the rarest birds over Cookham recently has been Hawfinch. Nowadays, a very elusive species to find, usually only feeding on Hornbeam. One flew over my house in mid December, and Philip Ind saw another (or the same individual) over Winter Hill more recently.
Last year, the council sponsored me to have thirty Little Owl boxes made and installed, so this winter was the first occasion to see how they had been used. Well, the first two had been stolen! (Still, this is to be expected in this area I guess). Another had survived the tree it was attached to falling down in recent gales - it will have to be found a new home. Two had Great Tit nests in - goodness knows how long it took them to fill such a large cavity! Some had been taken over by squirrels, in fact in one box I had to physically eject four squirrels who just would not come out even with me leering down on them with the lid open! But the good news is that we found several boxes with obvious Little Owl nest material, one with abandoned eggs, but which will hopefully be used again this season, and in two boxes, the Little Owls were sat inside looking up at me as if to say 'this is mine! Push off and find your own! Still a few to check, but overall, a very good result for year one!