PRE SPRING UPDATE
- FEBRUARY 2009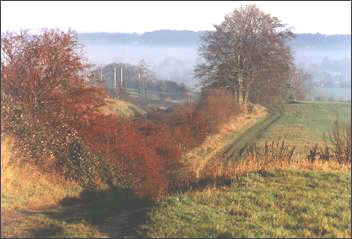 I've called it pre-spring, despite the fact that this last week of February has reminded many of a typical April. But lest it prove yet another 'false spring' I'll keep some powder dry until the real one arrives.
Having said that, a week with all manner of buds breaking, a green sheen on many tree-tops, numerous singing birds and good numbers of early bumbles about certainly put a spring in many a citizen's step. I saw my first peacock butterfly of the year along Bradcutts Lane, the first spider's web in Allyns Lane and the first flies – which had hatched in my loft!
But it is all too easy to forget we had roads and schools closed because of ice and snow not too far back, followed by floods in diverse places with one of the wettest weeks for quite a while. This pushed the water levels in the Thames and side streams up such that numerous ducks and geese were prominent in such places as Widbrook, from where John Lloyd-Parry has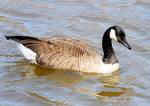 been reporting Egyptian Geese and Greylags amongst the Canada Geese, and also some over-wintering Snipe. Snow cover, and previous binges on available food sources, resulted in many birds migrating to the coast according to several reports. The large flock of 3000+ Woodpigeons on the outskirts of the village soon dispersed, and we never did get any of the large numbers of Waxwings which invaded the country from the Midlands upwards. In any case, by then, all the Hawthorn and Rowan berries, and about 75% of Ivy berries had been consumed.
There were no large winter flocks of finches to enjoy this time however, and those delightful visitors from Scandinavia, the Brambling, were hardly in evidence at all, just a small number visiting the Parry feeders alongside Widbrook. A handful of Reed Buntings fed around the game cover each side of Long Lane where in previous years up to 100 could be found. The only birds in large numbers continued to be the Kites. At the turn of the year, the highest count I had made over the Cookhams at any one moment had been 46. That record was smashed one day in January where no fewer than 82 could be counted!
Residents have reported mixed blessings concerning bird feeders. Mine were completely ignored for nearly a month, whilst Pam Knight's in The Pound for example has been used daily, with such visitors as Coal Tit and Blackcap. Pam noted that, of two male Blackcaps, one had a

distinctly in-distinct cap, but not brown enough to be a female of the species. By coincidence, this was the second report of this feature reported to me this week, and to confirm my suspicions, I turned to my bookshelf to take down Eric Simms' notable tome on British Warblers from 1985. Therein, Simms confirms that juvenile male Blackcaps, though taking to early winter with a female-like plumage including a rufous crown, gradually shows streaks of black within the brown as the next year's summer plumage advances. This is almost certainly what eagle-eyed observers will now be seeing.
I hope many will have been able to participate in the Big Garden Birdwatch in January. If so, please do send us your list. Again, results were mixed. In my garden, we had NO birds at all for the hour we selected (so we did it again in Bray Park with the grandchildren!). Pam had 12 species whilst Derek Fry's tiny front garden in High Road apparently resembled a bird reserve with no fewer than 18 species.

More recently, Judith Goodwin had a lone Siskin make numerous visits, a bird that has been scarce this winter. It may continue to do so in that many woodland owners are following national advice and taking all the conifers out of their mixed woodlands to promote the growth of native deciduous species. Unfortunately, this has often meant that even conifer-look-alikes such as Alder and Larch are being taken out too and this is one of the favourite food sources for birds such as Siskin and Redpoll.
Many will have noticed the dredging that was undertaken on Widbrook common, and the 'spoil' was laid at the side of the stream in good practice fashion to enable any aquatic creatures such as dragonfly nymphs to find their way back in to the stream. But judging by how quickly the local gulls got down to pulling out large worms and whatever else they could find, not many larvae may have made it!

And just at the very end of the month, Andrew Slater had a hunting Barn Owl in the Dean and Martin Gostling heard amorous Nuthatches and Great Spotted Woodpeckers preparing for a year of mischief in Holy Trinity churchyard! Meanwhile, one of the several Ravens being reported just across the Thames of late passed over the village heading strongly in a southerly direction last week, and there were two of these magnificent corvids on the pick-your-own area over Christmas/New Year, seen by Les Finch and Bill Beglow.
Nationally, there have indeed been signs of spring with the first Sand Martins reported already, and both Oystercatchers and Curlews on their Buckinghamshire breeding grounds. Indeed, there is even one Osprey already on its territory in Scotland. I have heard both Redwing and Fieldfare singing this week; bearing in mind they will have to get back to Scandinavia to breed, it seems even they were tempted by the milder spell of this last few days. Bill Beglow reports Robins building a nest in his Cookham Rise Garden and, having inspected the entrance for some weeks, 'my' Blue Tits actually ventured inside the box for the first time this week.
Let's hope March is not too unkind to us and that the next report will be full of many reports from across the length and breadth of the Cookhams.
Birdman
28th February 2009.