Hear ye Hear ye! The Crier is always looking for things to shout about! Feel free to submit your Thoughts, Poems, Photos, Requests or anything you like to thecrier@cookham.com
---
THE COOKHAM CANADIAN MOUNTIES

18 August 2004
---
It looks like the Malletts are taking over Canada or are they in training for their return to Cookham?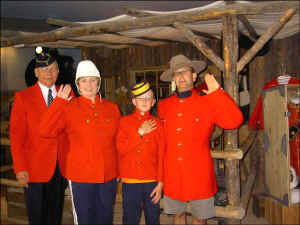 click on photo for larger image
---
COMPUTER HELP

15 August 2004
---
Brian Hopkins tells the Crier: " Last week I had a complete breakdown of my PC. A friend from the Dean advised me to contact this PC engineer from Cookham who would help me out. This I did. I feel that we should be using local talent as much as possible. If anyone has the misfortune to loose the whole contents of their PC including hard drives through a serious Virus, or any problem with the PC, like I did last week, then may I suggest you look no further for help and use the expertise of an excellent PC engineer who lives in Cookham. At a very reasonable rate Georgina will examine, and repair your unit on site, In my case the unit was taken to her workshop, repaired, and reinstalled at my home by 6pm the same day. Excellent service. We should all make more use of the local experts, and I have no hesitation in recommending Georgina Lloyd Parry to carry out your repairs when required."

Contact: georgina@bvoxy.com 07769 687086
---
BBC IN COOKHAM

8 August 2004
---
Cookham is on the BBC this month, Charles Luxford will be in a 'reduced opera' at Lea Barn, Winter Hill 4.30pm on Sunday 29th August. which is being televised by the BBC. Many people will have enjoyed the Musical Afternoons at the Barn over the years, so it is good news that the BBC has also found out about it. Also Liz Kwantes will be on BBC Radio 4 in 'the Commission' with Nick Ross as one of the witnesses at 8.00pm on 18th August. The subject is 'Corporate Governance'.
---
CAR JACKING SCHEME

7 July 2004
---
Be aware of a new car-jacking scheme (thanks to Peter Ward for telling cookham.com)

Imagine: You walk across the car park, unlock your car and get inside.
Then you lock all your doors, start the engine and shift into REVERSE, and
you look into the rear-view mirror to back out of your parking space and you notice a piece of paper stuck to the middle of the rear window. So, you unlock your doors and jump out of your car to remove that paper (or
whatever it is) that is obstructing your view. When you reach the back of your car, that is when the car-jackets appear out of nowhere, jump into your car and take off. Your engine was running, (ladies would have their handbag in the car) and they practically mow you down as they speed off in your car.

BE AWARE OF THIS NEW SCHEME THAT IS NOW BEING USED. Just drive away, remove the paper that is stuck to your window later on and be thankful that you read this.
---
DEATH OF ROBIN PONTER

25 June 2004
---
It was with great sadness that Cookham.com learnt of the sudden death of Robin Ponter who died suddenly last week. Robin was a well known figure in Cookham. He was particularly known for his love of Stanley Spencer's paintings and was the very hard working chairman of the Friends of the Stanley Spencer Gallery. Our sympathies go out to his wife Jill and his family.
---
CAN YOU HELP ANNE?

10 June 2004
---
I am trying to locate 2 sisters - Anne and Louise Smith - who lived in Cookham Rise in the 1970's. I believe that both married and moved. I would be most grateful for any assistance or suggestions.
Anne - e-mail: Flowermom262@aol.com
---
LAST PICTURES FROM COLUMBIA SHUTTLE

29 May 2004
---
James Hatch has sent us this amazing photo taken by the Columbia Space shuttle before it crashed. You can clearly see the Sahara desert and also the lights on in Europe. Quite fascinating. Click here to view.
---
HAVE YOU EVER BEEN CAMPING?

24 May 2004
---

Have you ever been on a camping trip?
Once again for WOMAN magazine we are doing a very light-hearted article featuring several women talking about their experiences of camping in the past. Maybe you now love a night under canvas- or hate it! Maybe you went on Brownies camp as a child, backpacking with mates in your teens, went to outdoor pop concerts, or just the family holidays, etc. If so, and you have photos, Iím sure you can help. Also if you still go camping now- maybe youíve got one of those big flashy tents or something a bit more modest. Or maybe your one and only experience of camping has put you off for life. If any of the above sounds like you, please do get in touch. All it will involve is a quick phone interview, sort out some photos and you even get PAID for your time and trouble. Feel free to pass round my posting if you can think of any one else who fits the bill. Please contact me at adrian@amonti.freeserve.co.uk or 01273 777693.
---
A CARTOON FROM CANADA

24 May 2004
---
Thank you to James Hatch who sent us this cartoon.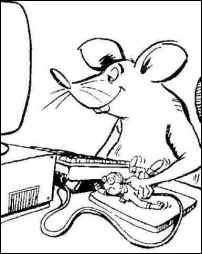 ---
HALT, WHO GOES THERE?

22 April 2004
---
Did you know that there will be a display of three dimensional figures in the porch of Holy Trinity Church from this Sunday 25th April, until the night of the concert? They are by Mandy McAllen, Gail Dorrington and Phyllida Shelley-Smith. There is no admission charge, they are to promote the Cookham Guys and Dolls Project (click here)
---
BILL STICKERS WILL BE FINED

22 April 2004
---
Lynne Smith from the Tarrystone Players had a bit of a shock this week. She was pinning up posters around the village to advertise the Tarrystone Players latest play 'Life and Love in Little Cookham' which will be taking place on 6, 7 and 8 May at the Pinder Hall, when someone emerged from a BT van and told her that as she had just pinned a poster onto a telephone pole, she would be fined £55 which would be taken off her next telephone bill!!!!!!! She said next time she will put her mobile number on the poster.
---
The Crier Archives
---
Hear ye Hear ye! The Crier is always looking for things to shout about! Feel free to submit your Thoughts, Poems, Requests or anything you like to thecrier@cookham.com