January 2002
The Year's End Birding Scene
Well, another Christmas has been and gone, the shortest day behind us and, with a new year commenced, the count-down to spring has started. But there has been plenty of action on the avian scene in recent weeks with winter thrushes arriving in greater numbers, mostly Fieldfares, with up to 1000 in Long Lane's orchards. Redwing have been around too, but in fewer numbers, bolstered by groups of continental Blackbirds which have swelled the numbers of our resident Blackbirds. Bramblings however have been very scarce in UK this winter, but there were three with chaffinches, again in Long Lane.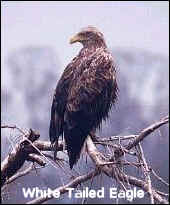 Just before Christmas, I chanced across a rare Dartford Warbler just south of the village on waste ground and it has survived the recent frosty nights and was still there today, but getting very elusive now. The frozen waters forced a Water Rail away from the brook into the same scrub and several colourful Stonechats kept a flock of about forty Goldfinches company there over the last month.
But birds are already thinking about the nesting season, moulting into fine breeding plumage in readiness. Great Tits are singing and claiming territory as are Little Owls. Several of the nest boxes put up for Little Owls were checked over Christmas and found to be occupied (in one, an Owl had deposited a dead Robin, ironically its Christmas dinner whilst we were surrounded with Christmas cards with Robins on them - itís a hard life out there for small birds!
A group of about eighty Skylarks have been wandering around the fields of Cookham searching for seeds this last month and sizeable parties of Yellowhammers and Reed Buntings have been doing the same. A few Ring-necked Parakeets have been around and seem to have joined a new roost. The enormous one of c3000 near Esher has dispersed due to disturbance and a small one of some 130 birds has established itself at nearby Bray Gravel Pit. Cockmarsh regularly hosts flocks of geese in winter and a recent gathering included 150 Greylags, 100 Canada Geese, and no less than 41 Egyptian Geese. This latter species has formed increasing feral flocks in recent years and numbers are increasing year on year. They have bred at Odney and also at Little Marlow Gravel Pit. The Cockmarsh flock included three pairs already displaying to one another, and a lone Shelduck was present whilst a Common Snipe was nearby and a smaller and rarer Jack Snipe was found on Marsh Meadow.
Over-wintering Blackcaps are being found in local gardens. The Beglows and ourselves are sharing two females and a male in our adjacent gardens at present. Anybody else seen any?
The strangest report was of a possible White-tailed Eagle near White Place Farm in December. I missed out on all this but would be grateful to hear of any news you may have on this remarkable sighting.