EARLY SUMMER JUNE 2009 UPDATE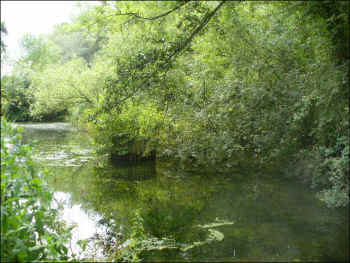 I am always amused by the tornado like the one seen in The Moor car-park today; 'wind devils' I think we call them over here. In the right conditions of heat and light wind, these mini-twisters can crop up anywhere but they always seem to look out of place in UK. However, it served to remind me what changes have occurred since the last update.
Since then, untold millions of birds have moved north to breeding areas across the globe. We have at last received the latest-arriving of these; the Hobbies and the Spotted Flycatchers, though apart from Hobbies watched regularly by John-Lloyd Parry near Widbrook, not everyone might be lucky enough to spot them. One might hope it far easier to spot other spring harbingers such as Swallows and House Martins, but just how many are there around the Cookhams currently? I've seen very few of the former and only one nesting pair of the latter. If you know different, please do let us know.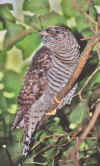 A few Cuckoos have been heard, including one Pam Knight heard near the Pound, and one was calling regularly near Strand Lane for a while. I was fortunate to hear the bubbling call of a female just yesterday, usually a precursor to egg-depositing. Might that result in what John Lloyd-Parry managed to photograph a few years back?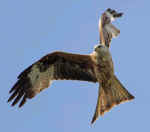 The merge from spring to early summer has been marked by better weather than the last two years and resulted in good success for nesting birds, with lots of baby tits, Blackbirds, Dunnocks and Song Thrushes being reported. Cygnets were produced by the Strand Water Mute Swans, alongside two or three families of Coots. JLP also managed to photograph a family of Kingfishers which bred near White Place Farm. Our only Rookery, near Odney Club, had 11 nests and produced about 30 young ones. This colony was then joined by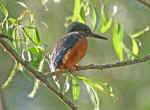 literally hundreds of other Rooks, Jackdaws and Crows on or surrounding farmland, the highest count I had being 640; quite a spectacle. Kites too have remained faithful to the village with typically 40 around, as seen by Pauline Evans on June 8th, and including one which got just a bit too close to Martin Glover's lens.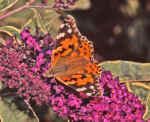 Across the nation, the balmy weather contributed to a major lepidopteral event in the form of millions of Painted Ladies swarming across the Channel and North Sea to arrive on our coasts in huge numbers. Folk were reporting over 100 per minute passing overhead and within days, terrific numbers were also being reported at inland locations. Certainly in our vicinity, it was possible to see a dozen at a time. They have thinned out now but may well breed to give us another generation to look for later in the year. Again, JLP was quick with his camera with one of the hordes. Local expert David Fuller has kindly offered to conduct some butterfly surveys in the village for us this year so it will be interesting to see what he turns up.
On the moth front, there have also been some could local records. A Humming Bird Hawkmoth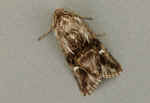 wandered around the Dean in late May, and the first two Toadflax Brocades for Berkshire were found locally in the same month; one in my garden, and one adjacent to Beechingrove Wood. These might not rate amongst the most visually stimulating: it's the mothing equivalent of the 'rare little brown job' of the birding world, but none the less notable for all that. The warmer evenings have been contributing to larger 'catches' in suitable traps, with typically 90+ even in small gardens, with stunning creatures such as Swallowtail, and Elephant Hawkmoths amongst them. There is a major national programme of recording some of our most prominent moth species which we would encourage everyone to get involved in. Called the Garden Moth Count, it operated in a similar manner to the Big Garden Bird Watch which many of us get involved in. A quick flick onto www.mothcount.brc.ac.uk will give you all the information you need and the top 20 species to be looked out for are all readily identified from the photographs downloadable from the site so it is ideal for all the family to join in with. Please do give it a try.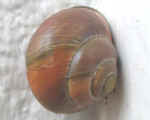 I hope folk are also getting involved in the snail programme we highlighted on the Cookham Wildlife Web page. The first generation of these slimy but beautiful creatures were out and about early in the spring, and are still plentiful. The eggs they will have laid take about 6 weeks to hatch, so loads of 'snail-lings' should be abroad soon. I have been finding one, two, three, and four-banded versions of both the white-lipped and brown-lipped snails, so I am sure there are plenty in your gardens, school areas and grassy locations throughout the village. Do get the kiddies hunting them out! Even some of the plainer varieties such as Arianta arbustorum (or Copse Snail) Liz Kwantes managed to photograph in her porch, can be recorded to give us a good idea of what is around us.
Many wild plants have been showing themselves off in recent weeks, around the less-manicured parts of the Cookhams. Popular hedgerow plants such as Herb Robert, Jack-by-the-Hedge (Garlic Mustard) and the delightful speedwells have been at their best, and in some cases already gone over. But well-known botanist, Keith Lucas led a plant foray on Cockmarsh recently and led his followers to a whole range of interesting grasses, sedges and flowering plants. I am just awaiting a list of what was found and will share this in the next update. I am also delighted that botanist Alice Fenton is returning to the Cookhams to survey a few corners of our village to see what she can find to add to a known list already in excess of 500 species.
Incidentally, the Natural History Museum has a fascinating facility on its web site where you can find all the plant species known to grow in your post code area from surveys over the last 20 years. Simply go to www.nhm.ac.uk/nature-online/life/plants-fungi/postcode-plants/index.html and type in 'SL6' and a full list appears, many with associated details and photographs; do have a look.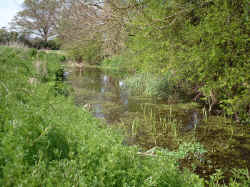 Strand Water has been alive with damselflies this summer, and I was surprised to find that the numerous small blue ones I could see were not Common Blues as I had assumed, but the very similar Azure Damselfly. If you look at the two species' photographs on our village wildlife page (via the Dragonflies box) , you will see the only way to tell them apart is to see the shape of the little black mark at the head end of the long tail section. On the Common Blue it looks like an Oak tree; on the Azure a wine glass shape. There were several hundred pairs laying eggs onto surface vegetation on the slow-moving waters of this wider stretch of the stream. These conditions are ideal for all the damselflies and dragonflies that breed here; I do hope the phase 2 plans for the Maidenhead Waterway, which apparently involve 'improving flows' from the Thames via Marsh Meadow and Strand Water will not put this in jeopardy – it will be a serious loss.
Many thanks again to all who submitted information this session; please feel free to send in observations, or simply questions to us, and we will be pleased to help where we can.
B D Clews
Summer 2009.