December 2006
"What a strange year 2006 has been! And that's not just me saying that - it's the birds! Many of us will have had the usual garden birds nesting in hedges or nest boxes, all having started about the usual time but then finding an exceptionally cool and wet period occurring just as the young were hatching. The subsequent loss of chicks in this first brood was noted pretty much nation-wide. However, many went on to try again with much better success. House Sparrows, although still declining at a worrying rate, had up to 4 broods in the village and Song Thrushes seem to be maintaining increased numbers after a significant reduction up to a couple of years ago. The amount of Mistletoe that can be seen around indicates Mistle Thrushes had a reasonable year too.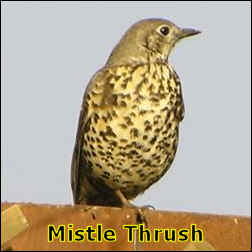 If there were problems, it was for the migrant visitors. Swallows struggled to find insects early on due to a wet spring, and many places reported a significant decline in House Martins nesting. In fact, I can't recall seeing any nests in the Cookhams this year at all. If anyone knows differently, I would be grateful to hear. Sand Martins failed to use Farmer Copas' special nesting sand bank for the second year, again, a situation reflected nationally.
Then there are our lovely owls. One late evening in late summer, I had the privilege of watching the Barn Owls emerge from their roost whilst I was watching 3 Tawny Owls, listening to 2 others calling nearby and also hearing a pair of Little Owls calling alongside Marsh Meadow. However, in terms of nesting, it was a very poor year. The lack of voles following a sharp winter meant that Tawny Owls and Barn Owls hardly bothered this year throughout UK, and none of our local boxes were used. Little Owls however, with their slightly different diet, did much better and about a third of the boxes we checked in late spring had chicks or eggs, which is excellent.
The lack of small mammals also affected our local Red Kites and Buzzards, both of which raised families last year. Although the Kites raised 1 juvenile in 2006, it was found dead a few days after fledging, presumably having failed to find enough food for itself. The Buzzards did not even rear any young, perhaps being maybe an older pair and able to read the signs better than the kites. But overall, Kites must have done reasonably well as no less than 21 were soaring together in a group over Widbrook one day in autumn - the highest number I have heard about over the village.
So now we wait to see what winter will bring. Redwings are already around in good numbers having crossed from Scandinavia at the end of September. Fieldfares are however much harder to find so far. A few Waxwings have been reported in Scotland but at present, it does not look like it will be a big 'influx' year for them, but fingers crossed. Do keep a look out for over-wintering Blackcaps in the garden. These erstwhile summer warblers from Africa are staying over here in winter in much larger numbers as global warming makes our climate more attractive to them.
Finally, moves are afoot to create a Village Plan, part of which will be an assessment of our local natural heritage, so do be prepared to be invited to participate in some of the survey work we will need to do to establish just how diverse our local wildlife is."
To help all our garden birds this winter, it's time to clean and re-stock the bird feeders, and keep supplies available all through the coming months. "