LATE SUMMER SEPTEMBER 2009 UPDATE
I'm not sure the recent weather can officially be described as an Indian Summer (I think that can only occur in October), but certainly, after a somewhat mixed summer of dull and cloudy spells, and a generally dry one locally, we can look back on what has been happening during the peak season for wildlife activity.
On the bird front, the season appears to have been a good one for most of our commoner species. There have been encouraging reports of young thrushes, Chaffinches, tits, Robins and woodpeckers from gardens, and my remaining pair of House Sparrows raised at least 2 broods this year. I suspect overall however, we still have fewer Sparrows in the villages than about ten years ago when I last carried out a specific survey, finding 26 colonies averaging 15 birds per group. There were also fewer Song Thrushes in evidence this year, compared to the 52 singing males I had in the same year as the House Sparrow survey.
Again, I could only find House Martin nests at Odney and near Church Rd School, unless anyone has additional information. I haven't had the opportunity to check the Little Owl and Tawny Owl boxes this season, but it has been interesting following the fortunes of our Barn Owls. The pair in our western sector seem not to have bred this season and even worse, I found the male of the pair dead beneath the natal site last week. Weighing the corpse, it seems starvation is the most likely cause, as it was unmarked, and one certainly hopes it was not the result of poison intake. The birds in the eastern part however have been monitored by John Lloyd-Parry and have been more active, producing at least one late juvenile which was observed scurrying down a rabbit hole when seeing John approach on a recent occasion. It may even have been a second brood bird as September is quite late to see a juvenile from the more-typical May production period.
Buzzards again seem to have produced youngsters this year but despite the good numbers of Kites around during the summer (61 the highest single count), I can't be sure whether or not they too bred successfully here. But Hobbies may well have done so around White Place Farm if the sound of urgent begging heard by JLP is anything to go by. Another pair was active around Pigeon House Wood where Margaret Harrold reported several sightings, and I too saw 2 birds there more than once.
By late August and into early September, the annual gathering of geese grew to impressive numbers along Switchback, with up to 550 Canadas, 250 Greylag and about 75 Egyptian Geese. I'm not sure however how many will have survived the subsequent shooting season; they make big targets!
Compared to the two previous seasons, butterflies were far more plentiful. Following the mass invasion of UK by Painted Ladies from the continent, our resident species did quite well. The dazzling Red Admirals, Peacocks and Small Tortoiseshells were prominent and once crops were well advanced, armies of Small and Large Whites were in profusion – I counted over 2000 in one field just outside the parish! David Fuller made a few counts of these delightful insects during the summer, mainly in Odney where, in addition to the above species, Green-veined White, Speckled Wood and early Meadow Browns could be found, building to a significant 48 on one particular day. Of course, early September signals the end of the season for many butterfly species, but Speckled Woods were still present at Odney and Marsh Meadow by the end of September. We had no sightings of Marbled Whites in the village this year, as far as I am aware, and only a single Ringlet was spotted, near Cookham Lock, and whilst I saw several Silver-washed Fritillaries just outside the parish, we don't perhaps have sufficient wildflower corners or un-mown clover beds to attract these and other species to our surroundings; perhaps a target for local land management for the future? But keep looking – there is still the chance of a wandering Clouded Yellow passing through. I saw one this week just a few miles away. Moths too have had a good season, though the most dramatic species, an Eyed Hawk Moth, only revealed its presence in the village by means of one of its caterpillars handed to me by Bill Beglow from his garden in Cookham Rise. A plump, muscle-bound larva just getting ready to dig underground to pupate.
It was also a good year for Damselflies and Dragonflies. We had no formal survey work carried out in the village this year, but certainly counts along Strand Water were excellent for some species. The large numbers of Azures reported in the last update will have deposited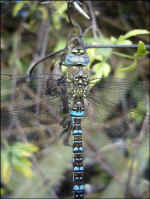 thousands of eggs along Strand Water for next season, and both Brown and Emperor Dragonflies were noted egg-laying late into August. Methods of egg depositing varies between the species, with Azure damsels placing them carefully on vegetation just beneath the surface of static or slow moving water such as exists at The Strand. These hatch in the same season and the larvae take a year or two to develop. Both Brown Hawker and Migrant Hawkers (see photo) also places eggs methodically, but they do not hatch until the following spring, producing larvae which then take a further 2 to 4 years to turn into the impressive insects we can still see into October. Other methods adopted include bulk laying of an egg mass onto the water's surface (Scarce Chaser), or flicking individual eggs from mid-air (Broad-bodied Chaser).
Many of these amazing creatures will adopt a small garden pond so an ideal project for the winter-time would be to create one in our own garden.
Alice Fenton kindly carried out some plant survey work around Saches Island and the lock and found a good range of species typical of standard calcareous meadow. Alice found over 50 species, mainly herbs and grasses, ranging from the enormous Cow Parsley to the dainty Germander Speedwell.
Amongst the various garden wildlife experiences reported this year, one of the most incredible involved two of our most common, but somewhat secretive creatures. Pam Knight was in her garden one day when she espied the unmistakable profile of a large Grass Snake (see photos below). But Pam was amazed to suddenly realise this serpent was busy consuming her resident Toad, an enormous example of the species, which was firmly wedged, almost out of sight, in the snakes jaws. As it was clearly still alive, with just a little encouragement from Pam, the snake was eventually encouraged to regurgitate Toad before wriggling off in a huff. Such a meal would have lasted it some time, it has to be said. Toad was wounded but survived to tell the tale and after some treatment for wounds at Tiggywinkles was released into the wild to slug it out with the slimy critters of the undergrowth. The series of photos taken by Pam reveal just a little of this epic battle.
Having mentioned slugs, now is the time of year to see their slimy courtship routine, whereby a pair will be seen forming a circle amidst a lot of ooze as they go about their business. As each individual slug is hermaphrodite with both male and female elements, one might wonder why they bother finding a partner, but presumably it is more fun that way! The resulting eggs are usually laid in a couple of weeks or so and are the twenty to fifty tiny white globes one often finds when sorting the out the compost heap or lifting logs or bricks, and they hatch in about six weeks. Like Rabbits they can have two clutches per year, but autumn is a key time for them as damper weather prevents eggs drying out. Small slugs only live a year or so, but those big, whale –looking beasts can be up to 8 years old!
So another autumn is upon us. Redwings have already been recorded in nearby Bucks and most of our summer migrant birds have disappeared, leaving just a few Swallows and House Martins who eke out their holiday here to end October or even early November. Brilliant Yellow Wagtails (see photo) with their new greyer offspring have been filtering through Cockmarsh, Widbrook and Canon Court in small groups, never far from the hoofs of cattle or horses, which kick up insects for the hungry travellers. Leaves have been falling from some trees such as Aspens since late August but those emotive sights of foliage in every shade of brown and yellow will soon be available on a treescape near you. The change of colour of course occurs as the trees themselves draw back all the nutrients and chemicals contained in the leaves until they have no option but to fall to the woodland floor and commence their next job of rejuvenating the soils in which the next generation of plants will flourish.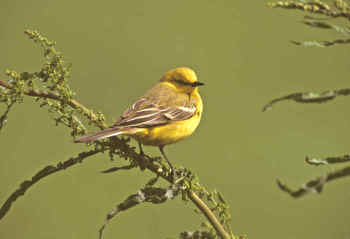 Whilst taking a woodland walk to enjoy this annual kaleidoscope of colour, why not also enjoy the fantastic range of fungi which predominate at this time of year. They come in all shapes, sizes and colours and provide another dimension for our winter wanderings. Of course, it is important not to pick, and certainly not to eat any of these 'plants' as amongst the 230 or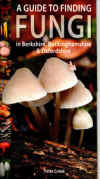 so species in our region, any number of them can prove poisonous. An excellent pocket-sized guide to the fungi of Berks, Bucks and Oxon has just been produced by our local Wildlife Trust (£5.95) and would be an essential aid to any fungus foray, so why not obtain a copy and get out this autumn and winter, and record what you see so we can assess just how many of the 230 we have in the parish. By all means contact us for details of where to obtain the book.
Finally, I wonder if anyone can identify this lady-bird looking beetle which I found in my garden recently?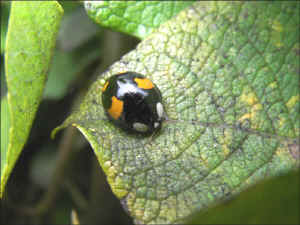 "Many thanks to Gordon Langsbury, Pam Knight and John-Lloyd Parry for this month's photographs."
Brian Clews