Join in if you want
to
Sow seeds, plant flowers or vegetables
Enjoy refreshments!
MEETINGS AT ALFRED MAJOR ALLOTMENTS
IN COOKHAM RISE
Meeting until late autumn
Saturdays 11.00am -1.00pm Alfred Major Allotments
Tuesdays 11.00am -1.00pm Alfred Major Allotments
Allotment News March-April 2017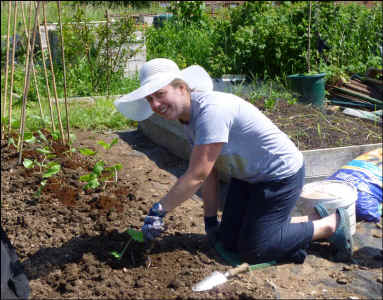 Interested in the idea of 'grow your own' but not confident to have a go on your own?
Would you like to enjoy the physical & 'stress-busting' benefits of gardening with like-minded people?
Are you looking for ways of spending some time outdoors with the family, finding out about plants and wildlife?
Are you a carer looking for a peaceful place with the person you support so you can both benefit from active or passive gardening?
Contact: Kathy Rickman 01628 522797 or Becky Pinniger 01628 526066 for more details
The allotment is flourishing with produce being continually picked and shared among those who come to help and others who have given us their support in moving forward. The excellent combination of sun and rain has helped! We have been harvesting runner and French beans, courgettes, potatoes, salad leaves, Swiss chard and beetroot. We were very pleased that we were able to supply the potatoes for the Methodist Church monthly Sunday lunch.
A good community feeling is developing with several people becoming 'regulars'. It is also good to share tips and advice with other allotment holders on the Alfred Major Field. We are grateful to the Parish Council for agreeing to put in a gate on the railway side of the fencing which means it is a shorter walk to carry or wheel gardening items from that side of the recreation ground. Also we will be taking up the offer of the Parish Council for another plot and will be considering the option of building more raised beds for people to have their own individual growing space.
Anyone is welcome to come along and experience the benefits of growing your own and being out in the fresh air. The allotment will be open on the following dates in September and October.