SEPTEMBER 2008
What on earth happened to summer 2008? Did I miss it? Meteorologically, September 1st is the commencement of autumn, and it certainly felt like it! And so we have already seen the quick departures of many of our summer visiting birds, with Reed Warblers the first to abandon there reed beds. A few could still be found buzzing plaintively in the last week of August along Strand Water and several of their relatives, the Whitethroat and the Lesser Whitethroat were feeding up in bushes around Widbrook common in readiness for their long migration ahead. I have always felt it a pity that the latter species was awarded the name 'Lesser' Whitethroat, For it is most certainly a more distinctive bird than the Common Whitethroat in my opinion. True it is more skulking, but its darker cap, gray mantle and dramatic white underparts make for an altogether more notable plumage than the duller-shaded Common. And the Lesser's call is far more noticeable, particularly at any distance, with its shrill 'clucking' sounds.
The Swifts however are usually the first summer visitors to depart and most had gone by end of July. House Martins, for which I still only heard of 2 nests in all the Cookhams this year, may well still be feeding second broods, even with the help if first brood youngsters, as it is often the case that the fledglings have to commence on their migration within a couple of days of emergence from the nest at the end of September, so anything that speeds up their development is helpful. Of course, some of our resident birds are still completing their breeding season, and dare I say it, but it seems our local House Sparrows have had better luck with their 2nd (or even 3rd) broods than their first. With only 1 or 2 young successfully raised in some first attempts, there appears to be 5 or so in each of the current broods visiting feeding tables.
I mentioned the Hobby in the last Update, as being in short supply locally, and I have had very few sightings over the village. However, it seems they bred nearby (1 pair certainly at Cliveden and possibly another on White Place Farm) as 2 family groups were feeding over Saches Island this week.
JUNE 2008
Well, we are pretty much at the end of the spring migration period, so what was planning to come to Cookham for summer will already be here.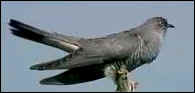 A few folk have reported to me that they have heard Cuckoo around the village (though I have to admit, I'm not one of them – yet! I did hear one daily whilst on holiday on the Scillies, including one at 2.15am!). However, the general picture in the region seems to be fewer Cuckoos than previous years. Of course, although generally regarded as the harbinger of spring, perhaps along with Swallow, the Cuckoo is far from the first to arrive, and it will usually be the Sand Martin that gets to us first, before the end of March. These amazing little hole-nesting birds have previously bred in a regular sand bank in Long Lane, and the workings of Summerleaze Gravel pit, but both sites have been abandoned by the birds for a couple of summers. However, 2 or 3 pairs continue to nest in pipes along the river wall at Odney Club, viewable from the footpath down to the weir.

I continue to be concerned about the success (or apparent lack of it) of House Martins (hence the appeal for records on the Wildlife Page of Cookham.com). Many previous colonies have died out in the village in recent years, so I would be most interested to hear of any nesting House Martins in the 3 villages this summer.
All 3 species of Owls have also been busy and regularly seen by residents – thank you for your records. Tawny Owls have successfully bred in at least 2 local nest boxes (with Mandarin Ducks pinching one other!) and I hope to find the same has occurred with Little Owls, with some 40 special boxes erected in and around the village for them to choose between. The highest up-take in previous years has been 11 broods in one summer. Not too sure however if the local Barn Owls have actually bred so far this year – I hope to check their nest again soon.
Of course, it is a special time for garden birds and I have received reports of successful families for Great Tits, Blue Tits, Long-tailed Tits, Chaffinches, Blackbirds, House Sparrows and Starlings. Again, if you have had successful families of birds in the garden, do let us know. Not all our local birds are breeding of course; the 'gang' of unruly Red Kites, currently numbering about 25, which have been visiting feeding stations, will comprise mainly young birds not yet at full maturity, which can take up to 4 years.
Nationally, it has been an interesting spring. Following on from the sudden invasion of Little Egrets from the continent over the last decade, there have been unprecedented numbers of their cousins, the Cattle Egret, in many southern counties over last winter, with up to 100 birds involved. Many have stayed unexpectedly into spring, fuelling the prospect that they too will become a regular new breeding species in UK, as indeed the Little Egrets have done. Other Mediterranean species that have been present in unusual numbers this spring have included Great White Egrets, Spoonbills and Cranes. Red-footed Falcons, delightful relatives of the Hobby, too have been around in incredible numbers – several in Berks, Bucks and Beds, as well as many other counties. It seems just as we see some previously-common summer birds declining in numbers, other species are queuing up to take their place.
Naturally, many birds are seeking out insects to feed their offspring and it has to be said it has not been a great spring for mini-beasts at all so far. Hardly any moths have visited local traps in recent weeks, butterfly numbers have been depressing low, and hardly any Dragonflies have been on the wing until the last week or two. However, things should pick up from now on; there was a huge male Stag Beetle in our garden this evening which was even tempted to land on my arm for an appreciative close inspection. This is becoming another rare insect so, once again, do please report your sightings for our Cookham Wildlife Dossier.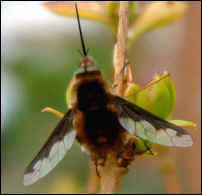 Other interesting insects seen locally have been 14-spotted and 10-spotted Ladybirds (in addition to the very common 7-Spotted varieties) whilst the invasive Harlequins have been extremely prominent. A Dark-edged Bee-fly (look it up on the internet) was the first I had seen in our garden, though they are probably commoner than we think (we just don't look at insects enough!)
Incidentally, if you were thinking of obtaining a pair of binoculars to enhance your wildlife experience (and everyone should!), I have recently been absorbed by using a pair of a new version of compact binoculars made by Pentax (Slough) and available from London Camera Exchange branches everywhere – the 8.5x21 close-focusing model. They serve very well for general distance work but are incredible for insect watching, getting down to 18 inches. Well worth considering.
We will now be entering a period of lots of young birds and other creatures, with parent birds going very quiet for a few weeks whilst they tend their young and then undergo pre-winter molt. So less bird song, but much going on non-the-less, and certainly plenty to be looking for – with your new bins!
Let me know about any interesting sightings at wildlife@cookham.com
Eyes to the Skies!
FEBRUARY 2008
What a very odd winter we are just emerging from. We did manage one or two more traditional cold snaps, but generally, once again, it has been fairly mild.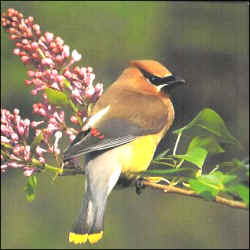 We did not get any Waxwings in central England this year, so presumably the berry crop in mainland Europe was fairly healthy. We didn't get all that many Redwings and Fieldfares either, and those that did visit the Cookhams seemed to have gobbled up all the berries fairly early on and moved off. Did you notice however the good number of Blackbirds which could be seen around the villages, especially in December and January? There were groups of 10 to 15 in several parts, including Widbrook, Cookham Rise cricket ground, Alleyns Lane allotments, and my garden!
You may also have noticed that some of the all-black Blackbirds (the males) had bright orange bills, whilst other had greyish beaks. The former are the full adult males whilst the others are first-year juvenile males (they take 2 years to reach adult-hood) and now it is nearing the breeding season, the orange-billed ones are forcing the others off their territories, so odd scraps will be breaking out all over the place. Another bird reported in local gardens this winter was the Blackcap (or brown cap for the female). If you saw any, we would be grateful to know please.
Owls have also been busy calling to establish their territories, especially Tawny Owls. If you have heard, or seen any around the Cookhams, we would again like to know about it so we can add the information to our 'wildlife dossier'. This is an exercise we are conducting to establish just what wildlife we have around the area, as can be seen on our new 'Cookham Wildlife' page on Cookham.com. Do take a look
'Our' Barn owls have been very busy hunting, even in daylight, around the golf course, working out if there will be enough food about to raise a family this year. I even saw one at 4pm (an hour before darkness) hunting the small grass area between the Causeway and CIM whilst some 15 people in various groupings were walking or cycling along the causeway itself, none of whom noticed the bird at all! What a pity! We must keep our eyes peeled for the wonderful wildlife on our doorstep.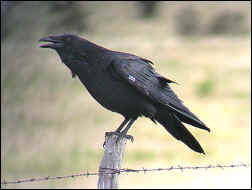 Slightly rarer birds here have included two sightings of Raven in the last month (over CIM and then Widbrook) whilst a Woodcock has been over-wintering in cover crops besides Long Lane, where a delightful pair of Stonechats have also been spending the cooler months. Winter finches (Yellowhammers, Reed Buntings, Linnets etc) have however been fewer than in recent years, and there were only 2 Bramblings amongst the usual flock of Chaffinches.
I am still amazed at the folk who report, excitedly, seeing a "Red Kite over Cookham a couple of weeks ago" They are of course a daily occurrence now and since last October, there have been between 15 and 25 to be seen every day. The highest single count I have had so far has been 28 over Alfred Major Rec a few days back. I also had 16 Common Buzzards passing overhead in a northerly direction during a 20-minute spell recently as a reminder that migration movements start a lot earlier than we tend to imagine.
As March approaches therefore, the first Swallows and Sand Martins should be seen, and early butterflies such as Peacock and Brimstone might be abroad. Several local birdwatchers have commenced the local part of a massive national project to map all the species of birds in every 1km square as part of a 4-year National Ornithological Atlas initiative. It is 20 years since this was last done, so it will be very interesting to see what is found. Again, if you have an unusual sighting in the months ahead do let us know.
Eyes to the Skies!
Let me know about any interesting sightings at wildlife@cookham.com