EARLY WINTER 2010
It is ages since I last got round to updating us all on what has been happening on the wildlife front around the village, so I'd best put that right.
It doesn't seem all that long ago that the conditions being experienced up and down the country were with us at the end of last winter, bringing with it some spectacular scenery around the Cookhams, and much disturbance to our birdlife. Indeed, summer surveys have confirmed fears that small birds such as Wrens and Goldcrests suffered greatly with much reduced populations in the months that followed. And it wasn't just small birds that found the going tough; the adult male of our Marsh Meadow Barn owl family also succumbed, when his weight dropped to less than half what it should have been. Let's hope the female finds another partner soon. A notable winter visitor which was still around into April was a fine Merlin which hunted smaller birds in fields adjacent to Long Lane most of the winter. A Black Redstart was also found in the same area.
After such a battering, one might have thought spring migrants would be slower than normal to occupy our countryside, but in fact some of the earliest arrival dates for decades were recorded in the county. Nightingales, Reed Warblers and Common terns all set new record dates and Hobbies were keen to get back early to us too. However, I suspect the earliest Hobbies struggled to find food in the first few weeks as dragonfly numbers were very low for the second summer running, following a series of poor breeding seasons
Our brand new pool on Marsh Meadow might however provide a good source of breeding habitat for Dragonflies and Damselflies and there were Common Blue Damselflies and Common Darter Dragonflies laying eggs on the fast-maturing vegetation in the warmer weather. A notable dragon even in the summer-time was the discovery of a Club-tailed Dragonfly along the Thames at Marsh Meadow. This is a scarce species in the county and had not been recorded anywhere near this far east in the county before, until the local dragonfly group spotted this one. So for a short while, we held that record – only for it to be broken when I came across a female of the species on Thames-side vegetation all the way down at Home Park Windsor, so this is a success story for the species which hopefully will be more regularly seen on our patch and elsewhere.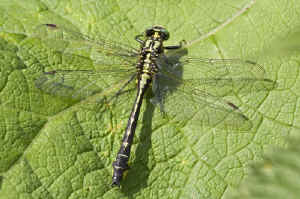 Club-tail Dragonfly – Stephen Church
Late summer brought incredible numbers of Banded Demoiselles out to breed, with counts of 300+ in various places, so that's one species we should see lots of next spring. Our butterflies had a mixed year. First sightings of the usual first's to appear were pretty much on schedule with Brimstones and Red Admirals seeking early sources of nectar. The very first Common Blue of the year in the whole UK was in fact reported from Berkshire. Encouragingly, I saw more Small Tortoiseshells in the first few days of spring than through all of last year, but thereafter, numbers dwindled rapidly, and villagers were disappointed with numbers on their Buddleias and the previous excellent numbers of Painted Ladies that fly to us each spring from the continent did not occur this year.

2010 was International Year for Biodiversity but it failed to lift our spirits much as many groups of wildlife recorded some of the worst declines for some time. Indeed, another butterfly species, The High Brown Fritillary, joined the Red List of critically endangered species, joining the one third of all British butterfly species already on the list, alongside a fifth of all our dragonflies and a third of all our bird types. We can only hope action is taken soon before it gets too late to reverse these trends. Moths however did bounce back from last year's poor turn-out, and although the hoped-for invasion of Silver Y's that follow the Painted Lady Butterflies across the Channel did not occur, there were lots of other beautifully-marked nocturnal insects visiting gardens and wood around the village. And they all have wonderful names, so it is a pity they are not appreciated by more observers. Buff Ermine, Light Arches, White Plume, Small Emerald, Ruby Tiger, Beautiful Hooktip and Tawny Marbled Minor are just some of the names amongst the 2000 or so varieties there to be found. And whilst anyone would be impressed with the huge Poplar Hawk Moth or Old Ladies I found from time to time, it was probably the smallest species I ever saw that appealed to me most.

Just 12mm long, and initially defying identification, I eventually found an expert source of help who pointed out it was Esperia sulphurella

which hardly ever opens its wings to reveal its amazing pattern, so my poor quality picture of it in just this pose was the first he had seen too.

Esperia sulphurella – Brian Clews

Later I found a Toadflax Brocade which is another scarce species in the county. Their caterpillars feed on those dainty pale-yellow flowers that abounded in our paddocks and waysides late in the summer. By the way, it is sometimes the caterpillars that claim the beauty stakes rather than the final flying form of the creature, and this was exemplified by a stunning caterpillar I found early in the year. (see picture below).

I'm sure you will agree it is a striking beast. So, keen to find out what it would transform into, I kept a small number in a tank with foodstuffs and eventually the moths emerged – to reveal the dullest, most unimpressive insects one could imagine. They were Dingy Flat-body Moths; and un-inspiring name for an un-inspiring moth, but that caterpillar? Wow!

Dingy Flat-Body caterpillar – Brian Clews

Dingy Flat-Body moth – Brian Clews

It also turned out to be a good year for another of our local moth rarities. Last year a number of plants of Dark Mullein were discovered, and this is the sole food-plant for the larva of the rare Striped Lychnis Moth. So this year, farmer Copas kept a close eye out for the plant emerging and as soon as I heard he had spotted some, I wandered around trying to find other patches. A large patch alongside on the railway embankment last year did not sprout up, perhaps due to engineering works subsequently, but other patches appeared along the Lea, near Widbrook, in paddocks in Allyns Lane and a few other spots. Soon caterpillars appeared, and the first task was to distinguish those of the Mullein Moth from the Lychnis, as they are nearly identical. But, luck was with us and amongst 7 colonies of 'pillars, no fewer than 38 Lychnis larvae were discovered. If they all succeeded in pupating and survive the winter, that will be a good number of insects to boost the population next year.

Striped Lychnis on Dark Mullein – Brian Clews
Eventually, all our birds were in for the year, and it was pleasing to know how many villagers were hearing Cuckoo for quite some weeks, as in recent years they seem to just pass through our lovely village to other summer quarters. I kept a close eye open for any evidence of a matching female and listened for her bubbling call throughout the summer, but although the male paraded all the suitable reedy habitats looking for Reed Warbler and Sedge Warbler nests, I never got any proof of breeding here. I did however find 2 Reed Warbler nests with juvenile Cuckoos in along the nearby Jubilee River. There were good numbers of Whitethroats, Chiffchaffs and Blackcaps around the golf course and hedges in the Dean, and I think the Yellowhammers managed to raise young along Strand Water. Red Kites and Buzzards all produced young, and no fewer than 4 pairs of Kestrel nested, tho only 3 seemed to have produced young; which is good for a species which is amongst those in decline. Geoff Cubley found himself observing early fledged young from one of the nests, near the Alleyns Lane allotments. Probably 2 pairs of Sparrowhawk also nested, and John Lloyd- Parry got some fabulous shots of the young on one of the nests.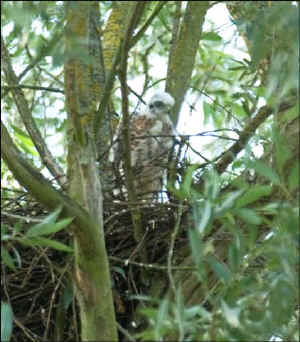 Sparrowhawk nest – John Lloyd-Parry
Pam Knight had to suffer Jackdaws nesting in the chimney whilst Richard James spotted House Martins nesting at Holy Trinity School, one of only two sites for this species in the village as far as I know this year (the other being Odney Club). But the Sand Martins again used pipe outlets in Thames-side brickwork alongside The Ferry.
From personal observation, I have been worried about falling numbers of Little Owls in the village. Some many years back, after storms removed most of the older trees with suitable nest cavities, numbers fell from some 12 territories to about 5 and we quickly responded by installing lots of nest boxes. This brought pairs back up to earlier numbers quite quickly. But now we are seeing the same small numbers once more, and a survey identified that many of these old boxes were either damaged, missing or taken over by Squirrels. It was time for action and through the kind offices of County Ornithological Services, funds were made available for a batch of new ones and these have been installed this autumn, with the help of Scarlet Arbor whose owner, Ken Scarlet, supplied ladders, materials (and bravery) to put them all up for us. In addition, and whilst in the same frame of mind, we considered our resident Barn Owls and decided to help them too. This time it was The Kings Hall Trust who stepped up and most kindly funded the provision of 5 upper-class accommodation blocks for these regal birds, and these too were installed in recent weeks. The picture shows Keith and Linda Hall from Specialised Nestboxes installing the first aided by Martin Finch and myself. I doubt, to be honest, there will be sufficient food resources for more than 2 pairs around the village, though this can improve with more areas of rank vegetation to encourage voles etc, but now, with sufficient boxes for both females plus chicks, and the males (who is not allowed in the natal cavity), our two known territories can hopefully produce the maximum number of young each season into the future.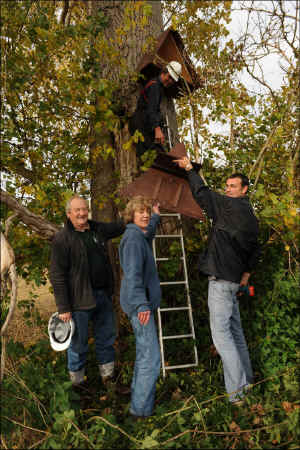 Nest Box installation – Advertiser. Shows (l to r) Brian Clews, Linda Hall, Husband Keith up ladder, and Martin Finch
The bird season was not done however: there had been an increasing number of sightings of Raven around the village in recent years and this peaked to almost weekly accounts in early spring, usually of 2 together. Then, from late April, only a single bird became obvious. Could the other be a female on a nest somewhere? This seemed too much to hope for as Ravens last bred in the county some 150 or more years ago, and the vast majority of more recent records came from much more suitable habitat in the hilly, down-land areas of West Berks. But then the news came through that a nest had indeed been located in nearby Maidenhead, and 2 young were raised which are regularly being led onto Cookham fields to feed with their parents. A surreal scene a few weeks ago was of the 2 adults sat on top of a deer carcass down Strand Lane; I thought I was in Scotland for a minute! And even that is not the end of the story. Yet another nest was found this summer, in Windsor Great Park. The significance of this is that it was the Great Park that held the last Berkshire known nest record – in 1848! Which not only confirms what dogged birds Ravens are, but that they obviously have fabulous memories!
Raven – by Gordon Langsbury
Soon, the usual 'disappearance of our 'local birds occurred, as reported by David and Audrey Finch for example. This happens in September in particular when feeders, used regularly up until then, seemed abandoned, and folk get concerned that something has gone wrong. Normally however, this is simply a time of plenty in the country-side and adult birds lead their progeny off there to teach them to forage for themselves, removing any dependency upon artificial feeding. But it usually not long before they return, and with harsher weather imminent, it is important to stock up!
So, we now approach another winter, and it got its cold talons out for us even before November kissed goodbye to 2010. The big news of the moment is that huge numbers of Waxwings began appearing in Scotland by the end of October, with an invasion of several thousand birds involved. This is an irruptive species only coming to UK in significant numbers every few years. And it looks like 2010 is going to be one of those years. By early November good sized flocks were appearing all down the east coast, and at several inland locations down to about the West Midlands. But this week, small numbers, probably pioneers, have appeared in both Bucks and Berks (in Bracknell), so hopefully it is just a question of time before we get some more local ones. Do keep your eyes open, especially if you have berry-bearing bushes or hedges in your garden.
Also, as I say, be sure to put out food for the birds throughout this cold snap, and think twice before turning over any compost heaps and such-like as there may well be hibernating Hedgehogs within. If possible, leave such tasks until early spring. And if you do find a spiky friend wandering around this winter, think about taking it to Tiggywinkles in Aylesbury, but ring them beforehand as they may advise weighing it first; a healthy-weighted hog out in a mild break to the weather might be quite natural behaviour. (01844 292292). If you clean your nest boxes out each year, this might be a good time to do so, and installing any new ones should ideally be done before 2011 signs in.
It's been another fascinating year for crawling around seeking out what amazing creatures share this wonderful part of God's creation with us. I do hope you will be encouraged to get your binoculars dusted off this winter, and your knees dirty next spring. If anything unusual turns up in the meantime, I'll endeavour to let you know.
Seasons Greetings
Birdman.