Cookham is fortunate to be twinned with Saint Benoit, 'une ville-jardin extraordinaire', a village with woods and a river near to the historic town of Poitiers in central west France.
The village has the highest possible ranking possible of 4 fleurs (flowers) for French 'Villes Fleuris', and is the only 'commune' in Vienne with this status. It has developed its natural environment over several years, including their "Les Jardins de Cookham".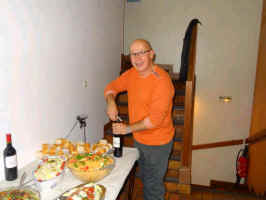 Saint Benoit is in a fascinating and beautiful area of France, with many historical towns and villages around, some going back to medieval times. The commune is divided into three parts with a 12th century church and with a river running through, just like Cookham!
Poitiers is an ancient, interesting University town and is close to the theme park 'Futuroscope'.
Cookham has been Twinned with Saint Benoit since 1994 and has annual reciprocal visits when we link with French friends and stay in each others' houses. In 2022 we look forward to welcoming Saint Benoit to Cookham, (October 22nd -25th) when we will host a variety of social and cultural activities. In 2023 we will be visiting Saint Benoit and look forward, as always, to a great experience and welcome. Saint Benoit can be reached easily by car (via Portsmouth), plane or train.
We also have some regular activities in Cookham. Each week there is an informal French lunch, 'Flunch' where we have an hour or so speaking French to each other, and members are welcome to join a monthly French film evening.
You don't need to be a French speaker to participate in Twinning, although this is a chance to improve your French language skills. Best of all are the opportunities to get to know some very friendly French people and to appreciate and enjoy the culture of France.